Morgens früh kommt die DEUTSCHLAND rein. Schade, dass diese Fahrten anscheinend gar nicht öffentlich angeboten wurden.

Early in the morning DEUTSCHLAND arrived. So sad that obviously those voyages were not published for sale.

Then QUEEN ELIZABETH followed. But I did not like to stay for further shots as the rain showers became heavier and I had already many nice shots of her. It became somehow embarrassing when she was introduced later as QUEEN MARY... Here I am very picky: QUEEN MARY berths in Long Beach, CA as museum ship and I am sure she thought of QUEEN MARY 2 but it was not the ship which was next to us. No very Cunard-ship which calls Hamburg is always QUEEN MARY 2.

Danach folgt QUEEN ELIZABETH. Aber ich habe keine Lust mehr für weitere Aufnahmen, weil einfach der Regen wieder zunimmt und ich doch sehr schöne Bilder von ihr bereits habe. Peinlich wird es nur hinterher, als sie QUEEN MARY bei uns vorgestellt wird... Da bin ich nun mal pingelig: QUEEN MARY liegt als Museumsschiff in Long Beach und man hat wahrscheinlich QUEEN MARY 2 gemeint, aber die lag ja auch nicht daneben. Nicht jedes Cunard-Schiff, das Hamburg anläuft ist automatisch QUEEN MARY 2.
Bevor wir unten zum Frühstück gehen, gucke ich mal, was es oben im Palmgarten alles gibt.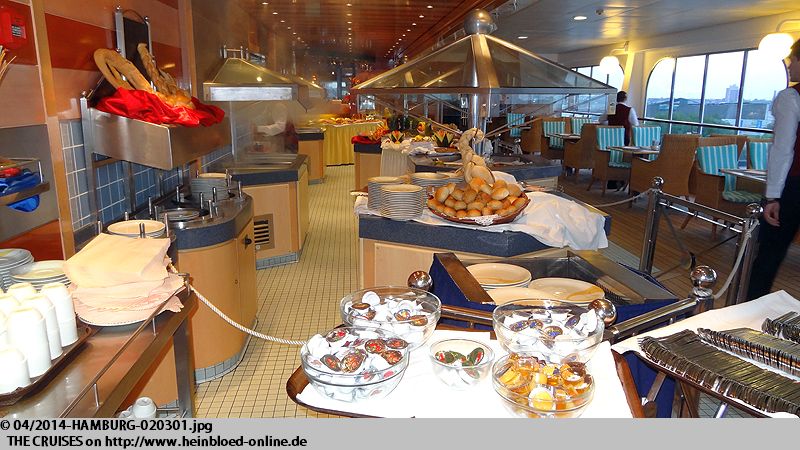 Before we went for breakfast I was checking what was available in the Palmgarten Self-Service Restaurant.

Danach geht es runter ins Hauptrestaurant zum Gucken und Frühstücken.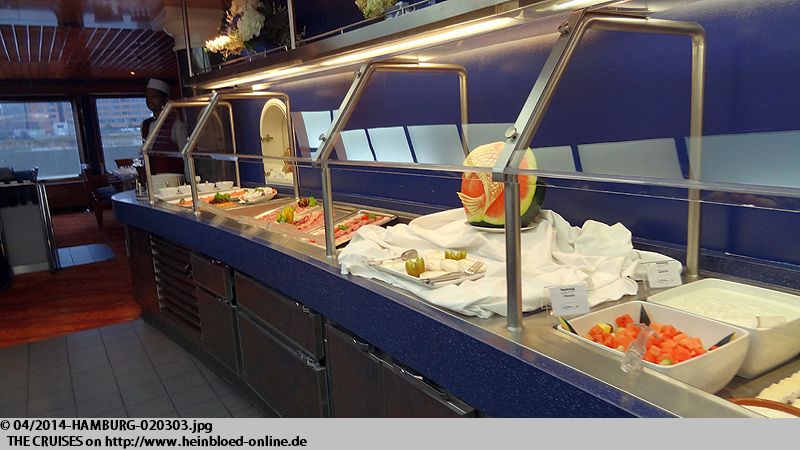 Then we moved down to the Main Dining Room to see around and having breakfast.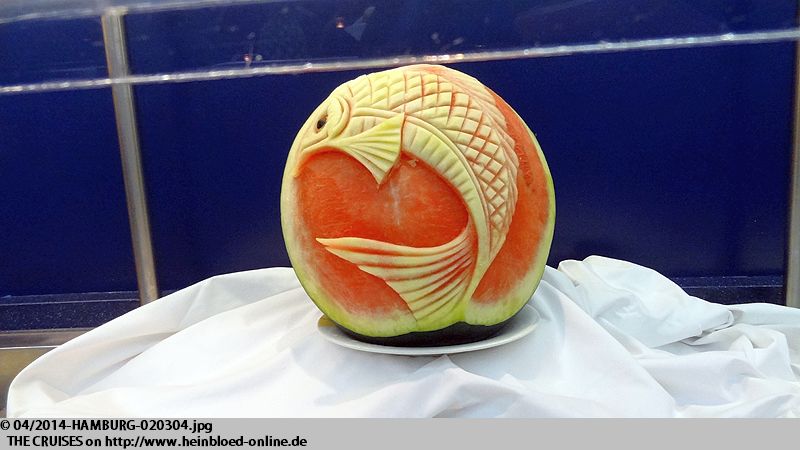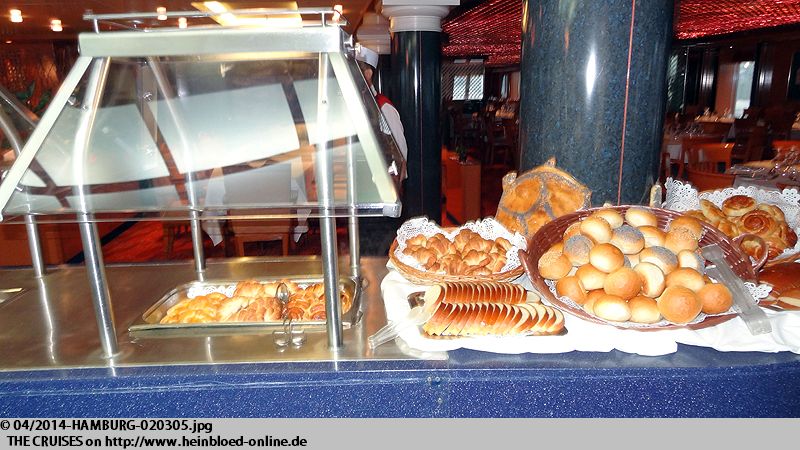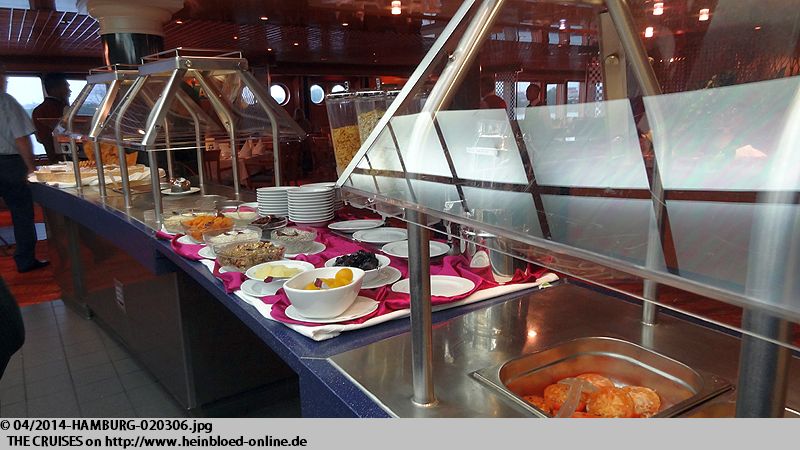 Ich wüsste zu gerne, was er im Moment gerade denkt.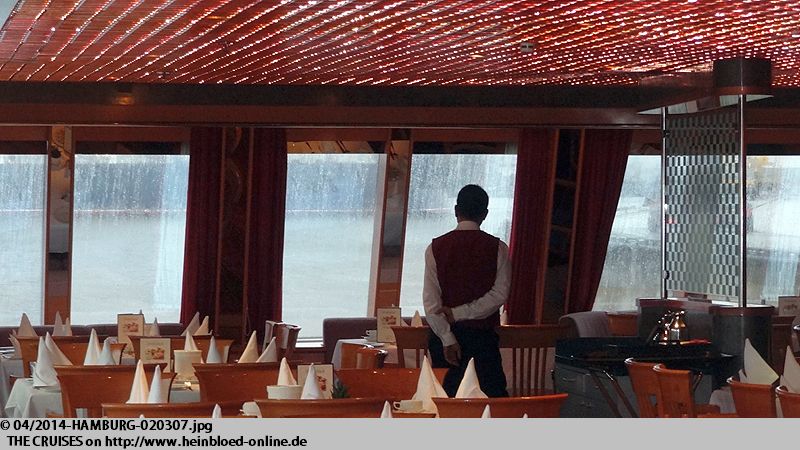 I really was interested to know what he was thinking that moment.

You could order warm dishes with the waiter. All other items you get from the buffet. We came very early so it was quite calm. I ordered a ham omelette for myself. Green was not any problem. Cranberry juice is a problem on a ship for the German market. Sad that you had only the syrup juice. No problem at all as the caterer is from Italy: Nutella.

Warme Sachen kann man direkt beim Kellner bestellen. Den Rest holt man sich am Büffet. Wir sind sehr früh dran, daher ist es sehr leer. Ich bestelle mir noch ein Schinkenomelette. Grüner Tee stellt kein Problem dar. Cranberry-Saft ist auf einem Schiff für den deutschsprachigen Markt schon ein Problem. Schade, bloß, dass es immer der Sirupsaft sein musste. Gar kein Problem, da ja der Caterer aus Italien ist: Nutella.
Was wir schon ewig nicht mehr hatten: 07.45 Uhr müssen wir bereits die Kabine räumen. Und um 09.30 Uhr fährt erst der Shuttle. Für uns wurde kein Gepäckservice angeboten. Allerdings muss man hier bis 07.00 Uhr morgens das Gepäck vor die Tür gestellt haben und nicht am Vorabend.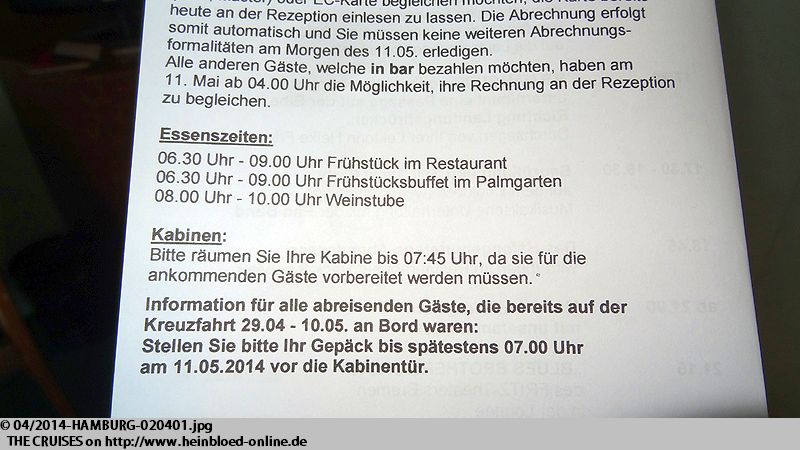 What we did not have for a long time: 07.45 hrs we had to clear the cabin. 09.30 hrs the shuttle should depart. No baggage service was offered for us - only for the back-to-back-cruises. But here you need to place your bags before 07.00 hrs in front of your cabin and not the night ahead.

The final bill came. Everything was fine.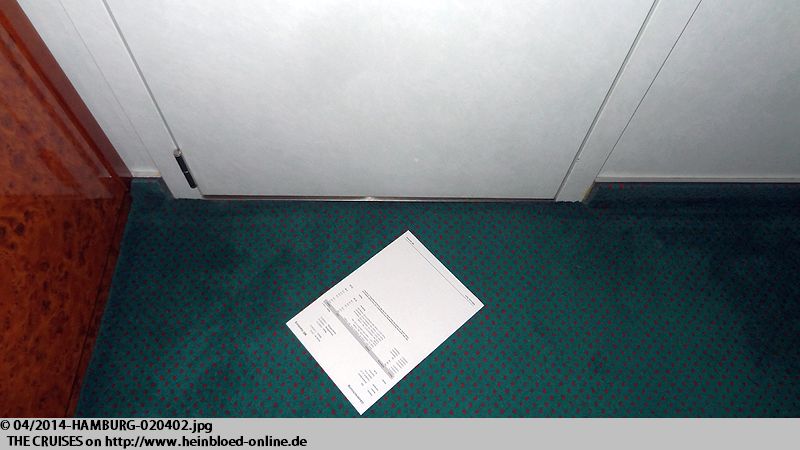 Die Abrechnung kommt. Stimmt alles.
Wir entschließen uns auf den Shuttlebus zu verzichten und mit der U-Bahn zum Hauptbahnhof zu fahren. Da es aber keine separate Luke für das Gepäck gibt, müssen wir immer warten, bis dass die Gepäckträger alles einzeln von Bord geschleppt haben, bevor wir runter dürfen.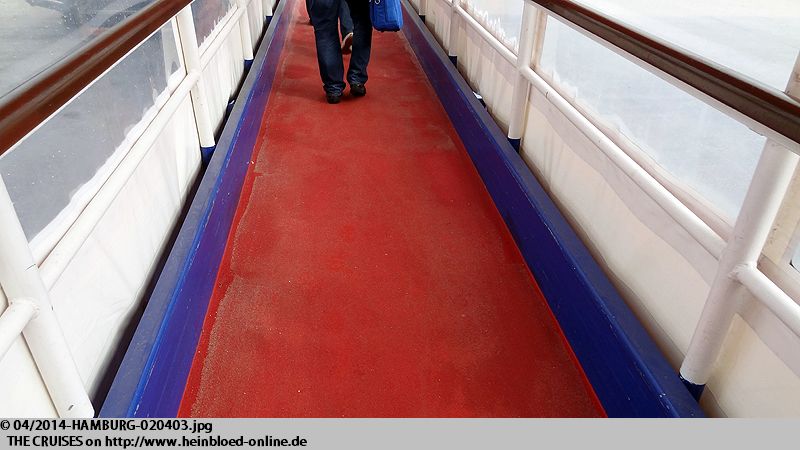 We decided to withdraw the use of the shuttle bus and use the subway to get to the central station. Because there was no luke avaialable for the baggage we had to wait until the porters carried bag by bab from the ship before we were allowed to leave the ship.

We had to use a bus for the 100 yards from the pier to the cruise terminal building.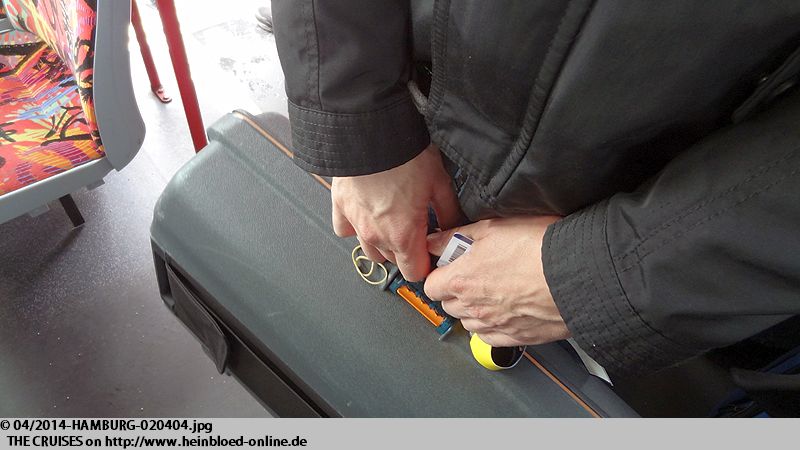 Wir müssen wieder die 100 m zum Kreuzfahrtterminal mit dem Bus am Pier fahren.
Noch ein paar Eindrücke vom Pier.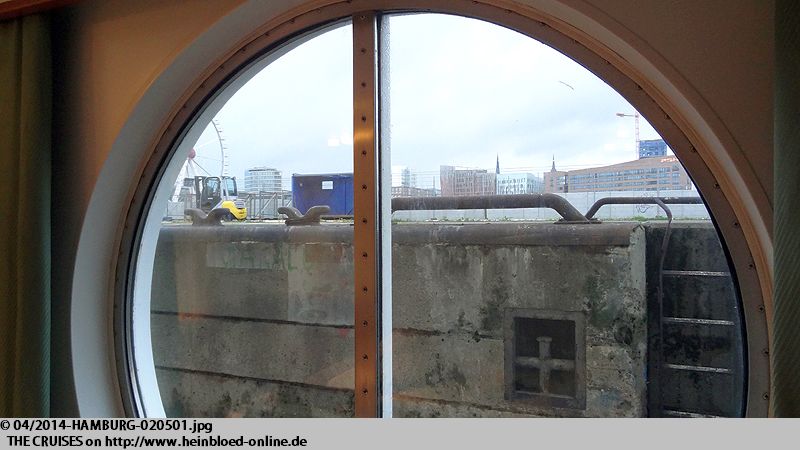 Few impressions of the pier.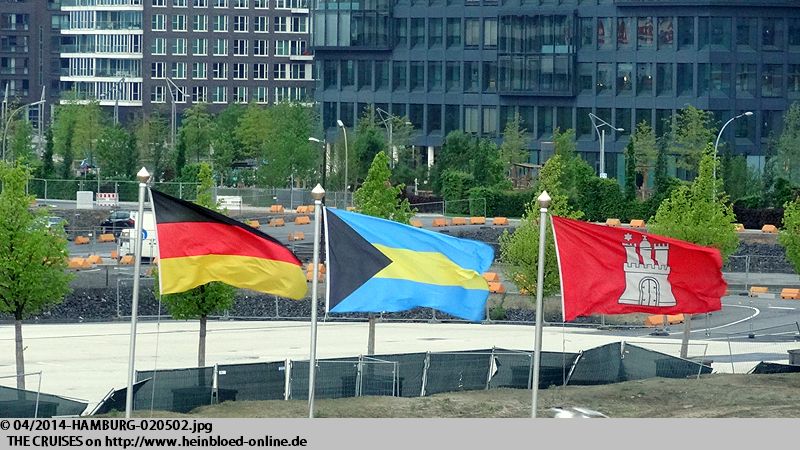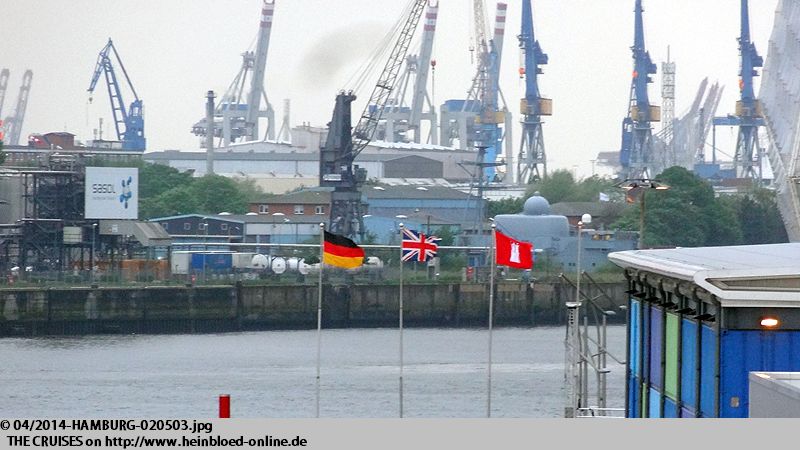 The ships of the Tour-Operator ALBATROS and ARTANIA berthed the day before at an unusual location. They were just removing the tents.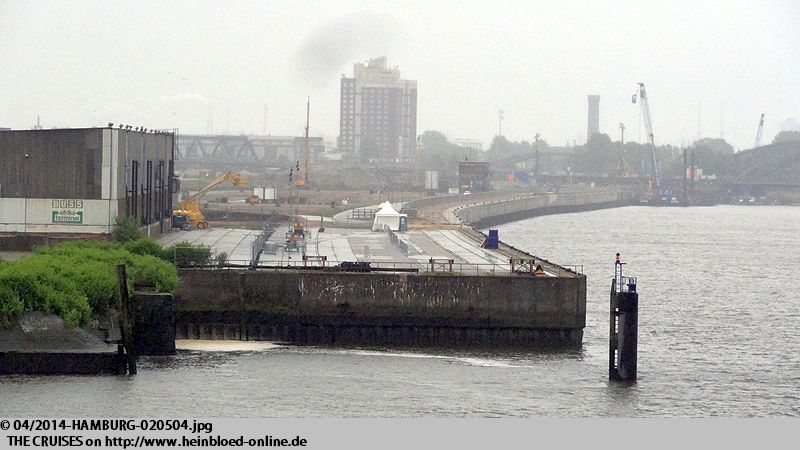 Die Phoenix-Schiffe ALBATROS und ARTANIA gestern lagen an einem ganz ungewohnten Ort am Baakenhöft. Die Zelte werden gerade abgebaut.
Dort steht der Shuttlebus, auch die Taxen, aber im Moment ist es trocken.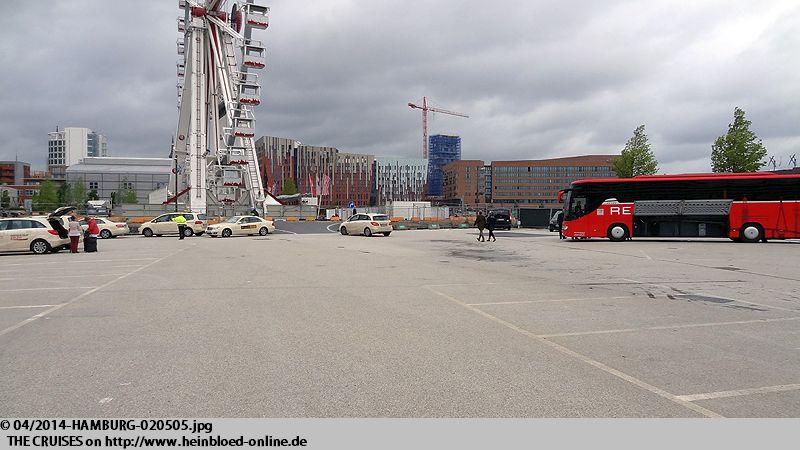 There was the shuttle bus and some taxis but at the moment it was dry weather.

We took the subway from the station Überseequartier. You reach the station within three minutes. Down on the platform you find a model of QUEEN MARY 2.

Wir nehmen jedoch die U-Bahn ab Überseequartier. Diesen Bahnhof erreicht man in ca. drei Minuten. Unten auf dem Bahnsteig steht sogar ein Schiffsmodell von der QUEEN MARY 2.
Weil die U-Bahn zum Hauptbahnhof gerade weg ist, fahren wir kurzerhand erstmal in die Gegenrichtung nach Hafen City/Universität. Immer gut für eine Lichttherapie (
Licht- und Klangfeuerwerk
). Allerdings leider noch zu früh für die musikalische Untermalung der Präsentation.

Because the subway to the central just left we went to the opposite direction towards the terminal station Hafen City/Universtität. Always good for a light therapy (Firework of light and sound). But it was a little too early to experience the musical background of the performance.

At the central station the MSC shuttle was waiting. But I was not very much interested to go to the 2nd cruise terminal to take pictures of MSC MAGNIFICA.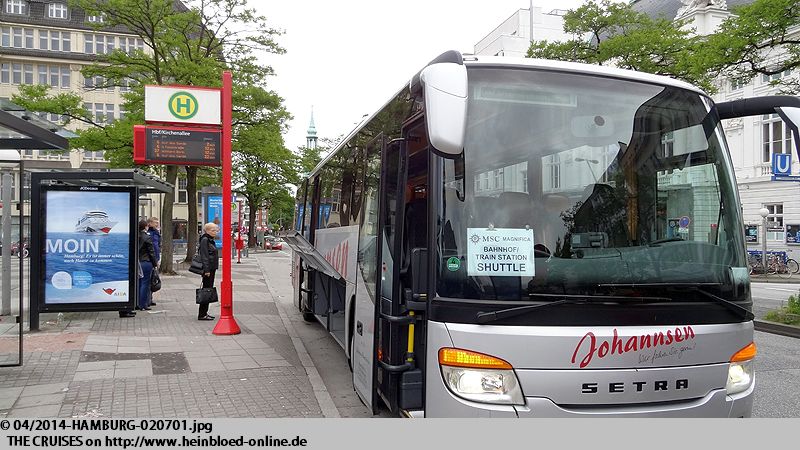 Am Hauptbahnhof wartet der MSC Shuttle. Aber extra nochmals nach Altona zu fahren, um nochmals MSC MAGNIFICA zu fotografieren, hatte ich keine.
Man kann auch sein Gepäck hier für 5,00 EUR (2014) am Hauptbahnhof abgeben und dann einfach in der Stadt noch etwas unternehmen.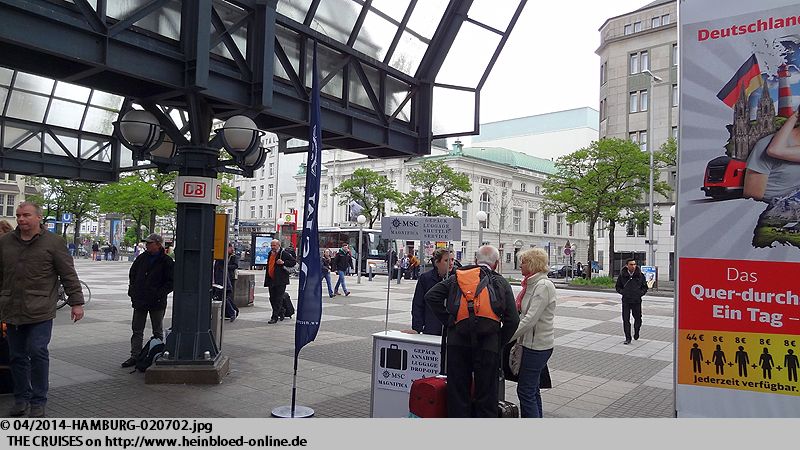 You can drop off your bags at central station for 5.00 EUR (2014) and walk away to see the city.

We went for a cup of coffee to Schönes Leben in der Speicherstadt in the historical central port district. It's a very nice place to dine too.

Es geht weiter zum Kaffeetrinken im
Schönes Leben in der Speicherstadt
. Ein schöner Ort auch um etwas zu essen.
Wir haben uns locker zum Kaffee mit anderen Kreuzfahrtfreunden verabredet, die in der Stadt sind. Aber bei der Wetterlage, möchte ich bloß SCHNELL ins Trockene und nicht irgendwo noch hinfahren müssen. Daher laufen wir schnell nur ein paar Meter weiter in der Hafen City.

Without commitment we talked about having coffee with some other cruise-fellows who were in town. But with the weather condition I wanted to get QUICKLY to a dry spot and did not want to walk around. So we walked only for few minutes for few yards to Hafen City - the new port living, office and amusement district.

Busanbrücke - Busan Bridge - a nice memory of our last cruise.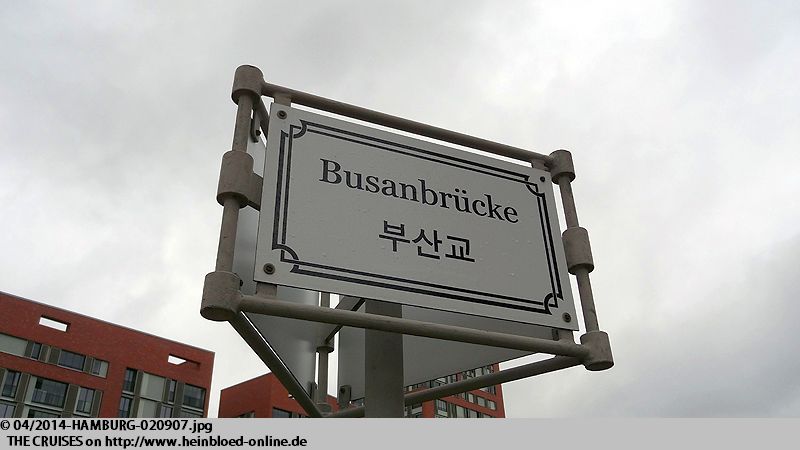 Busanbrücke - eine schöne Erinnerung an unsere letzte Kreuzfahrt.
So gehen wir in das
Internationale Maritimes Museum Hamburg
. Es gibt jetzt einen Schffsführungs-Simulator, aber leider kein Kreuzfahrtschiff. Wir lernen ein paar Grundlagen über Schifffahrt und bekannte Größen.

So went into the International Maritime Museum Hamburg. They had now a ship simulator but no cruise ship. We learned some basics of the maritime world and some celebrities.

Then we met the first cruise ship: QUEEN MARY 2 constructed of Lego-bricks.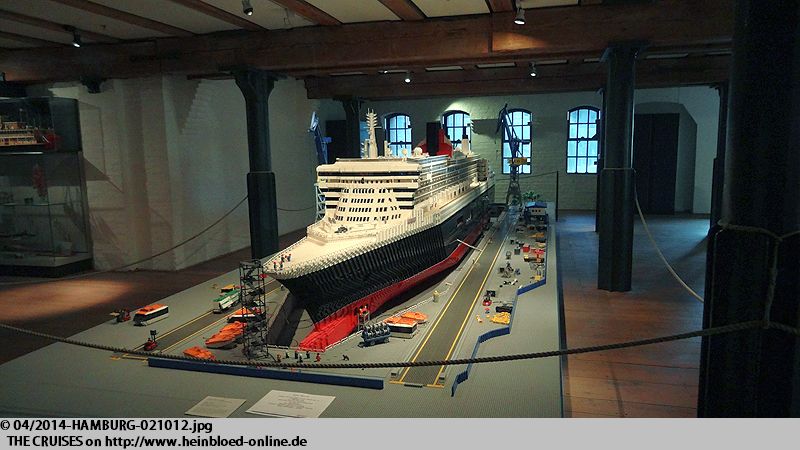 Dann treffen wir auf das erste Kreuzfahrtschiff: QUEEN MARY 2 aus Lego.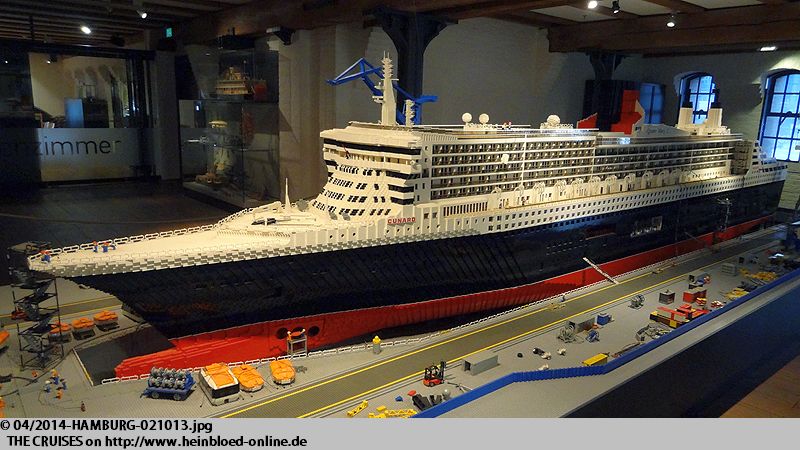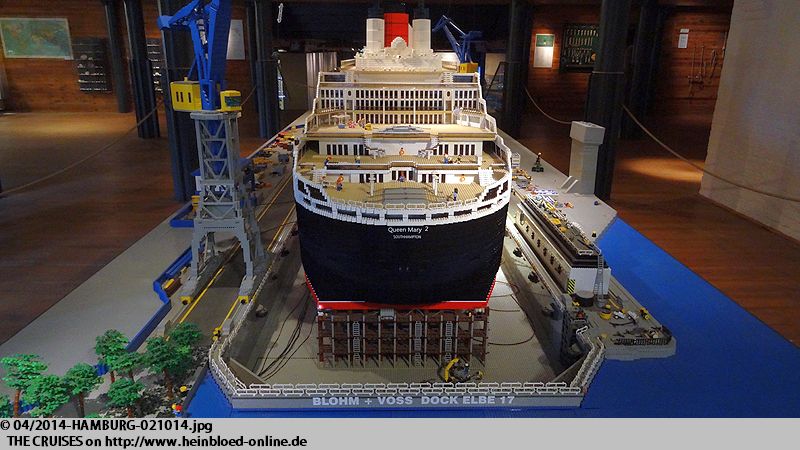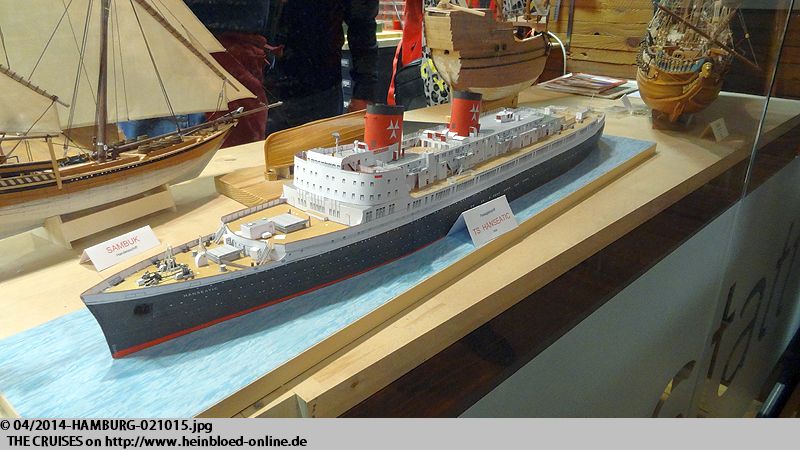 The simulator.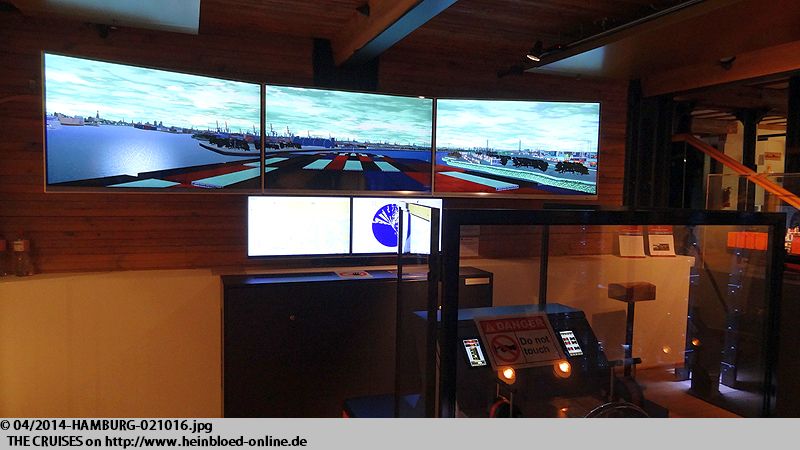 Der Simulator.
Dann geht es auch schon weiter in Richtung der Passagierschifffahrt.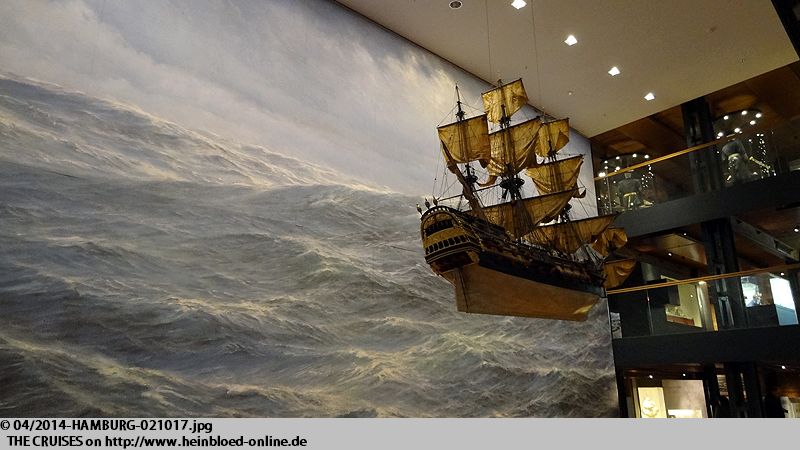 Then we headed towards the passenger ships.

With many models of more or less popular ships. Passenger ships do not mean only cruise ships. Few restored scenes from the ships. And a view to HAMBURG.

Mit vielen Modellen bekannter und weniger bekannten Schiffe. Passagierschifffahrt bedeutet allerdings nicht nur Kreuzfahrtschiffe. Ein paar nachgestellte Szenen vom Schiff. Und ein Blick auf die HAMBURG.
Sehr schön: der Querschnitt der ehemaligen FRANCE.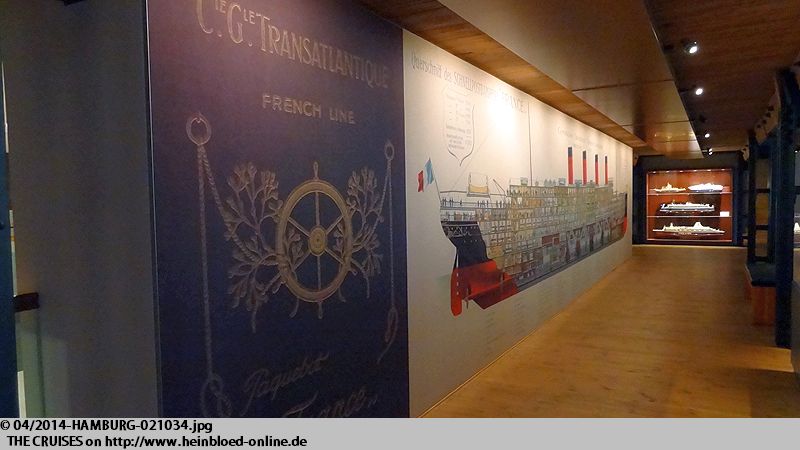 Very nice: a cross-section of the former FRANCE.

So we could easily see how the ship was allocated.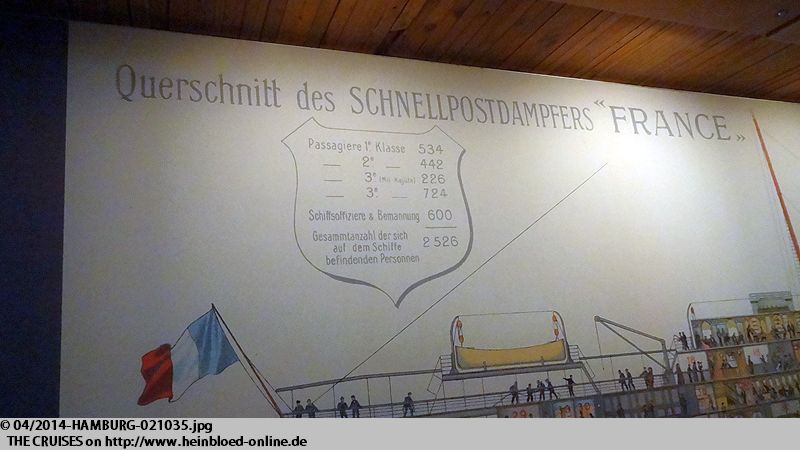 So können wir sehen, wie es hier alles aufgeteilt war.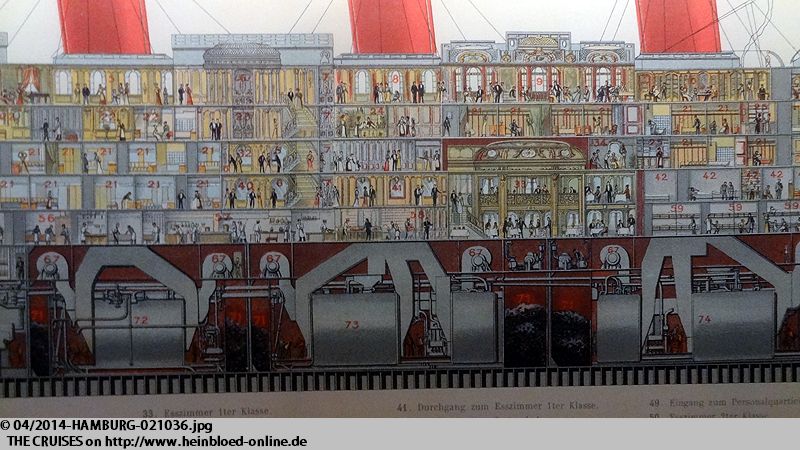 To find the coffee machine was not so easy. A very good camouflage.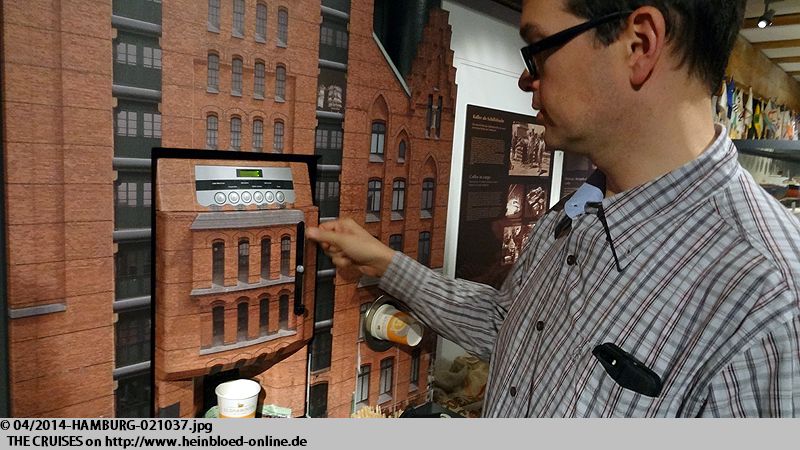 Den Kaffeeautomaten zu finden ist gar nicht so einfach. Ganz schön gut getarnt.
So probieren wir den
CAP SAN DIEGO
-Kaffee.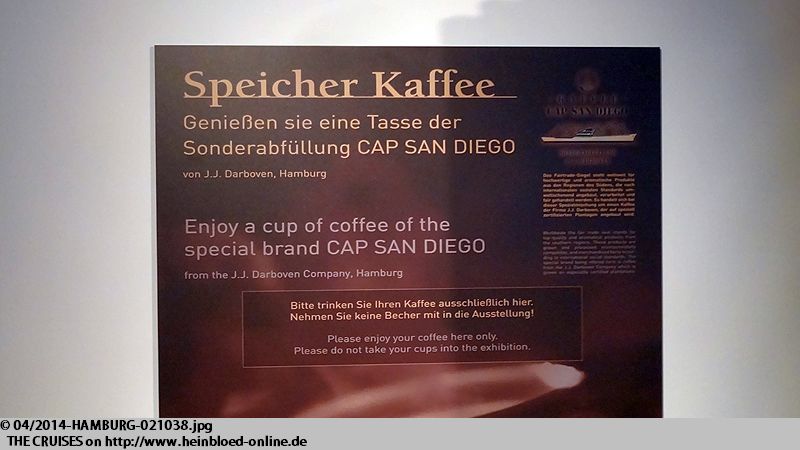 So we tried the CAP SAN DIEGO-coffee.

Something for Bruno: the logistics of video game console.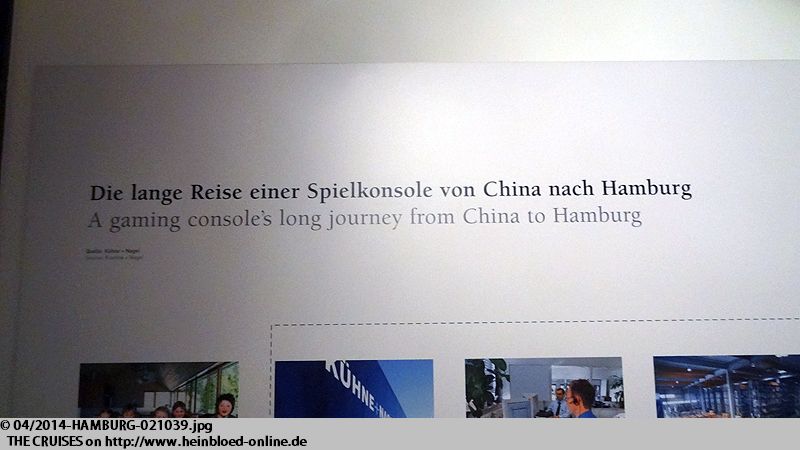 Etwas für Bruno: Spielkonsolen-Logistik.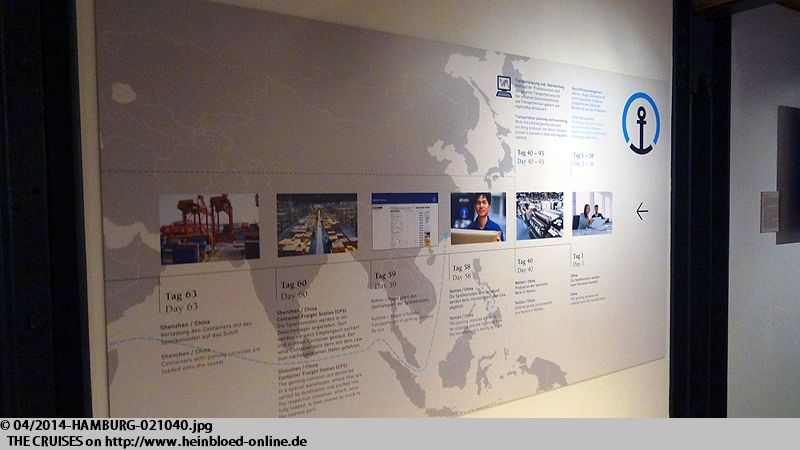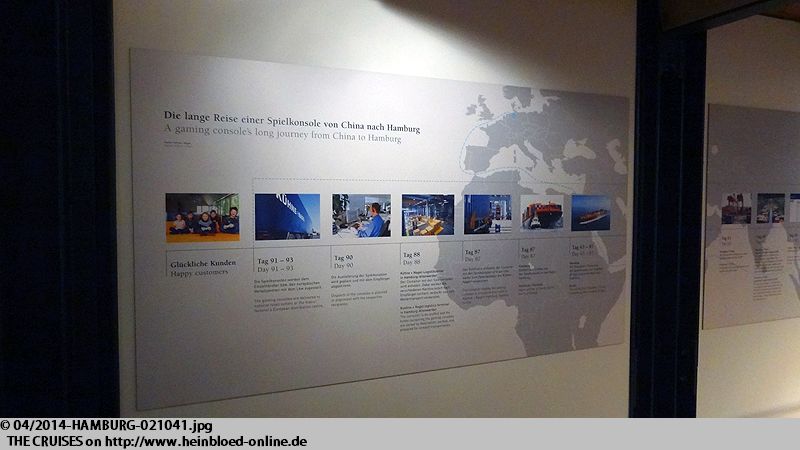 Nun kann er seine Kollegen auch mal in die Ausstellung schicken, damit sie lernen, wie Logistik läuft.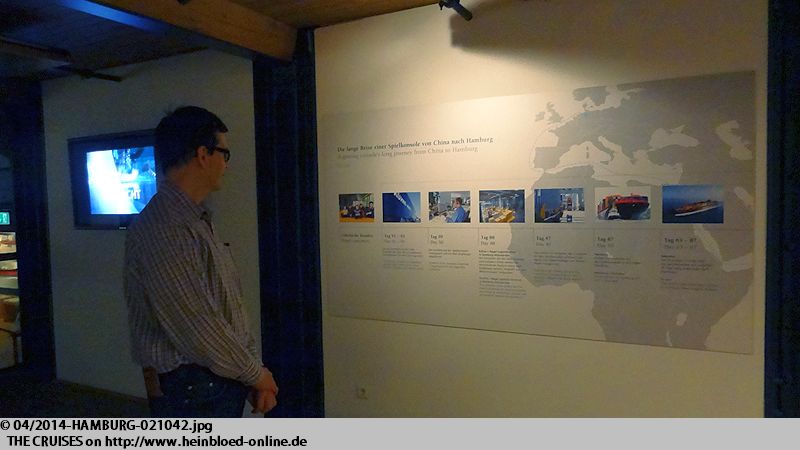 Now he could send his co-workers to this exhibition that they can learn how logistics works.

One more model.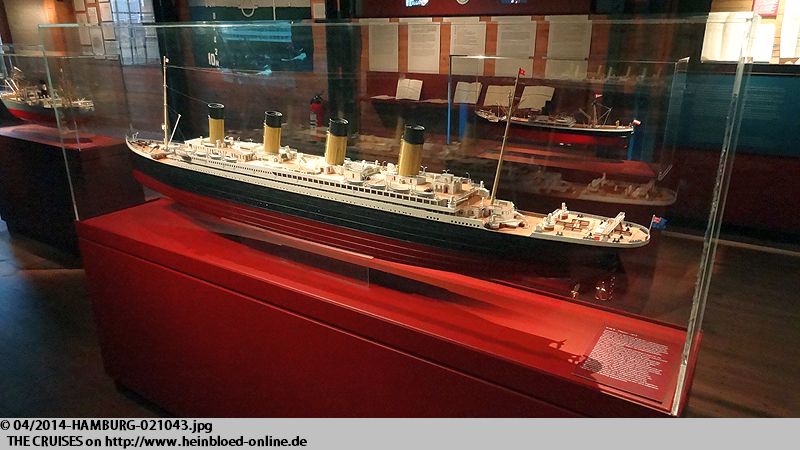 Noch ein weiteres Modell.
Und Erinnerungen an die Norddeutsche Lloyd - heute Teil der Hapag-Lloyd.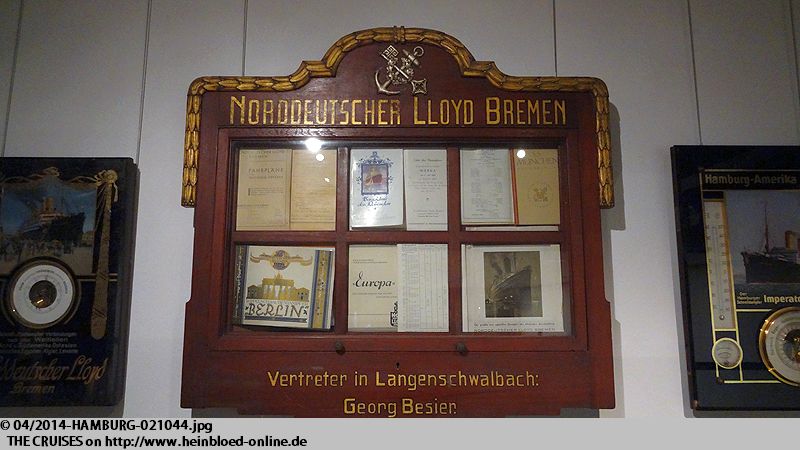 And memories to the former German shipping company North German Lloyd - today part of Hapag-Lloyd.

Then we had an exhibition room just with mini-models only.

Und dann ein Ausstellungsraum nur mit Mini-Modellen.
Erinnerungen an unser Hotelzimmer in Hongkong.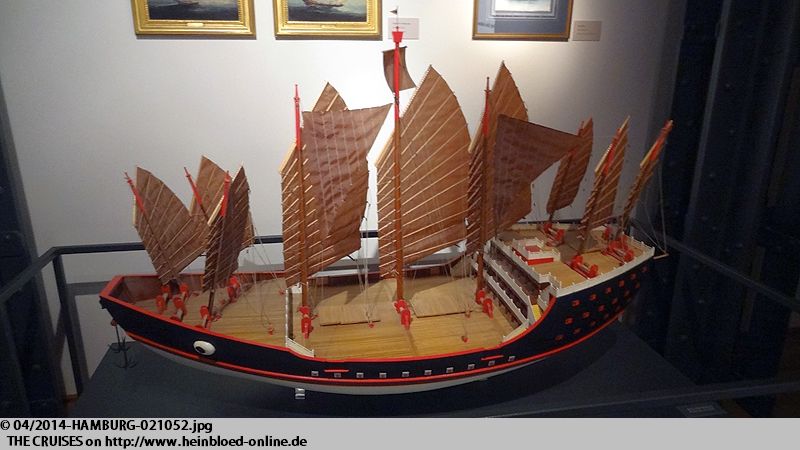 Memories to our hotel room in Hong Kong.

Finally we had a model of MEIN SCHIFF 3.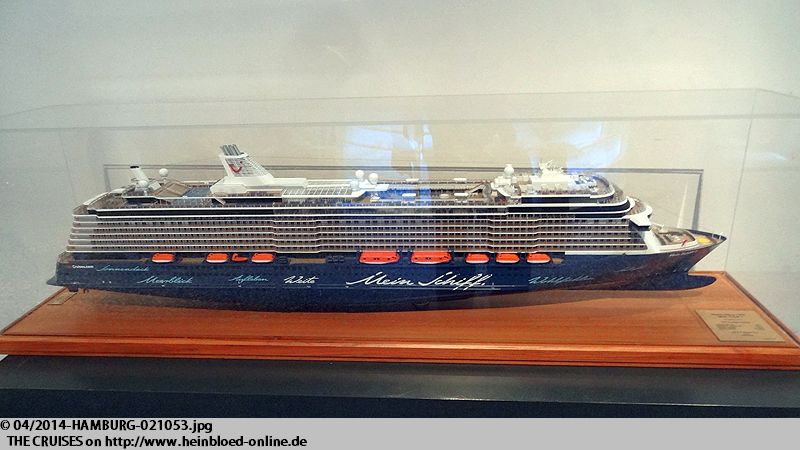 Am Schluss gibt es noch ein Modell von MEIN SCHIFF 3.
Wir gehen noch zu
Catch of the Day
zum Mittagessen. Persönlich fand ich die Karte ziemlich bescheiden. Aber bei dem Wetter hatten wir keine Lust rauszugehen, um eine Alternative zu finden.

We went to Catch of the Day zum Mittagessen. Personally I found the menu selection quite humble. But with the weather we had we dislike to walk out to find an alternative.

We said good-bye to our new friends. They booked a train for later the night. So to take Bruno to the station. I had to make following decision: Another round shipspotting and enjoying the sailing parade or returning to my work place. I decided to book a room in the Holiday Inn Express Hamburg City Center and slept for a couple of hours before driving back. I did not attend the sailing parade. I had so many pictures of the trhee ships.

Von unseren neuen Freunden verabschieden wir uns. Sie haben erst für den Abend einen Zug gebucht. So bringe ich Bruno zum Bahnhof. Ich stehe vor der Entscheidung: Noch Shipspotten und die Auslaufparade gucken oder zurück in den Harz. Ich entscheide mich für ein Zimmer in
Holiday Inn Express Hamburg City Center
und schlafe zunächst einmal einige Stunden, um einigermaßen fit die Rückfahrt anzutreten. Auf die Auslaufparade verzichte ich. Die drei Schiffe habe ich oft genug fotografiert.
Vor vielen vielen Jahren habe ich mal im
Celler Tor in Celle
eine Schulung gemacht. Selten so gut gegessen. Und das wollte ich nochmals erleben. Und heute Abend bietet sich die Gelegenheit. Genauso gut wie damals und genauso wie auf einem Kreuzfahrtschiff. Sogar mit Pianountermalung. Nur mein geliebtes "The Way you look tonight" kennt er leider nicht. Heute von der Tochter, damals vom Vater: zum Schluss des Essens gibt es den Hehlentiner Bürgermeister Tropfen samt Geschichte dazu. Damals hatte ich einen genommen und konnte nicht mehr weiterlernen... und heute muss ich leider Autofahren.

Many many years ago I had a training at Celler Tor in Celle. Not many places I really ate so good. And I wanted to experience it again. And that night I had the opportunity. As good as I remembered and the feeling like on a cruise ship. Even with piano music in the background. Only my beloved "The Way you look tonight" the piano entertainer did not know. Today from the daughter - then from her father: at the end of the meal you get a snaps (Helenthin Mayor's drops) incl. the story. Then I took one and had no chance to continue to learn... and tonight I had to drive.