Als unser Bus ankommt, fängt gerade wieder ein kräftiger Schauer an.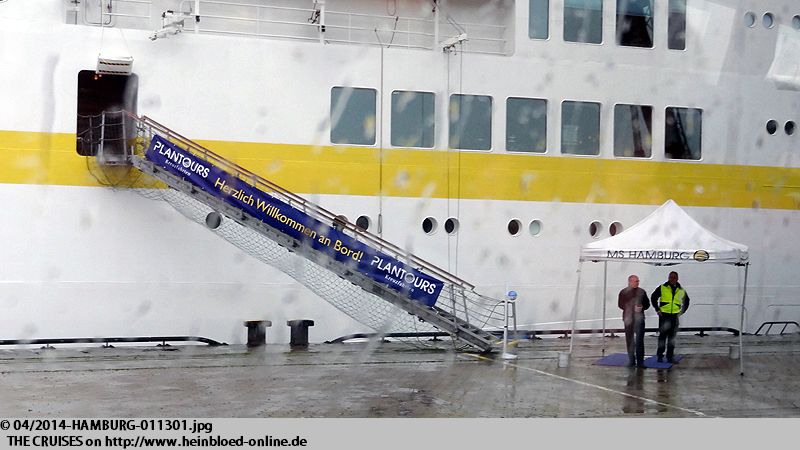 Just when our bus arrived a heavy rain shower started.

Unfortunately there was nobody who knew how to it went on. So they let everyone standing on the stairs while it was raining.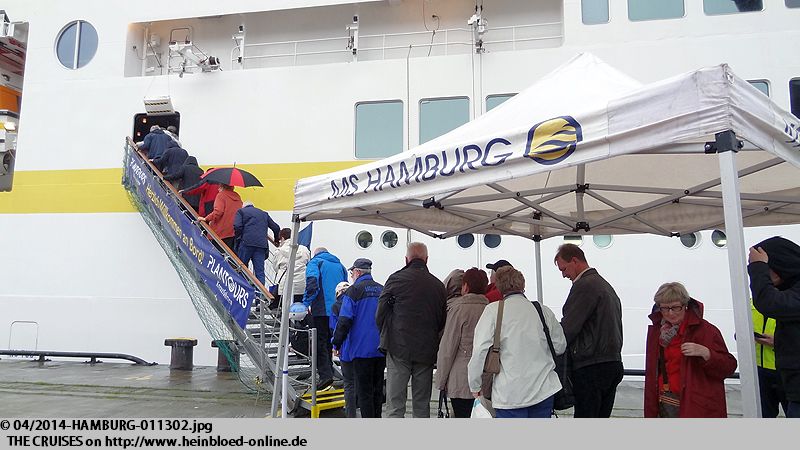 Leider war niemand da, der wusste, wie es weitergeht. So hat man dann alle kurzerhand bei Regen auf der Treppe stehen lassen.
Ich hasse ja diese Treppen. Zum Glück nicht das gleiche Modell wie bei Frachtschiffen mit den ovalen Stufen und ein Sicherheitsnetz.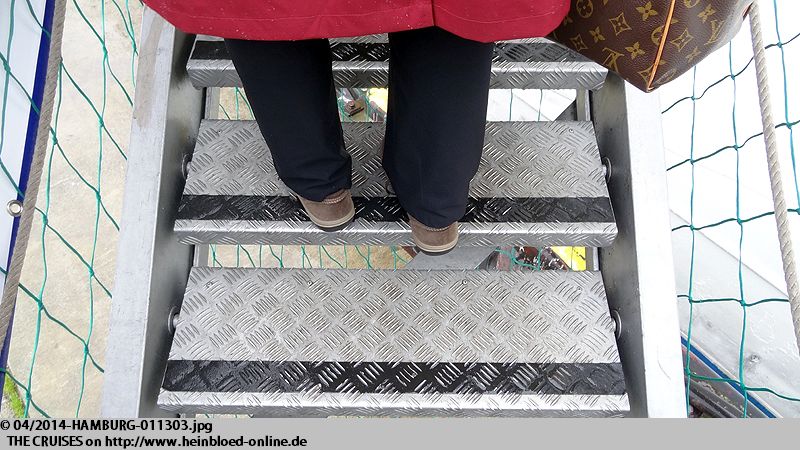 I hate these stairs. I was lucky that it was not the same type like with freight ships with the oval steps and a safety net.

The reason was quite simple why there were still few were standing on the stairs. Inside was the release of the boarding pass and the ID-card had to be handed over. Because some guests were going back-to-back and the next voyage is a charter it took some moments more.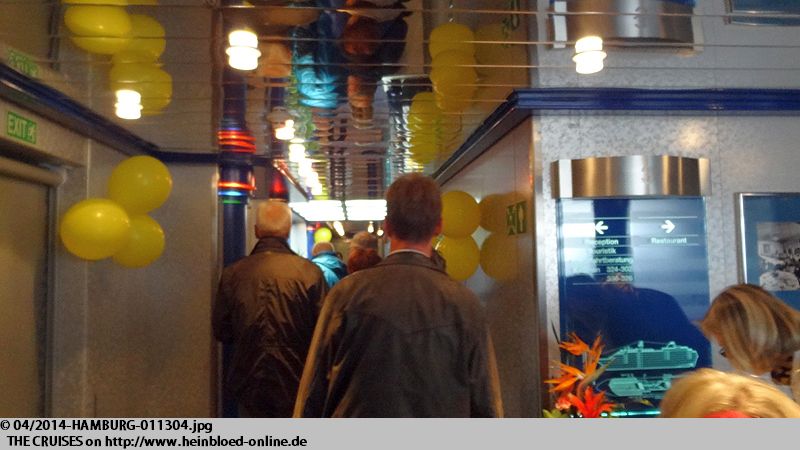 Der Grund ist einfach, warum noch einige auf der Treppe stehen müssen. Innen erfolgt die Ausgabe der Kabinenkarten und die Personalausweise müssen abgegeben werden. Und weil ein paar Gäste Back-to-back fahren und die nächste Reise aber ein ADAC-Charter ist, dauert es einen Moment länger.
Wie üblich wird man fotografiert. Nur diesem Fall leider sehr störend, weil keiner weiterkommt.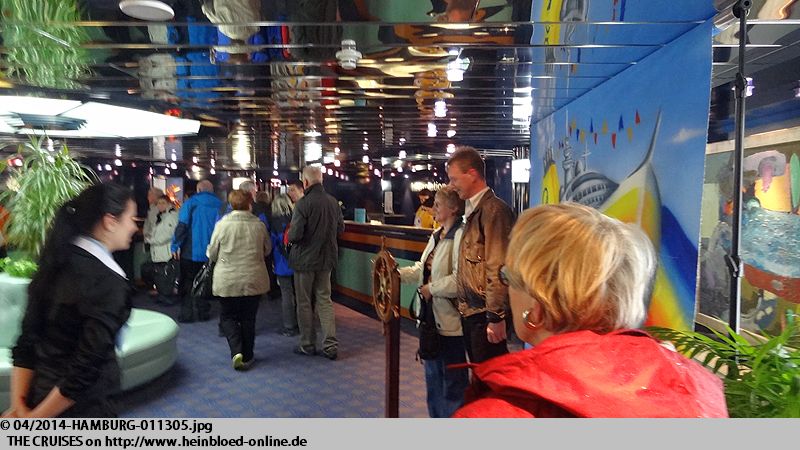 As usual they took pictures. But here it was annoying because nobody could heading on.

We had regular ship cards which we could also use to make our payments.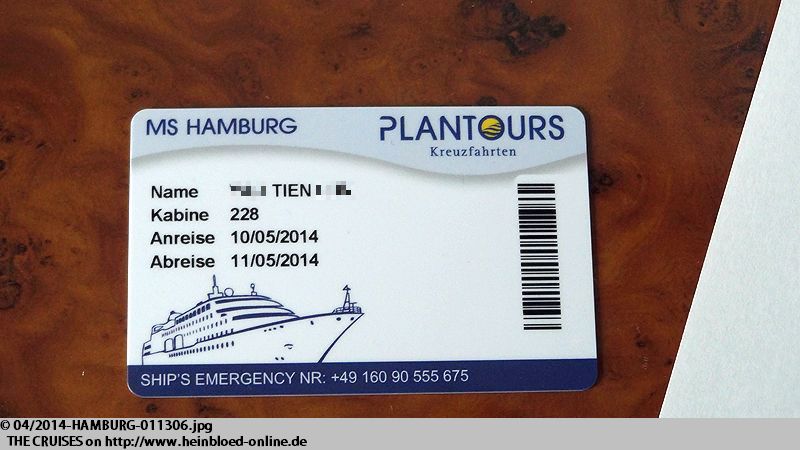 Es gibt normale Bordkarten, mit der wir auch unsere Rechnungen begleichen.
Ansonsten macht die Lobby einen netten Eindruck.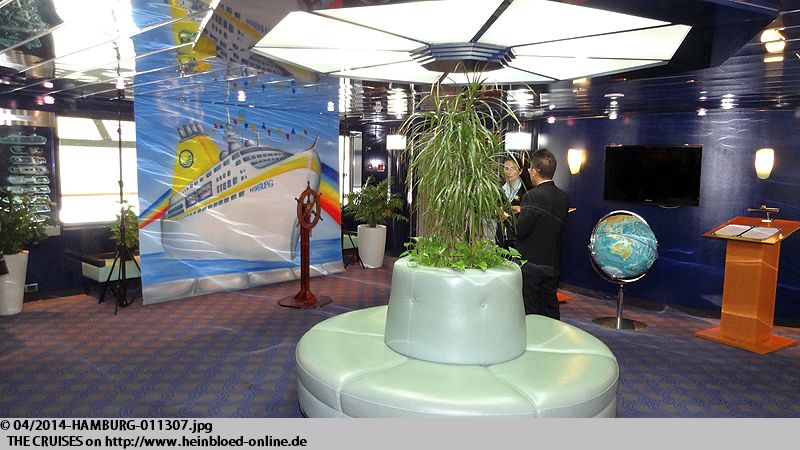 The lobby made a nice appearance to me.

Here they were escorting you to the cabin.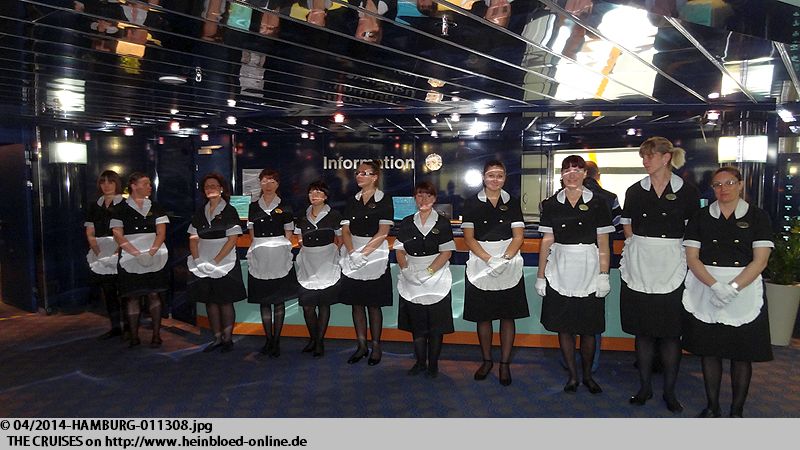 Hier wird man noch zur Kabine begleitet.
Und hier muss man nochmals seine Kreditkarte vorlegen, wenn man am nächsten Morgen einfach von Bord gehen möchte. Hier merken wir auch, dass eine Grenzlinie innerhalb der Lobby verläuft. Die Rezeption gehört zum Hotelbetrieb und gegenüber ist der Reiseveranstalter Plantours. So passiert es auch schon mal, dass man sein Anliegen zwei Mal vortragen muss, weil man auf der falschen Seite fragt. Etwas, dass wir von den amerikanischen Schiffen nicht kennen.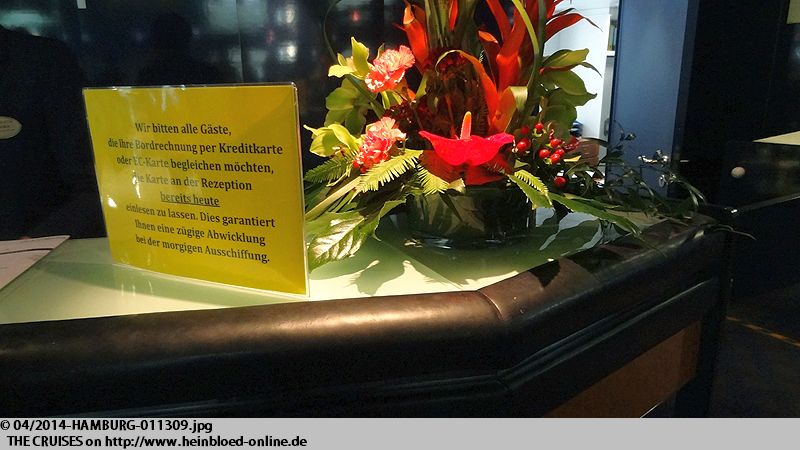 And here you need to present your credit card again if you want just want to walk-off easily from the ship. Here we noticed that there was a border line in the lobby. The front desk was part of the hotel operation and opposite it was the tour operator Plantours. So it could happen that you had to report your request twice because you asked at the wrong side. Something we did not know from the American ships.

At a moment when it was calm at the front desk we did this.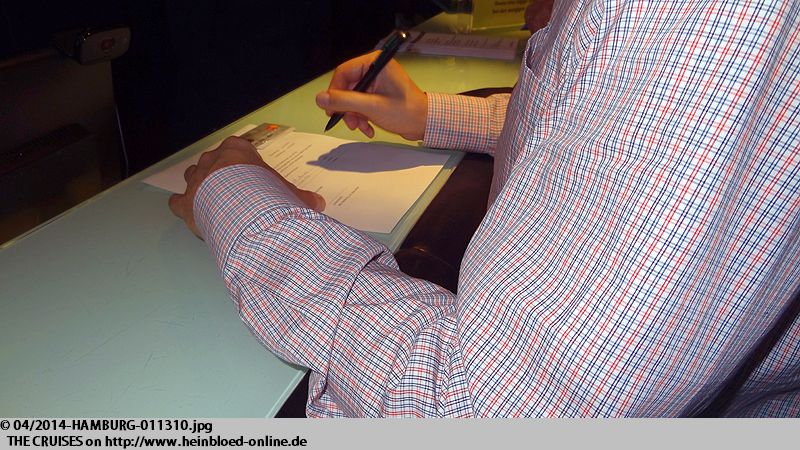 In einem Moment, als an der Rezeption nichts los ist, machen wir das mal.
Zwischenzeitlich hat man gelernt und man lässt nur noch Gäste auf die Treppe rauf, wenn sichergestellt ist, dass sie nicht unterwegs stehen bleiben müssen.

Meanwhile they learned and they let only guests moving on the stairs if it was for sure that they must not stand on and can just walk through.

We were happy that we did have so much paperwork.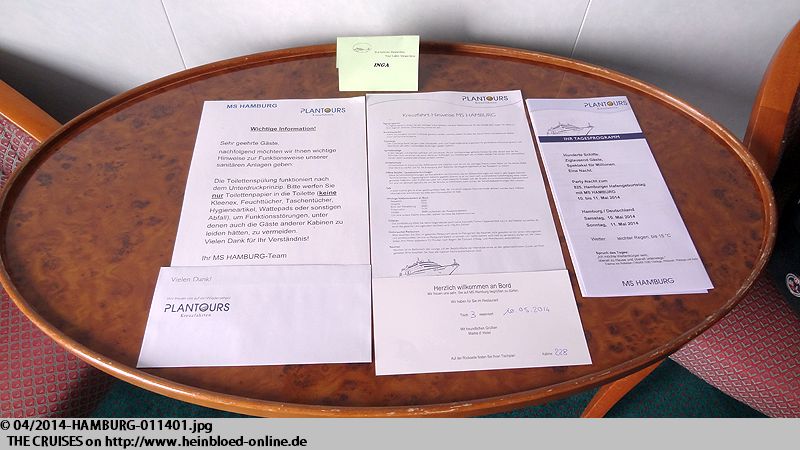 Zum Glück erwartet uns nicht viel Papierkram.
Die Kabine ist nett. Könnte ich mir durchaus vorstellen auch mal 14 Nächte zu verbringen. Unsere Kabine gehört zu der Kabinenkategorie 6a. Mir konnte man so genau den Unterschied zwischen 6 und 6a nicht erklären. Wären wir in Mannheim wäre es ganz einfach... 6 fährt nach Neuostheim und 6a zur SAP-Arena über Neuhermsheim... Leider war es hier nicht so einfach... 6a wird wohl als Single Kabine vermarktet. Sie ist aber wohl für zwei Gäste voll ausgestattet. Viele kleine Details. Nur wozu die Plastikbecher im Kleiderschrank sind, ist uns bis heute unklar. Es gab keine Notwendigkeit etwas abzukleben. Von der Belüftung her war alles in Ordnung.

The cabin was nice. I could imagine to stay here for 14 nights. Our cabin category was 6a. Nobody was able to explain the difference between 6 and 6a. Would we be in Mannheim, Germany it might be quite easy... 6 goes to one part of the town and 6a to the other... But it was not so easy here... 6a was sold as single cabin. But it was fully equipped for two guests. Many small details. But I had no idea why you need the plastic cups in the closets. No need to fix something regarding the air-condition. Everything was fine.

Very nice were the big portholes which allow plenty of light into the cabin. Only deck 2 was a little strange to us. We could easily see on the pier what happened not so many times.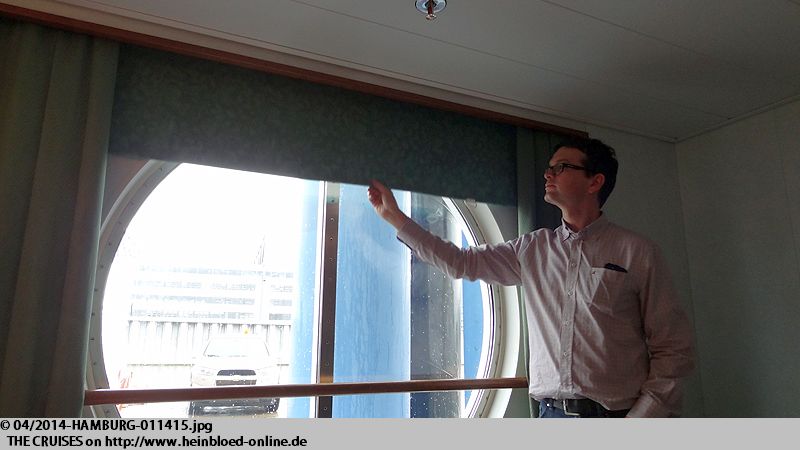 Sehr angenehm sind die großen Bullaugen, die viel Licht in die Kabine lassen. Nur Deck 2 ist für uns ungewohnt. Selten, dass wir direkt auf den Pier gucken.
Mein
Douglas Ward
wir sehr schnell unterschrieben und wieder in die Kabine zurückgebracht.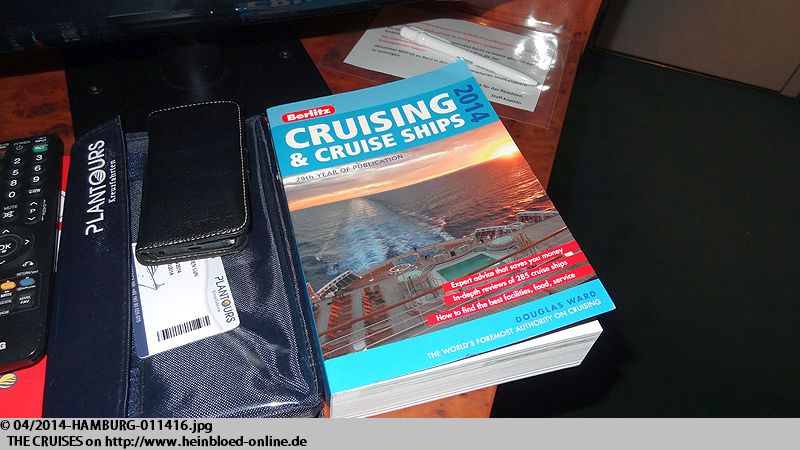 My Douglas Ward was quickly signed and returned into my cabin.

You can easily "communicate" at the door when you need service.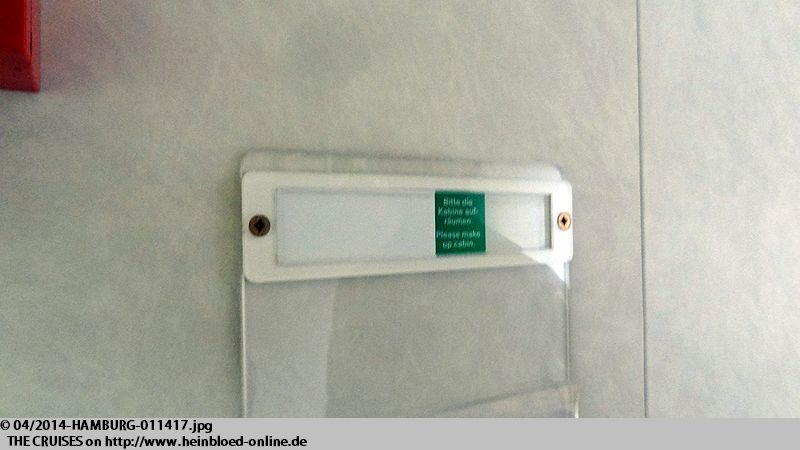 An der Tür kann man auch schön "kommunizieren", wenn man Service möchte.
Oder wenn man nicht gestört werden will, es sei denn, dass jemand wieder anruft und nachfragt, ob man das ernst meint... zum Glück aber nicht hier auf der HAMBURG. Das war auf einem anderen Schiff...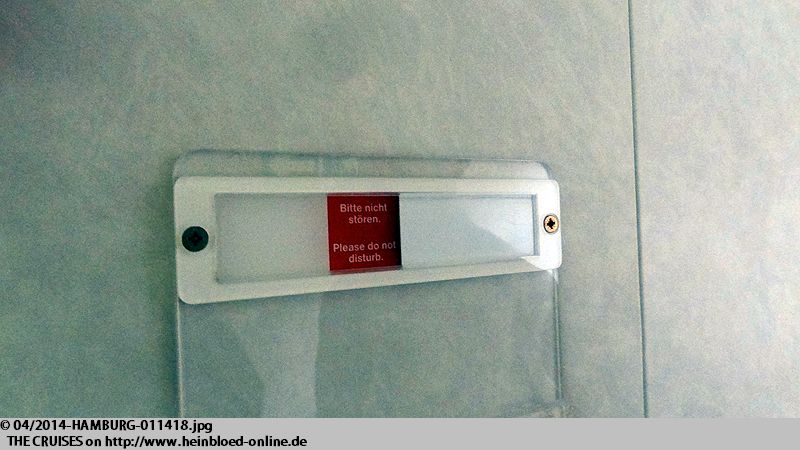 Or if you did not like to be disturbed unless that someone would call and asked if you meant it serious... we were lucky that it was not so on HAMBURG. That was on another ship...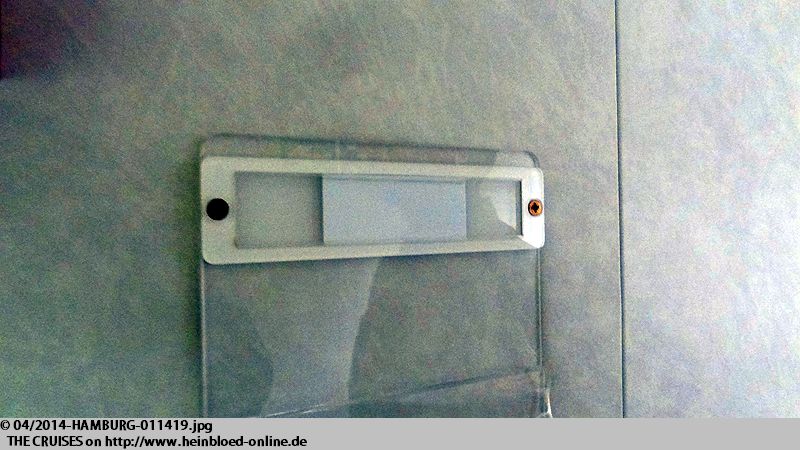 Im Bad war alles in gutem Zustand. Ich musste weder jemand von der Haustechnik rufen, damit die Entlüftung in Ordnung gebracht werden muss, noch musste ich jemand um Duschgel bitten. Alles da, was mich glücklich macht, zumal sie die besseren Serien wie
Sutton and Foster vom ADA Shop
nutzen. Das benutzen wir auch zu Hause. Ungewöhnlich: man muss den Schrank öffnen, um das Toilettenpapier zu finden und die Handtücher sind so groß (und weich), dass man sie schon fast als Bettdecke nutzen kann.

In the bathroom everything was in a good condition. No need to call any technician to make the air absorbtion running or to ask for some body wash. Everything was set as I loved it, especially they provide the better series like Sutton and Foster by ADA Shop. We also use them at home. Not very usually: you must open the door of the closet to find the toilet paper and the towels were so large (and soft) that you could use them as blanket.

Something I was looking for on CELEBRITY MILLENNIUM and I did not find.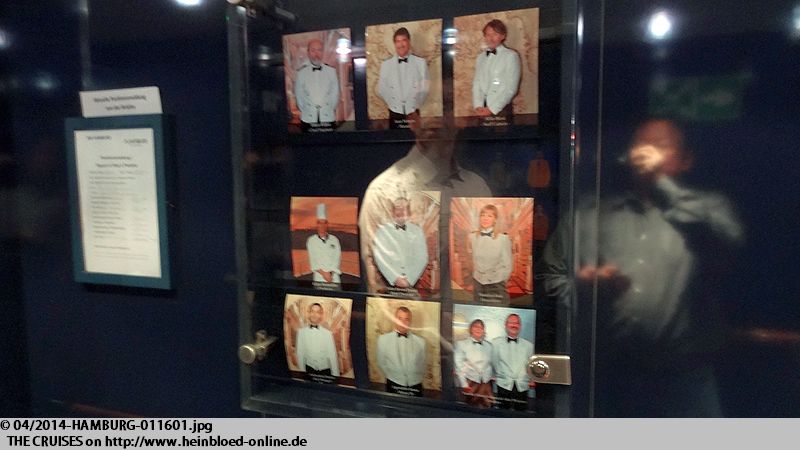 Das hatte ich auf der CELEBRITY MILLENNIUM gesucht und leider nicht gefunden.
Wir sehen uns auf dem Schiff um. Sogar eine echte Bar für Raucher gibt es. Leider blieb das Geschäft geschlossen. Wie es damals eigentlich die ASTOR gemacht? Damals haben wir auch eingekauft.

We looked around on the ship. They had a real bar for smokers. Unfortunately the ship stayed closed. How was it on ASTOR? I remember that we shopped.

On board you can rent bicycles.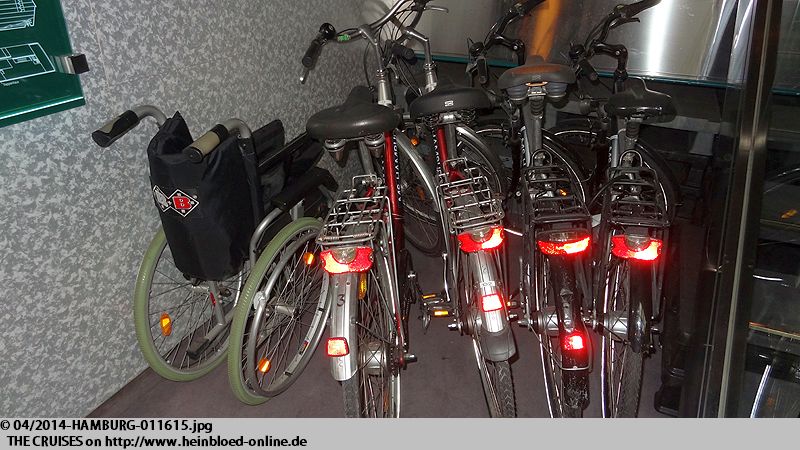 An Bord kann man sich wohl auch Fahrräder ausleihen.
Hier geht es wohl runter zum Crewdeck.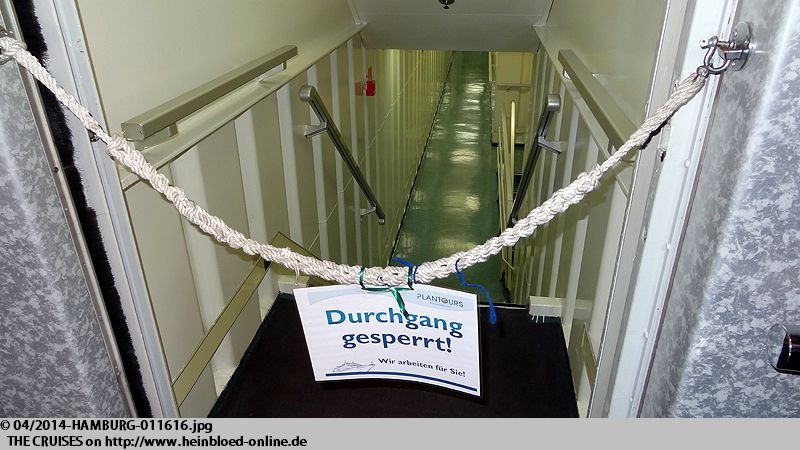 Obviously that was the access to the crew deck.

Why was any French signpost need for?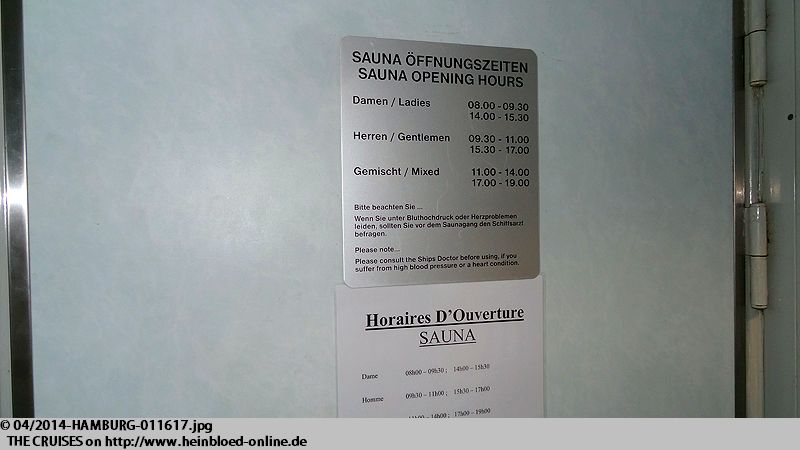 Wozu brauchen sie eine französische Beschilderung?
Leider bleiben auch die Behandlungsräume geschlossen. So kann ich keine Massage buchen.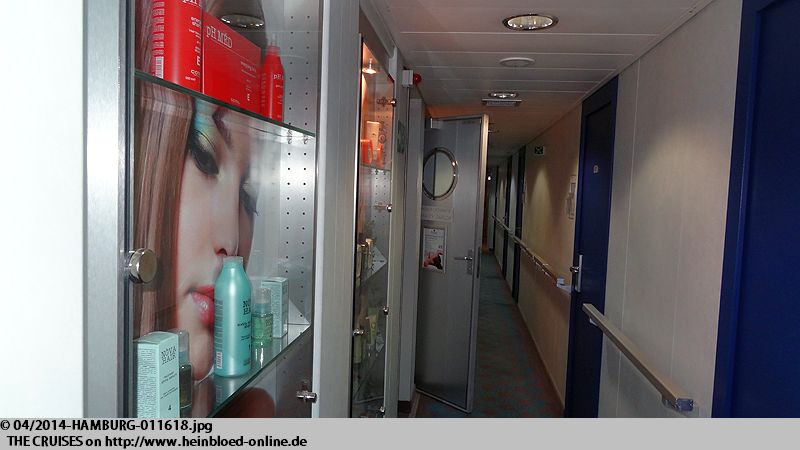 Unfortunately the treating room stayed closed too. So I could not book a massage.

Such a small ship...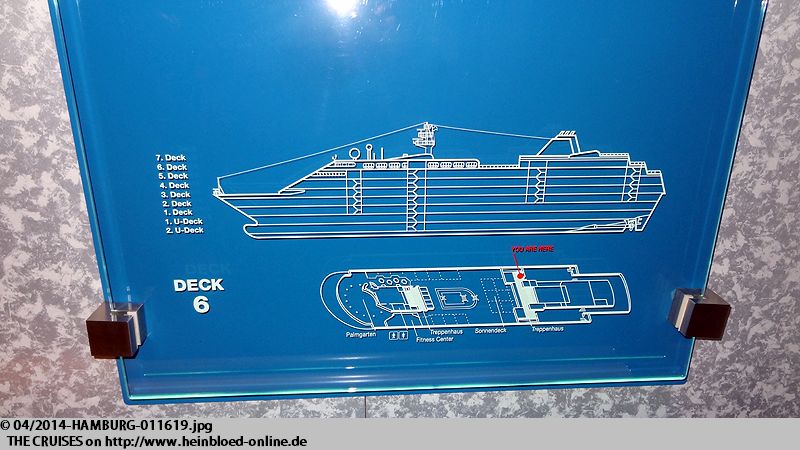 So ein kleines Schiff...
Wir gehen zum SB-Restaurant Palmgarten hoch und gucken uns dort das Angebot an. Es gibt nicht nur Kaffee und Kuchen. Den Willkommenssekt bekommen wir hier. Ich bekomme auch etwas alkoholfreies. Nur ist das der typisch südeuropäische Sirupsaft.

We went to the self-service restaurant Palmgarten and was checking their offer. They had more than coffee and cake. Here we got the welcome champagne. I got something non-alcohol. But it was the typical Southern European syrup juice stayle.

The prices on board were surprising low. They even had here Grappa. Something we missed on CELEBRTIY MILLENNIUM.

Die Preise an Bord überraschen positiv. Sogar Grappe gibt es. Hatten wir ja auf der CELEBRITY MILLENNIUM vermisst.
Der Kaffee wird kostenlos angeboten.

Coffee was offered complimentary.

But I need to have a Coke after the syrup juice.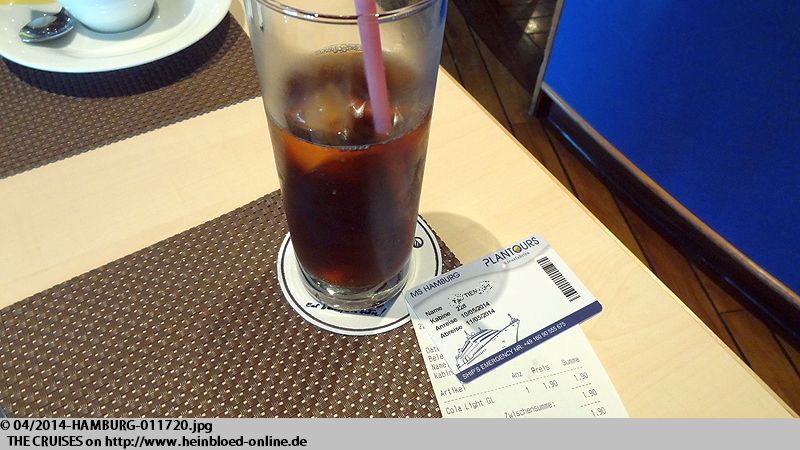 Aber ich brauche mal eine Cola nach dem Sirupsaft.
Und Bruno würde gerne mal den Cappucino probieren. Bruno mag ihn. Mir ist er zu stark und so lasse ich mir etwas Milch noch nachgießen.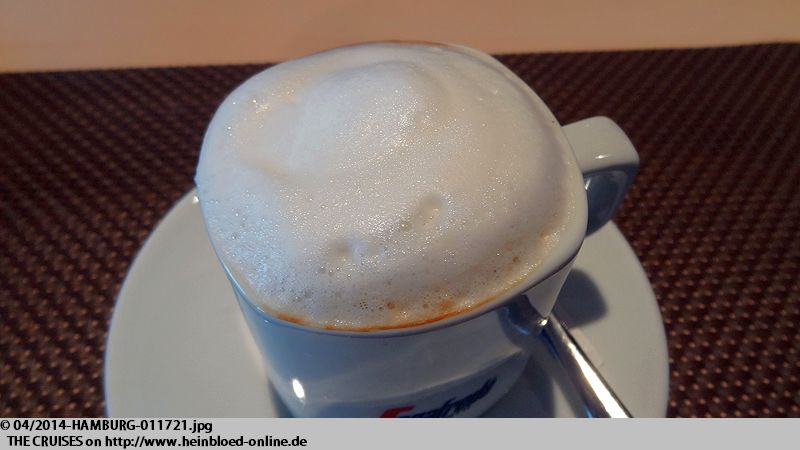 Bruno would like to try a Cappucino. Bruno liked it. For me it was too strong so I need to ask to add some more milk.

Also those beverages were affordable.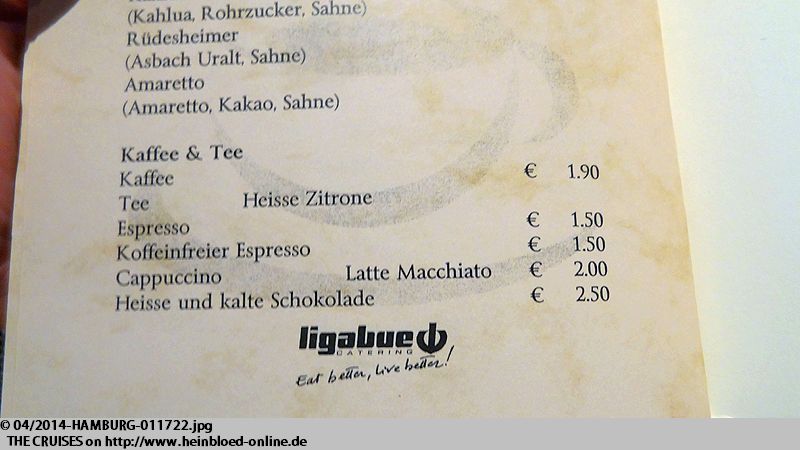 Auch diese Getränke sind bezahlbar.
Draußen regnet es fleißig weiter.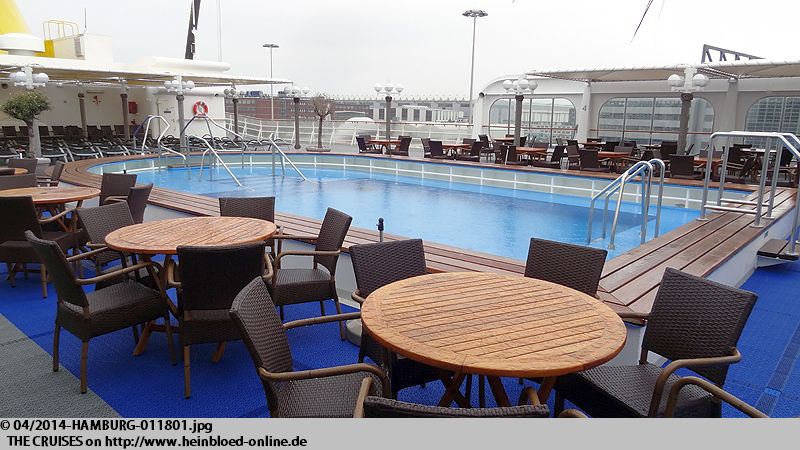 Outside it was still raining.

Here you found blankets.

Hier liegen Decken aus.
Der Sonnenschutz ist leider sehr löchrig, dass es kaum Spaß macht selbst "geschützt" draußen zu bleiben. Es ist also keine moderne Kunst.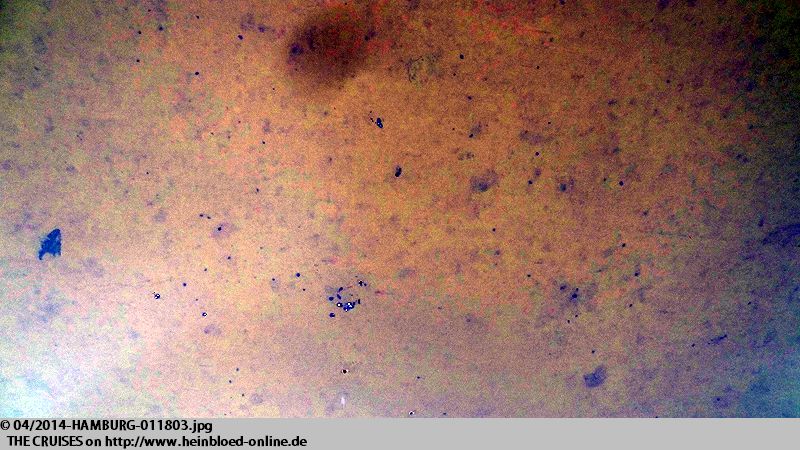 The sun protection was very perforated so it was not very much fun to stay outside even you were "protected". It was no modern art.

We went for Bruno to see the gym. Not everything Bruno would need was available but it was quite useful.

Wir gehen mal für Bruno ins Fitness-Studio gucken. Nicht alles da, was Bruno braucht, aber brauchbar.
Auf den Toiletten sieht es sehr ordentlich und sauber aus.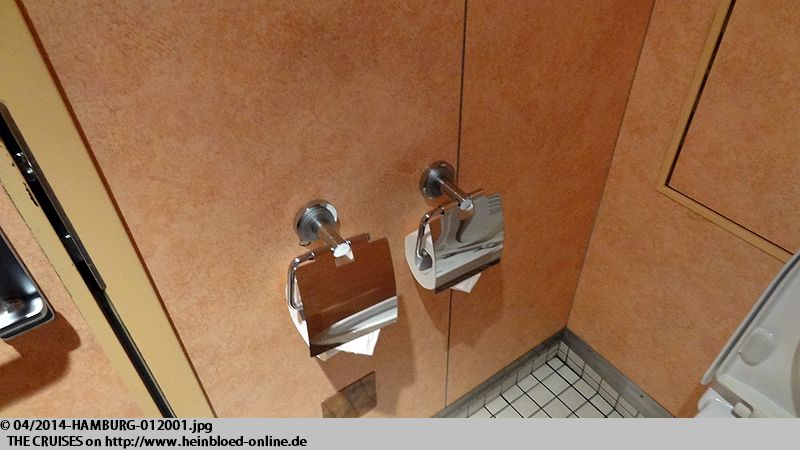 On the toilets it looked very proper and clean.

As elegant as on Premium-Lines and also here you had ADA-products. But they must do something with the signpost... It did not look professional enough.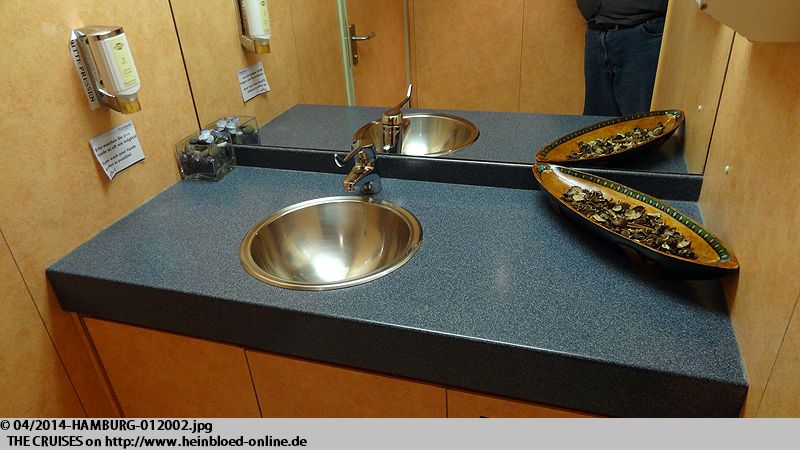 Genauso edel, wie bei den Premium-Linien und auch hier gibt es die ADA-Produkte. Nur bei der Beschilderung sollten Sie etwas machen... Das sieht doch etwas zu unprofessionell aus.
Die DEUTSCHLAND zieht an uns vorbei.

DEUTSCHLAND was passing by.

On the highest deck in the stairway hall there were all bags.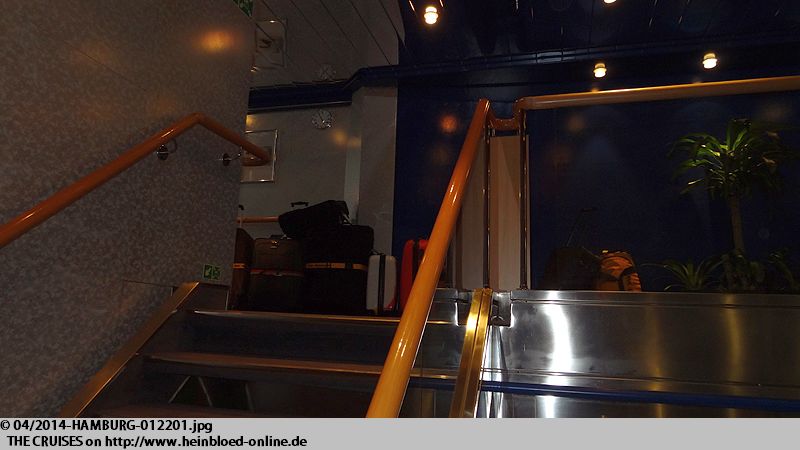 Auf dem obersten Deck im Treppenhaus steht das ganze Gepäck.
Ich frage, ob ich unseren Koffer mitnehmen darf und schleppe ihn selbst in die Kabine.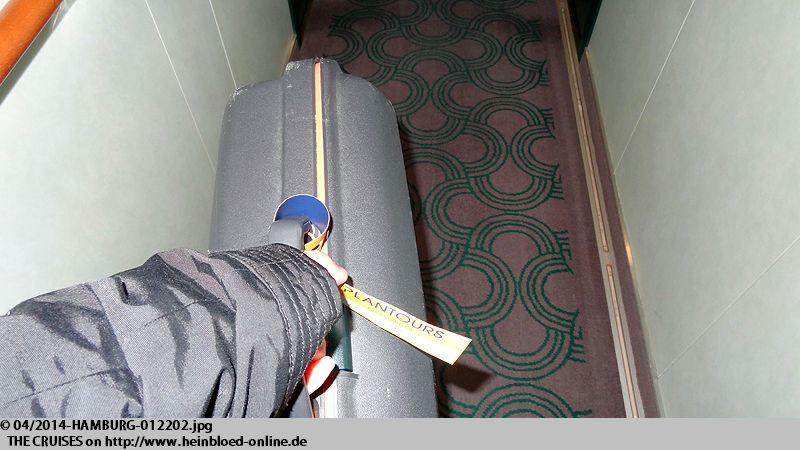 I asked if I might carry our bags myself and carried it myself to our cabin.

We registered for the shuttle back to the central station.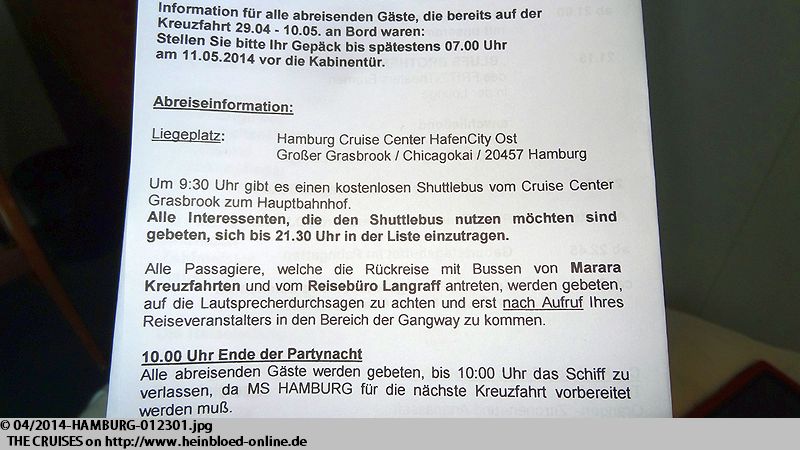 Wir melden uns für den Shuttle zurück zum Hauptbahnhof an.
Nochmals den Hinweis, dass man eben mit der Kreditkarte zahlen kann.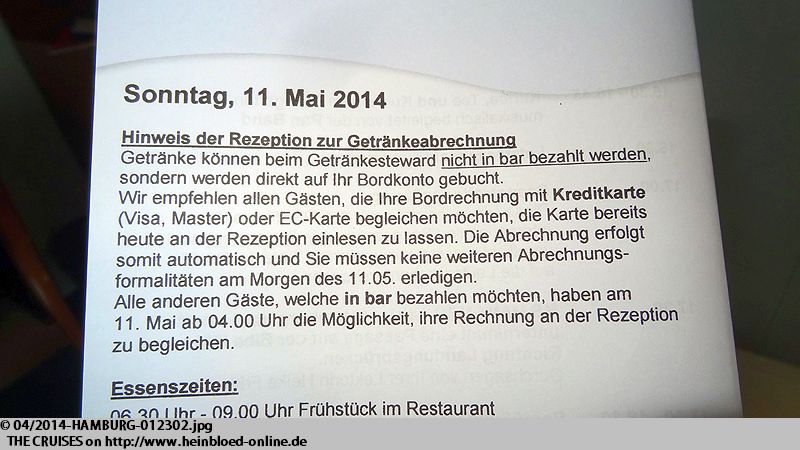 Again the information that you should pay by credit-card.

Here they introduced the senior officers.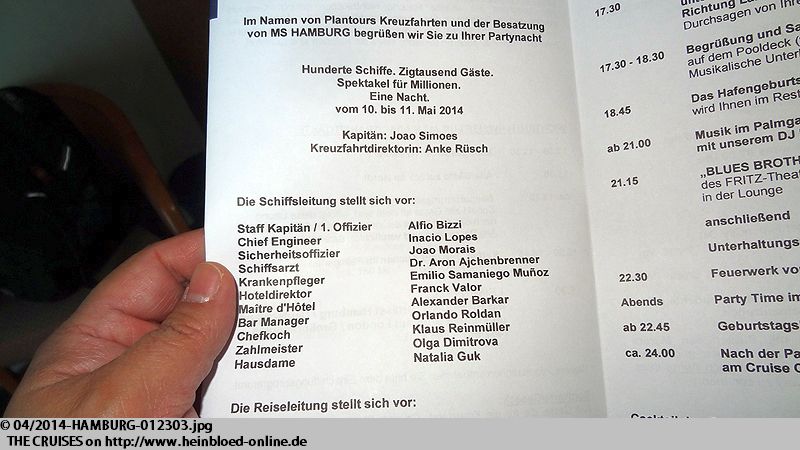 Hier werden die Senioroffiziere vorgestellt.
Seenotrettungsübung... Keine Ahnung wohin wir mussten, und ob die Rettungswesten gebraucht werden....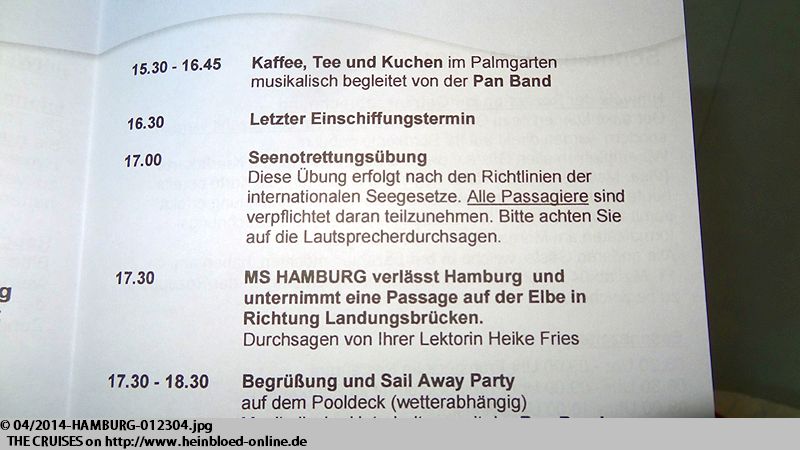 Life drill... no idea where we should go and if the life vest were need...

We called the front desk and were told to check in the hallway what the others were doing... They were called to meet at their muster station.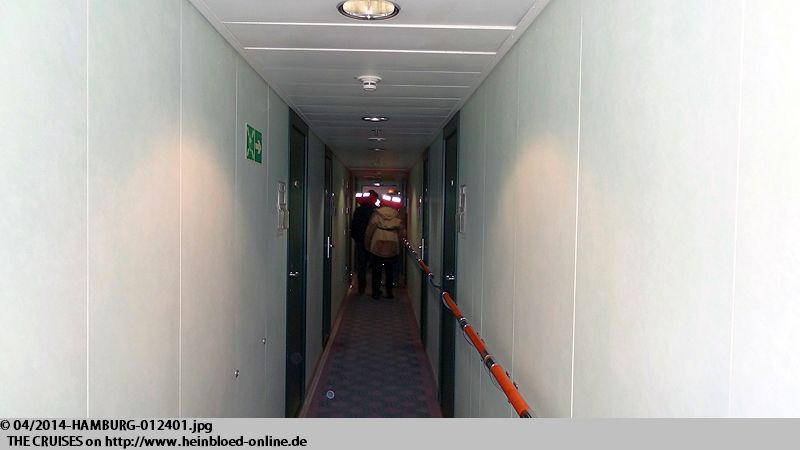 Wir rufen an der Rezeption an und da hieß, dass wir mal in den Gang gucken sollen, was die anderen machen... Die werden nämlich schon aufgerufen zu den Sammelstationen zu gehen.
Sammelstation 4.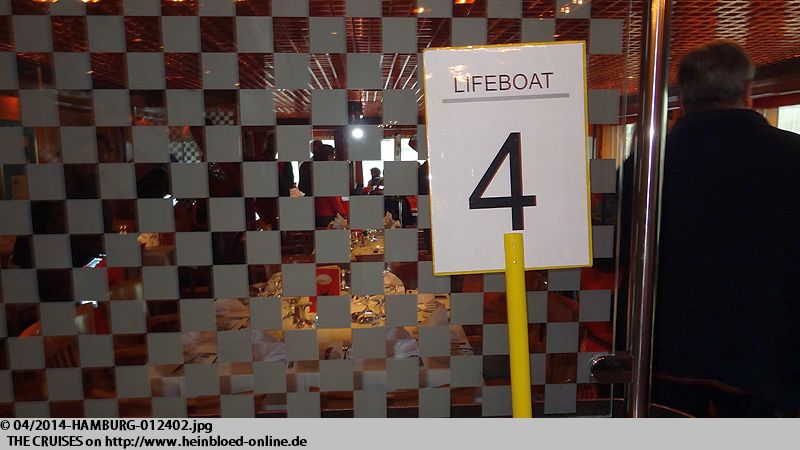 Muster station 4.

We did not have it so far. A piece of rope to connect to others.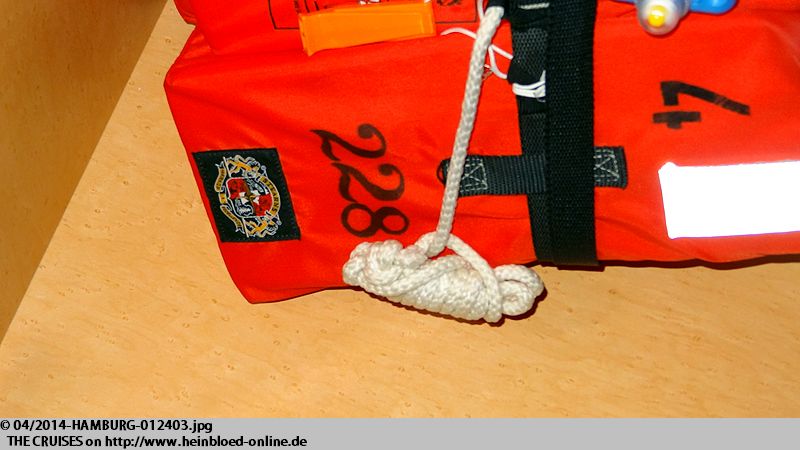 Das hatten wir bislang auch noch nicht gesehen. Ein Stück Seil, um sich mit anderen zu verbinden.