Scroll down for English explanations - alternates with German explanations.

Wir hatten die günstigste Außenkabine angefragt, aber die gab es nicht mehr. Aber wir waren positiv überrascht, wie toll die Kabine war.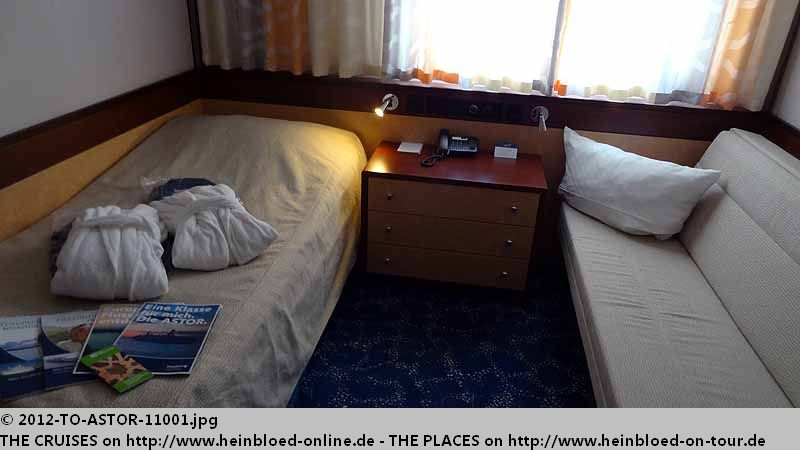 We asked for the cheapest oceanview cabin but there was not anymore. But we were nicely surprised how great the cabin was.

Bath ropes... no standard in this category. And such one which you normally only find in suites.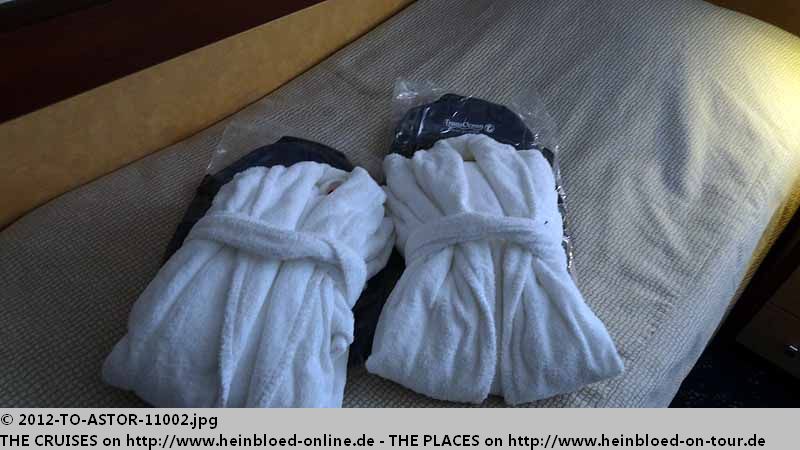 Bademäntel... nicht selbstverständlich in dieser Kategorie. Und solche, die es sonst oft nur Suiten gibt.
Ein Rucksack... so etwas tolles haben wir noch nie bekommen.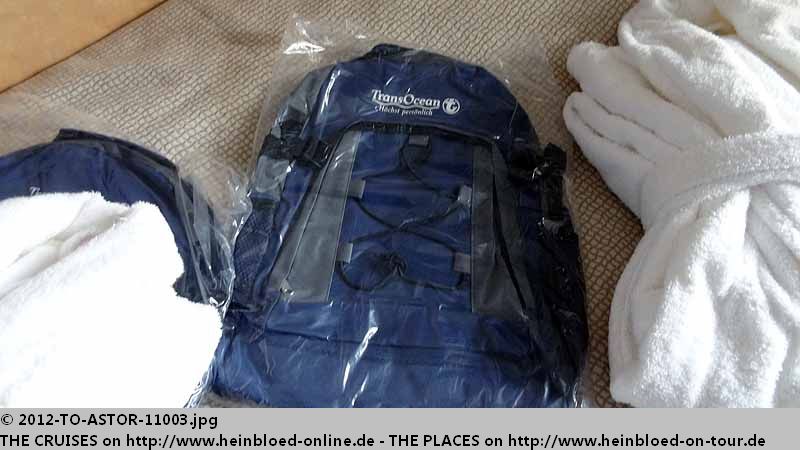 A backpack... we never got such great stuff before.

A flat TV.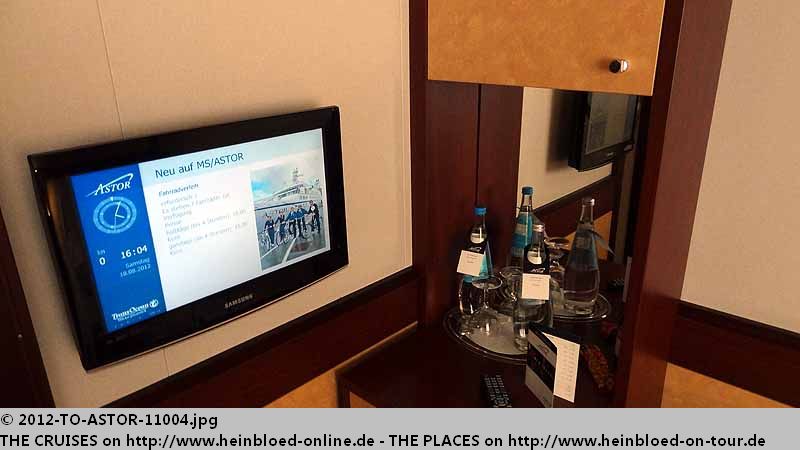 Ein Flachbildfernseher.
Nach den zwei Schritt vor ging es nun drei zurück: Gerolsteiner... da hätten wir ja direkt auf MEIN SCHIFF 2 sterben können.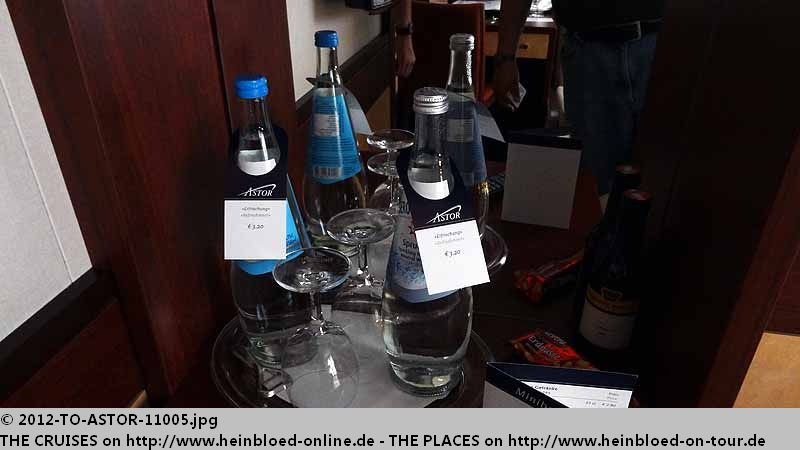 After two steps forward now three steps back: Gerolsteiner... our most hated brand... we better should die on MEIN SCHIFF 2.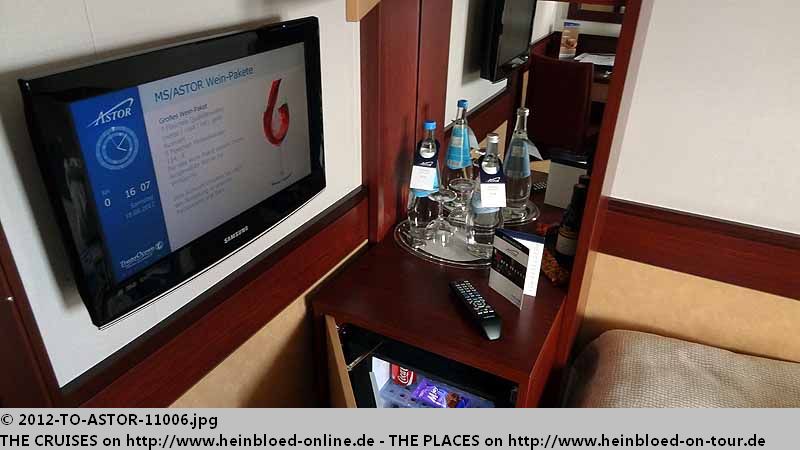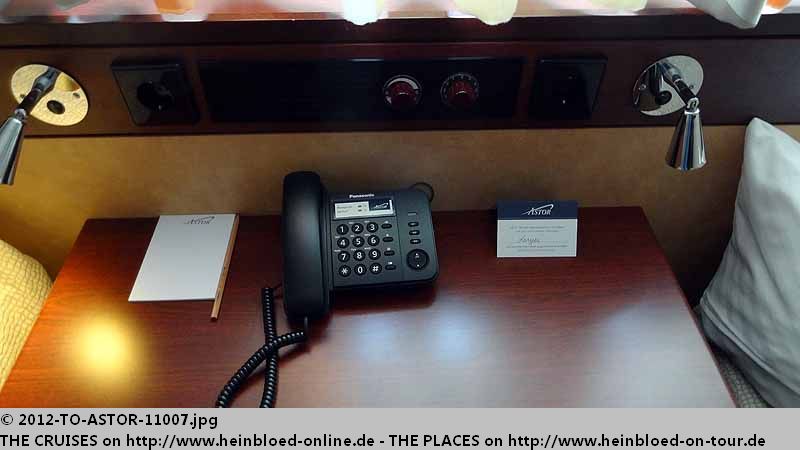 We were nicely surprised to find a cabin gift...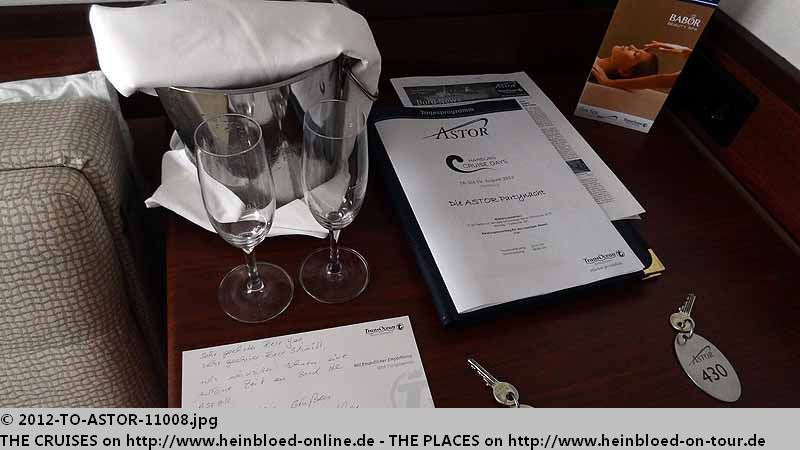 Und zu unserer Überraschung ein Gruß in die Kabine...
... aber "leider" Sekt statt Wasser... gut gemeint, aber wir werden sicherlich Abnehmer finden...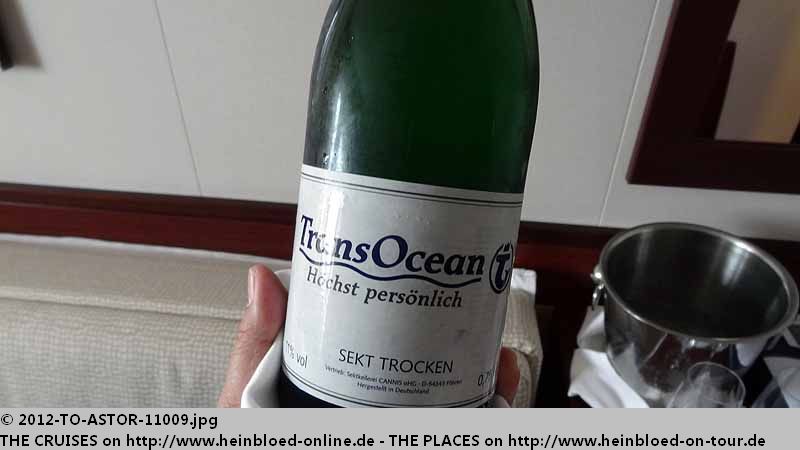 ... but "unfortunately" it was sparkling wine instead of water... we appreciate their intention and we were sure to find someone who will like it.

I liked the gesture and wrote an e-mail back to thank them.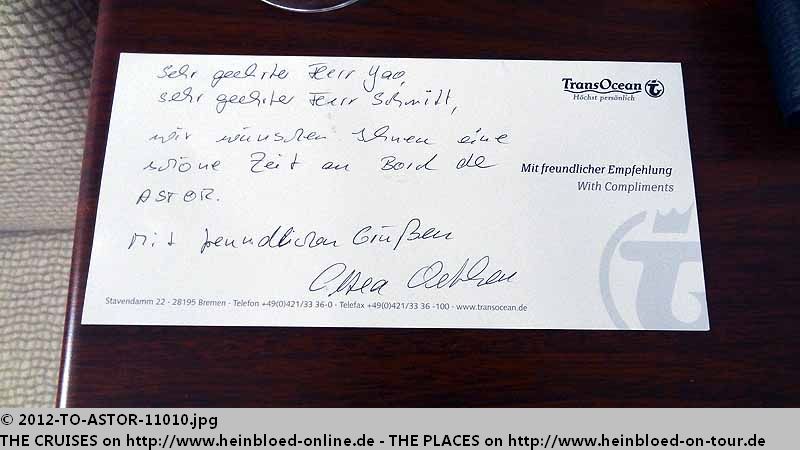 Ich fand das sehr nett und habe ich auch per E-Mail dafür bedankt.
Ein kleiner Tresor. Schlüssel gab es jedoch nur an der Rezeption.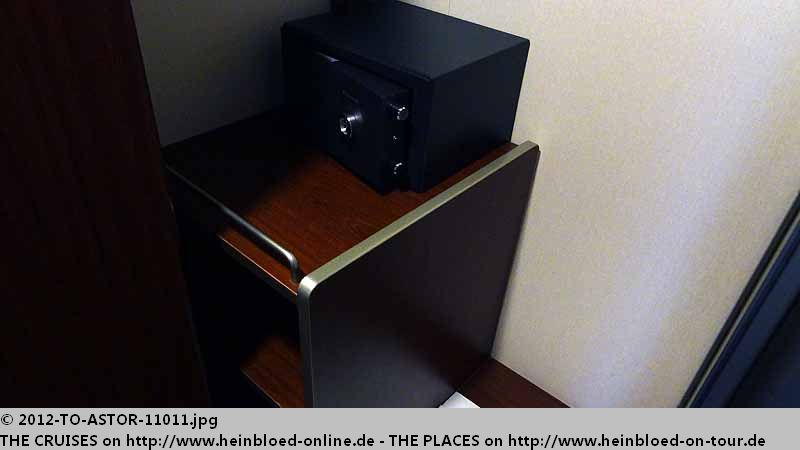 A little safe. You get the keys with the front desk.

Many small goodies you do not find with others anymore.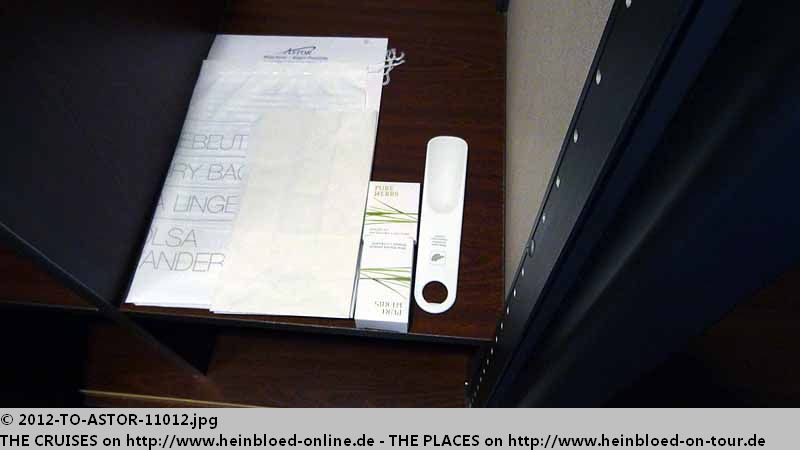 Viele Kleinigkeiten, die es bei anderen nicht mehr gibt.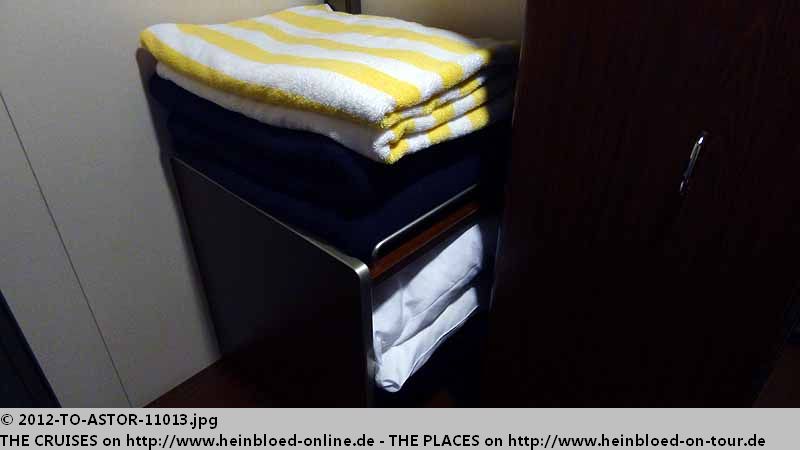 A lot of stowage.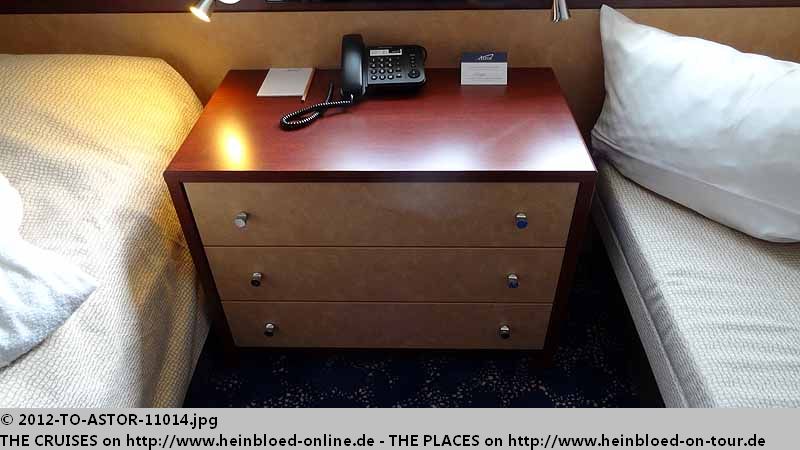 Sehr viel Stauraum.
Steckdosen en masse. Wir brauchen keine Mehrfachsteckdosen mitzuführen.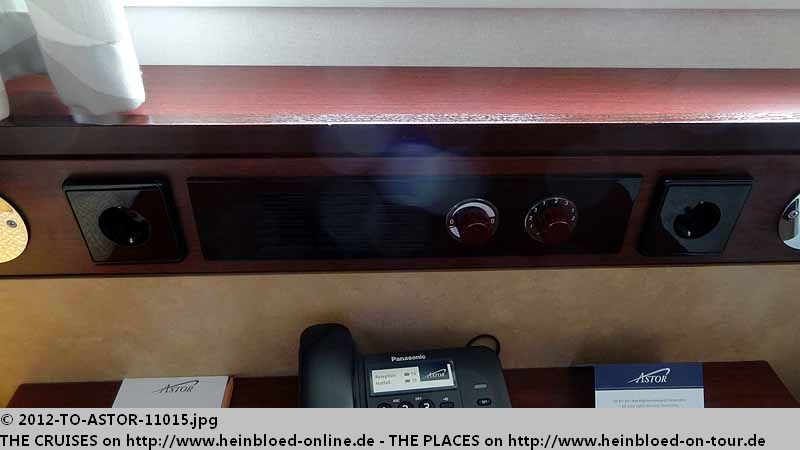 Tons of power outlets. We must not carry multiple outlets with us.

And more outlets.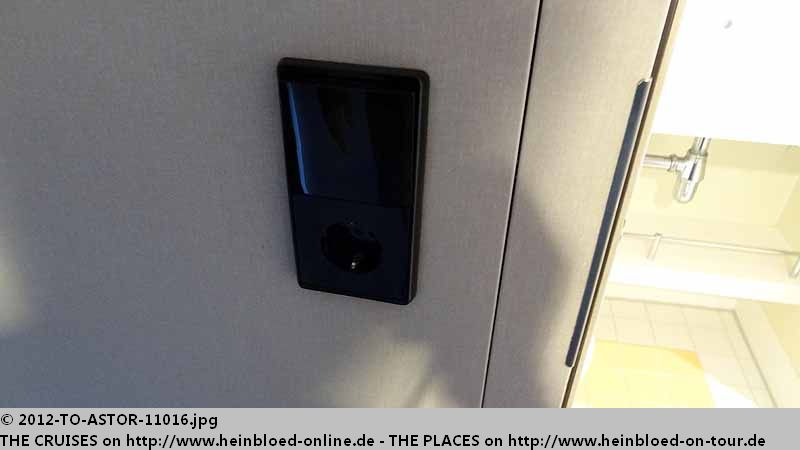 noch mehr Steckdosen.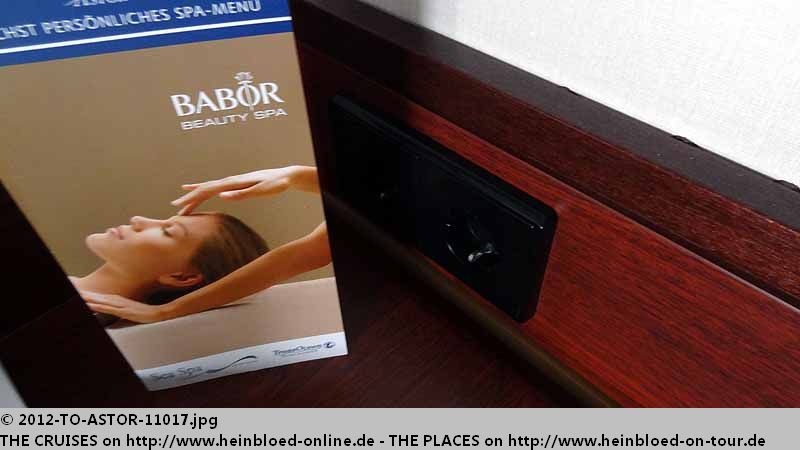 Here the time was correct compared to MEIN SCHIFF 2.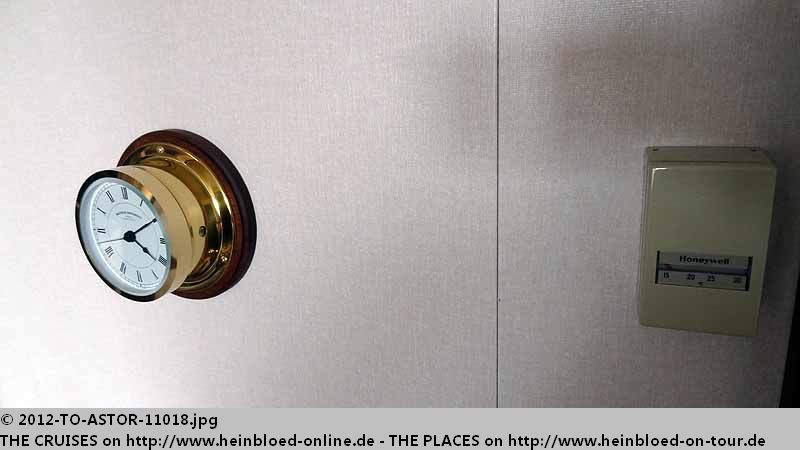 Hier stimmte die Zeit und ging korrekt im Gegensatz zu MEIN SCHIFF 2.
So toller Umbau und hat es nicht mehr für ein Kartenschloßsystem gereicht? Es gab wieder Schlüssel.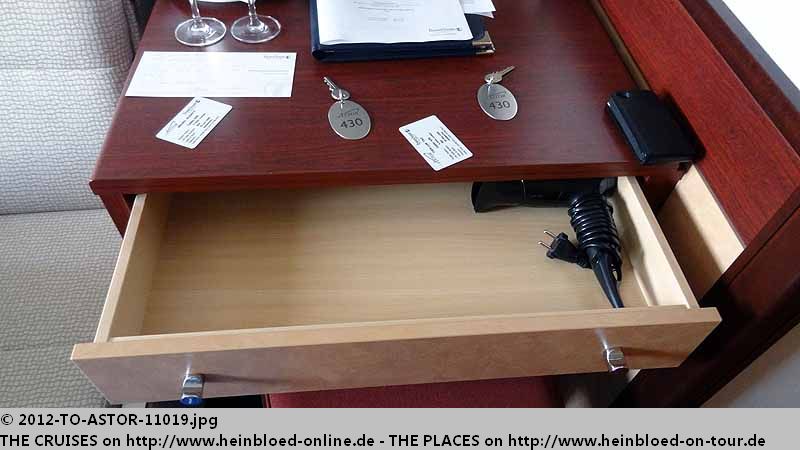 Such great changes and no more money for card lock system? You had keys again.

Even you had some sun-protection.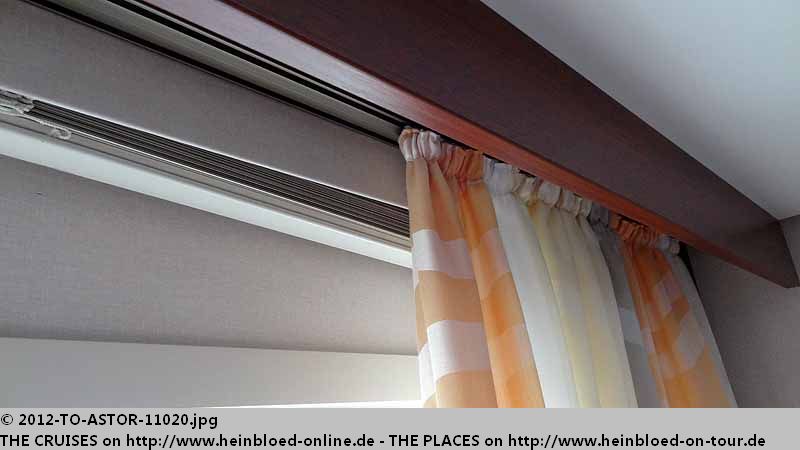 Sogar Jalousinen.
Und da lag das Programm.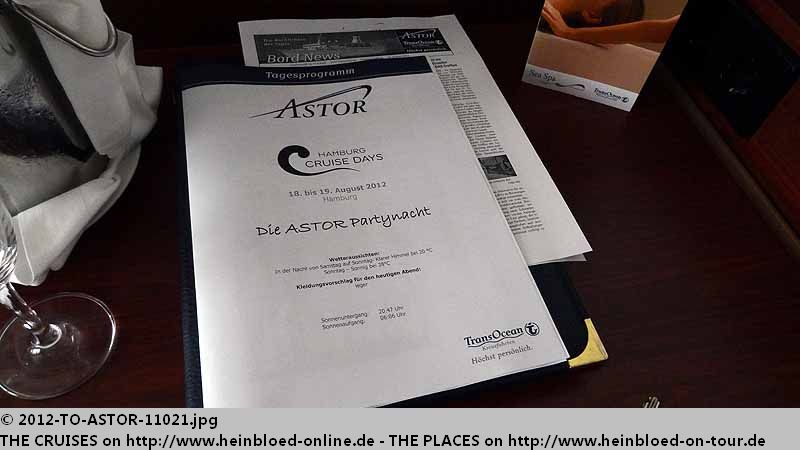 And there we had the daily programme.

Very pleasant compared to our 1-nighter on DELPHIN and DELPHIN VOYAGER. You could pay with credit cards. But no domestic bank cards were accepted like on MEIN SCHIFF 2.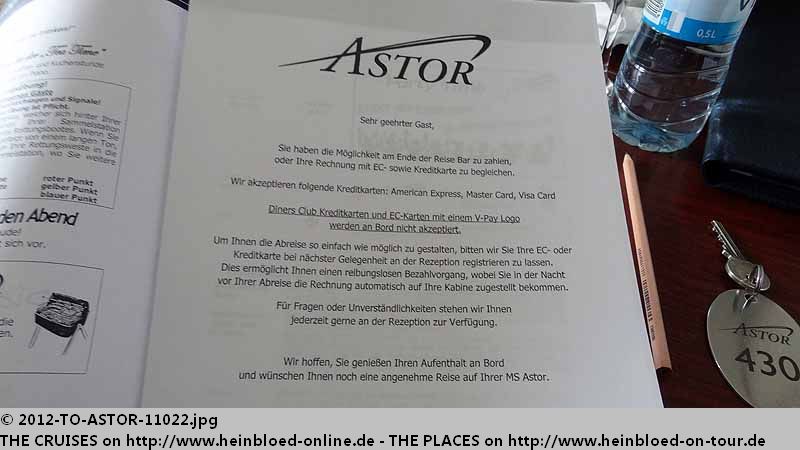 Sehr angenehm im Gegensatz auf der DELPHIN und DELPHIN VOYAGER: Man kann auch mit Kreditkarte zahlen. EC-Karten werden jedoch nicht akzeptiert wie auf der MEIN SCHIFF 2.
Seenotrettungsübung. Seit des die 24-Stunden-Regelung seit dem COSTA CONCORDIA-Unglück nicht mehr gibt, müssen wir auch dahin.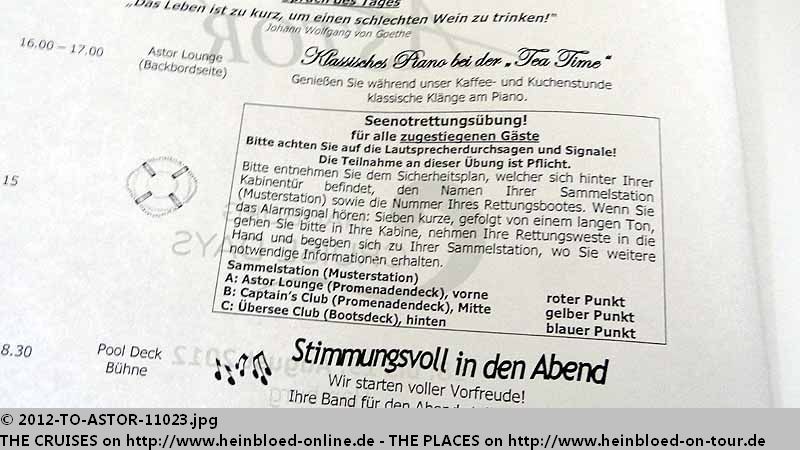 Life Drill. Since the 24-hours-rule was withdrawn after the COSTA CONCORDIA incident we had to go too.

There was one little thing which disturbed me. The barrier on the floor like in an Asian temple to keep the bad ghost out of the house and where I hit me multiple times.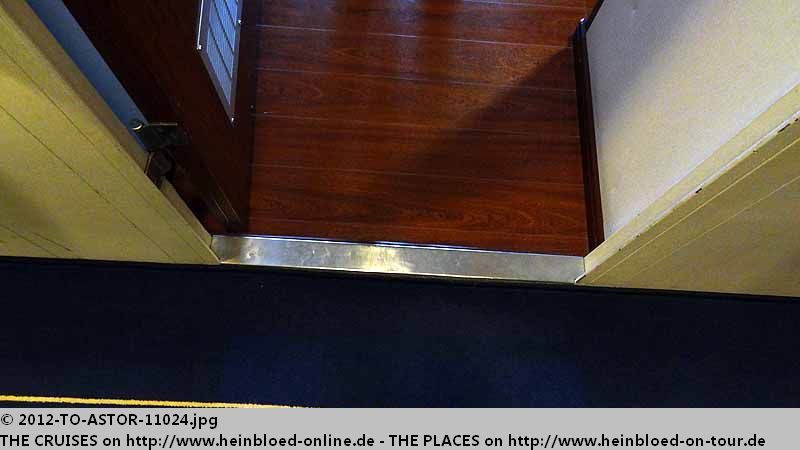 Eine Kleinigkeit störte mich doch: der hohe Absatz, über den ich mehrfach gestolpert bin. Fast wie in einem chinesischen Tempel um die bösen Geister aus dem Haus zu halten.
Das Bad war auch sehr schön.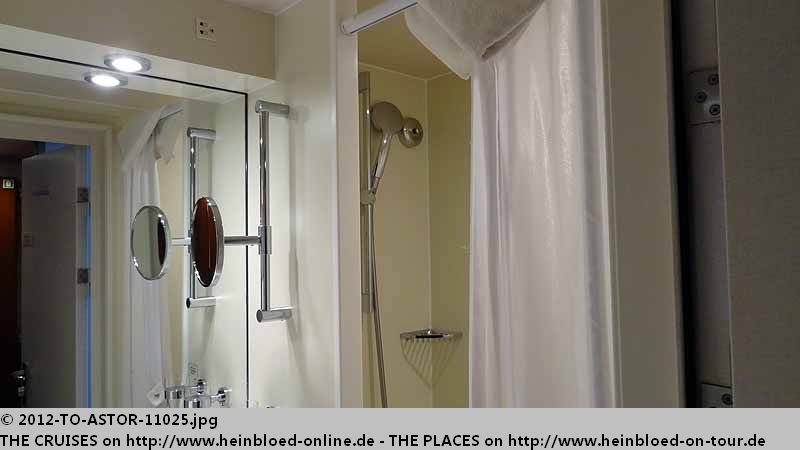 The bathroom was very nice.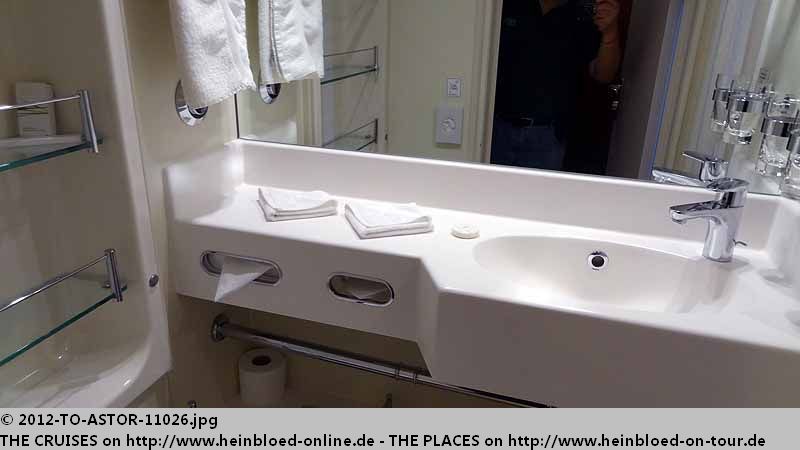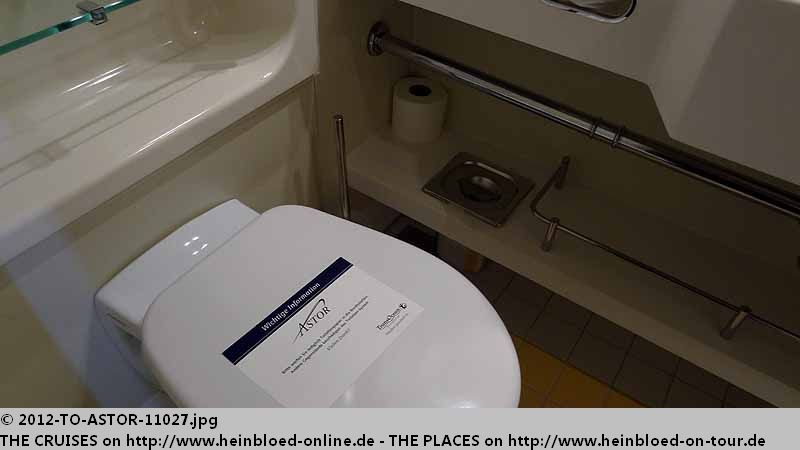 You had to look for the toilet flush a little longer as it was at the side.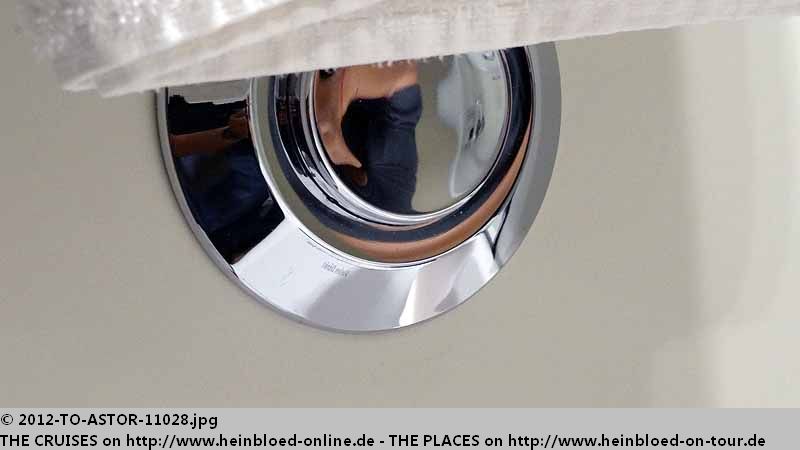 Man musste nur die Toilettenspülung etwas länger suchen, da sie groß an der Seite war...
Schön Platz zum Ablegen.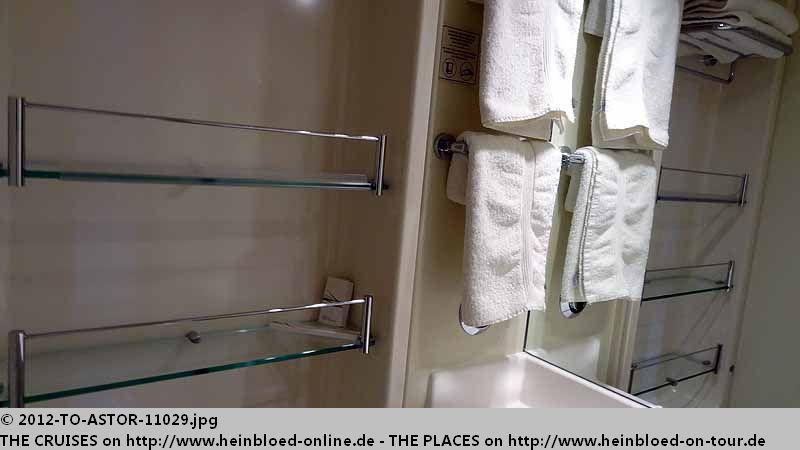 Nice space to place your toileteries.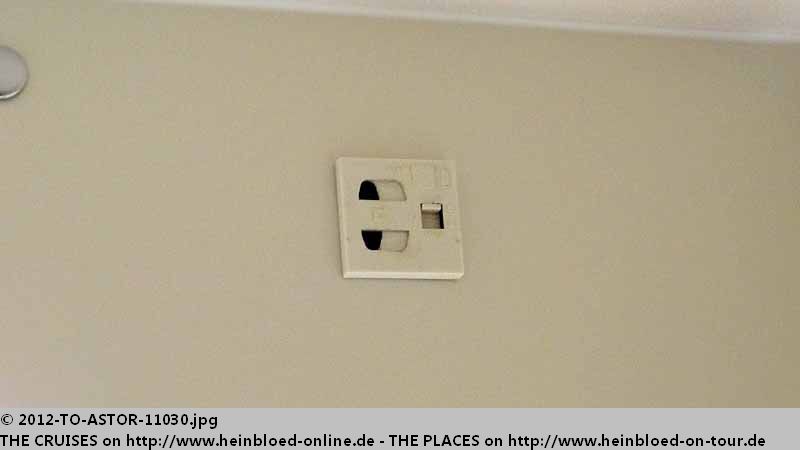 Ein Knopf - wofür der wohl ist?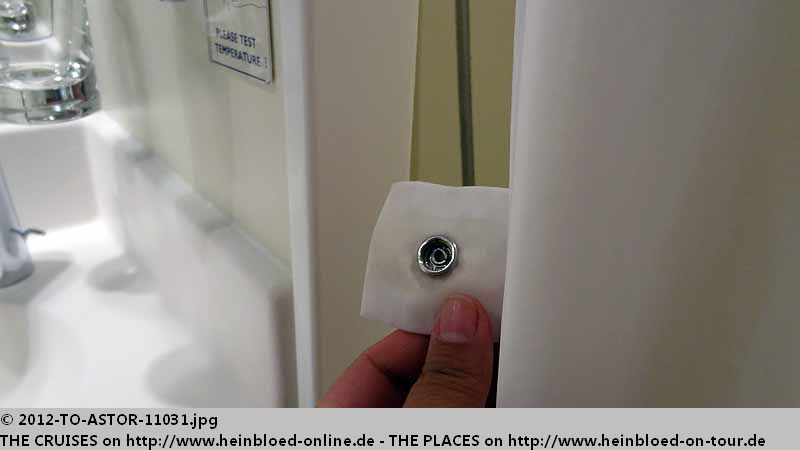 What might be the button for?

Rods which made the curtain staiys in shape from the top to the bottom.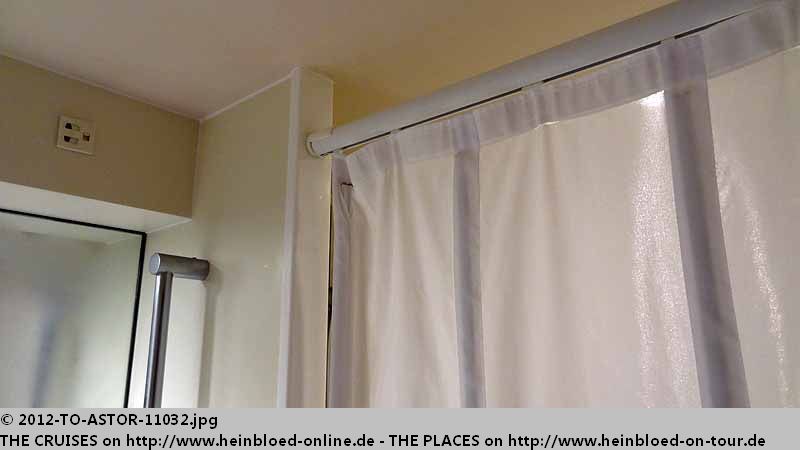 Stangen, die dafür sorgen, dass der Vorhang gerade runter fällt.
Und der Knopf zum zumachen, damit man nicht morgens mit dem Vorhang tanzt. Eine tolle Innovation. Hoffentlich geht es weiter so auf dem Schiff.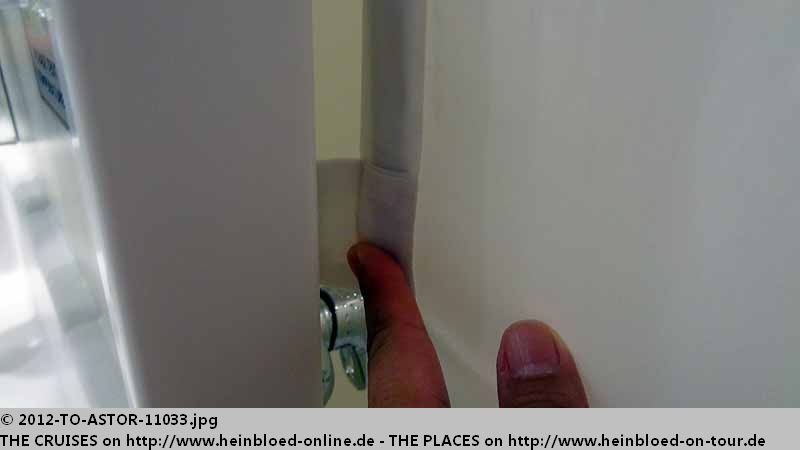 And when you close the button then you must not dance with the curtain every morning. A great innovation. I hope to see more like this on the this ship.