Gegen 14.45 Uhr sind wir auf der Kirchenallee-Seite am Hauptbahnhof (Gleis 1-2). Hier wehen die Fahnen von AIDA.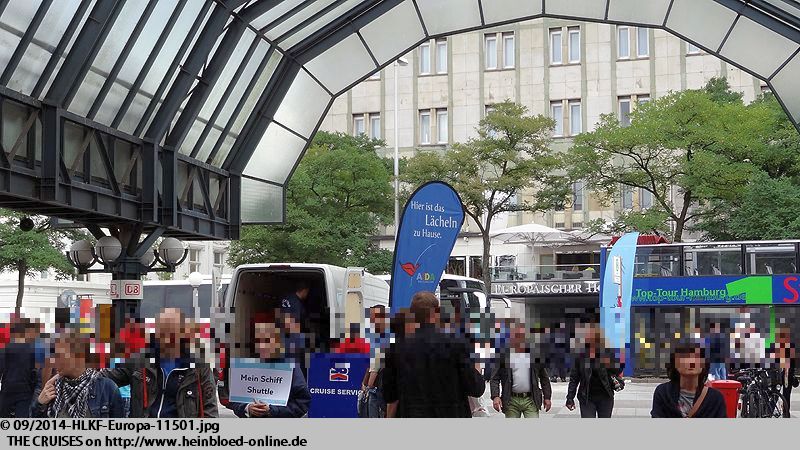 Around 14.45 hrs we were at the Kirchenallee-side at the Central Station (Track 1-2). Here you could see the flags of AIDA.

Few feet apart you could see those o TUI Cruises. But nobody of Hapag-Lloyd. So went back inside. Here we learned that it should start at 15.45 hrs. When we said that they had told us to show up 15.00 hrs right on time they stealed our thunder. EXTREMELY PROFESSIONALLY !!! they stealed our thunder. Immediately they apologized for the wrong information and they offered us to discuss what we could do during the waiting time in case we were not familiar with the area around.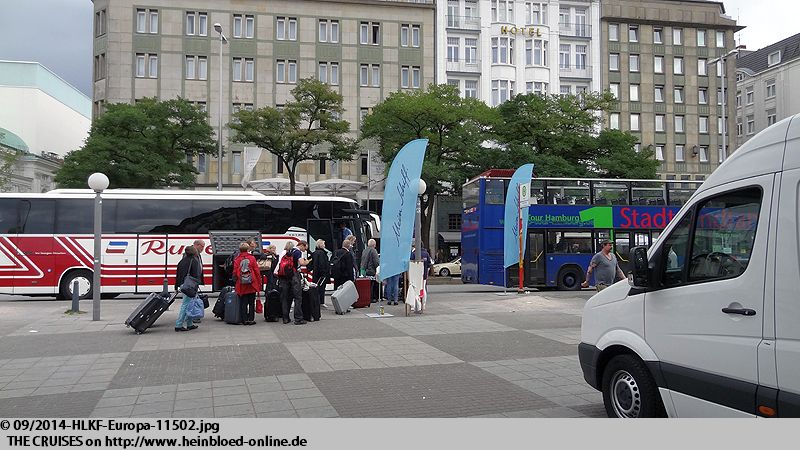 Ein paar Meter weiter von TUI Cruises. Aber nirgendst jemand von Hapag-Lloyd. So gehen wir wieder rein. Hier erfahren wir, dass es erst 15.45 Uhr losgeht. Als wir sagen, dass uns zuvor gesagt wurde, dass wir um 15.00 Uhr wieder hier pünktlich erscheinen sollen, nimmt man uns direkt den Wind aus den Segeln: HOCHPROFESSIONELL!!! nimmt man uns den Wind aus den Segeln: Sofort entschuldigt man sich für die Falschinformation und bietet uns an, mit uns zu besprechen, wie man die Zeit noch totschlagen kann, falls man sich nicht auskennen würde.
Wir nutzen kurzerhand die Gastfreundschaft der Deutschen Bahn und gehen in die DB Lounge.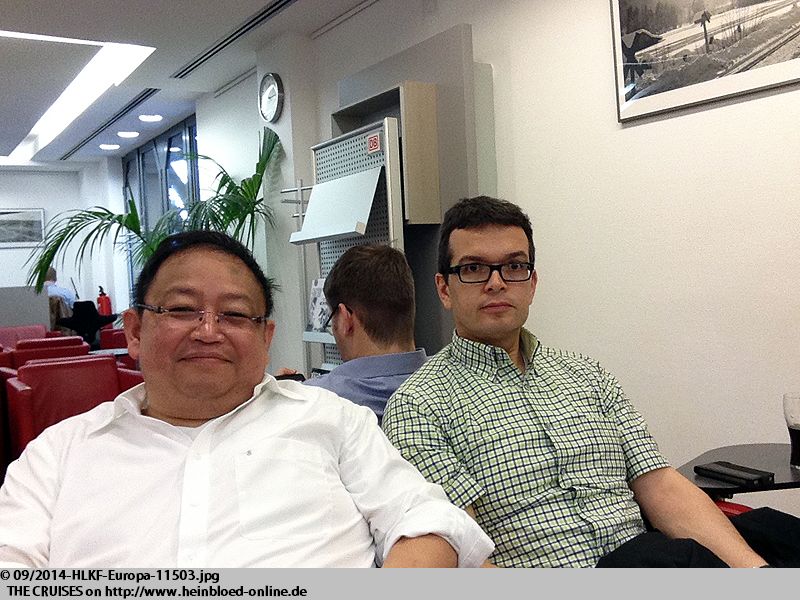 We decided short-notice to use the hospitality of German Railways and went to the DB Lounge.

Normally they had a kind of Welcome Lounge. We made a booking to use it. But we were already told many months ago that that this offer would not be available for this voyage.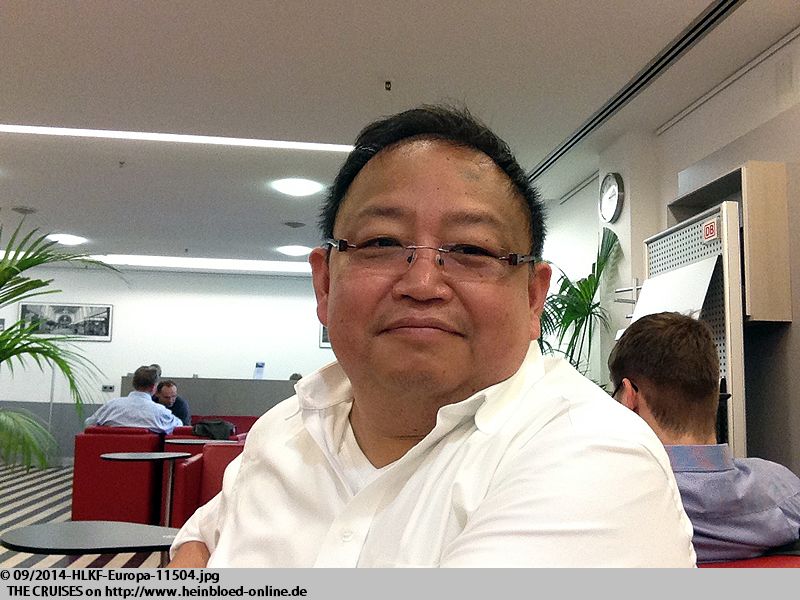 Normalerweise gibt es eine Art Welcome Lounge, für die wir auch angemeldet waren, aber da wurden wir bereits vor Monaten angeschrieben, dass für diese Fahrt dieses Angebot nicht bestehen würde.
Um 15.30 Uhr gehen wir wieder raus und finden den Bus zwischen den Stadtrundfahrtenbussen. Ausgerechnet, die Gesellschaft, die uns zur HAMBURG in Finkenwerder gebracht hat. Hoffentlich nicht der Fahrer, der damals so unverschämt war. Wir sollten ja erst 15.45 Uhr auftauchen. Der Bus ist aber offiziell schon fast voll 39 von 44 Plätzen. Man bietet uns an, auf den nächsten Bus zu warten, da wir möglicherweise nicht zusammensitzen können. Für die 5 Minuten bis zur Kehrwerderspitze werden Bruno und ich uns schon trennen können. Was mich wundert: bekommen alle anderen Gäste andere Zeiten angesagt, dass der Bus um 15.30 Uhr schon so voll ist? Die anderen Gäste haben den Tag zum Shoppen genutzt. Es gibt einige leere Plätze, die aber mit Tüten besetzt sind und eigene Plätze brauchen. Die Namen der Shops kenne ich nicht einmal. Da müsste ich meine Kollegin fragen, mit der ich immer in den USA shoppen gehe, ob das etwas besonderes ist. Keiner von denen rührt aber nur einen Finger, um Platz zu machen. Ganz hinten finden wir aber noch zwei Plätze.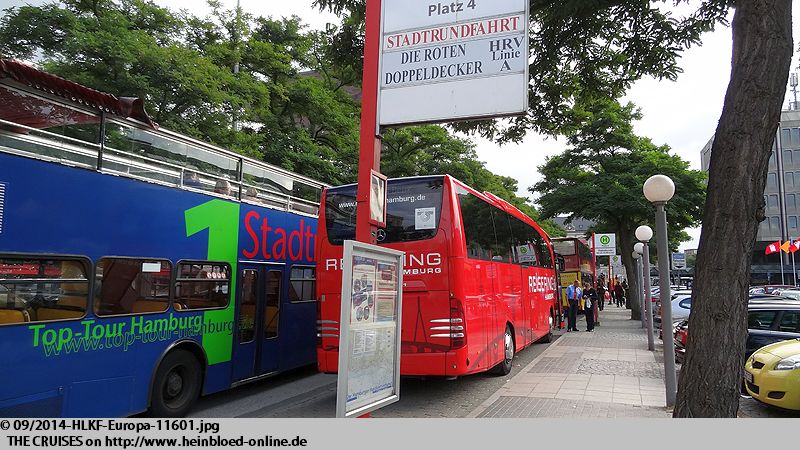 At 15.30 hrs we went out again and found the bus between all sightseeing busses. Of all companies the one which took us to HAMBURG in the suburbs of Hamburg. We hoped it would not be driver who was very outrageous. The bus was officially nearly full because 39 of 44 seats were already occupied. They offered us to wait for the next bus as we might cannot sit together. For the five minutes to Kehrwerderspitze (tender pier) Bruno and I could sit seperately. I was surprised: did other guests get different time slots because 15.30 hrs the bus was already full? Other guests used the day to go shopping. There were few vacant seats which were taken by shopping bags and need their seats of their own. The names of the shops I have never heared about. I need to ask my co-worker whom is going shopping in the US if those brands were something special. None of them was moving one little finger to vacate seats. Very back in the rear we found two seats.

Before departure we were offered some bottled water: carbonated or still. We had it also with Carnival... but then we went from San Diego, CA to Ensenada, Mexico to get onboard of CARNIVAL SPIRIT for Hawaii.

Vor der Abfahrt wird erst mal Wasser angeboten: mit und ohne Kohlensäure. Gab es bei Carnival auch... aber da ging es von San Diego, Kalifornien nach Ensenada, Mexiko, um an Bord der CARNIVAL SPIRIT nach Hawaii zu kommen.
Dann wird uns eine Mini-Stadtrundfahrt angeboten, weil wir nicht vor 16.00 Uhr an der Kehrwiederspitze sein sollen.

Then they offered us a mini-sightseeing tour since we should not be at the pier at Kehrwiederspitze at 16.00 hrs.

When we arrived they driver told us that we were the last who arrived but all of us had allocated cabins. Anyone who is familiar with me knows: I am the Master of Time! I did not like it very much when I was at the place on time and to be the first and then you find yourself back as the last one. It is the principle. But anyhow. The person who placed us into the bus welcomed us and asked me if it was so bad. He was so friendly that there was no reason to be angry immediately. May stood in a row of guards of honor way up to the tender pier and greeted friendly and invited us to head on. There was piece of red carpet for us in a small empty provisorial hall which was erected for whatever (I assume in case of rain). No need to carry your bags yourself. A full bunch of porters was present just to offer service your bags. Even the two minutes we need to arrive in the tender boat were used to offer beverages. You could feel already at the tender pier: even you had an Eterna-shirt, a Swiss high class brand I mostly wear with business meetings but no name tag: you could feel the way they looked at me: what was the manager of the laundry service on EUROPA doing here with all passengers. I felt very unconfortable the way other guests were looking at me. The crew was absolutely wonderful. They treated all guests the same friendly way. Taking the water shuttle took 3-4 minutes but it was a terrible feeling. During those few minutes we had to learn how bad EUROPA 2 must be compared to EUROPA and how most guests need to "suffer" on EUROPA 2. Of course we had no chance to comment as we only could tell how bad NORWEGIAN EPIC was and nobody would understand.

Als wir dann ankommen, meint der Fahrer nur trocken, dass wir nun wohl die letzten sind, aber alle von uns eine Kabine hätten. Wer mich kennt weiß: ich bin Master of Time! Ich mag das nicht so besonders, wenn ich pünktlich an einem Ort bin, um als erster mitzukommen und bin dann der letzte der ankommt. Es geht ums Prinzip. War aber egal. Derjenige, der uns die den Bus gesetzt hat, empfängt uns bereits mit einem Willkommen und fragt mich, ob es auszuhalten war. Es war aber so freundlich, dass ich keinen Grund hatte, sofort böse zu werden. Viele standen dann Spalier bis zum Tenderpier und grüßten freundlich und schickten uns weiter. Es gab sogar ein Stück roten Teppich für uns in einer kleinen leeren provisorischen Halle, die man wozu auch immer aufgebaut hat (Ich vermute mal, falls es regnet). Man musste sein Gepäck nicht selbst schleppen. Eine ganze Armada von Gepäckträgern war vor Ort, die sofort einen alles abnahmen. Selbst die zwei Minuten, die wir brauchten, um ins Tenderboot zu kommen, wurden genutzt, um uns Getränke anzubieten. Man merkte aber schon am Tenderpier: trotz Eterna-Hemd, die ich normalerweise nur zu meinen Business-Meetings anziehe und fehlendem Namensschild: es gab schon die ersten Blicke: was macht der Wäschereileiter der EUROPA hier bei den Passagieren. Ein leichtes unbehagliches Gefühl wurde durch die anderen Passagiere vermittelt. Die Crew war dagegen ganz klasse. Die haben bislang alle gleich freundlich behandelt. Ganz schlimm war die Überfahrt, die mal 3-4 Minuten gedauert hat. In der kurzer Zeit musste ich lernen, wie schlimm die EUROPA 2 gegenüber der EUROPA sein muss und wie sehr die meisten Gäste auf der EUROPA 2 "leiden" mussten. Da konnten wir natürlich nicht mitreden, weil wir bloß erzählen können, warum die NORWEGIAN EPIC so grauenhaft und keiner wird es verstehen...
Nicht wundern, dass die Bilder verpixelt sind, aber Hapag-Lloyd legt großen Wert darauf, dass keine anderen Gäste dargestellt werden, auch nicht als Hintergrund. Aber dazu mehr später. Deswegen sehen die Bilder alle so aus, als ob sie aus "Aktenzeichen XY" ungelöst stammen. Kaum ausgestiegen, fing die Party eigentlich schon an. Während es vor dem Tendern keinen Alkohol gab (Ich vermute, damit keinem auf dem Tenderboot schlecht werden kann...), ging es hier schon direkt mit einem Champagner-Empfang los.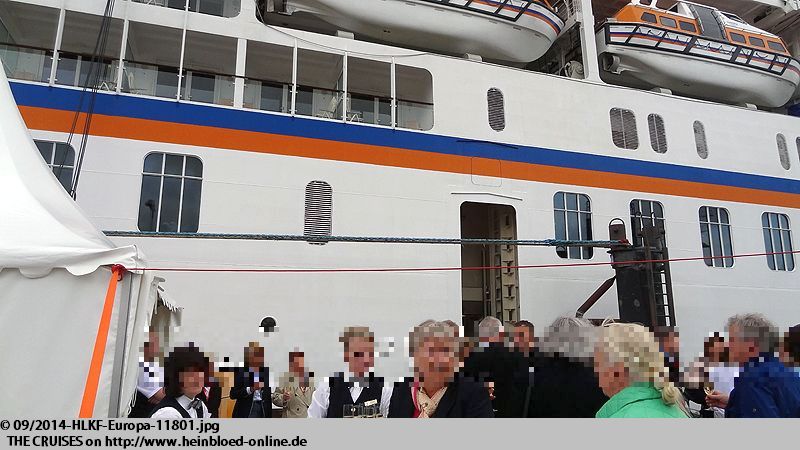 Do not wonder that pictures are pixeled but Hapag-Lloyd insited that no other guests are presented even not as backgroup. But more details later. So all the pictures look like taken from "Crime stoppers". Just left the bus and the party started. Before tendering you cannot any alocohol (I assumed nobody cannot getting bad while we were tendering...), they started here to have a welcome champagne.

Bruno took a little glass to celebrate the special day.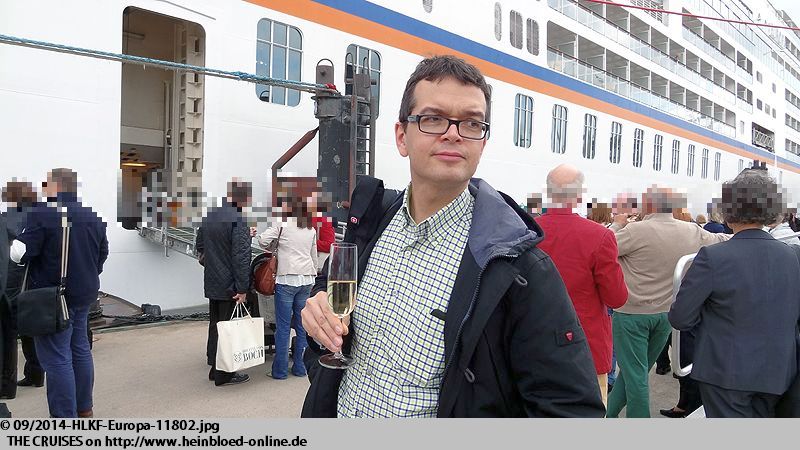 Bruno nahm mal zur Feier des Tages ein Gläschen.
Und ich bekam sofort an Anfrage einen Orangensaft. Nein - ich wurde nicht wie bei Celebrity zum SB-Restaurant geschickt, damit ich mir am Automaten selbst einen ziehe... Bis hierher war die Welt noch in Ordnung.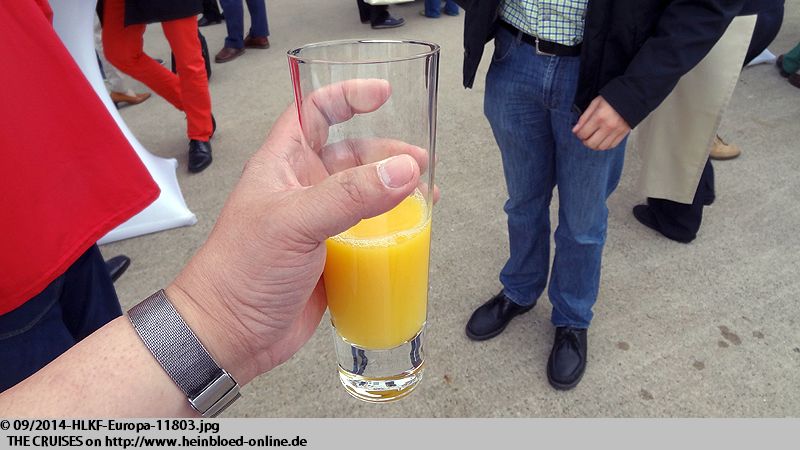 And I got immediately an orange juice on request. No - I was not sent to the self-service restaurant to get one from the dispenser like with Celebrity... Until now my world was fine.

Should we enter through the loading hatch???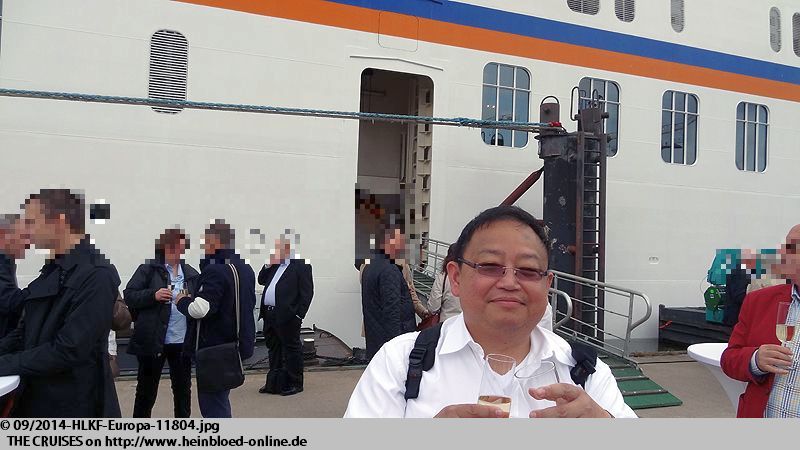 Sollen wir etwa in der Ladeluke rein???
Da vorne ging es durch die Sicherheitskontrolle. Der Zaun war zum Museumsschiff CAP SAN DIEGO hin offen und offensichtlich wurden hier auch Gäste für die EUROPA empfangen. Wir waren am Schluss ja bloß 200 m entfernt. Wenn ich das gewusst hätte, dann wären wir hier einfach hierher gekommen.

There in the front we need to pass the security checks. The fence was obviously open to the museum's ship CAP SAN DIEGO and also guests of EUROPA could enter here. Just 200 yards apart. If I would have know it earlier I would come here.

The Overseas Bridge was still in use. Only the times when you could arrive by taxi on the pier are gone like on very old episode of the German version of "Love Boat".

Die Überseebrücke war intakt. Nur die Zeiten, an denen man mit seinem Taxi direkt zum Pier fuhr, wie in URALTEN ZDF-Traumschiff-Folgen sind lange vorbei.
Das mit dem Spalier gab wirklich ein tolles Gefühl willkommen zu sein. Es kam immer einer entgegen und bat um die Bordkarten und bot an, einem das Handgepäck abzunehmen und zum Check-In zu führen. Nervig, aber sicherlich verständlich, wenn man zwischendurch von hinten dann von Gästen umgerannt wurden, die ihren persönlichen Escort-Service von früheren Fahrten kannten und nicht immer den ersten von der Reihe nehmen wollten.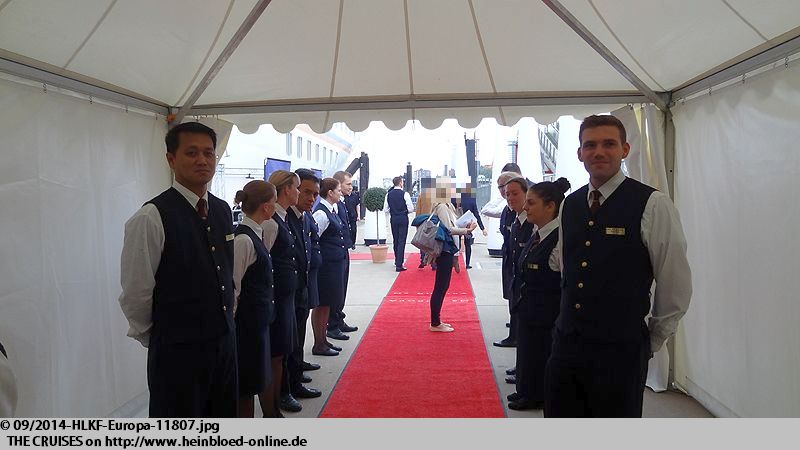 I had a great feeling with the row of guards of honor. One of them always came to you and asked for your ship cards and offered to carry your hand baggage and escort you to the check-in. A little annoying but fully understandable: if someone came from the back and overran you because they saw famliar faces from the escort-service and did not accept the first escort in the row.

It was really a great feeling.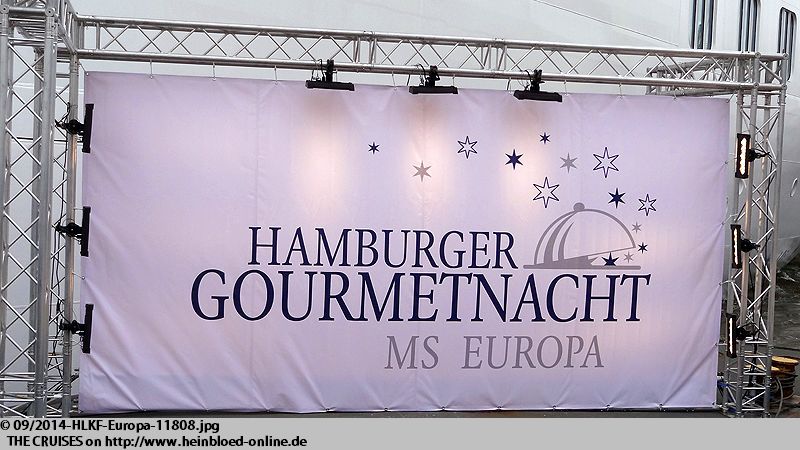 War schon tolles Gefühl.
Nun kommt einer der Gründe, warum vermutlich Douglas Ward keine Höchstpunktzahl 2.000 vergeben hat: Vermutlich hat er mal wie wir kaltes feuchtes Handtuch bekommen... und ist es nicht wieder losgeworden... Da wir später beide Hände zum Check-In brauchten, musste ich es wohl oder übel, auf einem Tisch in der Lounge diskret loswerden. Der Check-In fand in der Europa Lounge statt. Und für uns haben sie extra die Buchstaben S-Z zusammengefasst, damit wir zusammen eingecheckt werden konnten. Zu meinem Erstaunen werden keine Kreditkarten eingelesen.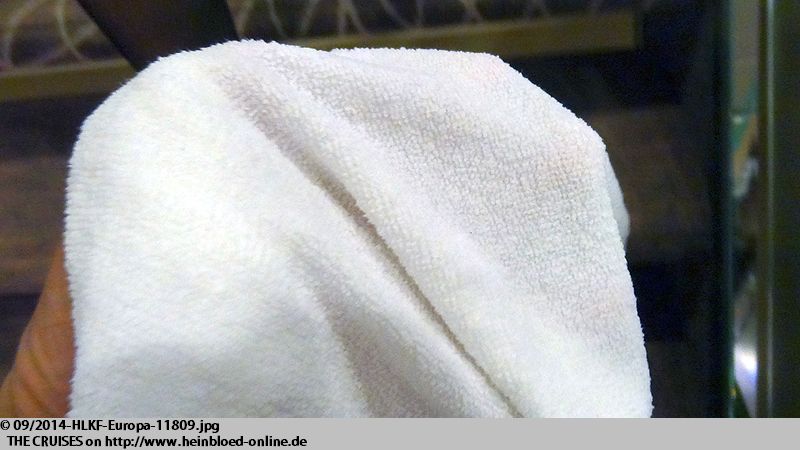 I was wondering why Douglas Ward never gave the max. points of 2,000: I thought that he might got a cold towel like we got... and never had a chance to return... As we need to use both hands while checking-in I had to leave it (even I did not like it) on a table in the lounge discretely. The check-in was conducted in the Europa Lounge. And just for us they put us together under the letters S-Z so we could be checked in as one party. I was surprised that no credit card details need to be recorded.

There was no life drill conducted - only this card... And what should we do in case something happens the next day when we move from the Overseas Bridge to HafenCity (10 minutes move)?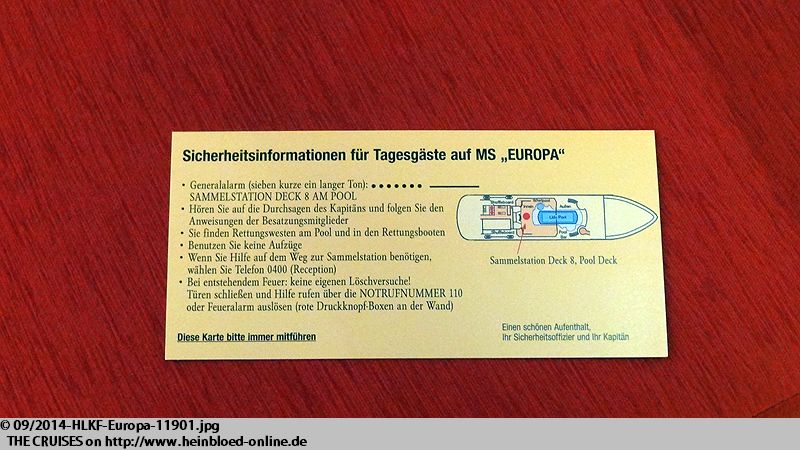 Es gab dann keine Seenotrettungsübung - nur diese Karte... und was passiert, wenn wir am nächsten Morgen auf dem Weg von der Überseebrücke zur HafenCity havarieren???
Kabine - sorry Suite 570. Also bevor jemand anfängt zu erzählen, dass er für 299,00 EUR mit MSC in einer Innenkabine eine ganze Woche lang durch das Mittelmeer schippert: Wir haben für diese Nacht 550,00 EUR bezahlt, aber dann müsst ihr bitte auch als Grundlage MINDESTENS eine Yacht-Club-Suite auf den großen Schiffen nehmen, wenn ihr Preise vergleichen wollt. Es waren zwei Matratzen, allerdings mit den Bettrahmen ohne die Kanten an den Ecken, damit die Matratzen nicht rausragen. Bruno meinte wohl, dass ich nachts dann irgendwann in der Besucherritze gelandet bin und die Matratzen schon auf dem Weg zum Teppichboden waren...

Cabin - sorry Suite 570. Before someone says htat he can get for 330.00 USD with MSC for week in an inside cabin in the Mediterranean Sea: we paid for the night approx. 600.00 USD but you need to compare AT LEAST with a Yacht-Club-Suite on their big ships if you like compare prices. They had two mattress but with a frame which had not edges which would stopping the mattresses to slide away. Bruno said that he found me finally in the space between the two mattresses (where visitors might stay overnight...) and the mattress was about to be found on the carpet...

It was very nicely furnished.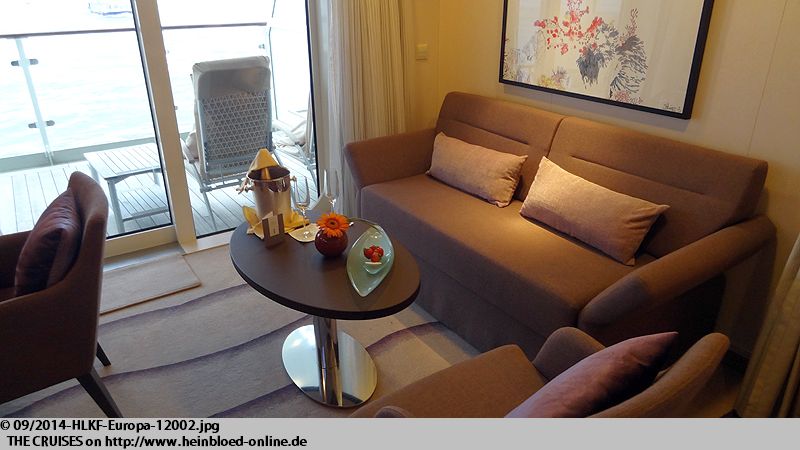 Ich fand die Einrichtung schön.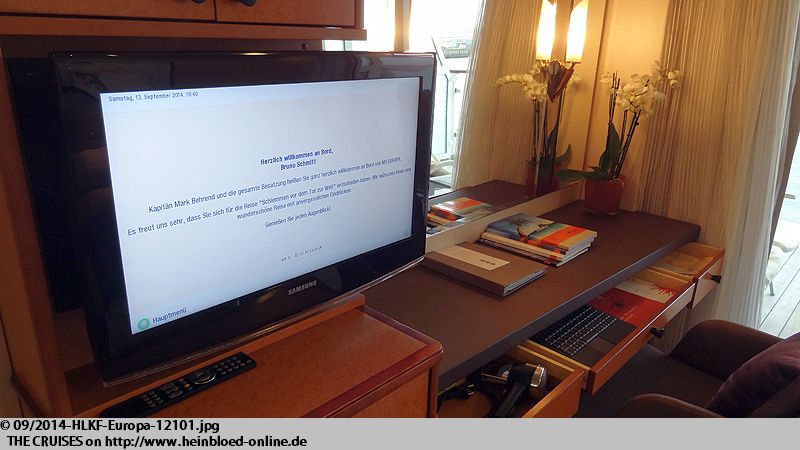 Grr... my credit card was charged. I paid and Bruno was welcomed...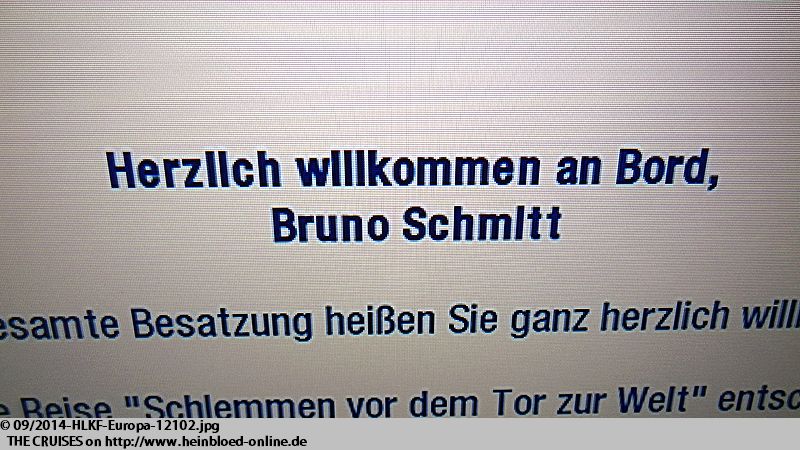 Grrr... meine Kreditkarte wurde belastet. Ich habe bezahlt und Bruno wird willkommen geheißen...
Man kam sich schon vor wie bei "Pretty Woman"... Erdbeeren und zum Glück nicht amerikanisch mit Schokolade überzogen. Dafür aber auf der Blume aus Baiser etwas zuckerartiges. So eine Schale fehlt noch in unserem Schrank... später habe ich mich doch sehr geärgert, dass ich meine Kreditkartennummer habe einlesen lassen...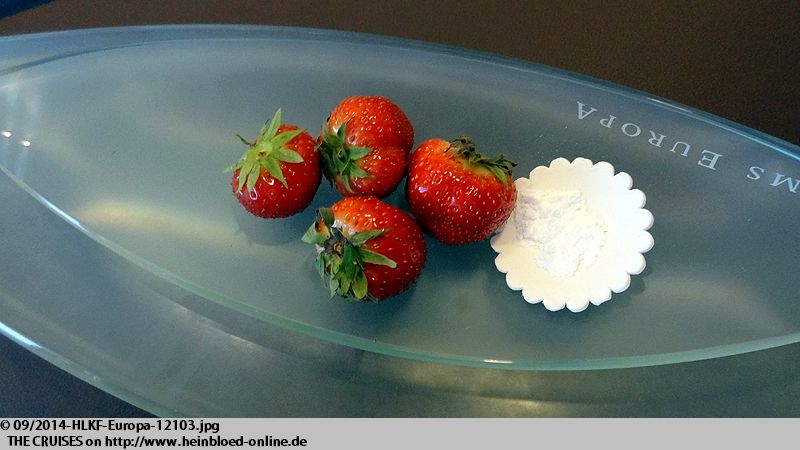 Now you could feel like "Pretty Woman"... Strawberries and not the American way covered by chocolate. But the flower made of merigue had something full of sugar. We were missing such a bowl in our shelves at home... and later I was upset on myself that I let them record my credit card number...

Fit perfectly to the champagne which we could not drink but I took it with me as it fit to my farewell in Goslar. I was sure that the girls would love it.

Passend zum Champagner, den wir ja leider nicht trinken, aber ich nehme ihn mit für meinen Abschied in Goslar. Darüber freuen sich die Mädels bestimmt.
Die Schubladen stehen halboffen, damit man sofort alles findet. Keine Sorge: mit Porzellantelllern kann ich nichts so viel anfangen und auch ist mir das Besteck zu schwer...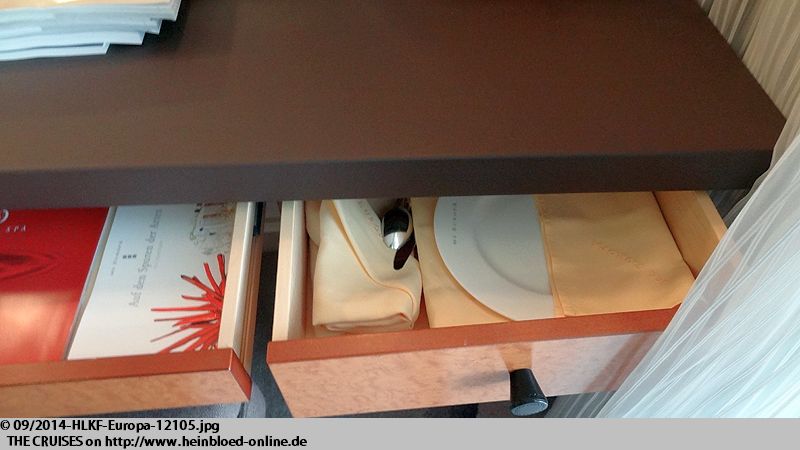 The drawers were open half that you could find everything immediately. No worries: I had not so much use of the porcellain plates and the silverware was somehow extremely heavy...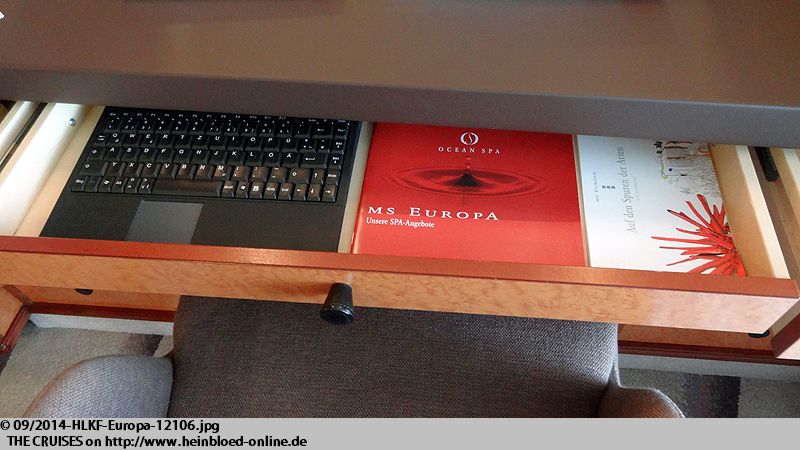 Warum kann man eigentlich den Fön nicht ins Bad hängen? Hier kann man sich ja gar nicht mit dem Fön in der Badewanne umbringen...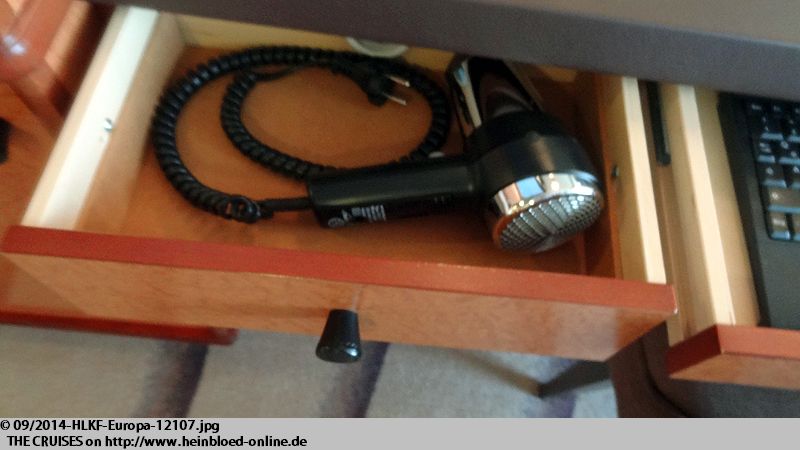 Why could not you hang the hair dryer on the wall of the bath room? Here it was impossible to make any suicide in the bath tub...

"Death by mini-bar"... Not as possible as in the movie "My best friend's wedding" because there were no hard spirits inside. If we would stay here any longer I would aks for some Diet Coke. But everything was free. But we only took the bottle of Evian home for our train ride.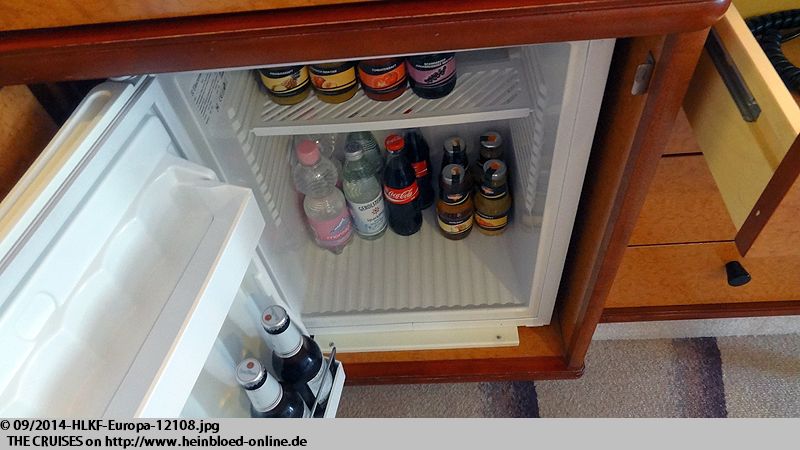 "Tod durch Minibar"... Nicht so möglich wie im Film "Die Hochzeit meines besten Freundes", weil keine harten Alkoholika drin sind. Wären wir länger da, würden wir zumindest bitten, dass wir Cola Light bekommen. Aber alles kostenlos. Und wir haben nur die Flasche Evian für meine Zugfahrt zurück mitgenommen.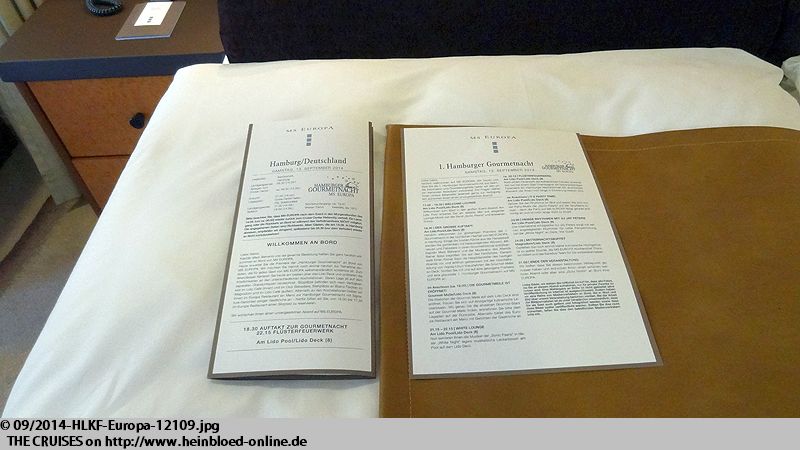 Oh no... the last time we had such a phone set was on NORWEGIAN EPIC and it was illuminated all the night becuase there were no manuals available to place them next to the phone set. But the displays turned off later automatically.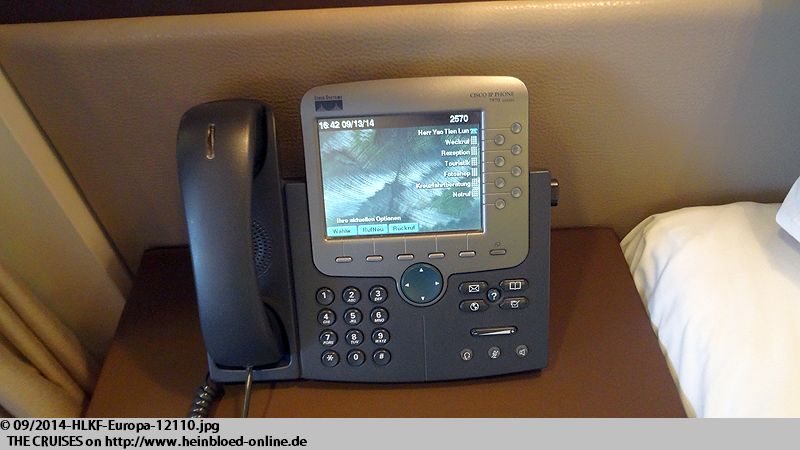 Oh nein... das letzte Mal hatte ich so ein Telefon auf der NORWEGIAN EPIC gehabt und es leuchtete die ganze Nacht durch, weil sie noch keine Bedienungsanleitungen hatten, die sie daneben legen konnten. Aber das Display erlischt von selbst irgendwann.
Wenigstens "existiere" ich...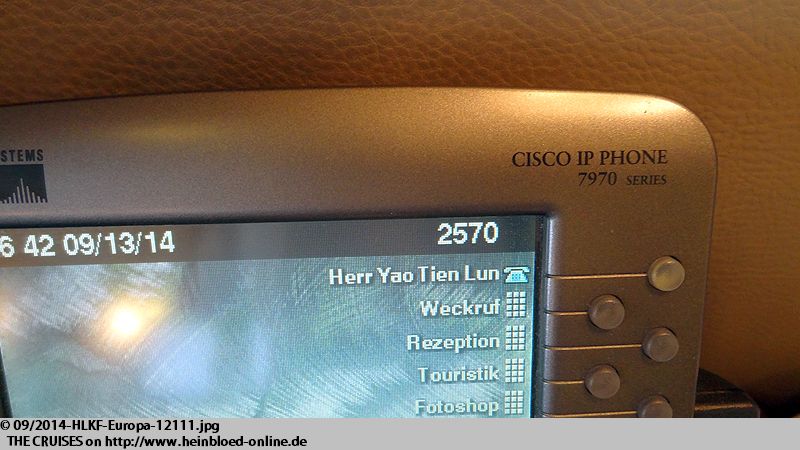 At least I "was exisiting"...

A walkable closet..., i. e. we need to book a Mini-Suite on NORWEGIAN SUN to get something like that. And not the stupid coat hangers with the little loops you cannot take home unless you would like to install the loops at home too. And we let left them all here.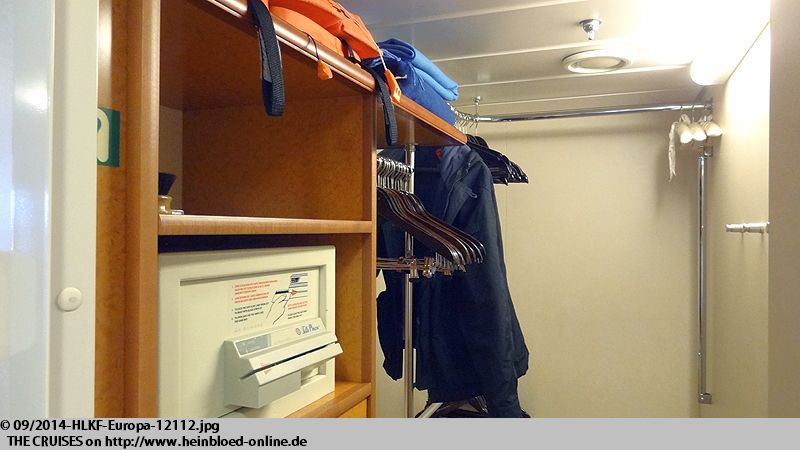 Ein begehbarer Kleiderschrank... d. h. wir müssen schon eine Mini-Suite auf der NORWEGIAN SUN zu Grunde legen. Und nicht die blöden Kleiderhaken mit den Ösen, die man nicht klauen kann, weil man sonst zu Hause die Ösen installieren muss. Auch die bleiben hier.
Pantoffeln (jetzt kann ja Bruno mitlesen)... Ich hatte zwar hoch und heilig versprochen, keine mehr von irgendeiner Airline oder einem Hotel mehr mitzubringen, aber die von der MS EUROPA müssen sein.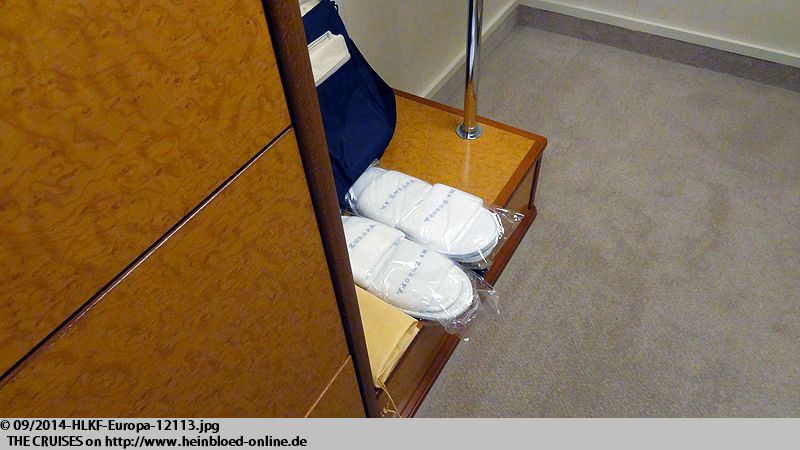 Slippers (now Bruno can read from now on)... I promised not to take anymore any slippers from any air line or hotel for use at home but those from MS EUROPA are a must.

They were so kind and prepared well the bag for me to take everything home...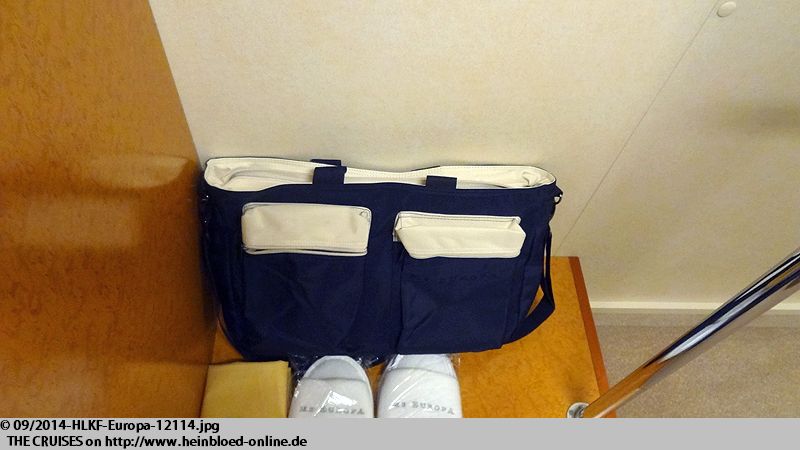 Und sie waren auch schon so nett, eine Tasche für mich vorzubereiten, damit ich alles einstecken kann...
Hmm... Schutzputzschwämmchen zum Selbstbedienen... also an dieser Stelle steht bei Holland America aber ein Körbchen, um seine Schuhe reinzustellen, damit sie geputzt werden... Aber die können wir auch immer gut gebrauchen... Landausflug... dreckiger Feldweg... kann man sich mal grob darüber gehen...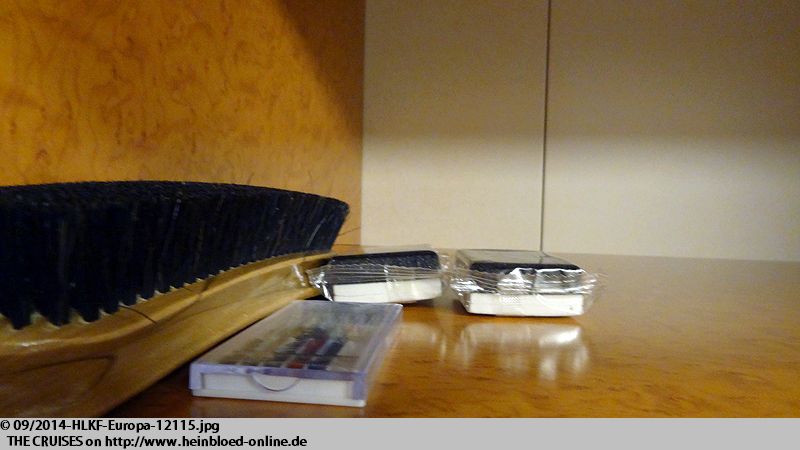 Hmm... Shoe shine sponges for self-service... well here Holland America had litte basket for your shoes ready to have them cleaned... But we always have great use of them... shore excursion... dirty country roads... and you can easily clean them...

That was a Non-Smoker-Ashtray... - in the cabin it was not allowed but you were allowed to smoke on your own balcony.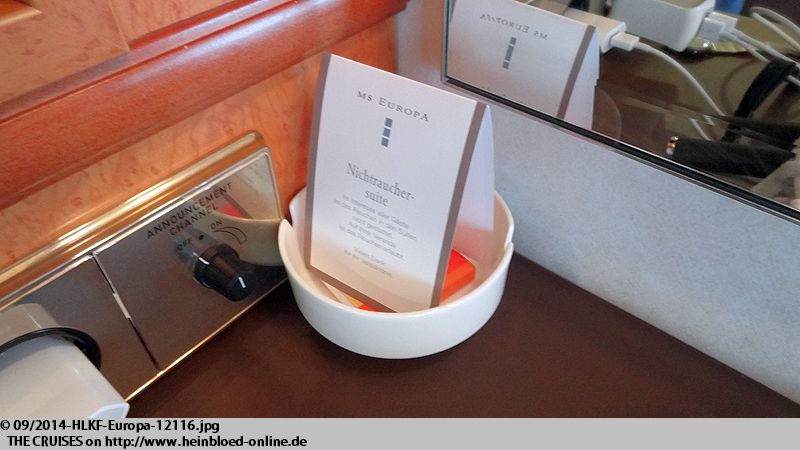 Das ist ein Nichtraucher-Aschenbecher... - in der Kabine untersagt, aber auf dem eigenen Balkon ist Rauchen möglich.
Wir bekamen dann auch Post... Der Geschäftsleitung von Hapag-Lloyd Kreuzfahrten ist aufgefallen, dass wir bislang nicht regelmäßig Kataloge beziehen und fragen an, ob sie uns damit künftig beglücken dürfen: Nach dem ich gerade meine Wohnung in Salzgitter räume und in elf Jahren rund fünf Körbe mit Katalogen angesammelt habe, die ich alle zum Altpapier gebracht habe und das ganze viel zu schwer war: ein eindeutiges: Nein - danke!!!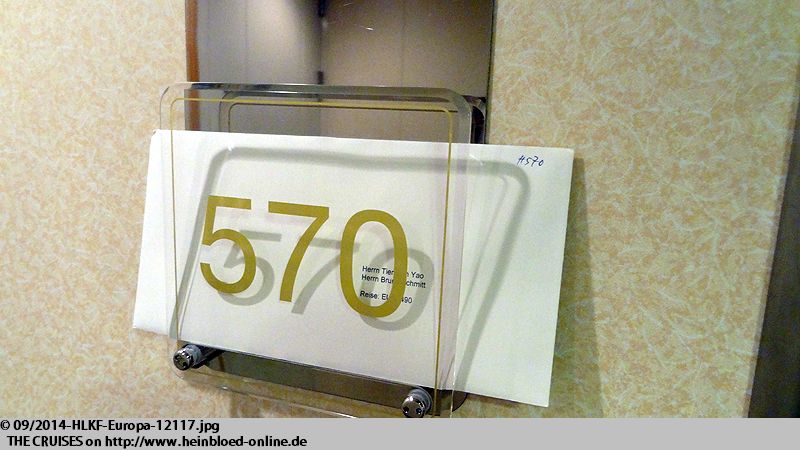 We got also some mail... The general board of Hapag-Lloyd-Cruises noticed that we did not get so far their catalogues and asked if they could make us happy: After I just cleaned my condo in Northern Germany and found about five baskets full of catalogues of the last five years which I had to take to recycle and they were too heavy: a very clear: no - thanks!!!

After the turn down survice... somehow surprising: the towels were not replaced but only re-arranged. Talking on evironment: I read on every ship on that they only replace towels if you do not hang them on. I placed my on the edge of the bath tub and even I had them hanged they were always replaced after the turn-down-service... Only on this 5*+-ship I did not get! But now I had no idea which one was Bruno's and which one was my. At least we got a farewell gift: some salt from the Himalaya. Somehow I did not react quickly enough. It was for taking it with you for breakfast!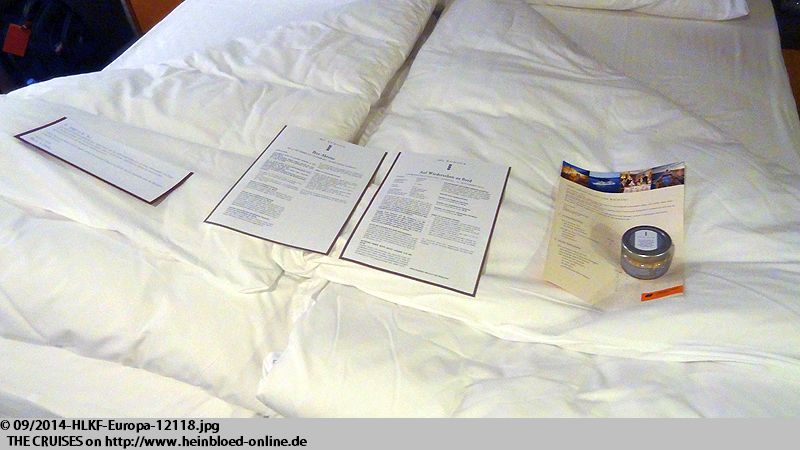 Nach dem Turn-Down-Service... etwas überrascht: die Handtücher werden nicht ausgewechselt, sondern nur neu aufgehangen. Umwelt hin oder her: Ich lese zwar auf jedem Schiff davon, dass sie Handtücher nur austauschen, wenn man sie nicht hinhängt. Ich hatte meines auf die Kante der Badewanne gelegt und selbst wenn ich sie aufhänge, hatte ich nach dem Turn-Down-Service immer frische Handtücher... Bloß auf diesem 5*+-Schiff nicht! Nur weiss ich nicht, welches Bruno und welches meines war. Wenigstens bekommen wir ein Abschiedsgeschenk: Himalaya Salz. Da habe ich blöderweise nicht schnell genug geschaltet: ich hätte es zum Frühstück mitnehmen sollen.
Unsere Mädels haben wir nicht getroffen, bekommen wir diesen Zettel. Trinkgelder sind ja nicht üblich, aber wir geben denen am nächsten Morgen trotzdem etwas. Als wir ankamen standen zwei der drei Koffer schon in der Kabine. Dem Matrosen, der dann den dritten Koffer brachte, gaben wir auch ein kleines Trinkgeld (o.k. er hätte dafür durchaus einen Kaffee bekommen, aber nicht unbedingt bei Starbucks!). Da meinte Bruno, dass er so aussah, als ob er mindestens ein Scheinchen statt Münzen erwartet hätte...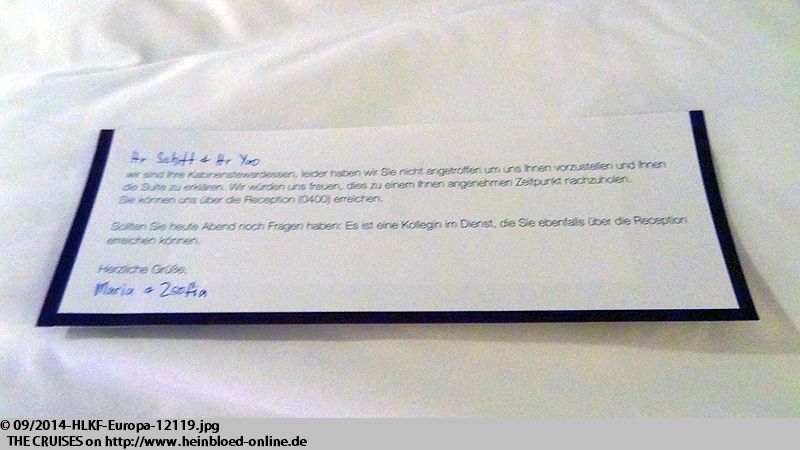 We did not met our chambermaids so we got this notice. Tipping was not common but we left some money the next morning. When we arrived two of three bags were already in our cabin. We also tipped the sailor (o.k. it was fine for a coffee unless you insisted to have one from Starbucks). Bruno said that me might be used to have little bills (5 EUR and upwards) but coins...

Some more fruits... could not that be a cold cut sandwich... As soon as there would be cruise line on the market who gives me every night cold cut sandwiches but fruits I should become Bronze, Silver, Gold, Platinum member within one year... Anyhow I took two strawberries... No butler service was available with our cabin category. I would have asked him to cut the fruits for me...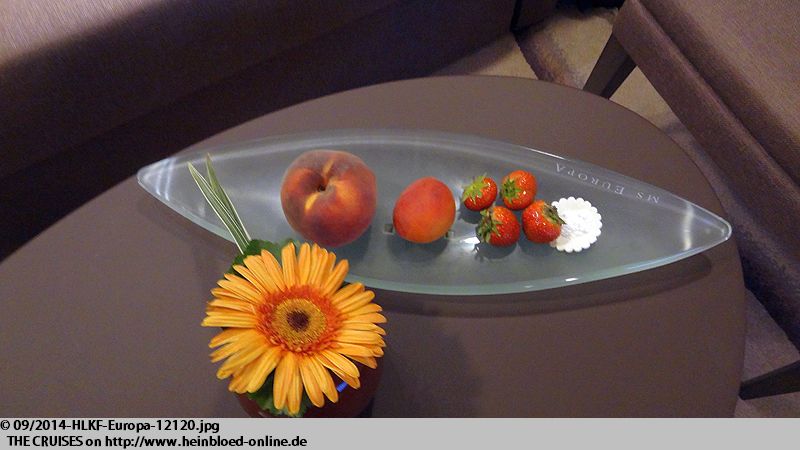 Ein bisschen mehr Obst... hätte ich es nicht ein Wurstbrötchen sein können... Sobald eine Kreuzfahrtgesellschaft auf dem Markt ist, der den abendlichen Obstteller durch Wurstbrötchen ersetzt, werde ich innerhalb eines Jahres Bronze, Silber, Gold, Platin-Mitglied... Zwei Erdbeeren esse ich trotzdem... Unsere Kategorie stellt keinen Butler, den ich hätte bitten können, mir das andere Obst klein zu schneiden...
Ein Blick auf unseren Balkon. Zwei Sonnenliegen.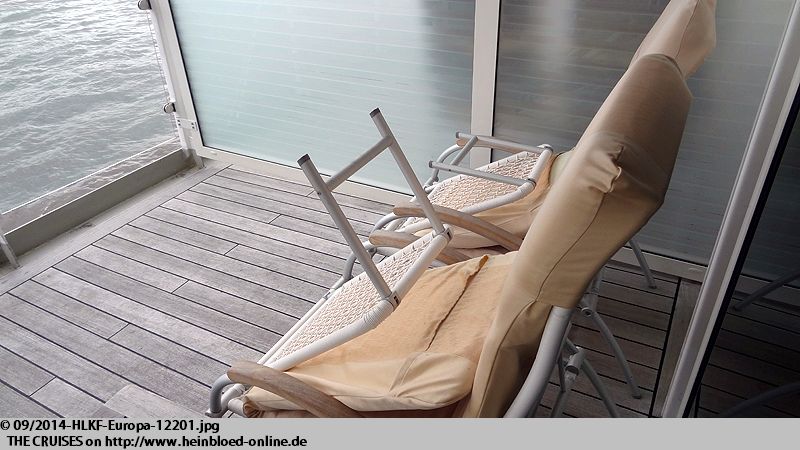 A look to our balcony. Two sunloungers.

And additionally two regular seats...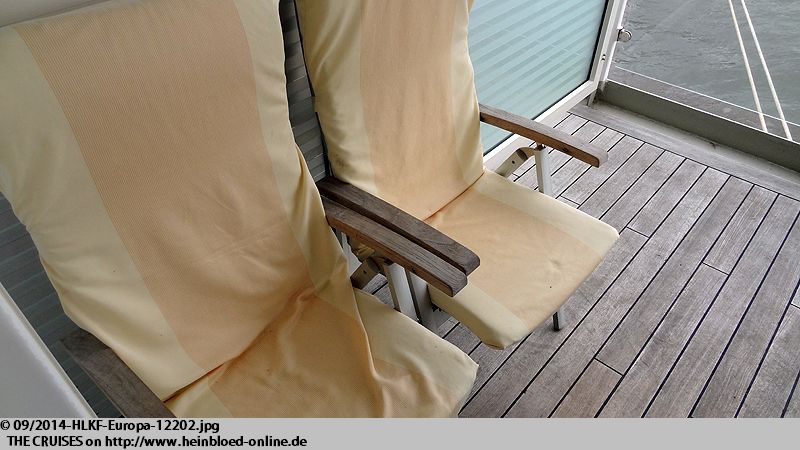 Und noch zwei normale Sitze...
Und ein toller Blick zur Elbphilharmonie.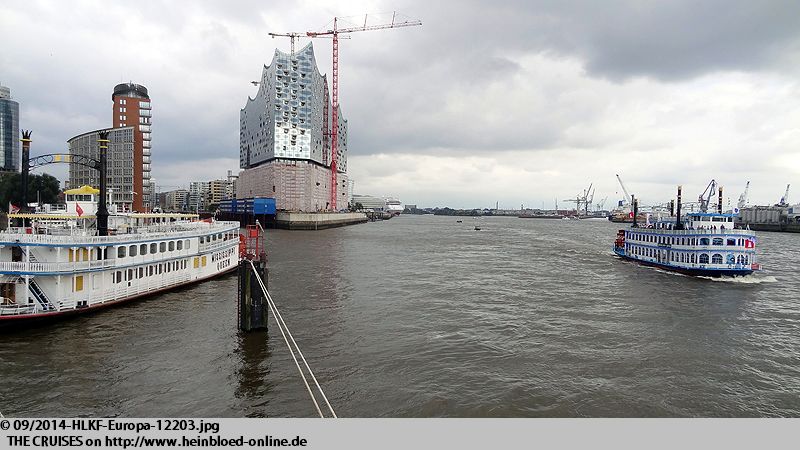 And such a great view of the Elb-Philharmony (new Hamburg attraction: Concert hall at the river Elbe).

Well a bathroom like every other else...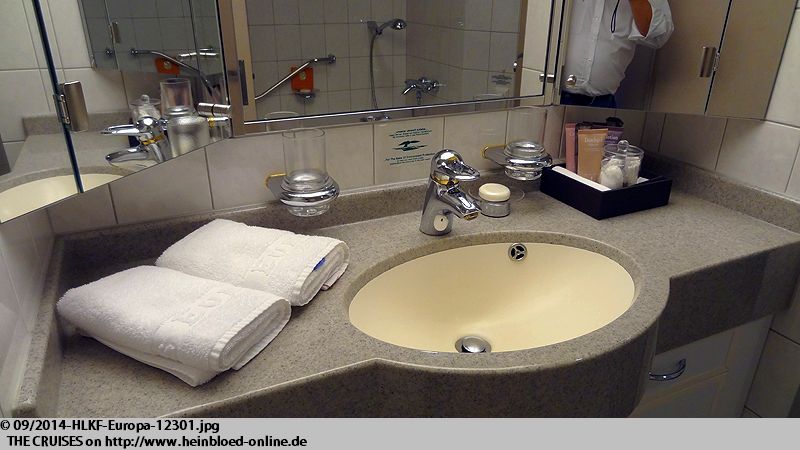 Nun ein Bad wie jedes andere...
Wenigstens kein Duschvorhang! Aber wo ist das Bidet? Das habe ich ja zu Hause auch und das gab es ja sogar auf einer AZORES!!!

At least there was no curtain! But where was the bidet? We had it at home too and even we had one on AZORES!!!

Oops... and behind the door a bath tub... but not for dwarfs like on NORWEGIAN BREAKAWAY but for full-size adults... Now we had to take as reference and to compare to our Oceanview Suite on GRAND PRINCESS, Neptune Suite on RYNDAM or PRINCESS GRILL Suite on QUEEN ELIZABETH. In case someone was missing pictures of the fluffly bath ropes: were hanging right behand the doors. No waffles made of silk paper.

Oops... und hinter der Tür eine Badewanne... nicht für Zwerge, wie auf der NORWEGIAN BREAKAWAY, sondern für echte ausgewachsene Erwachsene... Nun müssen wir wohl schon unsere Oceanview Suite auf der GRAND PRINCESS, Neptune Suite auf der RYNDAM oder Princess Grill Suite auf der QUEEN ELIZABETH als Vergleichsmedien nehmen. Falls jemand Bilder von fluffigen Bademäntel vermisst: die hingen hinter der Tür und keine Waffelmuster aus Seidenpapier!
Ich ärgere mich, weil ich keinen Grund habe, zum Hoteldirektor zu gehen, um mich zu ärgern. Keine Diskussion notwendig, ob ich Duschgel haben kann, wie auf der CELEBRITY MILLENNIUM. Standard, aber fairerweise muss man sagen: in einer Suite bei Celebrity ist Duschgel Standard nur Standard-Balkongäste steht es bei Celebrity nicht zu.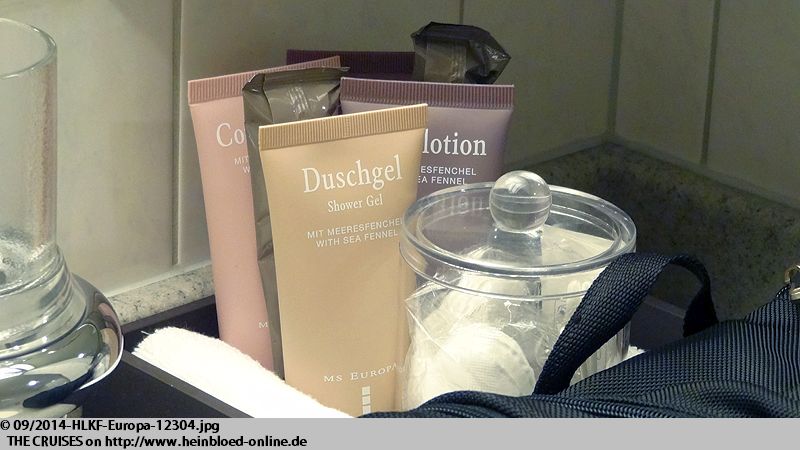 I was upset because I had no reason to see the Hotel Director to be upset. No discussion I might have shower gel like on CELEBRITY MILLENIUM. Stadard. But to be fair you need to say: in a suite with Celebrity shower gel is standard. For guests of standard balcony you are not entitled to have some with Celebrity.

A lot of space in the corner closets.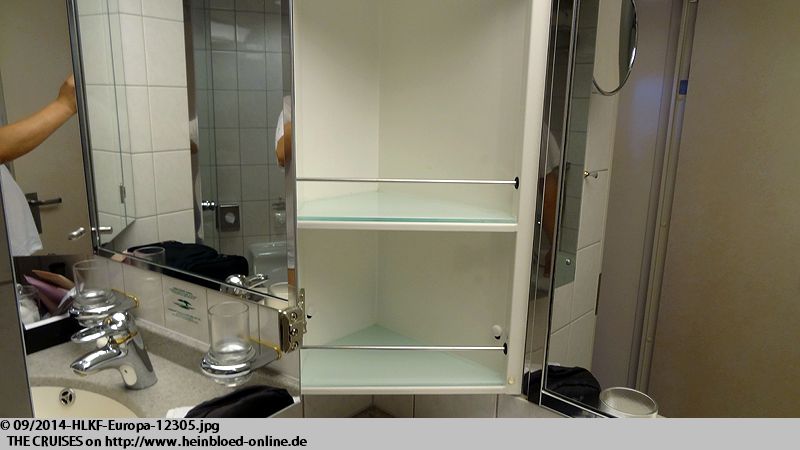 Viel Platz in den Eckspiegelschränken.
Und tolle Details: Solche Erfrischungstücher habe ich zuvor nicht gesehen und es gibt sogar Zahnseide. Wow.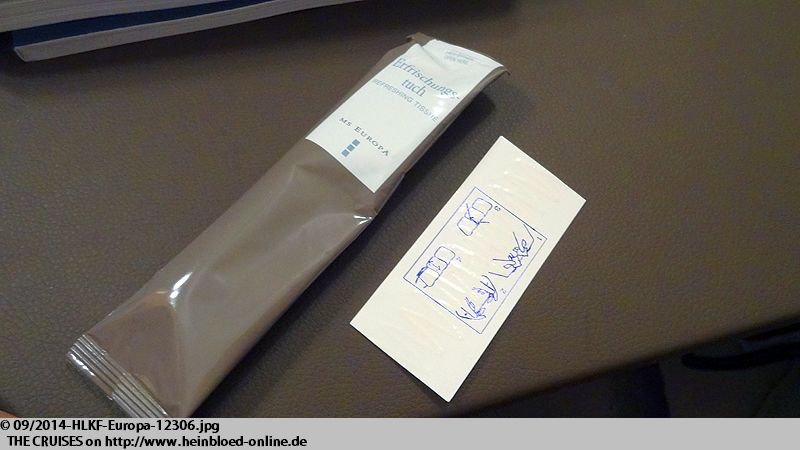 And great details: never have seen such refreshment towels before and they even had dental floss. Wow.

So I simply enjoyed our balcony to see the set sail of AIDAsol and refraided to see the Pool-Party upstairs.

So genieße ich es einfach auf unserem Balkon der AIDAsol bei der Ausfahrt zuzusehen und verzichten auf die Pool-Party oben.