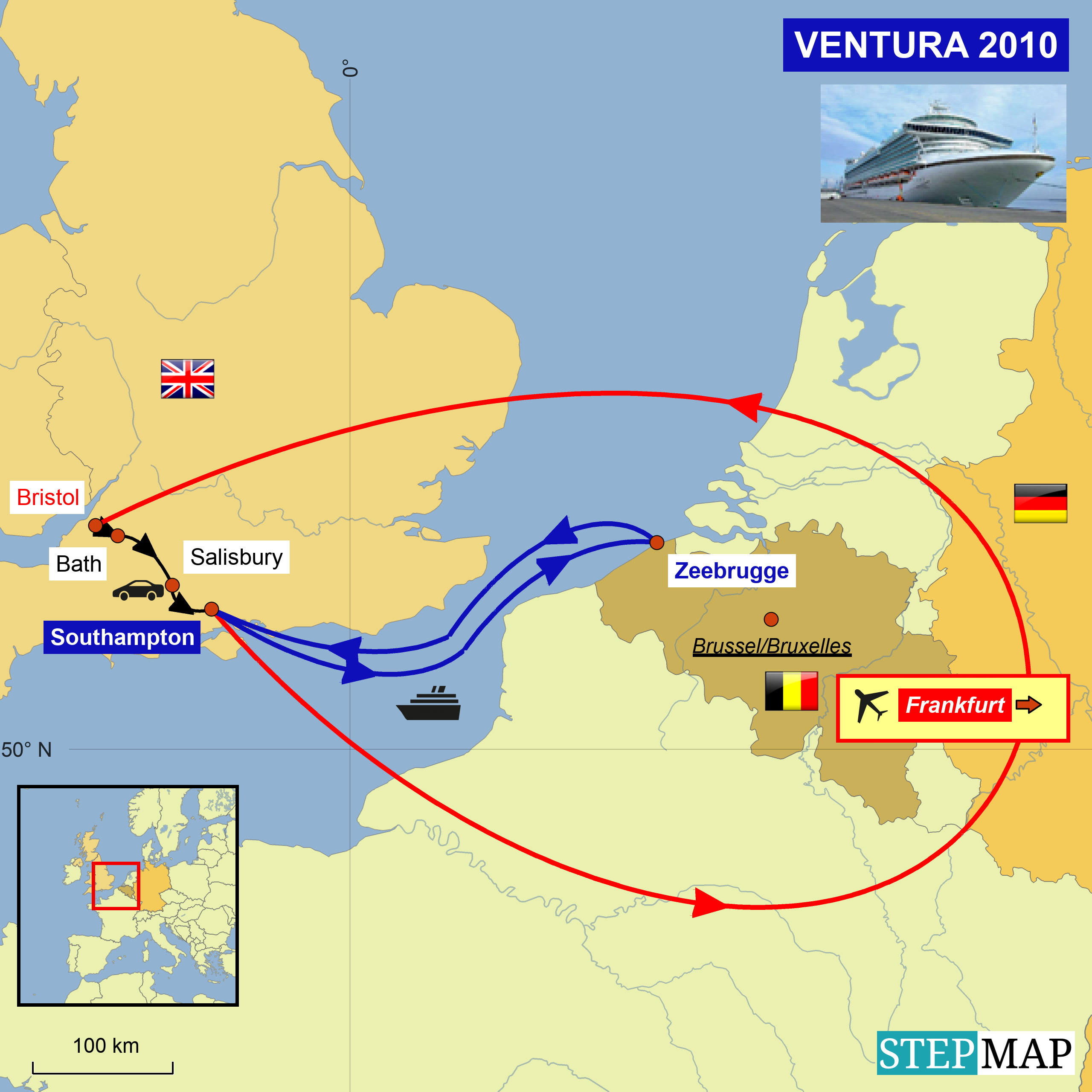 Wir gehen "baden" und ein Haufen Steine namens Stonehenge...
Nach dem wir am Mittwoch Frau und Herrn Pannen besucht haben, wollten wir nicht bis nach Hause fahren.
So haben wir bei Lufthansa den Vorabend Check-in genutzt und im Holiday Inn in Neu-Isenburg übernachtet.
Am nächsten Morgen den Wagen wieder im Main Airport Center eingestellt. Unser 100 EUR-Ticket gilt ja noch ein paar Tage...
Und dann ging es mitten ins Chaos: Wegen Nebel jede Menge Annulierungen. Mit den 40 Minuten haben wir ja noch Glück. Tatsächlich wurden es allerdings rund eine Stunde...
Wir beschließen, dass wir zur ARTEMIS auch nicht last minute anreisen und lieber eine Nacht vorher.
Lufthansa und British Airways fliegen beide bis spät abends nach London.
Nun geht es erst mal nach Bristol, was total genial ist.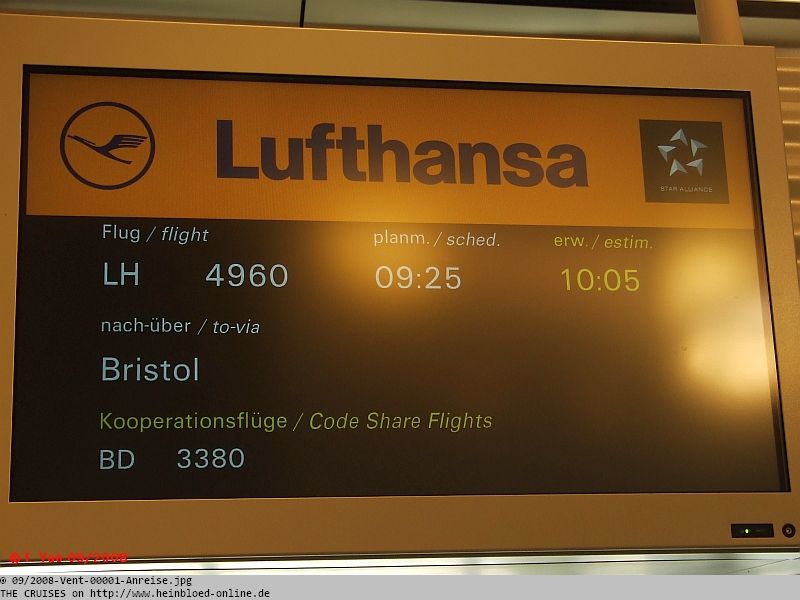 We took a "bath" and a bunch of stones called Stonehenge...

After we visited Wednesday my elementary school teacher Mrs. Pannen and her husband, we did not want to drive back home.

So we used the pre-night-check-in with Lufthansa and stayed in the Holiday Inn in Neu-Isenburg, Germany around Frankfurt Airport.

The next morning we parked again in the Main Airport Center. Our 100 EUR-ticket was still valid for a couple of days...

And then we headed into the center of the chaos: due to fog, they had plenty of cancelations. With the 40 minutes, we really had luck. In reality, it became around one hour delay...

And we decided that we better should not appear last minute for ARTEMIS and try to make the night before.

Lufthansa and British Airways were both flying to London, England until late evening.

For now, we headed for Bristol, England which was totally smart.

A few planes only and our bags already arrived when we exited the immigration inspection.

There I had a discussion with an English older man (he was no gentleman!): He grumbled where he could find the counter for Englishmen. I explained to him that there was only one common counter for UK/EU since the UK joined EU in 1992. So I needed to hear his explanations how it was when India was still part of the British Crown. I was sure that he had some problems with his eyes: He should say Hong Kong that I would understand what he was talking about and wanted to try to tell me... It was too strenuous to finalize a discussion with him...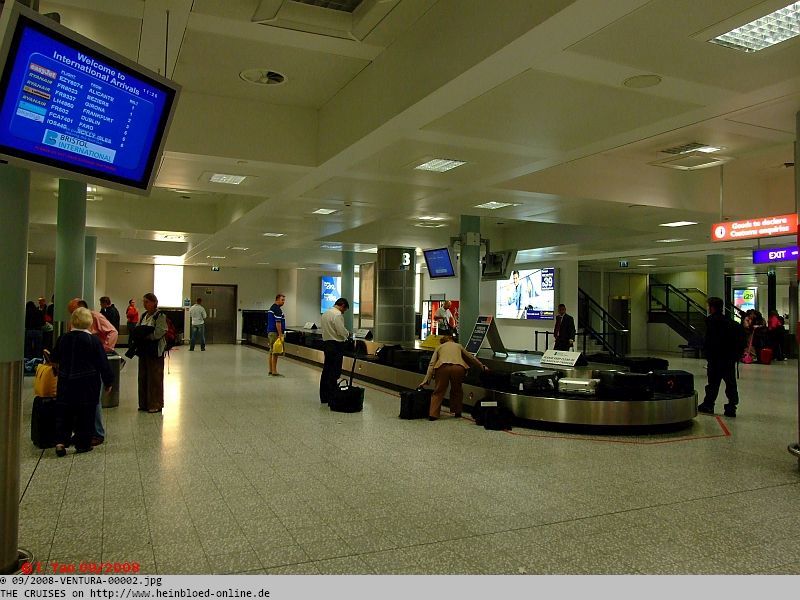 So wenige Flugzeuge und unser Gepäck schon da, als wir aus der Grenzkontrolle rauskommen.
Dort habe ich mir eine Debatte mit einem englischen älteren Herrn geliefert: Er brummte mich an, wo der Schalter für Engländer sei. Ich erklärte ihm, dass es nur einen gemeinsamen Schalter für UK/EU gibt und dass UK 1972 der EG damals beigetreteten sind. Darauf hin muss ich mir seinen Erläuterungen anhören, als Indien noch zur britischen Krone gehörte. Ich nahm an, dass er einen Knick in der Optik hat: Hätte der Hongkong gesagt, hätte ich ja verstanden, worauf er hinaus wollte... Mir ist es zu müßig mit ihm das auszudiskutieren...
Gegenüber dem Terminal sind die Autovermietungen und wir haben uns für Europcar entschieden.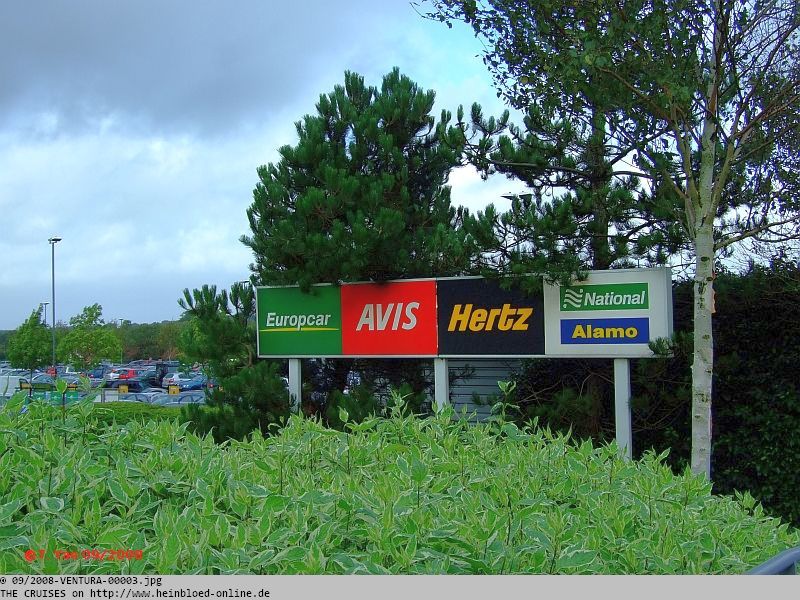 Opposite of the terminal, you found the car rentals and we selected Europcar.

The narrow streets reminded us of the width we had in the Gothic Quarter of Barcelona, Spain.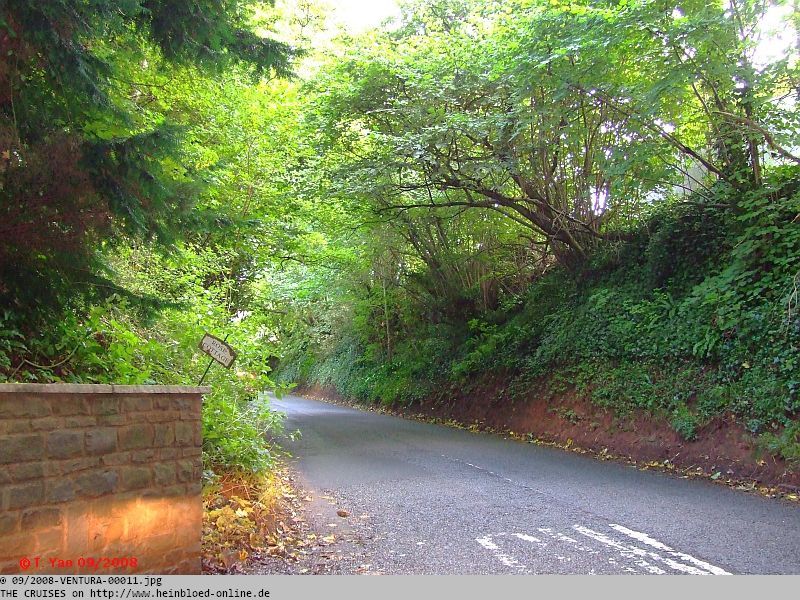 Die engen Straßen erinnerten uns von der Breite an die Straßen des Gotischen Viertels in Barcelona...
... und in Ortschaften, in denen sich schon mal ein LKW und ein Bus begegneten wurde es ziemlich eng...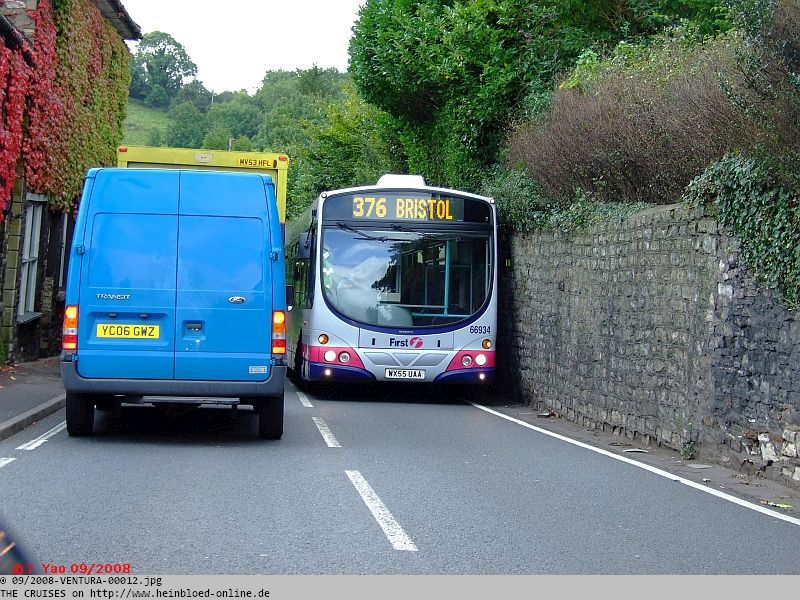 ... and in villages, where it could be became extremely narrow when a truck met a bus...

We took a "bath"! Bath, England was on the way towards Southampton, England and a little outside of Bristol.

But it was a dissertation to get a parking ticket: you need to enter the license plate. How to enter letters if you had only number keys??? Later it was clear that you only need to submit the number part (max. 3 digits).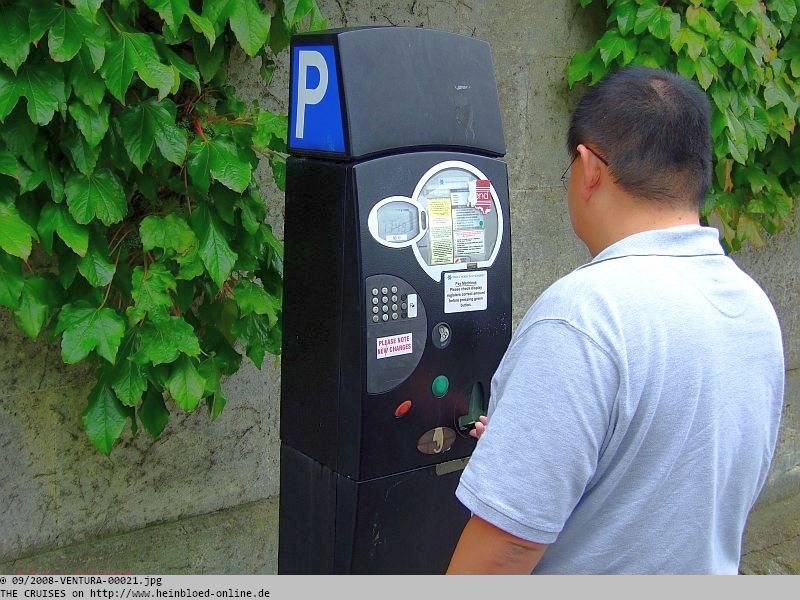 Wir "baden"! Bath liegt auf dem Weg nach Southampton etwas außerhalb von Bristol.
Allerdings ist schon eine Doktorarbeit ein Parkticket zu ziehen: Man muss nämlich sein Autokennzeichen eingeben. Wie gibt man die Buchstaben ein, wenn man nur eine Zahlentastatur hat??? Hinterher war klar, dass nur der Nummernteil (max. 3 Stellen) eingegeben werden müssen.
Wir gehen erst etwas essen und die "Cream of Mushroom"-Suppe erinnert doch sehr stark an Brunos Backpflaumensaft und deren Herkunft... Mit Salz und Pfeffer geht es...
Aber eigentlich ist es mehr etwas, dass ich von VORWERK kenne... Gibt es da nicht auch ein Mixer mit eingebautem Tauchsieder, für die immer mit dieser Suppe bei den Vorführungen geworben wird???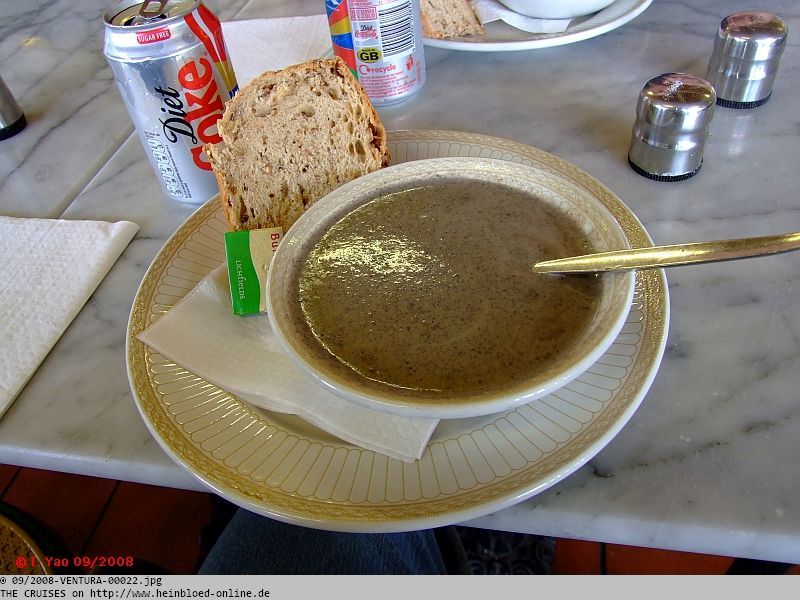 We went for lunch and the "Cream of Mushroom"-Soup reminded very much of Bruno's prunes juice and its origin... But it was enjoyable with salt and pepper...

But actually, it reminded me more of a kitchen device which you could only buy at home-parties... Did not they have such a blender with integrated immersion coil and used to prepare the soup for their presentations???

We were in the Georgian Garden of Bath. Mini-Golf in an appealing scenic environment...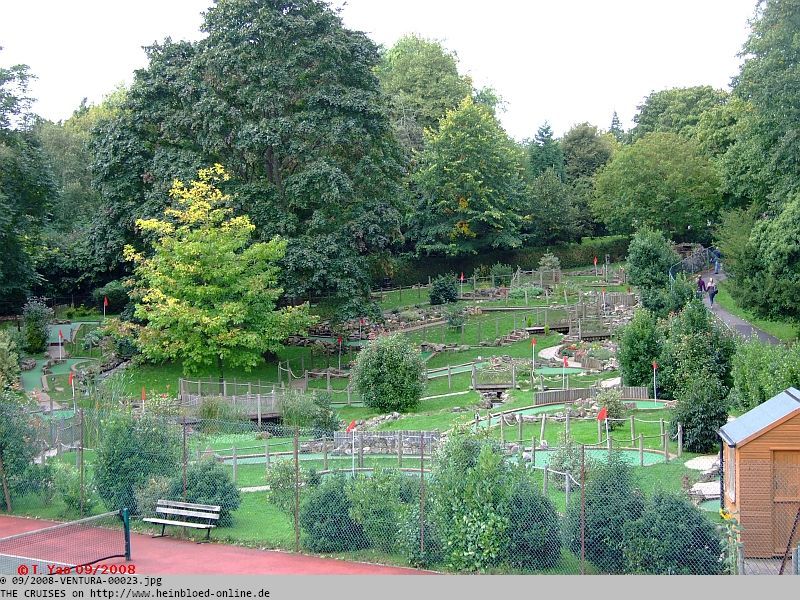 Wir sind im Georgischen Garten von Bath. Mini-Golf in einer landschaftlich reizvollen Anlage...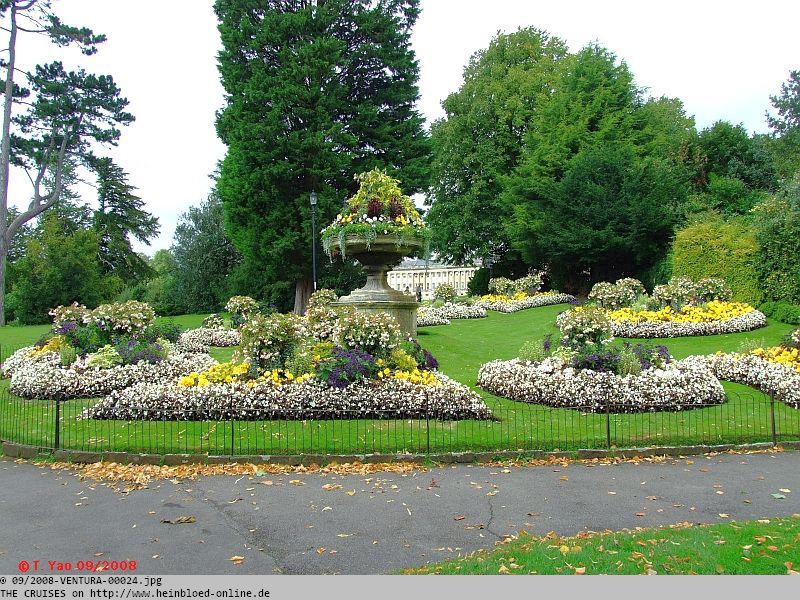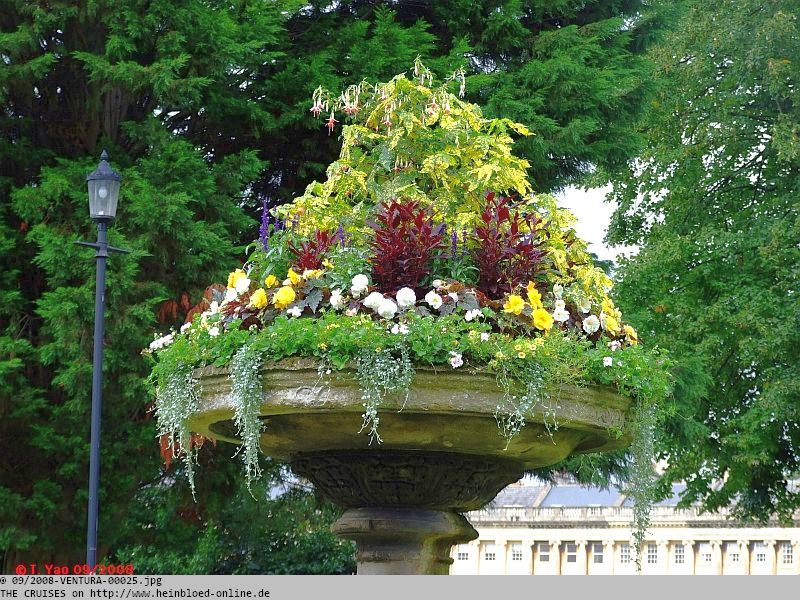 Ein erster Baum, der schon an den Indian Summer erinnert. Neidisch war ich irgendwie auf das Pärchen... wie gerne wäre ich an deren Stelle gewesen...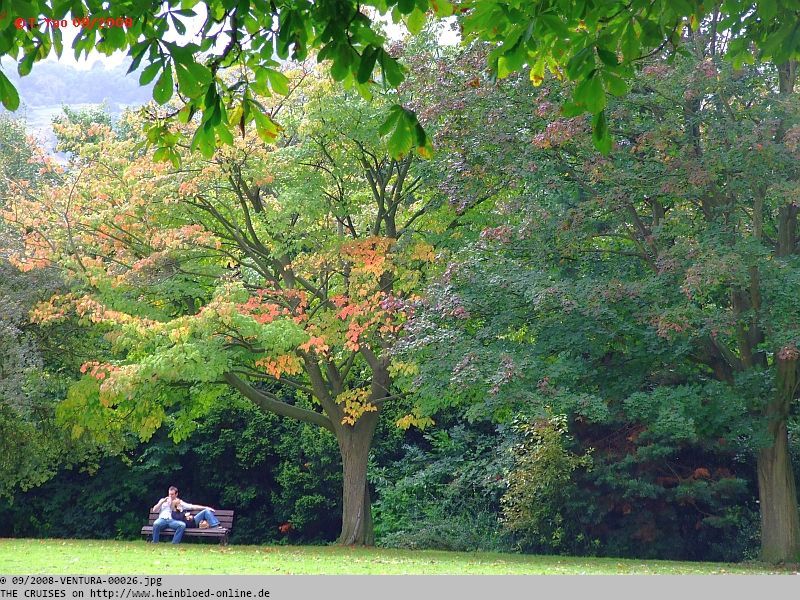 A first tree which reminded to the Indian Summer. Somehow I was jealous of the couple... I really would love to be at their place...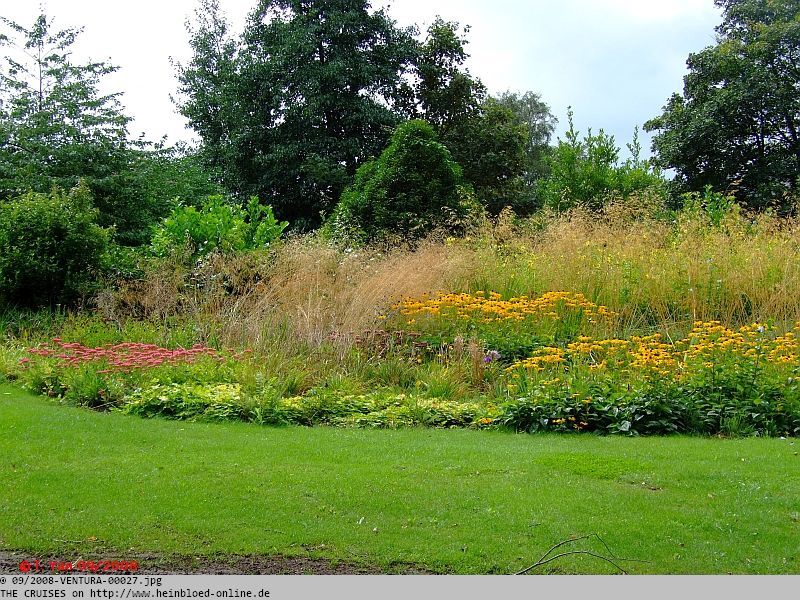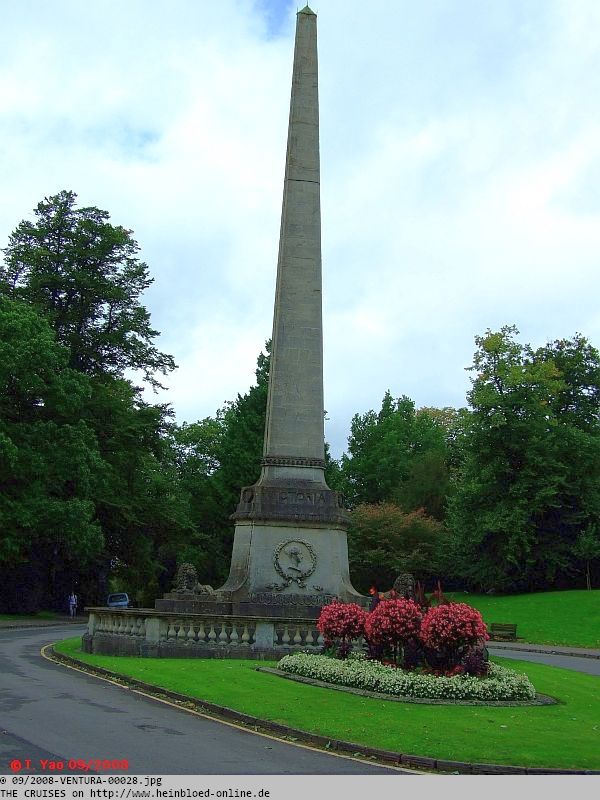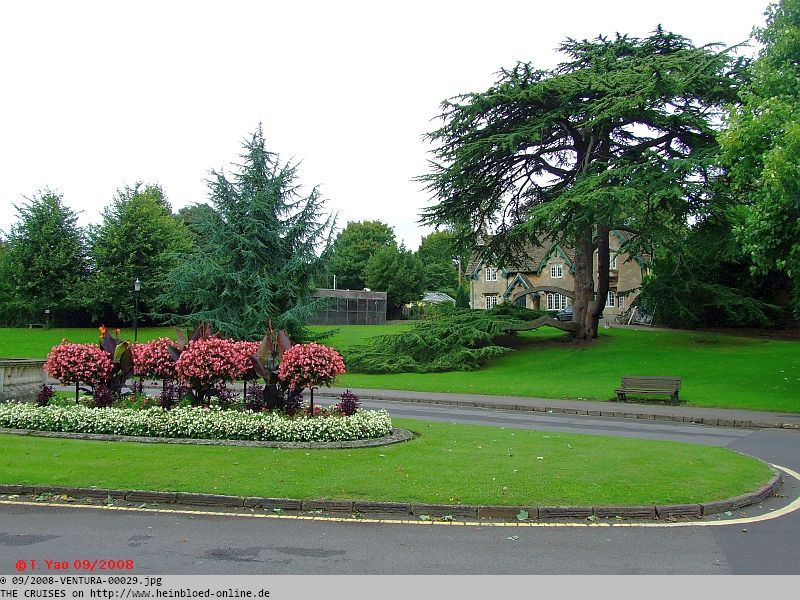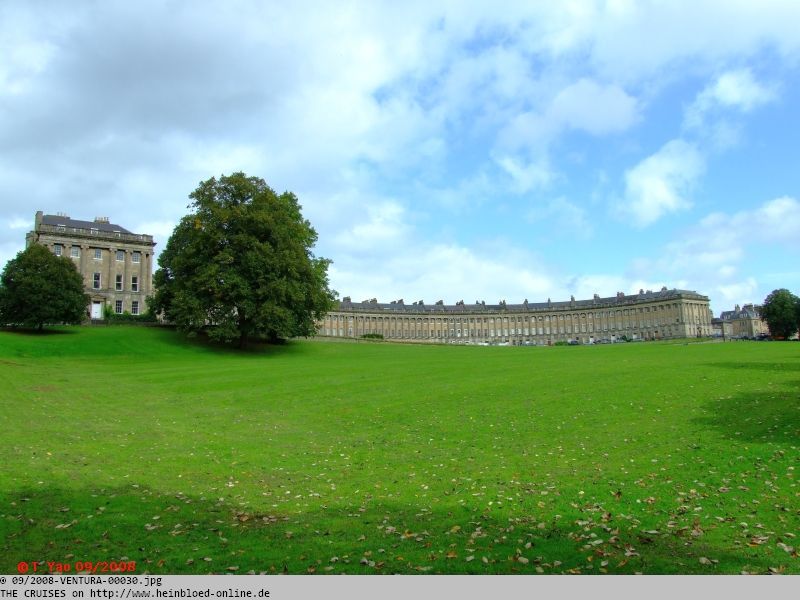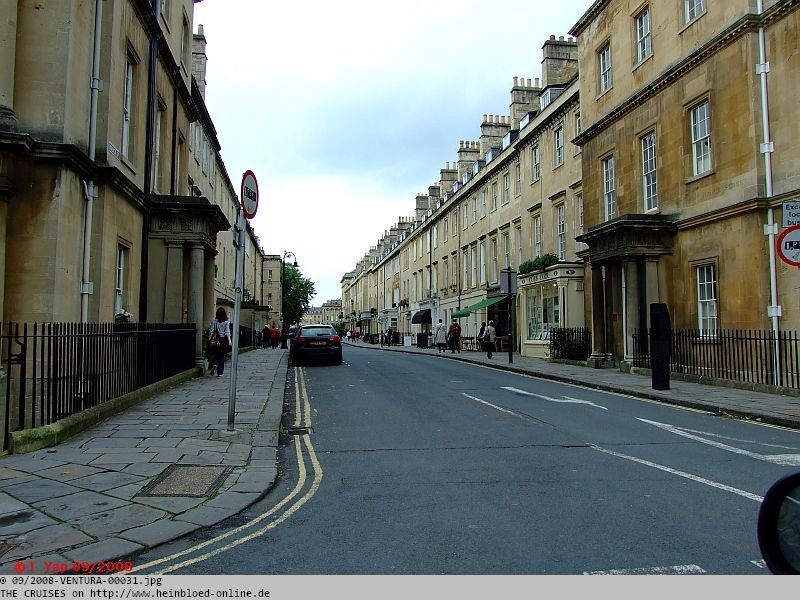 Das ganze erinnert wiederum mehr an "Das Haus am Eaton Place"...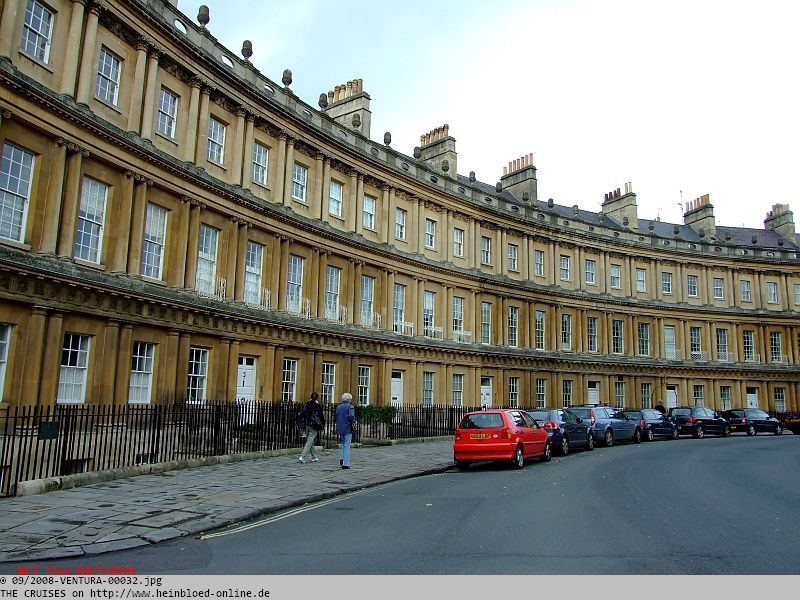 All of that, remembered to the English TV-Soap "Upstairs, Downstairs"...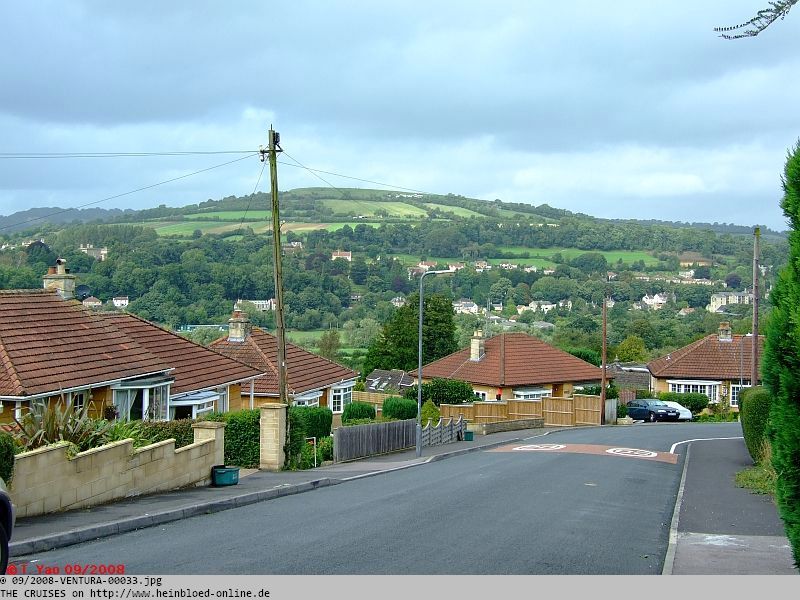 We were heading to some stones which were declared as UNESCO World Heritage...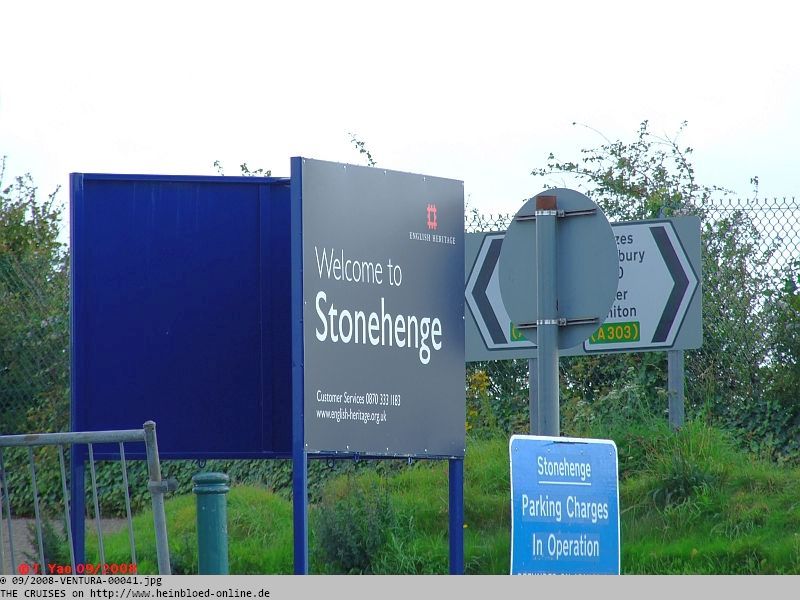 Weiter geht es zu Steinen, die als UNESCO Welterbe deklariert sind...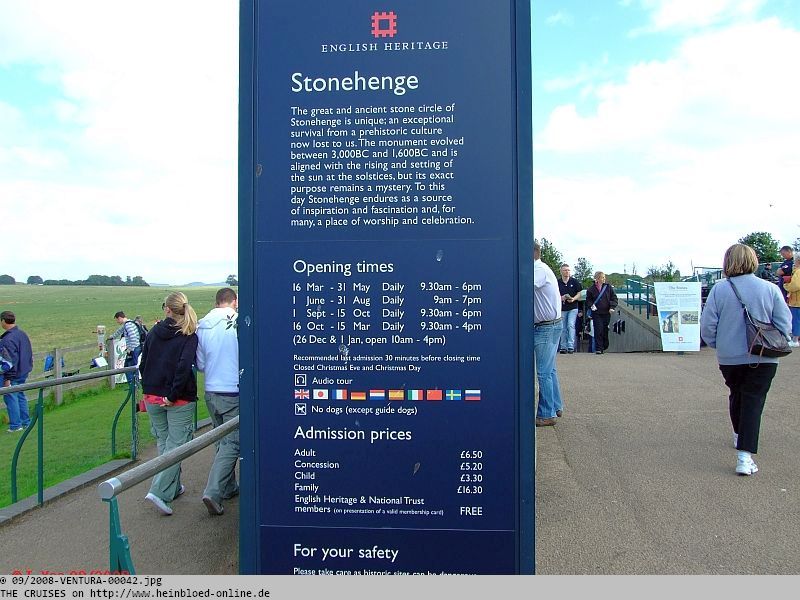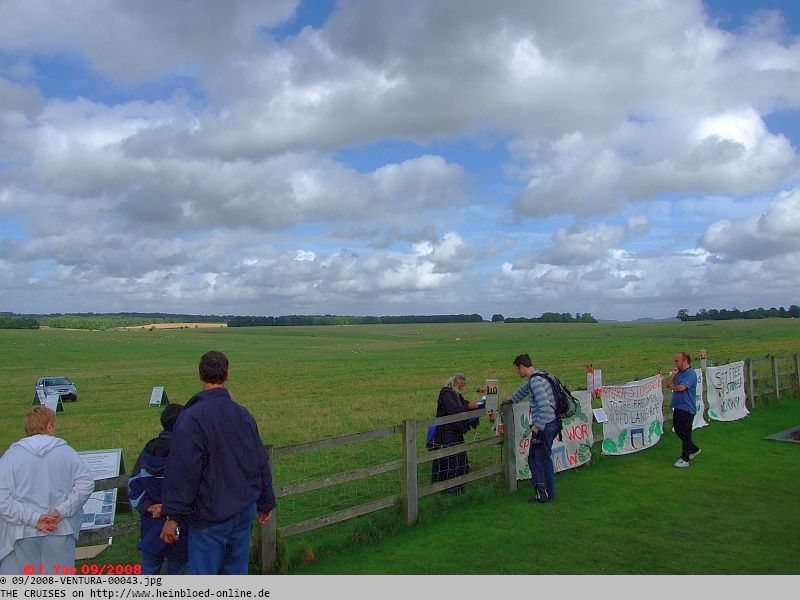 Hier gibt es noch jemanden, der an die Kraft der Steine glaubt und es vehement vertritt...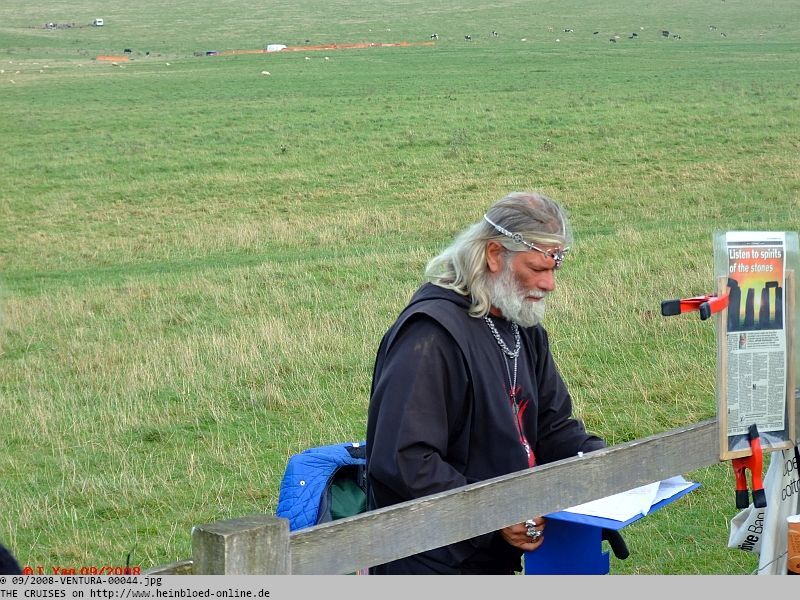 Here you had someone who was still believing in the power of the stones, and he was representing his opinion.

For 6.50 GBP (2008) you had an audio-guide included...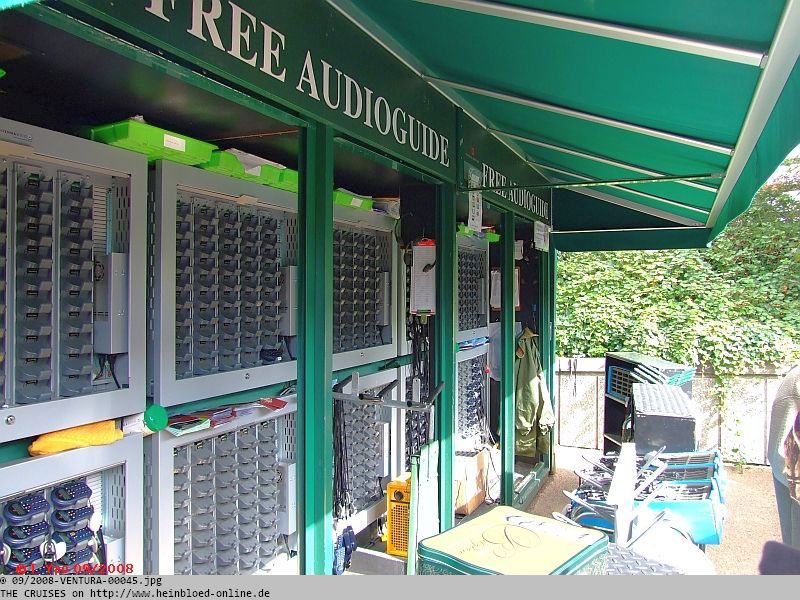 In den 6,50 GBP (2008) ist zumindest die Audio-Führung mit inbegriffen...
Es ist nicht besonders anspruchsvoll von der Bedienung her...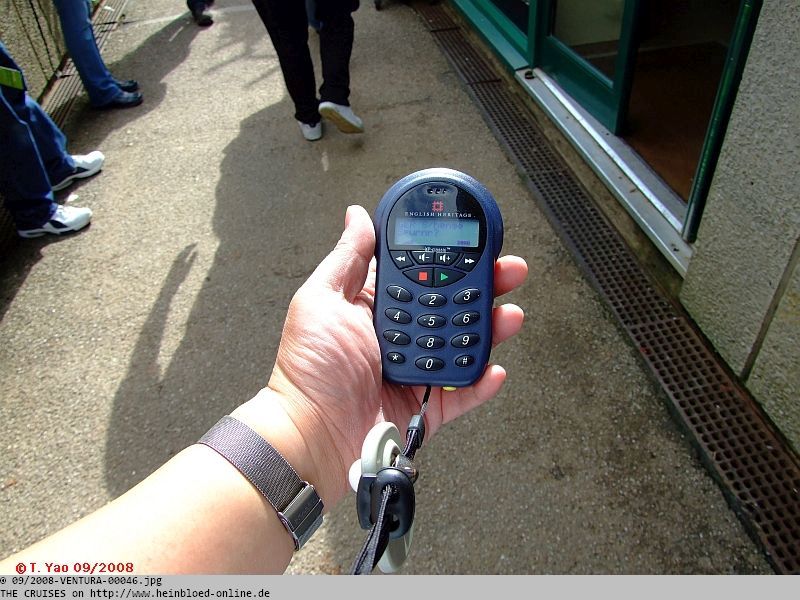 It was not very challeging to operate the device...

... and it always looked like someone was making a phone call...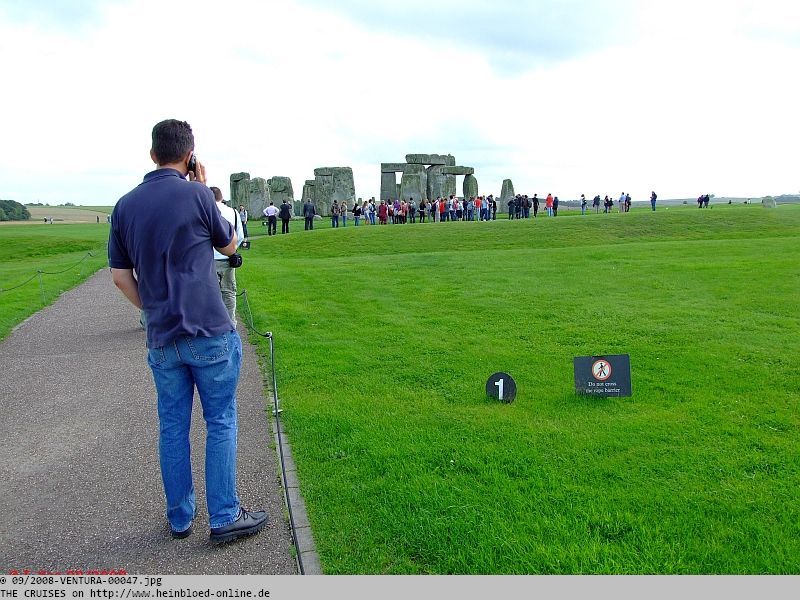 ...nur sieht es immer so aus, als ob jemand telefoniert...
Und dann dieser Anblick...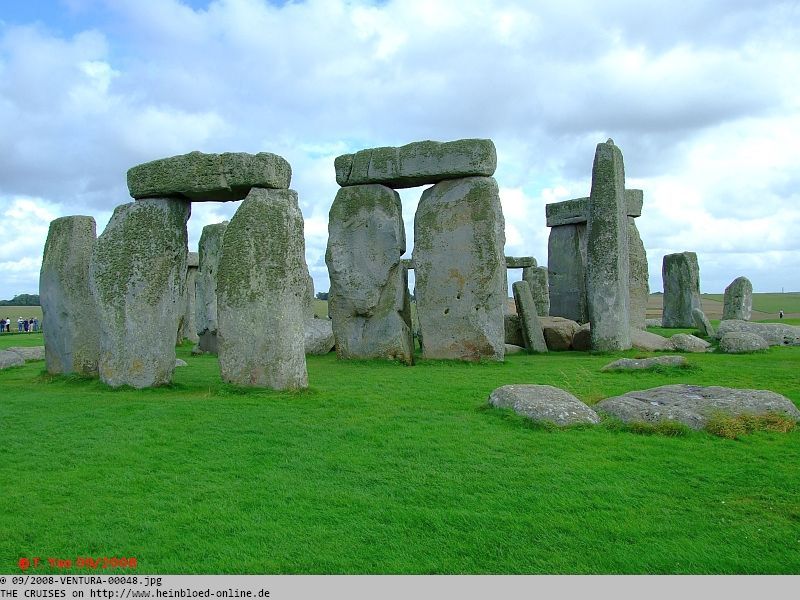 And then the view...

We had the luck that we had no rain... partly, they had unpaved trails across the lawn like here to the left...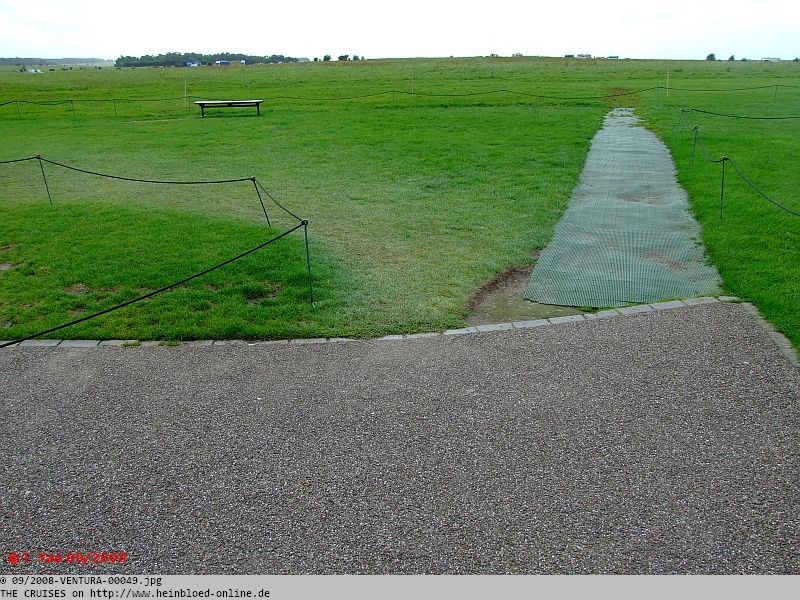 Zum Glück gab es keinen Regen... z. T. gab es unbefestigte Wege über Rasen, wie hier nach links...

And in the past it should look like this...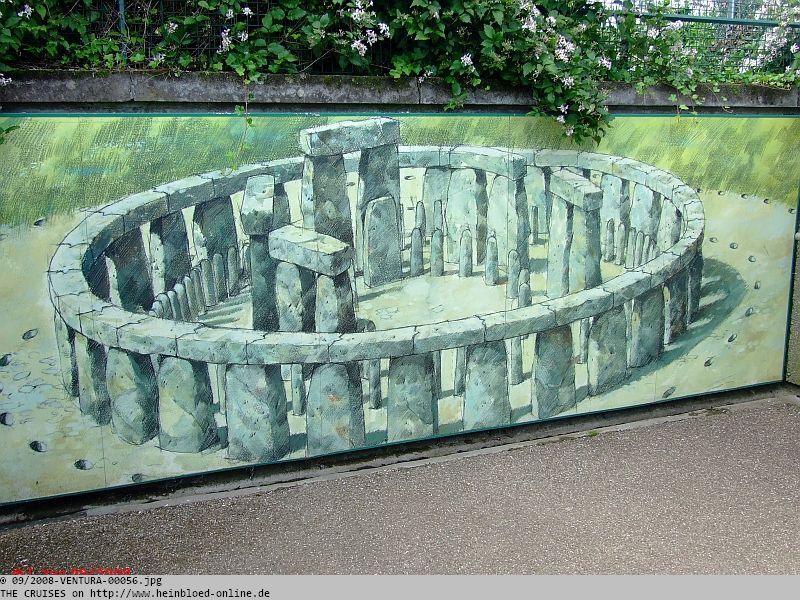 Und so soll es mal früher ausgesehen haben...
Ich gebe zu, dass mich das ganze an Malta und deren Tempelanlagen bzw. an unseren Landgang in Mexiko während der Reise auf der
CARNIVAL FASCINATION 2007
erinnert. Da fand ich es allerdings spannender...
Hier fand ich es spannender Schäfchen zu zählen... Allerdings Bruno hat den Ausflug nach Stonehenge sehr genossen...

I admit that it reminded me to Malta and their temples or to our shore excursion in Mexico during our voyage on CARNIVAL FASCINATION 2007 but that was more exciting...

I found it more interesting to count sheep... Indeed, Bruno liked the tour to Stonehenge very much...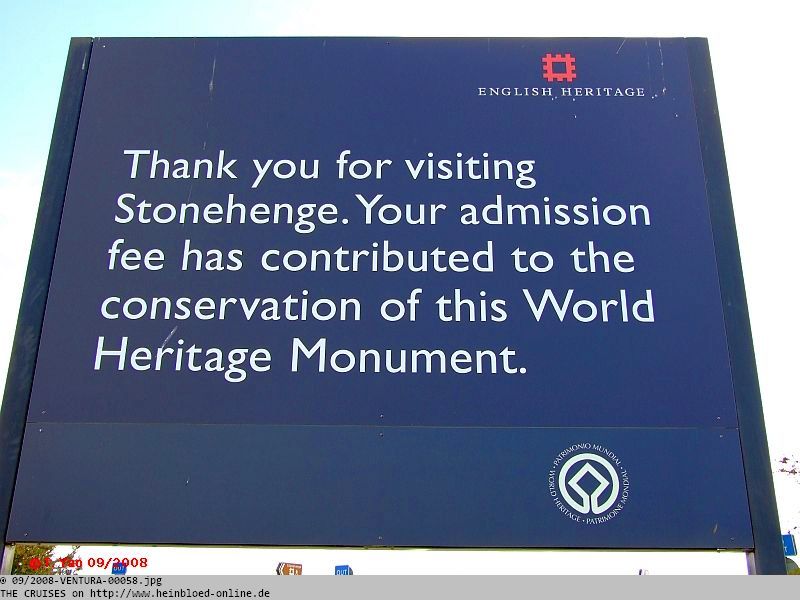 Wir fahren direkt nach Hythe. Der Anblick stammt von 04:30 Uhr morgens...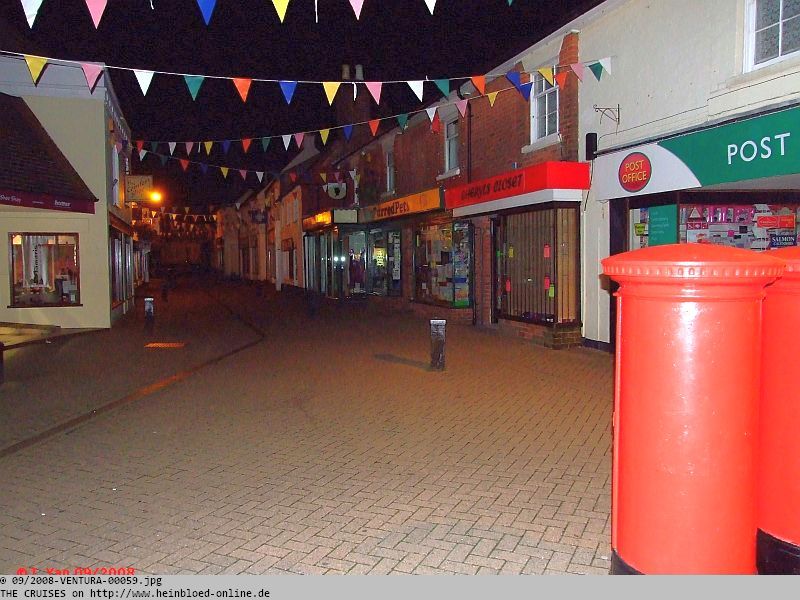 We went directly to Hythe, England. The view was of 04:30 hrs in the morning...

... to completing Bruno's day to perfection, we ate at Hobbit's. I had no idea, who or what hobbit was, but Bruno immediately identified that the interior of the restaurant was decorated after "The Lord of the Rings" what he really loved. I was happy to get a delightful meal. The young team in the kitchen remembered very much to Jamie Oliver...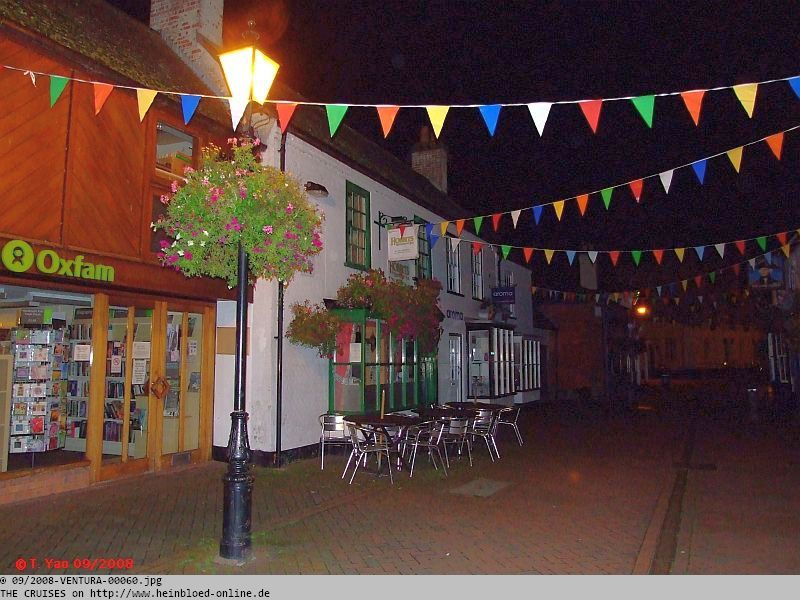 ... um Brunos Tag zum tollen Abschluss zu bringen, essen wir im Hobbit's. Ich habe keine Ahnung, wer oder was Hobbit ist, aber Bruno erkennt sofort, dass das ganze Interieur des Restaurants auf "Der Herr der Ringe" ausgerichtet ist, was ihn sehr erfreut. Ich erfreue mich an dem Essen, das sehr gut. Die junge Truppe in der Küche erinnert an Jamie Oliver...
Um 04:00 Uhr hält mich nichts mehr im Bett. Auf der Webcam der VENTURA sind schon die Lichter des Hafens von Southampton zu sehen... Ich mache mich auf in die Marina von Hythe. Es ist verhältnismäßig kalt...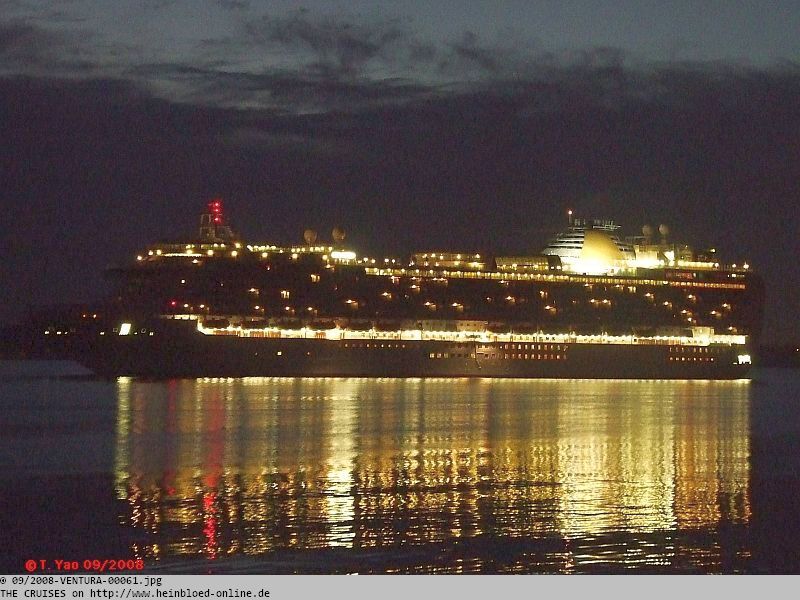 At 04:00 hrs nothing could keep me in bed. On the Webcam of VENTURA, you could already see the lights of the port of Southampton... I headed for the Hythe Marina. It was relatively cold...

At 05:45 hrs it was finally the time coming...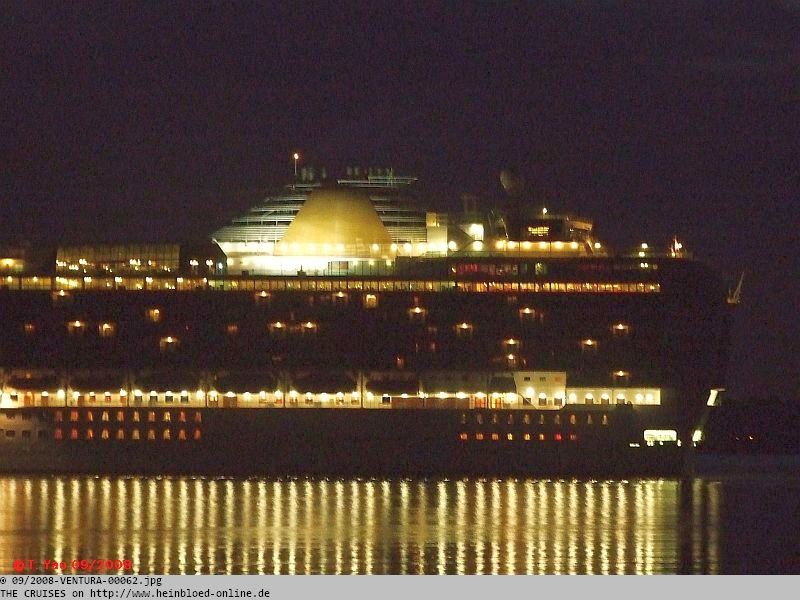 Um 05:45 Uhr ist es endlich so weit...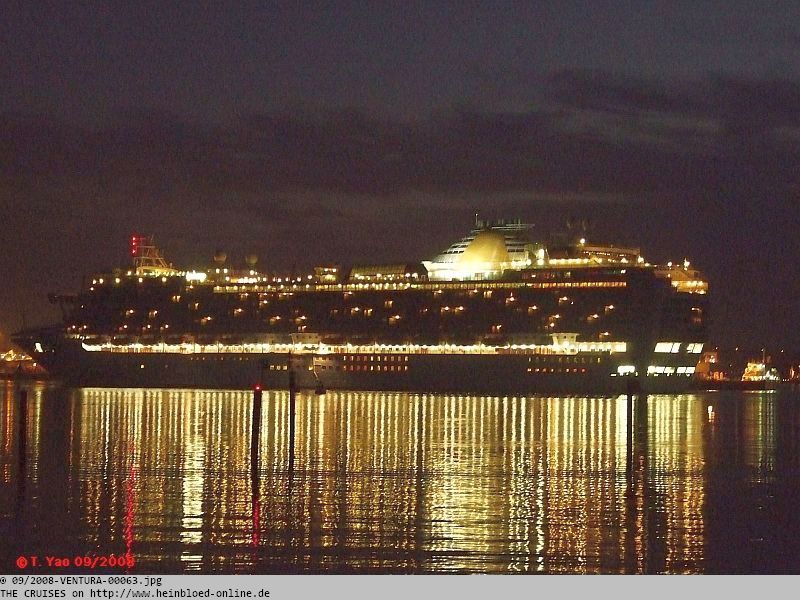 At 06:00 hrs I went for a short moment back to bed until the tycoon of the QUEEN MARY 2 woke me up... Why did not Bruno's cell phone have a different ringtone...

So best regards from VENTURA

See you later!!!

HeinBloed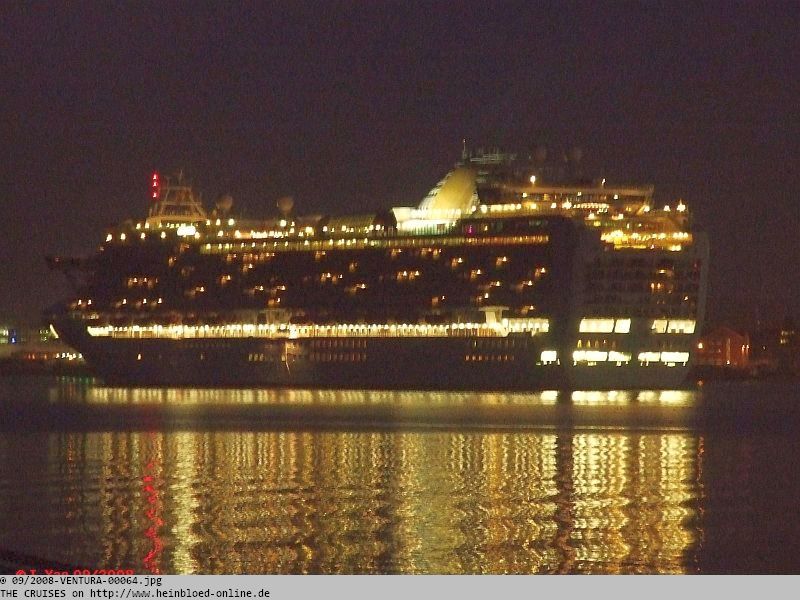 Um 06:00 Uhr bin ich wieder kurzfristig im Bett, bis dass das Horn von der QUEEN MARY 2 mich weckt... Warum gibt es auf Brunos Handy keinen anderen Klingelton...
Also schöne Grüße von Bord der VENTURA.
Bis später!!!
HeinBloed
Die anderen Reisen in diesem Blog/
The other voyages in this blog: