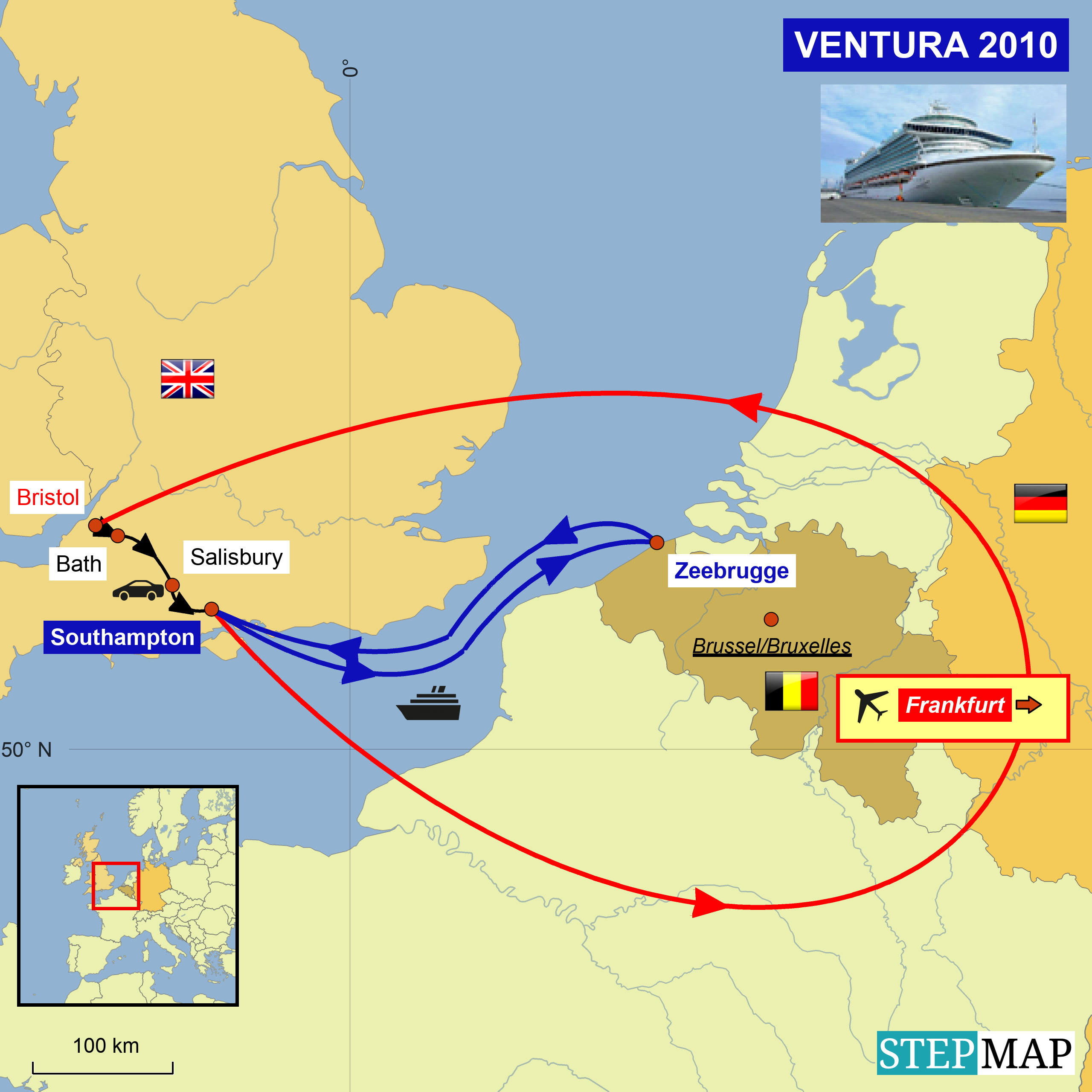 Gerne wollte ich die ORIANA aufnehmen, wenn sie vielleicht vor uns in Southampton einfährt, aber leider ist sie hinter uns, so dass wir zuerst im Hafen sind... Schade...
Die Rechnungen werden diskret verteilt.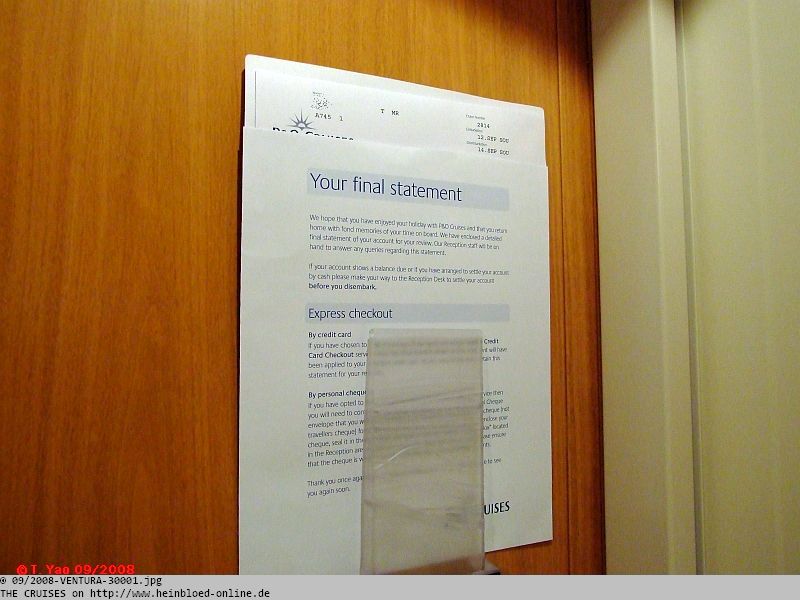 I really would love to take pictures of ORIANA, subject to an earlier arrival before us, but unfortunately, it was us, who arrived first in the port...

The invoices were delivered very discretely.

... and that morning, they had two serviced restaurant open. Apparently, they took the yesterday's complaints seriously, and you needed to make sure that everyone would leave the ship quickly...

We got a "no problem" when we requested a table for two on our own. It was a table for four, and we learned that they usually had two sorts of sugar available...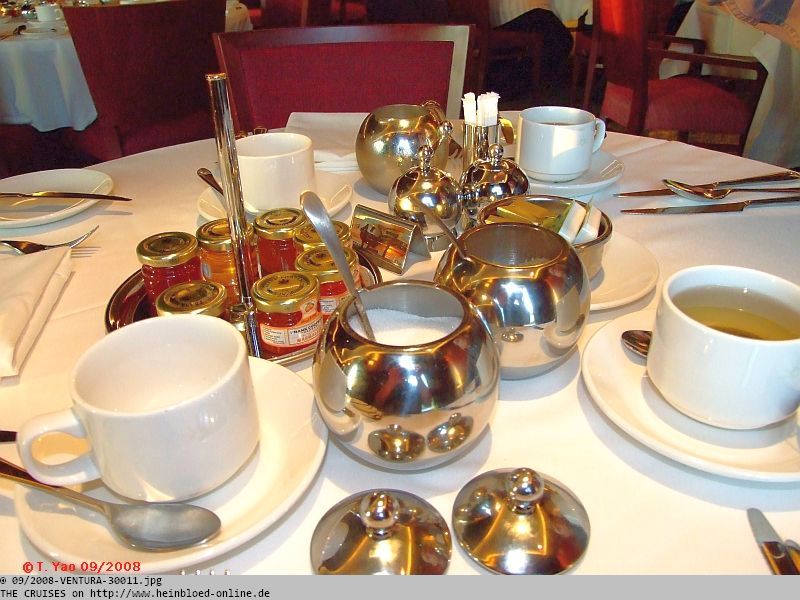 ... und heute Morgen sind sogar zwei Restaurants im Bedienbereich offen. Offensichtlich hat man auf die Kritik von gestern reagiert oder man will heute sicherstellen, dass alle schnell von Bord sind...
Wir bekommen ein "no problem" auf die Anfrage, ob wir einen eigenen Tisch für zwei haben können. Wir bekommen einen für vier und stellen fest, dass es sogar zwei Zuckersorten normalerweise gibt...
Das "Duo of Melon" ist anscheinend der Rest des Obstsalates, der sehr nett angerichtet ist...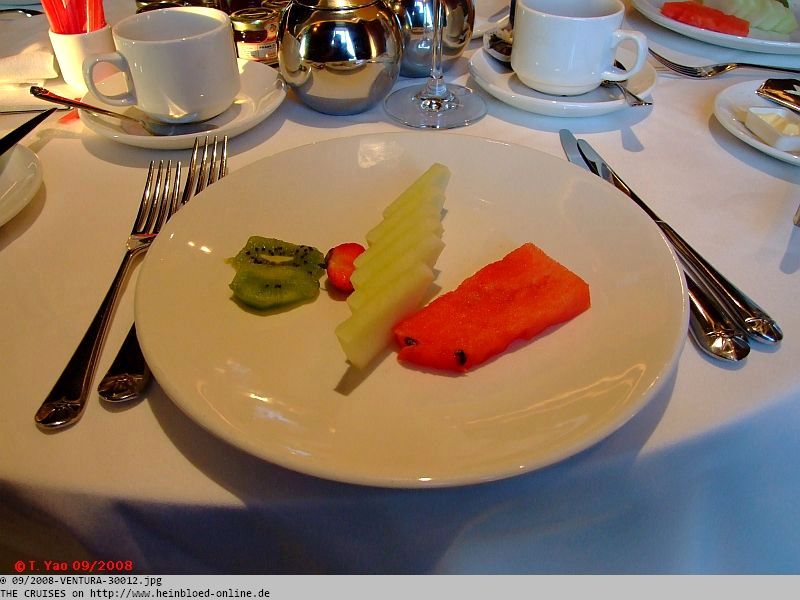 The "Duo of Melon" was apparently the remainder of the fruit salad, which was decorated very nice...

You better should know that they had milk on the tables which you could use immediately for cereals but no coffee cream...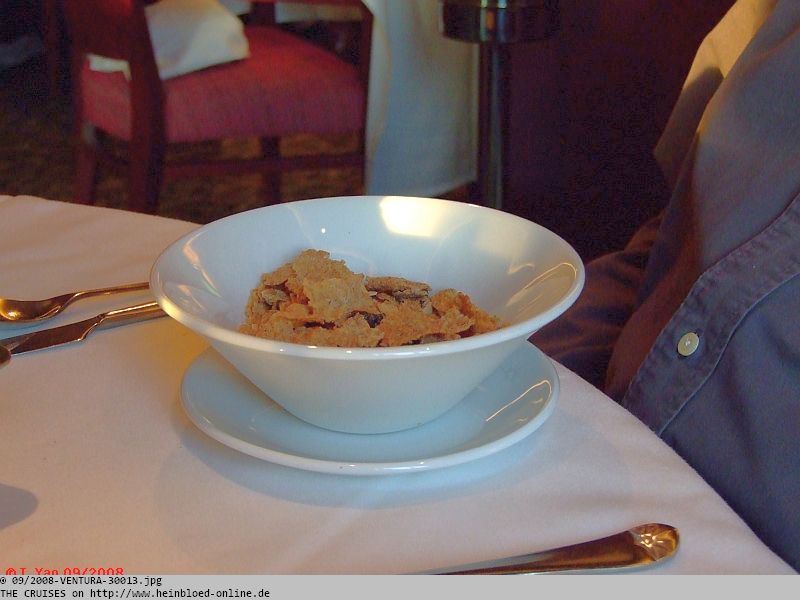 Nur sollte man an dieser Stelle wissen, dass auf dem Tisch Milch steht und keine Kaffeesahne, so dass man direkt das für die Cereals nutzen kann...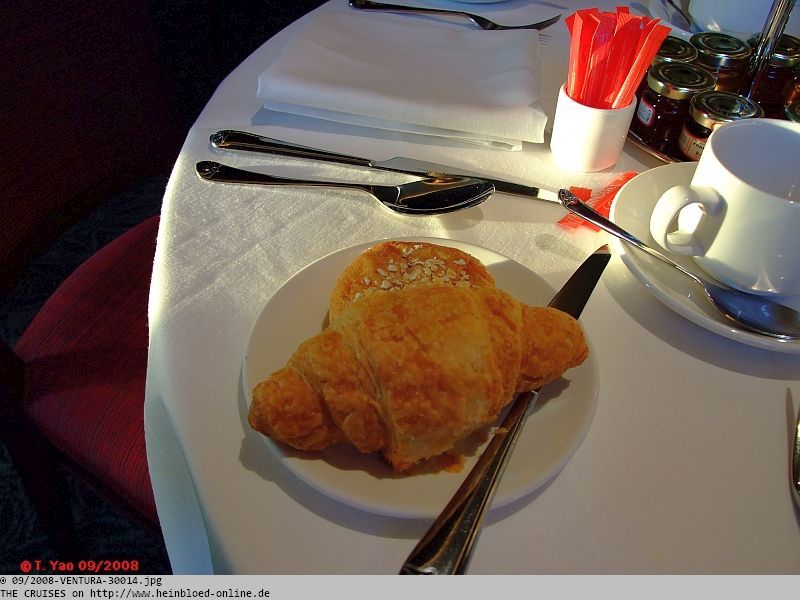 ... that time I knew that you need to order more than one piece...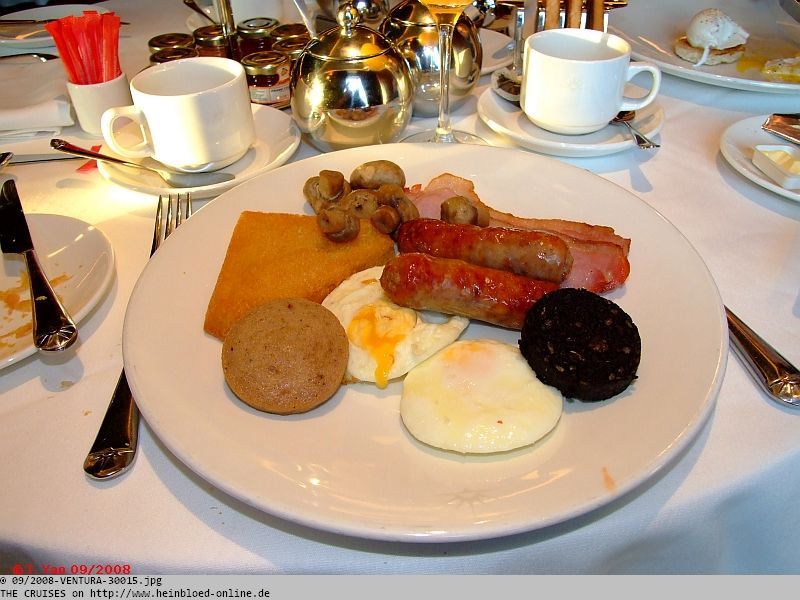 ... und dieses Mal wusste ich ja Bescheid, dass man mehr als eines von etwas bestellen muss...
Southampton erwartete uns doch netter als erwartet...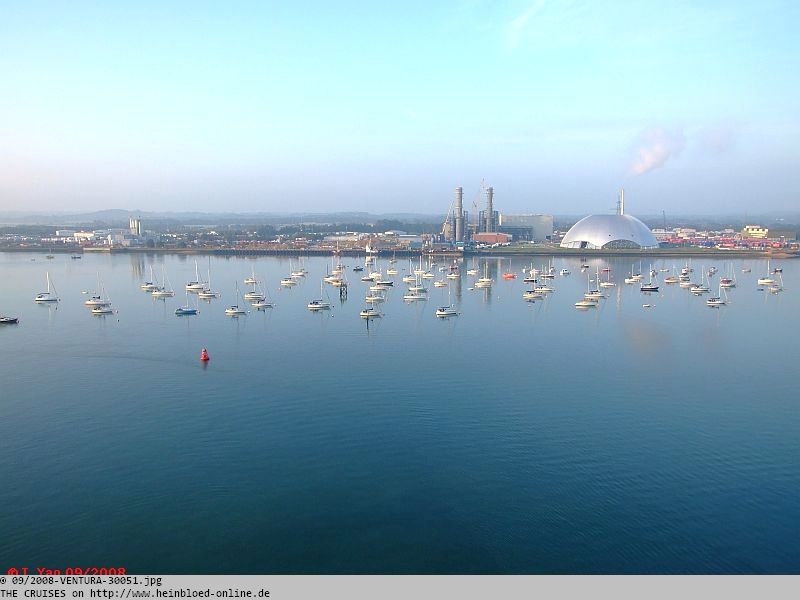 It was nicer than expected, the way, Southampton was waiting for us...

But ORIANA was docking in the morning mist just right back at the Queen Elizabeth II-Terminal...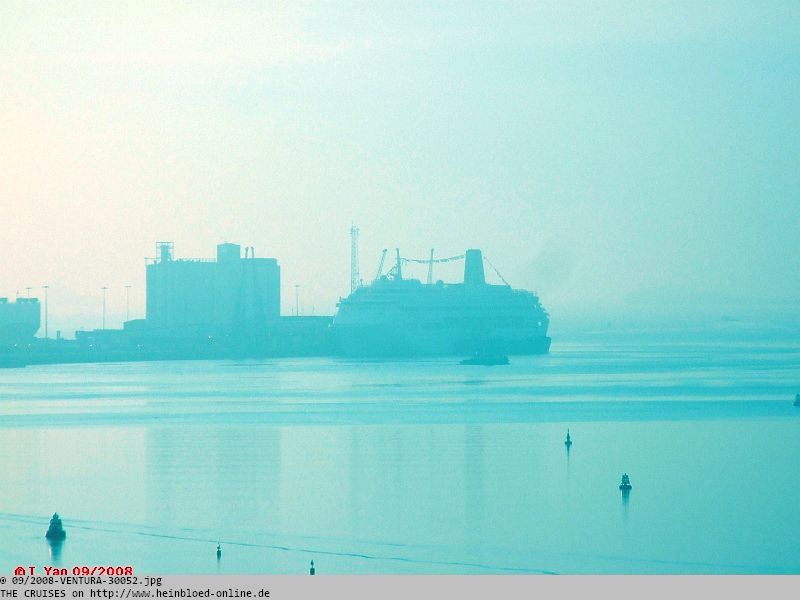 Bloß die ORIANA liegt hinten im Morgendunst am Queen Elizabeth II-Terminal an...
Schade, dass ich meine Cruisecard abgeben muss. Aus Sicherheitsgründen wie es heißt. Leider zu spät, um den Verlust zu erklären und sich einen Ersatz ausgeben zu lassen...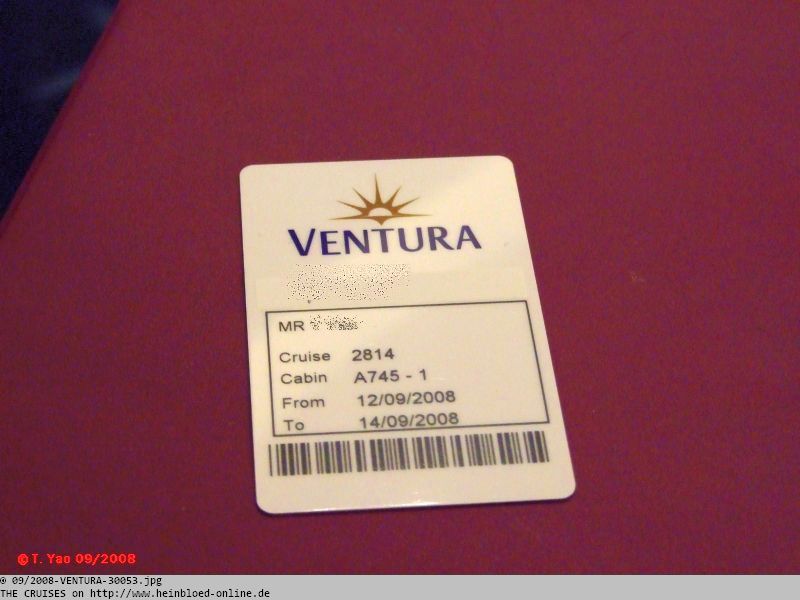 It was pity, that we need to hand over the cruise cards. They explained due to safety reasons. Unfortunately, it was too late to report a loss and to get another one as a replacement...

Since we went very early off the ship and did not pay attention to the announcement, we got after three minutes a cab. We took orientation of the prices and wanted to see the airport to get rid of the baggage. In the taxi, 17.00 GBP flat rate was offered. We insisted that the meter should be turned on. The taxi driver explained that on Sundays there would be a surcharge of 20% on top so that the price would exceed 20.00 GBP when we would use the meter. We accepted the 17.00 GBP. He identified himself as former crew-member and told us stories from his days on QUEEN ELIZABETH 2, etc.. When we arrived at the airport, he handed over his name card, that we could call him, in case we would need a taxi again to the airport. He would make it cheaper later...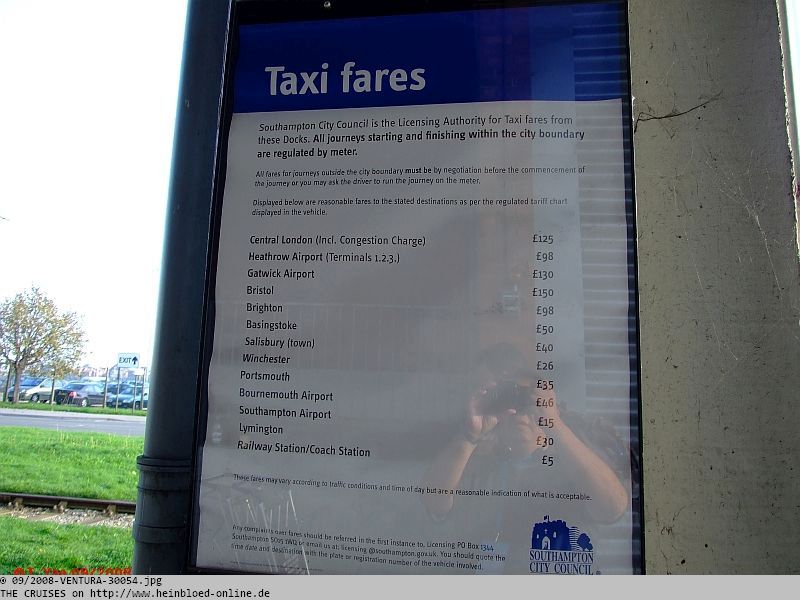 Da wir sehr früh von Bord gehen und nicht auf die Ansagen achten, bekommen wir direkt nach drei Minuten ein Taxi. Wir orientieren uns an den Preisen und wollen zum Flughafen, um dort unser Gepäck schon loszuwerden. Im Taxi bietet man uns die Fahrt für 17,00 GBP flat an. Wir bestehen auf den Taximeter, der eingeschaltet wird. Der Taxifahrer klärt uns auf, dass sonntags die Fahrten 20% mehr kosten und dass wir daher für mit dem Taximeter für ca. 20,00 GBP fahren können. Wir lassen uns auf die 17,00 GBP ein. Er selbst gibt sich als ehemaliges Crewmitglied zu erkennen und erzählt uns von seinen Tagen auf der QUEEN ELIZABETH 2 usw. Als wir am Flughafen ankommen, gibt es uns seine Visitenkarte, damit wir ggfls. anrufen, falls wir heute Nachmittag wieder zum Flughafen wollen. Er würde es dann billiger machen...
Flybe nimmt leider unser Gepäck noch nicht an. So müssen wir es einschließen, was inkl. Sicherheitskontrolle etwas dauert...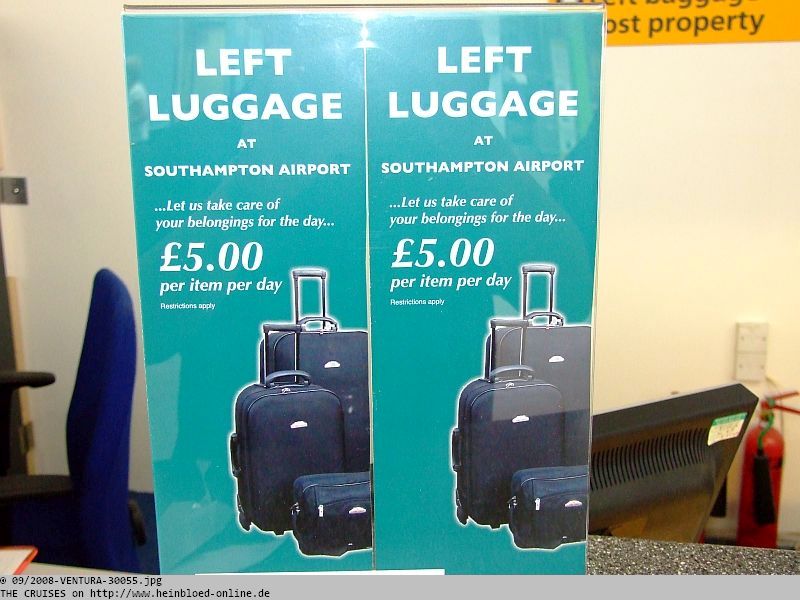 Flybe did not yet accept our bags. So we needed to store it, which took a while incl. security check...

We went back by bus to the city. The single fare was 1.50 GBP (2008) - a daily pass was 2.50 GBP. Since we wanted to return, we took a day pass.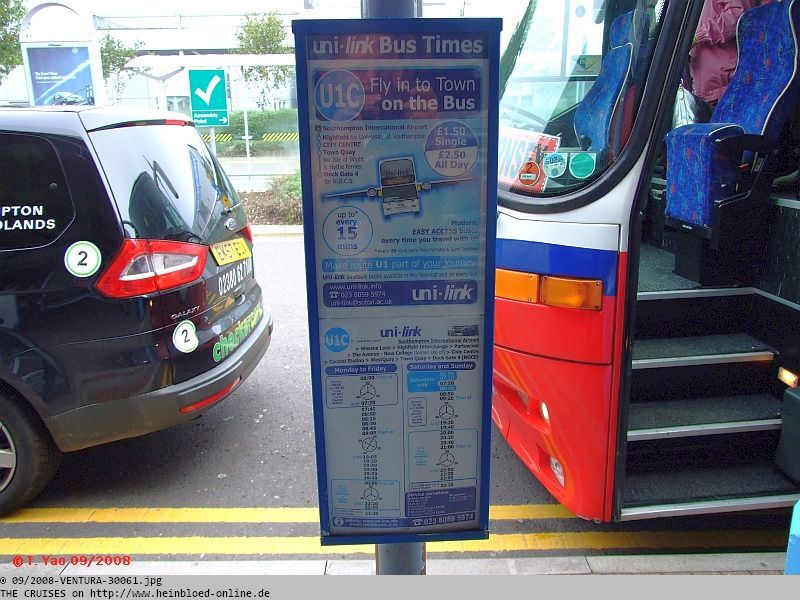 Wir fahren mit dem Bus zurück in die City. 1,50 GBP (2008) kostet die einfache Fahrt - eine Tageskarte 2,50 GBP. Da wir wieder zurück wollen, nehmen wir eine Tageskarte.
Die "Gurkerei" dauert uns doch zu lange: Fast 40 Minuten benötigen wir bis zum Bahnhof Southampton Central. Dort will ich feststellen, ob dort Gepäck aufbewahrt wird. Leider nein. Wir besuchen noch das Novotel, weil unser Taxifahrer meinte, dass sie es machen würden. Aber auch bei denen ein klares nein. Das Bus Terminal heben wir uns für den nächsten Besuch auf... (Aber sie machen es auch nicht.)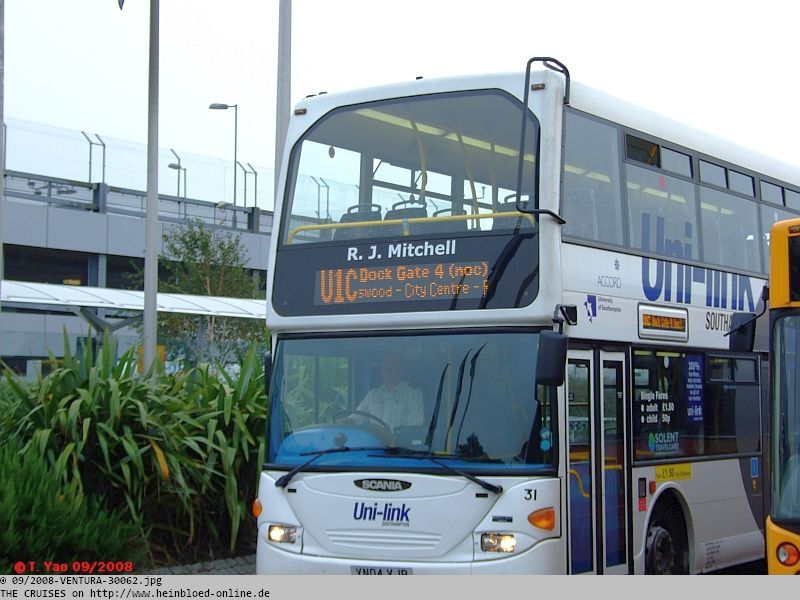 The journey took too long: it was about 40 minutes until we were back at Southampton Station. There I was checking if they offered baggage storage here. Unfortunately, they did not. The taxi driver said that the Novotel would do it. But they did not either. We saved the Bus Terminal to ask when we would be back... (They did not either.)

By train, it took only 10 minutes nonstop to be back at the airport. So we afforded to spend another 2.70 GBP (2008) tickets back to the airport. It was most comfortable because we did not have any bags with us. Otherwise, the stairway at Southampton Airport would be strenuous.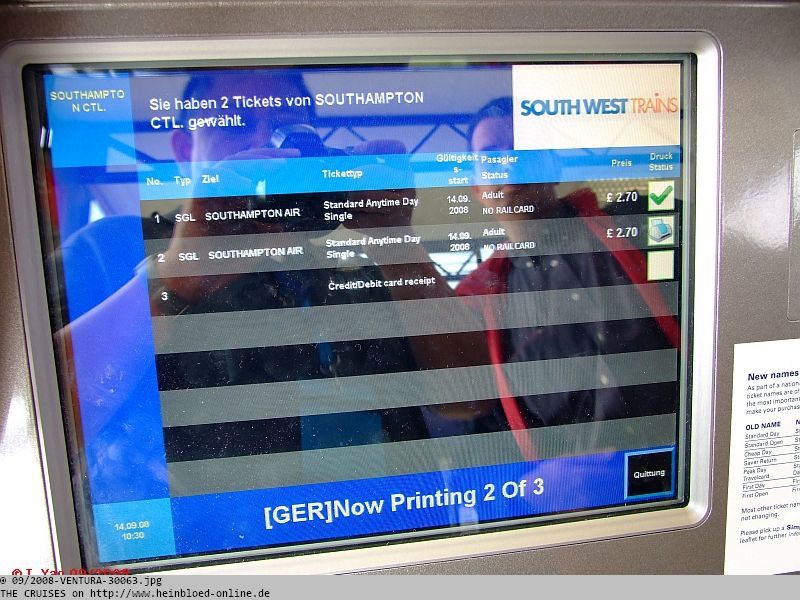 In 10 Minuten ist man mit dem Zug nonstop am Flughafen zurück. Deswegen leisten wir uns noch für 2,70 GBP (2008) noch Fahrkarten zurück zum Flughafen. Es ist komfortabler, vor allem, weil wir kein Gepäck mitführen. Sonst wäre die Treppe am Flughafen Southampton schon sehr beschwerlich.
Die Schilder zum Kreuzfahrtschiff sind sehr irreführend...
Zum City Center Terminal sind es vielleicht noch 15 Minuten zu Fuß.
Mayflower ca. 30 Minuten zu Fuß.
Queen Elizabeth II ca. 45 Minuten zu Fuß.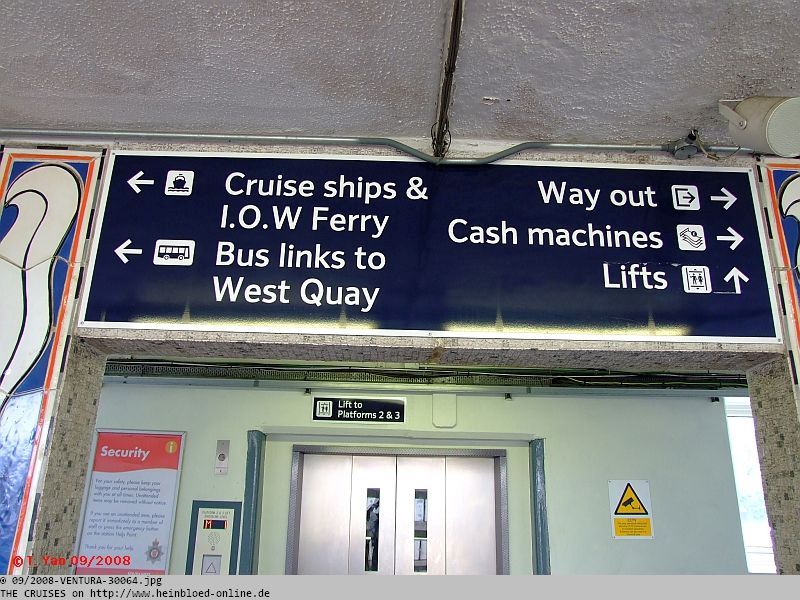 The signs to the cruise ships were somehow very misleading...

To the City Center Terminal, it might be about 15 minutes walk.
Mayflower about 30 minutes walking.
Queen Elizabeth II roughly 45 minutes walking.

We took the complimentary (2008) City-Shuttle to Town Pier.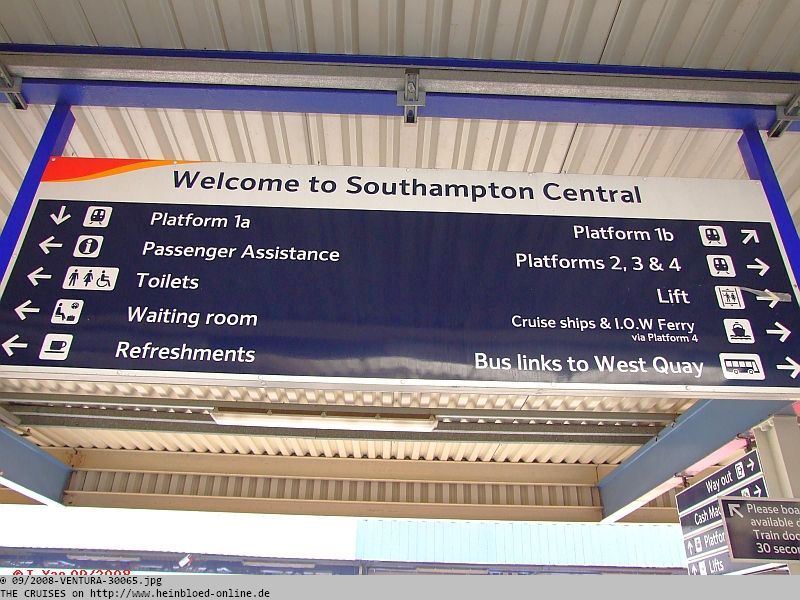 Mit dem kostenlosen (2008) City-Shuttle fahren wir zum Town Pier.
Von dort aus nehmen wir die Fähre nach Hythe und zurück, um die ORIANA zu fotografieren... Das Ver- oder Entsorgungsschiff verschwindet erst dann, als ich von Bord der Fähre bin... Grrrrr...

From here we took the ferry to Hythe and back to take pictures of ORIANA... The supply- and waste boat disappeared after I left the ship... Grrrr...

With this view, we bid farewell from our VENTURA.

It was generally a beautiful ship, with a lot of passion for details. So it was a little awkward, that the work execution onboard was somehow a little rough...

They tried to become a service level like with Cunard, but as said before, it was rough to experience how they worked.

Due to the impressions, we got from shiplover 2002 and others on ARTEMIS, we assumed that the cut of points came mostly from the service, they provided.

Anyhow, we were looking forward to ARTEMIS, and we then would see...

We went back to WestQuay Shopping Mall and went there for having lunch and some shopping.

After that, we walked back to the station and went to the airport.

At the check-in of Flybe, we had a fight: Flybe had smaller dimensions for the hand baggage, which occurred additional costs of 31 GBP for 2 kg.

After easyJet and Flybe: next time Lufthansa...

With a delay of one hour, we were departing for Frankfurt, Germany.

And so we completed the introductory phase.

Until the rest of the year, we only had one more mini-cruise on PREMICON QUEEN and NORWEGIAN SPIRIT.

But we made the acquaintance of all big international lines:

CARNIVAL
CUNARD
PRINCESS
HOLLAND AMERICA
COSTA

ROYAL CARIBBEAN
CELEBRITY

NCL

MSC

FRED OLSEN

Many doubted that it was representative since I did not experience enough night, but that was their problem, not mine.

1. we made an impression ourselves, and there was no need to let the RCI-, X- or COSTA-fans to tell us, how great it was with their preferred lines and how bad it was on others, without them making any experience on other ships!!! That was most annoying. Second-Hand-Knowledge and to present it as the absolute knowledge. I really allowed some of the forum members to influence me enormously. But only by testing ourselves, it was possible to form an opinion of our own.

2. we were now with all companies in the past-passengers-programmes, that we could get the discounts on longer cruises in the future.

Time for a conclusion:

CARNIVAL- we were shareholders, so it was one of the preferred lines to compensate the loss of the value with the OBC...

Surprising good price-value-ratio.

We expected to have for that price level to row ourselves, and the cabins would be in a low-budget hostel. Only hamburger and French fries supplied for dinner and for entertainment they just inserted a DVD. But we got quite a lot for a little money.

Subject to it would fit into our travel plans: very welcome.

CUNARD- it was a little more illusion but reality. You really needed to search a while to filter the good impressions of the voyages if you were not traveling in a Grill-class. We expected much more since their marketing department set our expectations very high.

We should go on QUEEN MARY 2 to make such experiences of our own. But only, because the crew told us, that it was totally different on QUEEN VICTORIA 2008 and QUEEN ELIZABETH 2 2007.

PRINCESS- That should we had a look again. Currently, it was neither fish nor fowl. Since we spent only one night on, we would use our Future Cruise Credit for a longer cruise to check.

HOLLAND AMERICA- That was love at first sight. For sure, we repurchased a Future Cruise Credit. Our EURODAM 2008 was terrific, and we were thoroughly pampered.

COSTA- Later we thought it was a solid performance for two night. But we had unluck with the ship and our cabin. We should try next year five nights on COSTA VICTORIA.

ROYAL CARIBBEAN- Due to the opinion of others it was pushed to the top. It was slightly too professional that no real cordiality and sincerity came through. The https://heinbloed-minis.blogspot.com/2007/05/jewel-of-seas-reisebericht-19-22052007.html was lovely, but their food concept was nothing for us. I did not like the filling up in the morning. We should include it one more time in 2010/11 as long as it would not be the VISION-Class. A visit in Chop's Grille was a must to include.

CELEBRITY- Actually, it was the biggest disappointment. But that was mostly because of the ship CENTURY 2008. We should retry it again on a new ship. We should see. So far, our excitement was minimal.

NCL- Always that was a good choice. Especially the food options on the JEWEL-Class-ships. It fit perfectly to us that we could go dining whenever and wherever we wanted. End of October we would join as Latitudes Gold member on a longer cruise. And without the fact, that I should need to introduce myself as a future Pulitzer-Prize-Award-Winner.

MSC- Our booking on MSC FANTASIA said everything: extremely great price-value-ratio if you did not book "standard" catalog prices. In the peak-time, a lot of kids would join, and that would not be anything for me.

One could not be counted to the above listed but surprised us very nicely: HANSA CRUISES- no international product but a pure German one, but they offered an excellent performance onboard.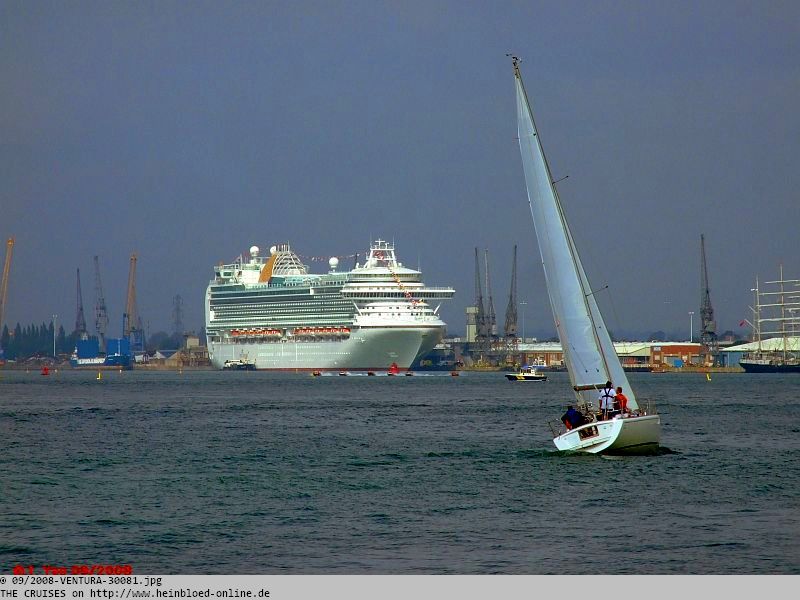 So verabschieden wir uns mit diesem Anblick von unserer VENTURA.
Insgesamt war es ein sehr schönes Schiff, mit sehr viel Liebe zum Detail. Deswegen war es manchmal merkwürdig, dass es in der Ausführung manchmal holperte...
Man bemüht sich vom Service her an Cunard heranzukommen, aber auch hier in der Ausführung hapert es.
Aufgrund der Eindrücke, die uns von shiplover2002 und anderen zur ARTEMIS übermittelt wurden, nehmen wir daher stark an, dass die Punktabzüge hauptsächlich vom Service her kommen.
Auf jeden Fall freuen wir uns auf die ARTEMIS und dann sehen wir weiter...
Wir fahren wieder zum WestQuay Shopping Mall und gehen dort essen und shoppen.
Zu Fuß laufen wir zum Bahnhof zurück und fahren zum Flughafen.
Am Check-in von Flybe streiten wir uns herum: Flybe hat kleinere Abmessungen für das Handgepäck, was uns für 2 kg 31 GBP kostet.
Nach easyJet und Flybe: next time Lufthansa...
Mit einer Stunde Verspätung geht es zurück nach Frankfurt.
Und damit haben wir unsere Kennenlernphase beendet.
Im Rest des Jahres gibt es noch eine Mini-Cruise auf der PREMICON QUEEN und NORWEGIAN SPIRIT.
Aber wir haben mal alle großen internationalen kennengelernt:
CARNIVAL
CUNARD
PRINCESS
HOLLAND AMERICA
COSTA
ROYAL CARIBBEAN
CELEBRITY
NCL
MSC
FRED OLSEN
Viele bezweifeln da, dass es repräsentativ sei, weil es nicht genügend Nächte sind, aber das ist deren Problem nicht meines.
1. Wir haben uns mal selbst einen Eindruck verschafft, und müssen uns nicht von den RCI-, X- und COSTA-Fraktionen im Forum sagen lassen, wie toll es auf deren bevorzugten Linien ist und wie schlecht die anderen sind, ohne dass sie selbst mal darauf gewesen sind!!! Das hatte mich am meisten genervt. Second-Hand-Wissen und es darzustellen, als ob es die absolute Weisheit sei. Ich habe mich doch anfangs sehr durch die Meinung einzelner in diversen Foren, die doch sehr extrem war, beeinflussen lassen. Nur durch Selbstesten ist es möglich, sich seine eigene Meinung zu bilden.
2. Wir sind jetzt bei allen Gesellschaften in den Past-Passenger-Programmen, und kommen so bei den längeren Cruises an die günstigeren Angebote heran.
Zeit für ein Fazit:
CARNIVAL
- sind wir Aktionäre, so dass es unsere bevorzugte Linie ist, um den Kursverfall mit den OBC wieder aufzufangen...
Erstaunlich gutes Preis-Leistungs-Verhältnis.
Hätten eigentlich erwartet, dass wir bei dem Preis, selbst rudern müssen, die Kabine im Stil eines Formule1-Hotels gewesen wäre, das Essen nur aus Hamburger und Pommes bestanden hätte und zur Unterhaltung eine DVD eingelegt worden wäre. Aber wir haben erstaunlich viel für erstaunlich wenig bekommen.
Wenn es in unsere Reisepläne passt: herzlich gerne.
CUNARD
- mehr Schein als Sein. Man muss schon extrem suchen, um gewisse posivite Aspekte einer Reise herauszufiltern, wenn man nicht in den Grill-Klassen mitfährt. Wir haben mehr erwartet, weil auch die Erwartungshaltung durch das Marketing nach oben geschraubt wurde.
Wir werden sicherlich mal auf der QUEEN MARY 2 mitfahren, um das mal zu erleben. Aber nur, weil uns die Crew gesagt, dass es noch etwas komplett anderes sei, als
QUEEN VICTORIA 2008
und
QUEEN ELIZABETH 2 2007
.
PRINCESS
- Das müssen wir uns nochmals angucken. Derzeit weder Fisch noch Fleisch. Aber da wir nur eine Nacht darauf waren, werden wir lieber unseren Future Cruise Credit nutzen, um mal länger uns das anzugucken.
HOLLAND AMERICA
- Das war Liebe auf den ersten Blick. Sicherlich immer wieder und Future Cruise Credit ist bereits gekauft. Unsere
EURODAM 2008
war toll und wir sind verwöhnt worden.
COSTA
- Nachträglich betrachtet haben sie doch eine solide Leistung für die zwei Nächte erbracht. Nur wir hatten wohl Pech mit dem Schiff und unserer Kabine. Wir werden es Ende nächsten Jahres mal fünf Nächte auf der COSTA VICTORIA versuchen.
ROYAL CARIBBEAN
- Durch die Meinung anderer zu stark nach oben gerückt. Uns einen Tick zu professionell, so dass eine gewisse Herzlichkeit und Aufrichtigkeit nicht mehr durchkam. Die
JEWEL OF THE SEAS 2007
war schön, aber das Konzept mit dem Essen ist nichts für uns. Das Auffüllen mag ich morgens nicht. Wir werden es sicherlich für 2010/2011 nochmals reinnehmen, solange es nicht die VISION-Klasse ist. Ein Besuch im Chop's Grille gehört dazu.
CELEBRITY
- Das war eigentlich die größte Enttäuschung. Lag aber vor allem am Schiff
CENTURY 2008
. Wir werden es mit einem neuen Schiff wieder versuchen. Dann länger. Mal sehen. Bis jetzt hält sich unsere Begeisterung in Grenzen.
NCL
- Immer eine gute Wahl. Vor allem auf der JEWEL-Klasse mit dem entsprechenden gastronomischen Angebot. Uns kommt es entgegen, dass wir essen können, wann und wo wir wollen. Ende Oktober gehe ich mit dem Status Latitudes-Gold an Bord einer längeren Reise. Und das ohne, dass ich mich als angehenden Pulitzer-Preis-Empfänger ausgeben muss.
MSC
- Unsere Buchung auf der MSC FANTASIA sagt schon alles: erstaunlich gutes Preis-Leistungs-Verhältnis, wenn man nicht "normale" Katalogpreise bucht. Zu den Spitzenzeiten mit vielen Kindern, wäre das wohl nichts für mich.
Einer gehört oben nicht hinzu und hat uns sehr überrascht:
HANSA KREUZFAHRTEN
- kein internationales Produkt aber für unseren Geschmack auch ein sehr solides Angebot an Bord.
Was die Mini-Cruises betrifft: wir mögen sie für zwischendurch. Nur zwei Nächte müssen es nicht mehr unbedingt sein.
Daher laufen die 2009-er Planung für
jeweils drei Nächte auf der NORWEGIAN JADE und ARTEMIS
sowie vier Nächte auf der BOUDICCA
Spart uns vermutlich zwei Seenotretttungsübungen ein. Wir können keine mehr sehen, wobei wir vermutlich nur noch bei NCL und FRED OLSEN auftauchen würden...
Weil ja auch immer Kritik an den Mini-Cruises als solche geübt wurde, und wie repräsentativ sind:
Uns hat es gereicht, um man einen Eindruck zu bekommen.
Diejenigen, die wollen, das man wiederkommt:
CARNIVAL
HOLLAND AMERICA
P&O
NCL (in den allermeisten Fällen)
FRED OLSEN
HANSA KREUZFAHRTEN
Diejenigen, die wollen, das man nach einer Cruise nicht wiederkommt:
CUNARD
PRINCESS
ROYAL CARIBBEAN
Bei COSTA hat vor allem die Kundenbetreuung nach der Cruise dafür gesorgt, dass COSTA im Ranking ziemlich weit unten bleibt.
Bei CELEBRITY war es vor allem die Kundenbetreuung nach der Cruise, die sich gut mit unseren Erfahrungen auseinander gesetzt hat.
Uns hat es Spaß gemacht, diese Erfahrungen selbst zu sammeln und sich nicht nur auf die Meinungen hier einzelner in diversen Foren zu verlassen. Daher können wir künftig weniger enttäuscht werden.
Hoffentlich haben euch die Reisen von uns genauso viel Spaß gemacht, wie uns.
Gruß
HeinBloed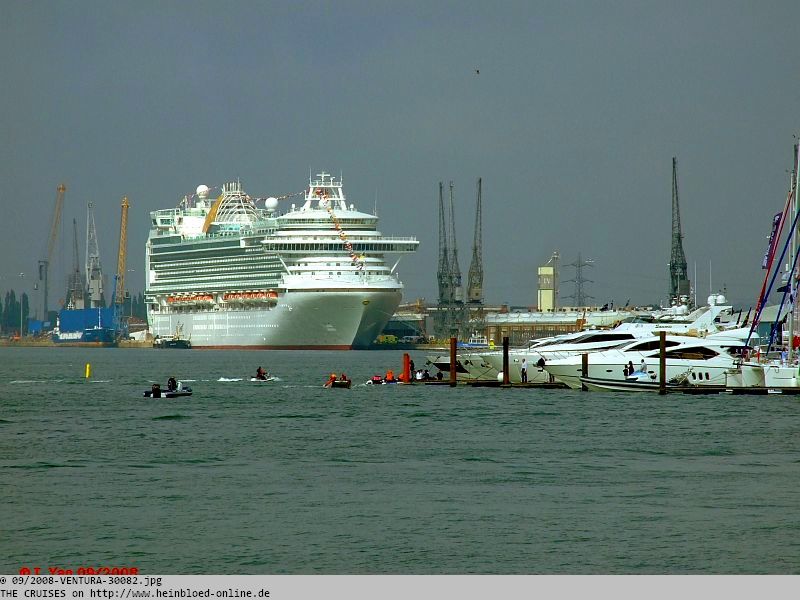 Regarding the mini-cruises: we liked them for in between times. But only two nights there was no need anymore.

So our plannings for 2009 contained

three nights each on NORWEGIAN JADE and ARTEMIS
and four nights on BOUDICCA

So we might save two life drills. We could not see anyone anymore although we would appear only with NCL and FRED OLSEN...

Because some always criticized, if mini-cruises could be representative for a cruise:

For us, it was subtle enough, to have an impression on our own.

Those who wanted you to come back:

CARNIVAL
HOLLAND AMERICA
P&O
NCL (on most voyages)
FRED OLSEN
HANSA KREUZFAHRTEN

Those who did not want us to come back on a cruise:

CUNARD
PRINCESS
ROYAL CARIBBEAN

With COSTA it was mostly the customer care after the cruise, that made COSTA appearing extremely at the end of our ranking.

With CELEBRITY it was mostly the customer care after the cruise, who handled our experiences very intensively.

It was a pleasure for us, to make all the experiences by ourselves and not just counting to the opinions of others in several forums. So we could not be disappointed so much anymore in the future.

Hopefully, this voyage made the pleasure to you, like it made to us.

Regards
HeinBloed
Die anderen Reisen in diesem Blog/
The other voyages in this blog: