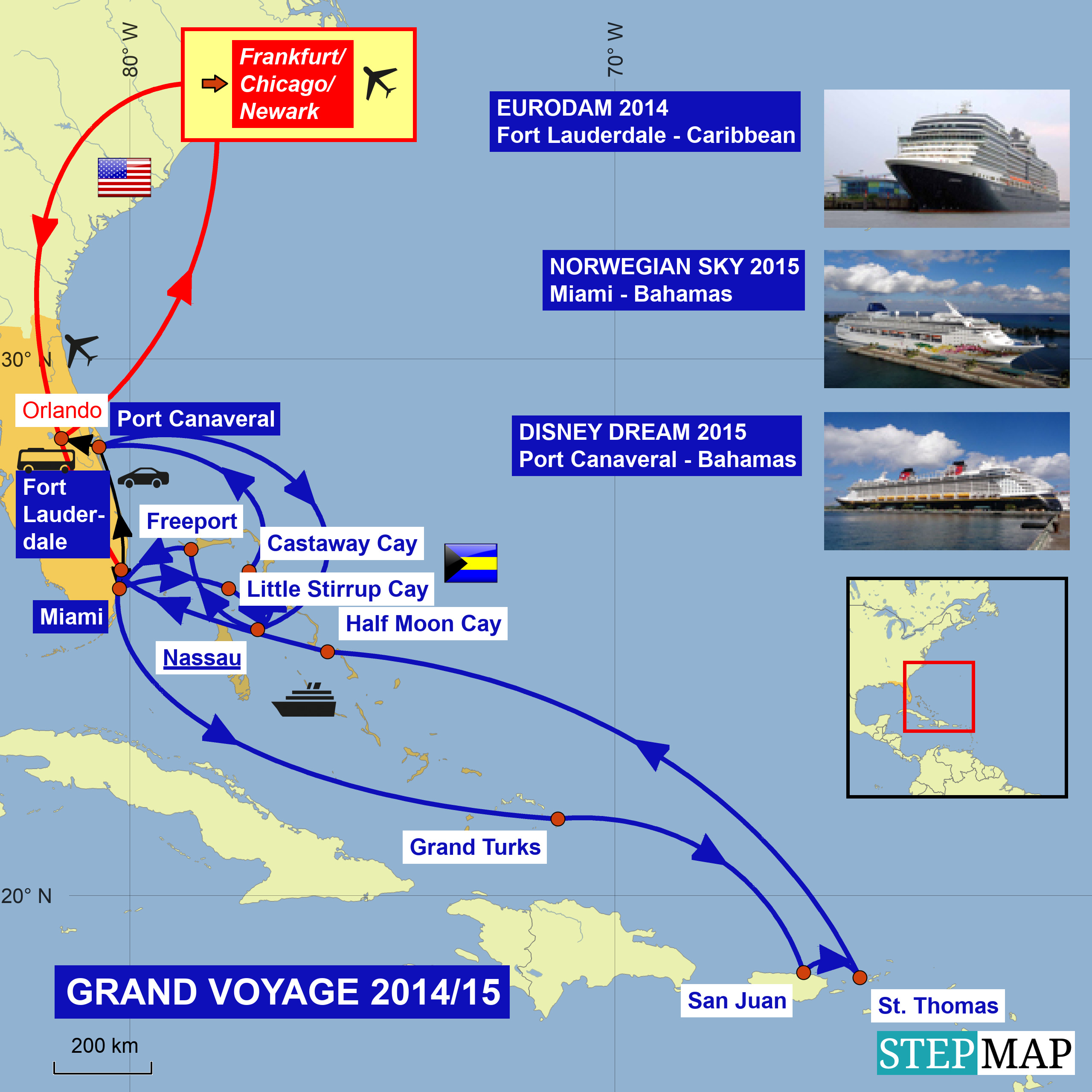 Es geht wieder zum "Walk a Mile", der auch hier sehr viel Spaß macht. So laufe ich auch an die Raucherecke vorbei, die als windgeschützte Nische eingerichtet ist. Als familienfreundliches Schiff müsste man es ja verbieten, aber das ist wohl ein sehr schöner Kompromiss. Zumal die Bars für Erwachsene ja alle hier in der Nähe sind.

I was heading again to "Walk a Mile", which pleased me very much again. So I walked along the smokers' lounge which was set up as the wind-protected corner. As a family-friendly ship, it should be forbidden, but that was a nice compromise. Especially as all the bars for adults were right around.

During the daytime, they also offered a small entertainment programme with simple devices in the center of the atrium. "Isle of Jazz" was a motive from the movie "Music Land" of 1935. I should see it once I should be back home. The old Disney-movies like "Fantasia", "Bambi" and others were also very appealing.

Tagsüber findet auch mitten im Atrium ein kleines Unterhaltungsprogramm mit einfachen Mitteln statt. "Isle of Jazz" ist ein Motiv aus dem Film "Music Land" aus dem Jahr 1935. Müsste ich mir mal irgendwann auch mal in Ruhe ansehen. Die alten Disney-Filme wie "Fantasia", "Bambi" und andere haben ja auch ihren Reiz.
Nur der Kreuzfahrtdirektor ist noch von der Fahrt vor zwei Monaten übrig.

Only the Cruise Director was left from the voyage two months ago.

Cabanas was the self-service restaurant. But they had no cabanas like on EURODAM 2014 before.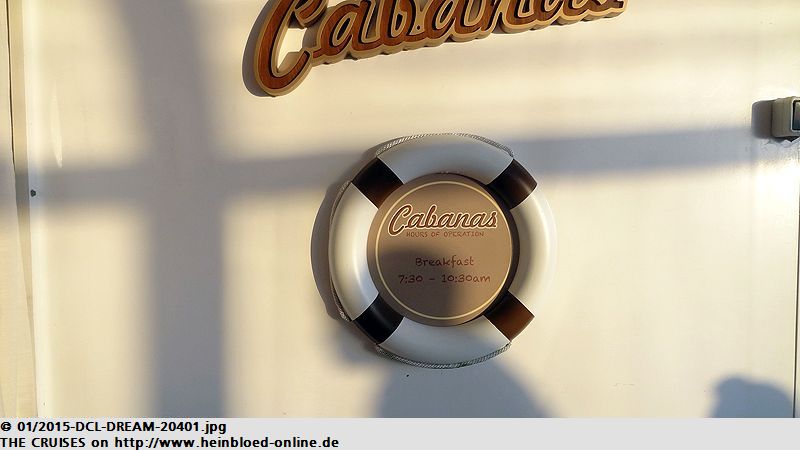 Cabanas ist das SB-Restaurant. Leider keine Cabana wie auf der
EURODAM 2014
zuvor.
Hier gucken wir uns kurz das Frühstücksangebot an.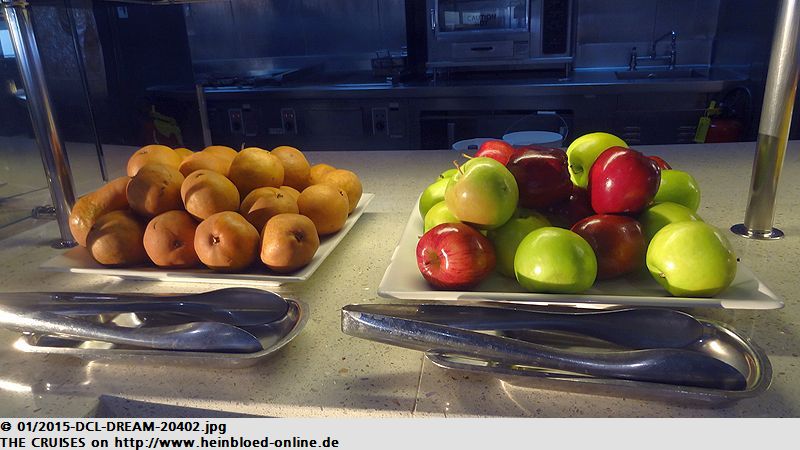 Here we looked around, what they offered for breakfast.

That appeared more like a mass feeding of families with kids.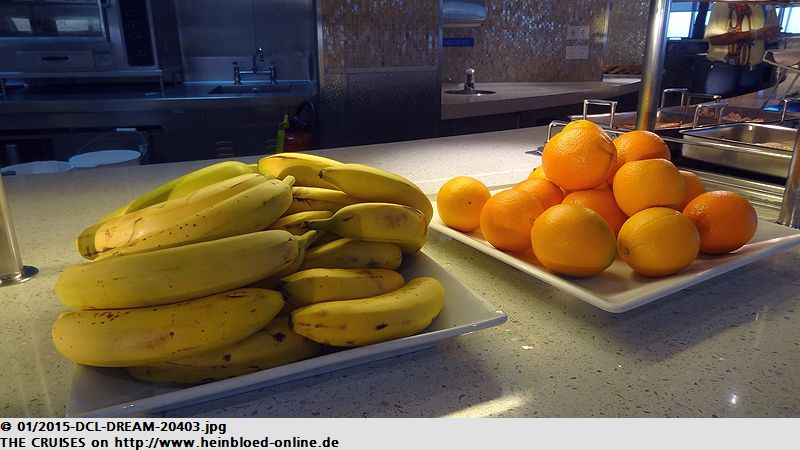 Aber das ist zu sehr auf eine Massenabfütterung von Familien mit Kindern ausgerichtet.
Es gibt aber hier lactosefreie Milch, so dass ich darum bitte, für mich eine Packung im Cove Café bereitzuhalten.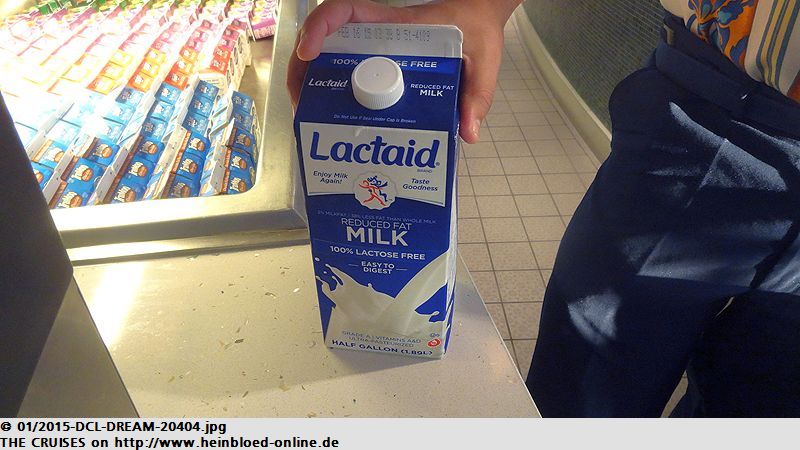 They had here lactose-free milk, so I requested a box which should be stored in Cove Café just for me.

In Nassau, the Bahamas, CARNIVAL FASCINATION 2008 was waiting for us, which we knew from our Grand Voyage 2008 and went from Miami, FL via Key West, FL, and Calica, Mexico.

In Nassau erwartet uns die
CARNIVAL FASCINATION 2008
, die wir von unserer Großen Reise 2008 kennen und auf der wir von Miami über Key West und Calica wieder nach Miami gefahren sind.
Wir gehen lieber in den Royal Palace frühstücken. Zuvor auf der
NORWEGIAN SKY 2015
und insbesondere
EURODAM 2014
war das Frühüstücksangebot internationaler, aber hier ist es amerikanisch-süßer und vor allem die Möglichkeit Sonderwünsche zu erfüllen ist sehr begrenzt, weil vieles schon fertig vorbereitet ist. Der Service von Rachelle und Binu ist sehr angenehm.

We preferred to see the Royal Palace for breakfast. Before on NORWEGIAN SKY 2015 and especially on EURODAM 2014 the breakfast offer was more international, but here it was more American-sweeter, and their options for special requests were very limited because many were already prepared. We experienced a pleasant service by Rachelle and Binu.

I visited my cabin steward Omar, whom I remember very well from my voyage DISNEY DREAM 2014. MY cabin from then: just redecorated... Would we have Omar again as our cabin steward, I would not get any popcorn or red wine because everything would be so still perfectly.

Ich besuche meinen Kabinensteward Omar, den ich von unserer Reise
DISNEY DREAM 2014
in sehr guter Erinnerung habe.
MEINE
Kabine von damals: einfach umdekoriert... Hätten wir jetzt auch wieder Omar, dann hätte ich wohl die Aufmerksamkeit Popcorn und Rotwein nicht bekommen, weil einfach alles so perfekt gewesen wäre.
Shirlon lockt uns mit ihrem Gesang aus unserer Kabine. Gegenüber ist die Besenkammer und irgendwann wollte ich wissen, woher der Gesang herkommt...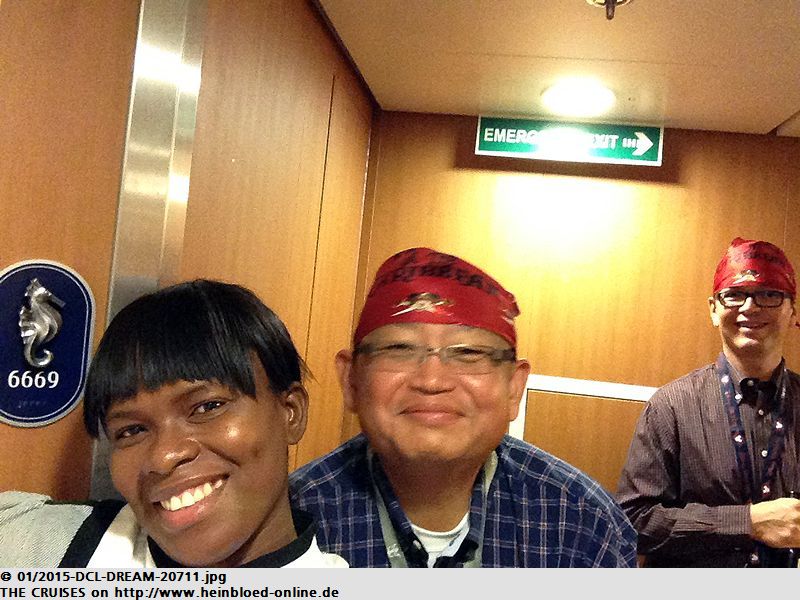 Shirlon allured us with her singing out of our cabin. Opposite, from the janitor closet and I was interested to know, where the singing was from.

In November I refused to walk around that way. But as said before: brainwash, a fountain of youth or whatever and I was really walking that way around... But that time, my mother was not with me, who took the bandannas immediately home to give it to my nieces before I could try them.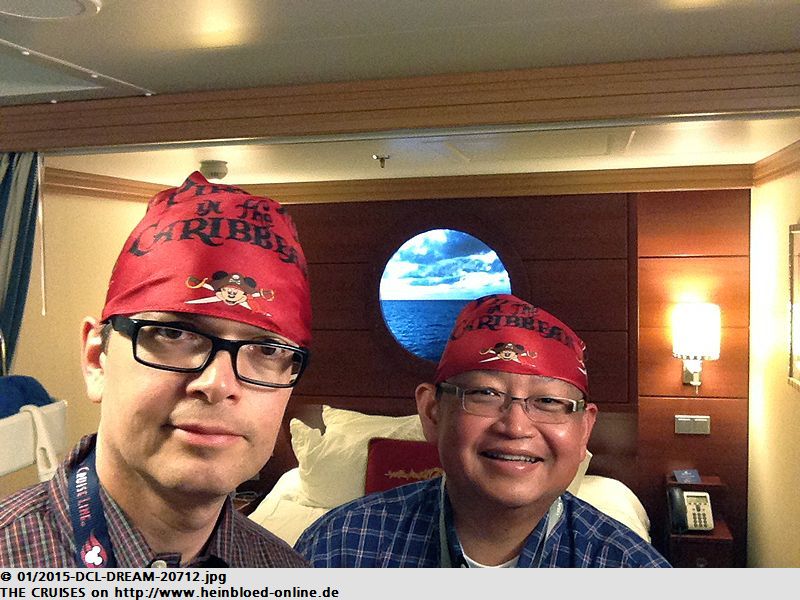 Im November hatte ich mich noch geweigert so herumzulaufen. Aber wie gesagt: Gehirnwäsche, Jungbrunnen oder was auch immer und ich laufe tatsächlich so herum... Allerdings habe ich dieses Mal auch meine Mutter nicht dabei, die mir damals die Kopftücher sofort für meine Nichten abgenommen hatte, bevor ich sie überhaupt anprobieren konnte.
CARNIVAL ECSTASY ist wohl auf Ecstasy und verfolgt uns ja schon auf der Reise...

CARNIVAL ECSTASY took some ecstasy and was stalking us for a while on our voyage...

And here again, they attracted our attention to the inauguration of the VAT on the Bahamas and which consequences it might have to services and tours.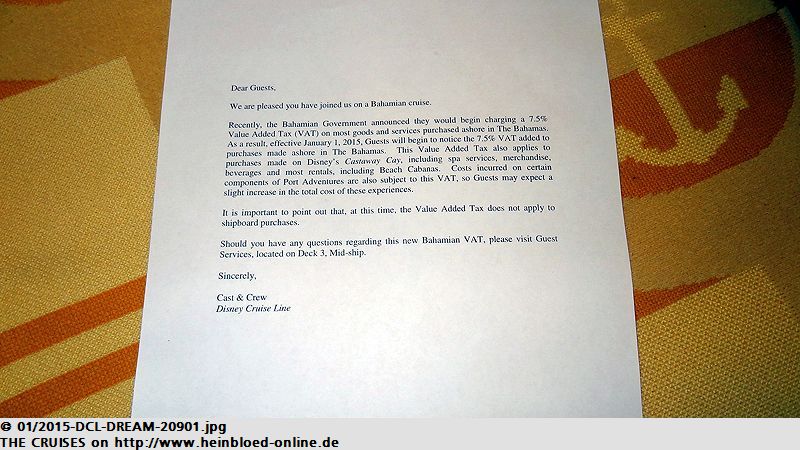 Auch hier werden wir wieder auf die Einführung der Mehrwertsteuer auf den Bahamas aufmerksam gemacht und hingewiesen welche Auswirkungen es auf bestimmte Dienste und Touren hat.
Vor zwei Monaten waren sie nicht fertig und leider ist jetzt auch nur das Casino fertig: Das
Baha Mar
.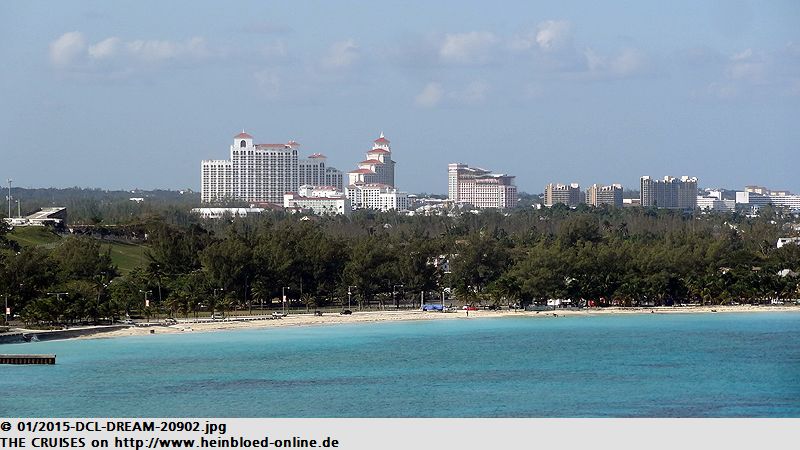 Two months ago they did not finish the work, and now it was only the casino which was completed: The Baha Mar.

Just shortly before we arrived the entry of the port: The British Colonial Hilton. Many went there and bought a day pass to relax here.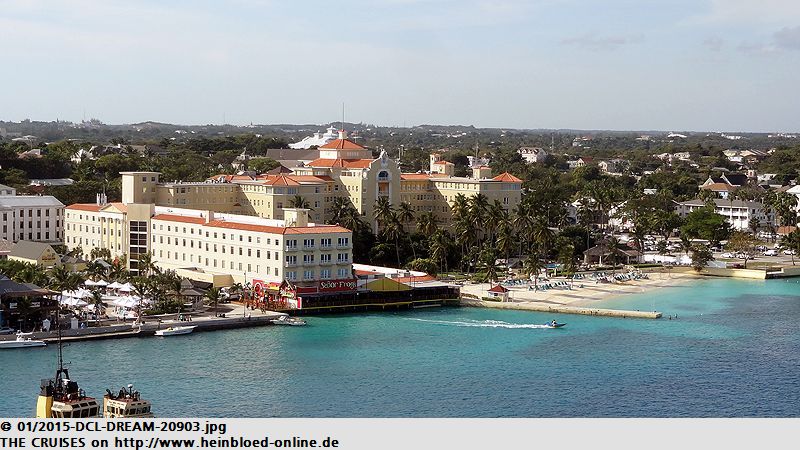 Kurz vor der Einfahrt: Das
British Colonial Hilton
. Viele gehen hierher, kaufen sich eine Tageskarte und entspannen sich hier.
Und wieder mal das
Atlantis Bahamas
.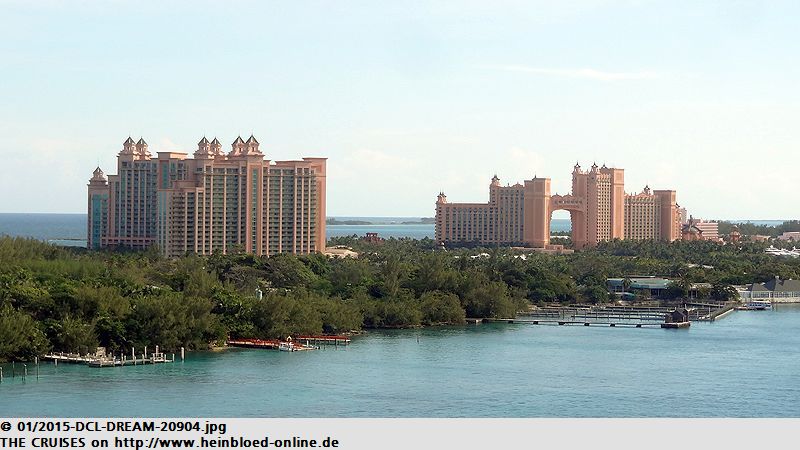 And again the Atlantis Bahamas.

Most of the guests were off the ship, and so we used the empty ship just for us to browse around. On the adult deck, families with kids were politely, but compulsory requested to leave the deck again. Here, we felt comfortably well.

Die meisten sind von Bord und so nutzen wir das leere Schiff für uns, um uns in Ruhe umzusehen. Auf dem Erwachsenendeck werden Familien mit Kinder höflich aber bestimmt aufgefordert, das Deck wieder zu verlassen. Hier fühlen wir uns wohl.
Bruno nutzt die Gelegenheit das leere Fitnessstudio für sich in Anspruch zu nehmen.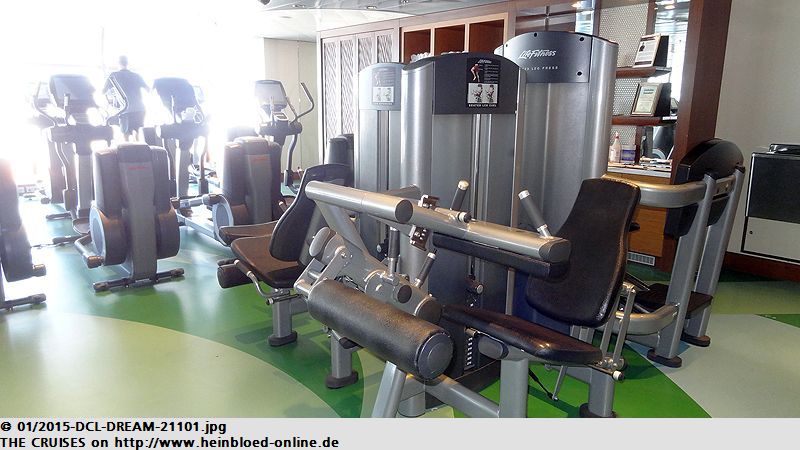 Bruno used the chance to occupy the empty gym just for himself.

I preferred to have a walk-a-mile.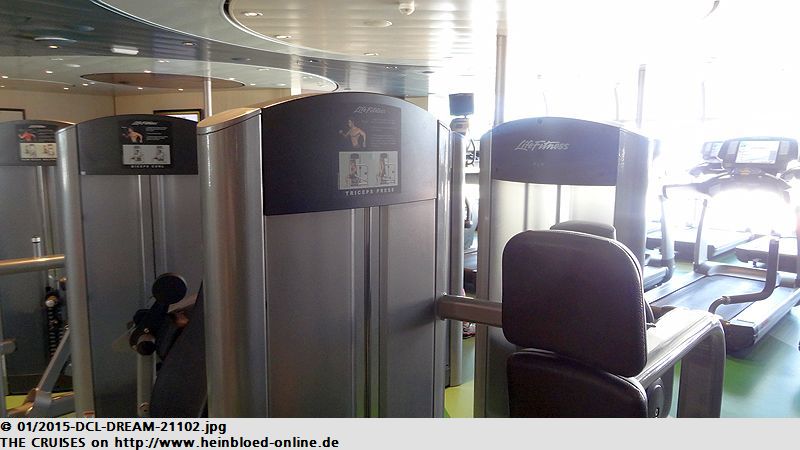 Ich mache lieber mein Walk-a-Mile.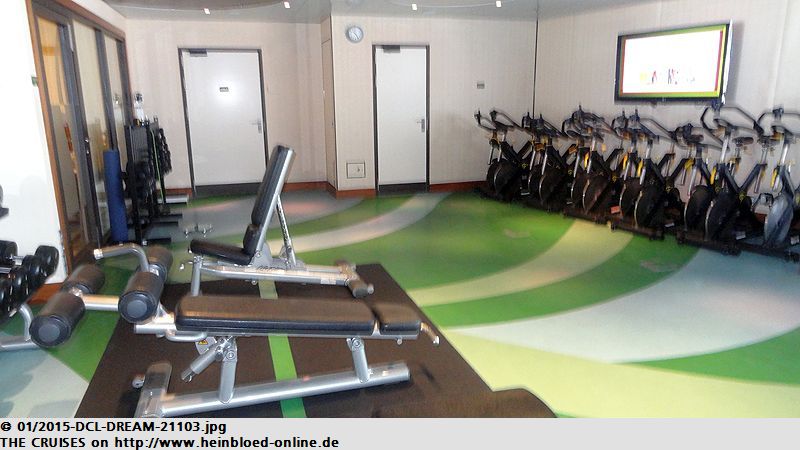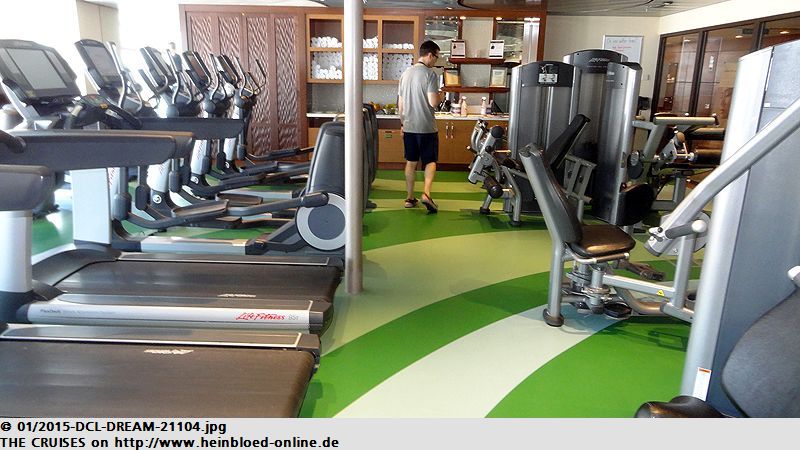 Für die Sportler steht Obst und Wasser bereit.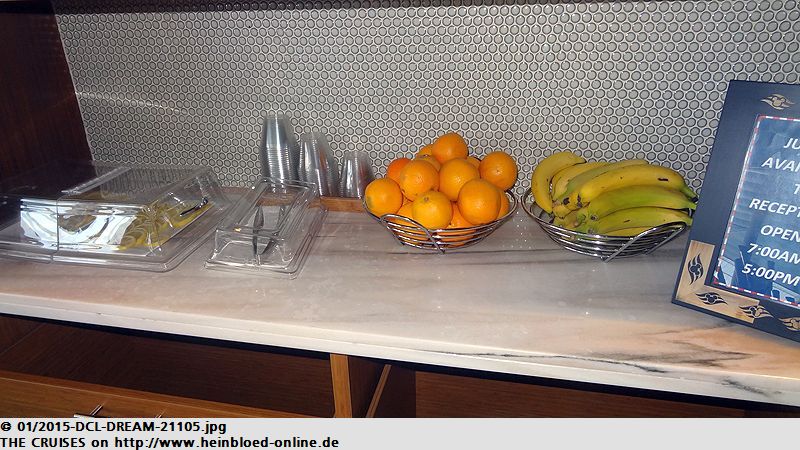 For the sportsmen, they kept fruits and water ready.

I was willing to leave the ship when all other ships arrived: CARNIVAL BREEZE.

Ich bin ja erst bereit das Schiff zu verlassen, wenn auch die anderen Schiffe da sind: CARNIVAL BREEZE.
Und last but not least: ENCHANTMENT OF THE SEAS.

And last, but not least: ENCHANTMENT OF THE SEAS.

I tested the cabin service.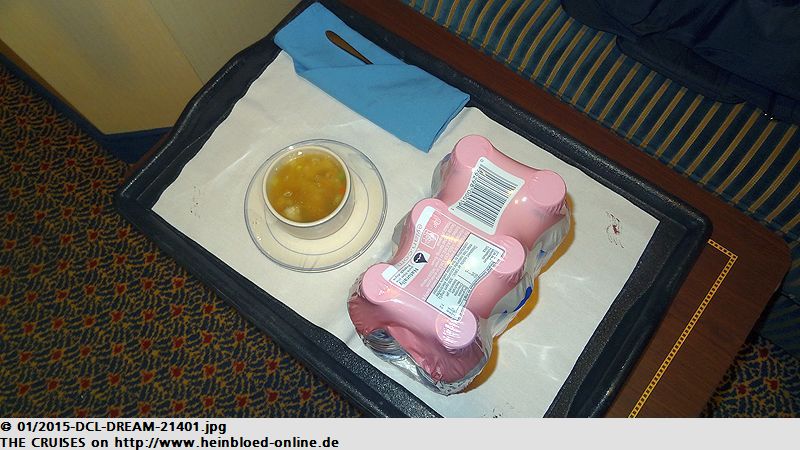 Ich teste den Kabinenservice.
Hühner-Nudel-Suppe ist immer gut.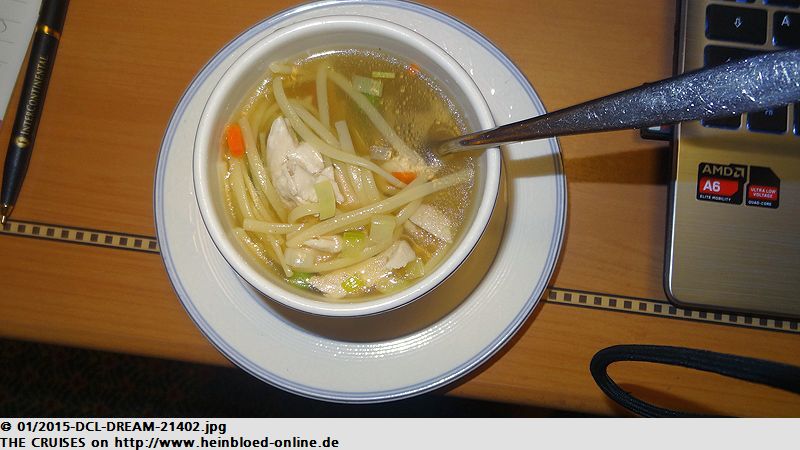 A chicken-noodle-soup was always good.

Luckily, I had always my own salt and pepper with me.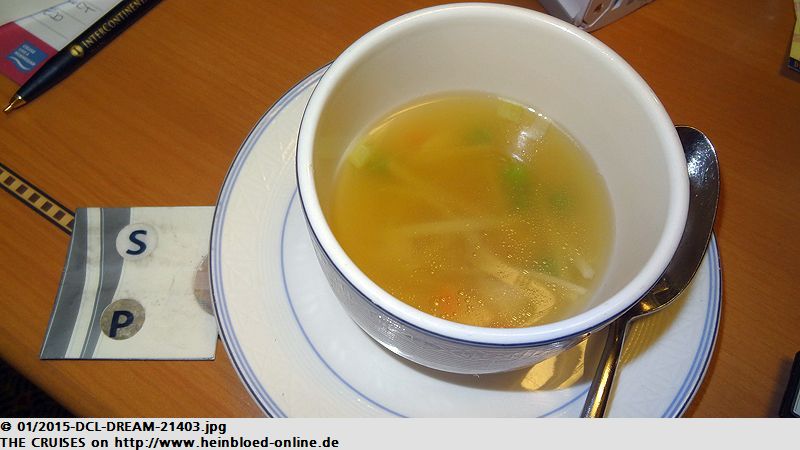 Zum Glück habe ich immer selbst Salz und Pfeffer bei...
Wir bleiben zum Mittagessen im Royal Palace an Bord.

We stayed onboard for the lunch in the Royal Palace.

And after that, we decided spontaneously to have a small loop to the Atlantis. So we took the ferry. I discovered a few days ago, when we came here on NORWEGIAN SKY 2015 a ferry schedule, but that was only for a ROUGH orientation. They sailed when the ship was at full capacity.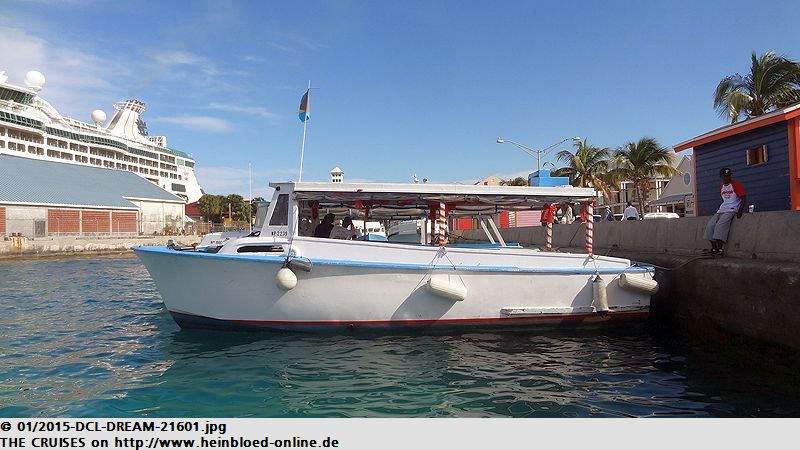 Und dann entschließen wir uns spontan, dass wir doch eine kleine Runde zum Atlantis machen wollen. Dazu nehmen wir die Fähre. Der Fahrplan, den ich vor wenigen Tagen entdeckt habe, als wir auf der NORWEGIAN SKY 2015 hier waren, dient aber nur zur GROBEN Orientierung. Gefahren wird, wenn das Schiff voll ist.
Das wirkt nicht so besonders vertrauenserweckend.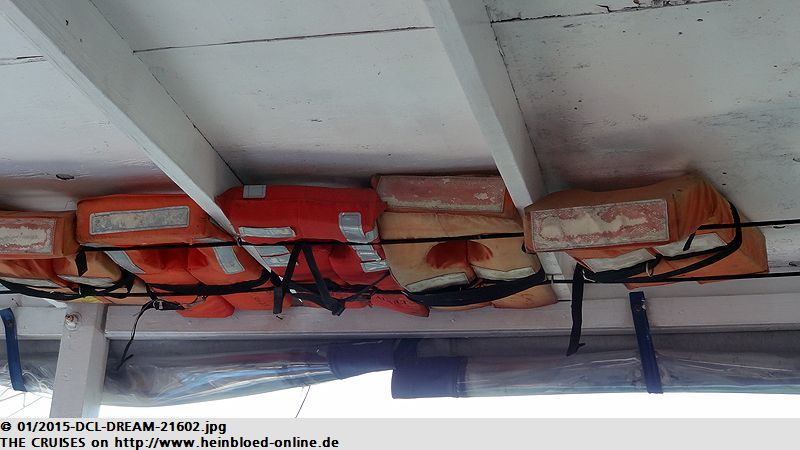 That did not appear very trustworthy.

We were somehow annoyed since we had a delay of 30 minutes already... But we were on an island, as Bruno normally argued. Clocks ran different.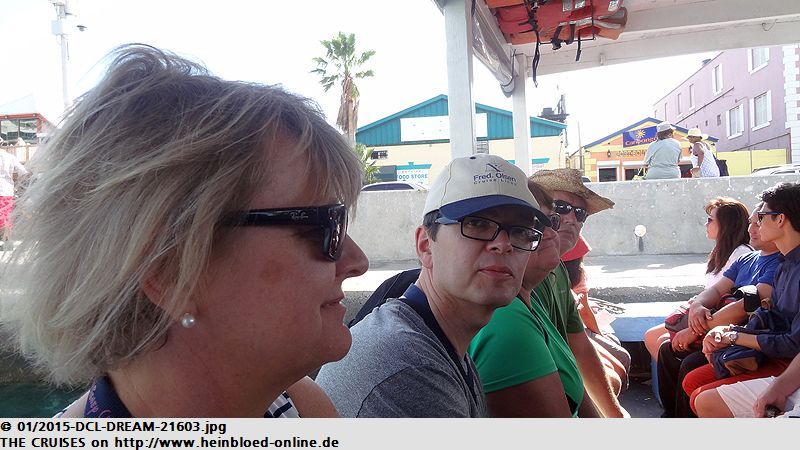 Wir sind etwas genervt, weil wir hier schon 30 Minuten Verspätung haben... Aber wir sind ja auf einer Insel, wie Bruno immer meint. Da gehen die Uhren anders.
Leider werden wir unterwegs zugetextet mit Erläuterungen, die uns eigentlich sehr wenig interessieren. Das liegt allerdings weniger am Inhalt, sondern mehr darau, dass es so laut ist, dass es sehr schwierig ihm zu folgen und so sich für etwas zu interessieren. Bruno hat leider keine Ohrenstöpsel jetzt mit bei.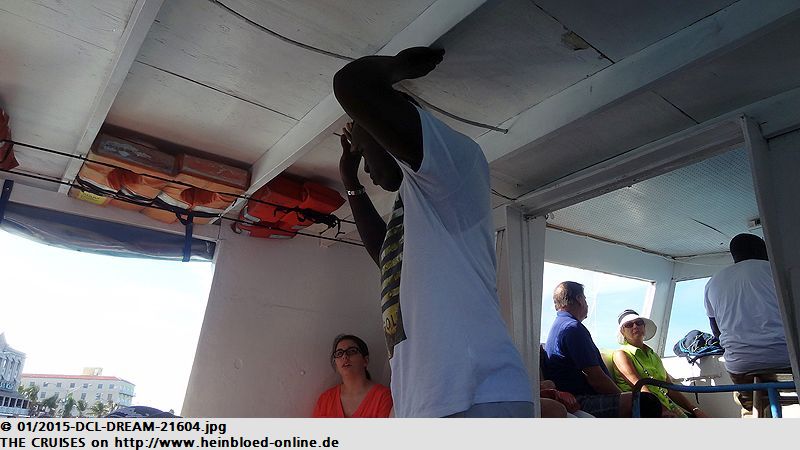 Unfortunately, we got a lot of explanations which were not very interesting to us. That was not because of the contents, but it was so loud, that it was difficult for us to follow and to become excited. Bruno had none of his ear-plugs with him to share.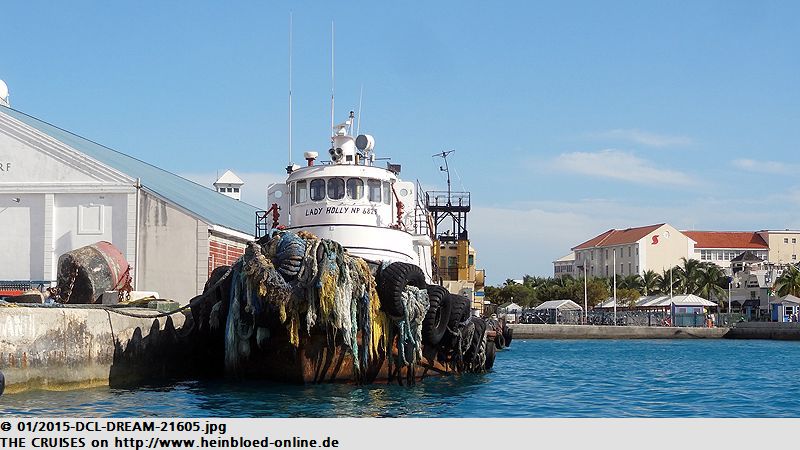 Der einzige Grund für die Bootsfahrt ist die Möglichkeit
MEINE
DISNEY DREAM nochmals so zu fotografieren.

The only reason to take the boat trip was the possibility to make pictures of MY DISNEY DREAM again.

We arrived at Paradise Island. As we booked before on CENTURY 2008, we knew back where we would land and had to walk along.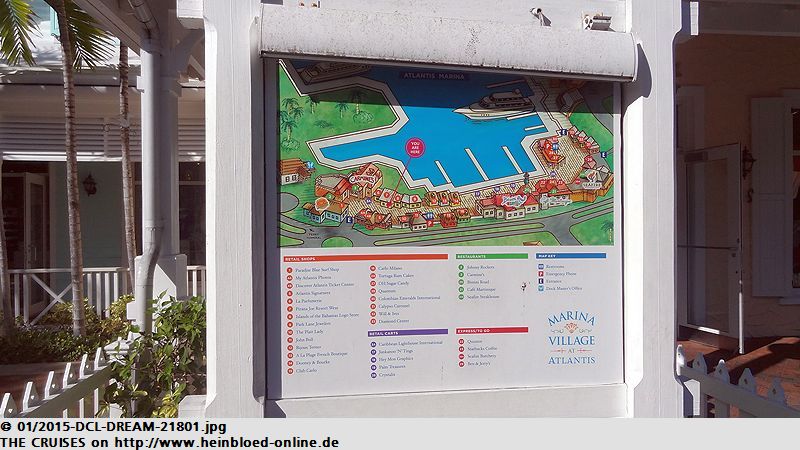 Wir kommen am Paradise Island an. Da wir schon mal einen Transfer damals auf der
CENTURY 2008
gebucht hatten, wussten wir wo wir ankommen und langlaufen müssen.
Wieder geht es durch die Shoppingmeile.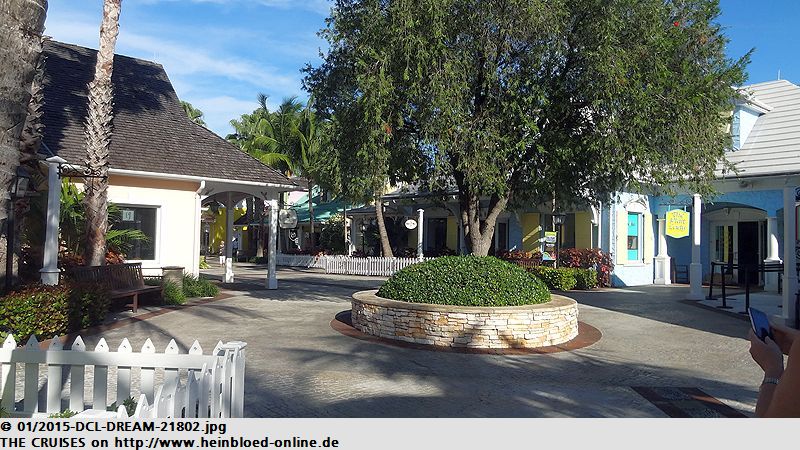 Again we were transitting the shopping mile.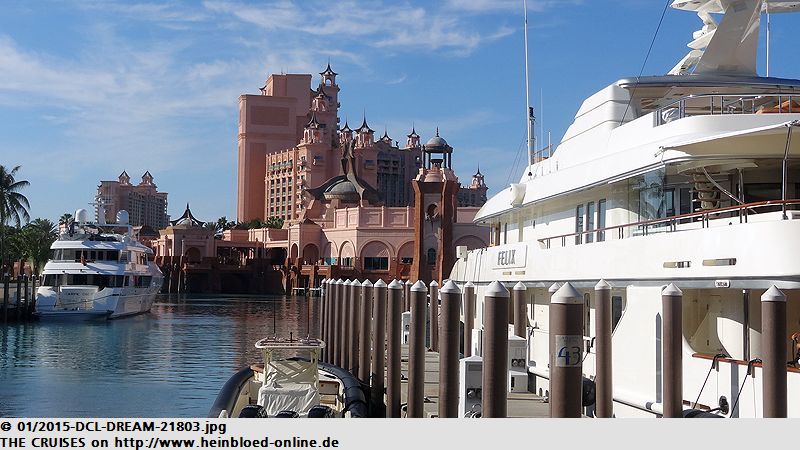 Und dann geht es zum Atlantis.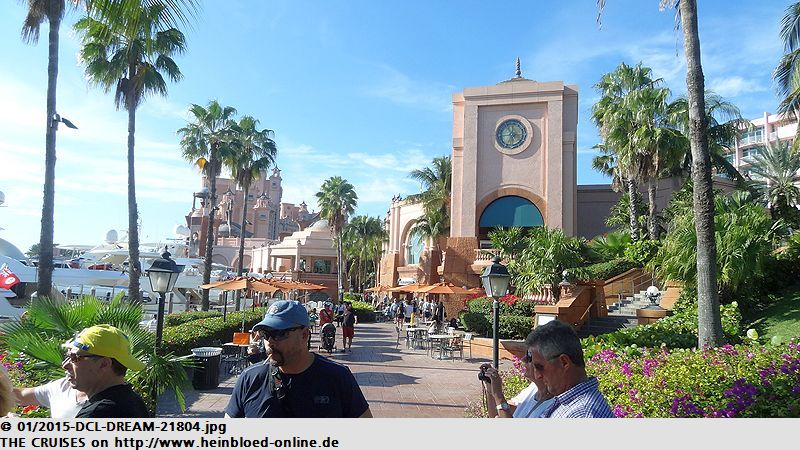 And we were heading for Atlantis.

At those rates, we were not so much interested to see their beaches. The interior looked the same way as two months before so I would like to refer to my blog of DISNEY DREAM 2014.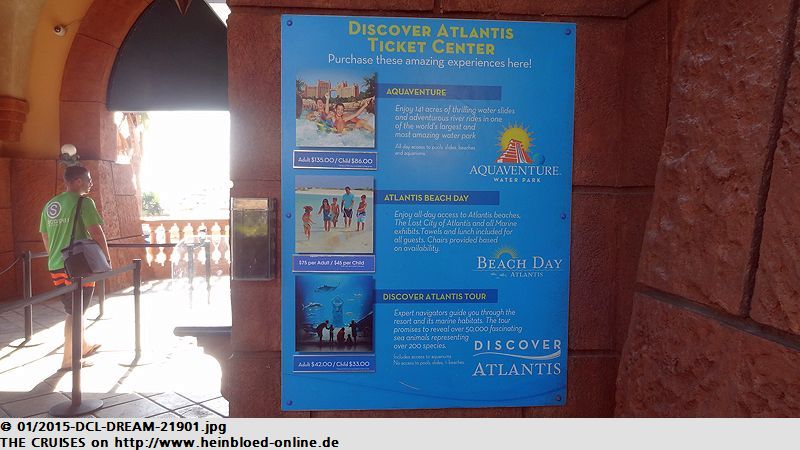 Wir haben aber keine Lust zu den Preisen irgendwelche Strände zu besuchen. Das Innere sieht so aus, wie vor zwei Monaten, so dass ich hier auch auf den Blog der
DISNEY DREAM 2014
verweise.
Noch ein paar Außenaufnahmen.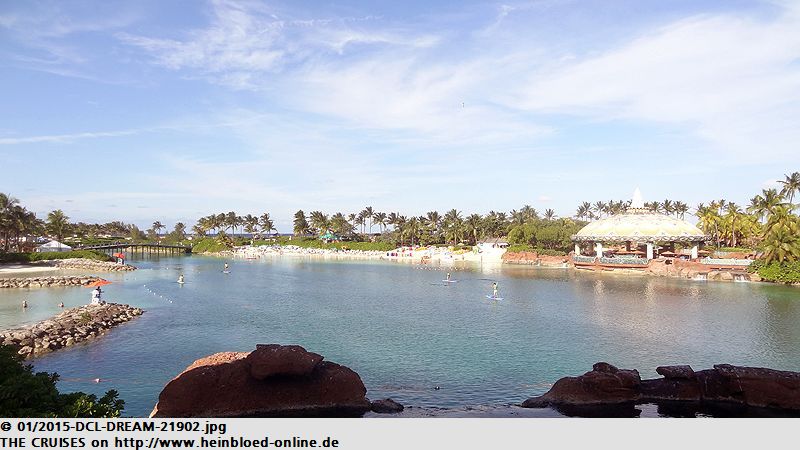 A few more shots of the outside.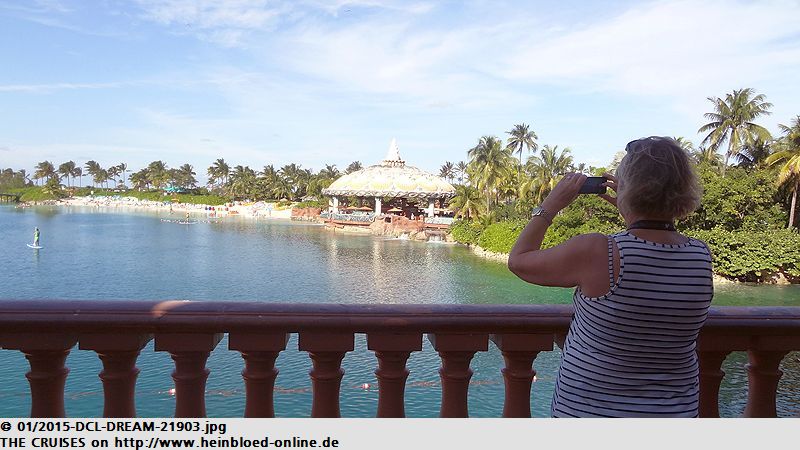 Und schon geht es wieder im Taxi zurück zum Cruise Terminal. Zum Glück wartet der Fahrer nicht allzulang bis dass alle Sitze verkauft sind, bevor er wieder zurückfährt.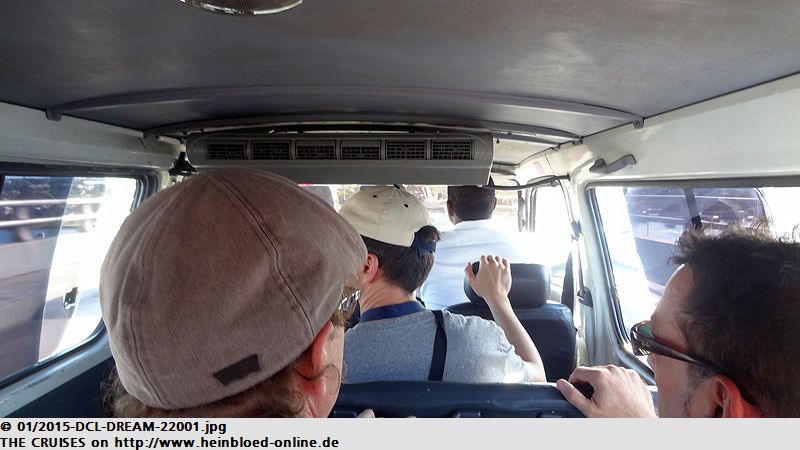 And soon we caught a taxi back to the cruise terminal. We had luck since our driver was not waiting until all seats were sold and started soon to get us back.

In the port, the usual another kind of vehicles were inviting for a transfer.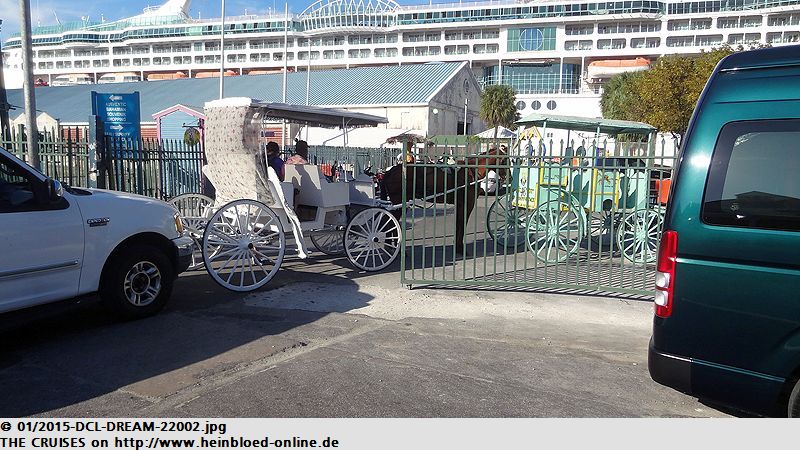 Die üblichen anderen Fahrzeuge am Hafen laden zum Umsteigen ein.
Hier am Pier wartet nicht nur Wasser auf den Gast.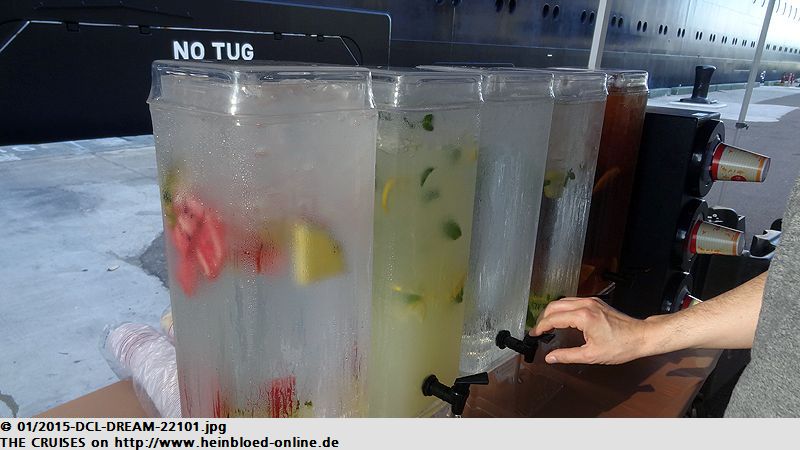 Here at the pier, they did not keep only water ready for the guests.

The Cove Café was pulling us immediately to come and see them.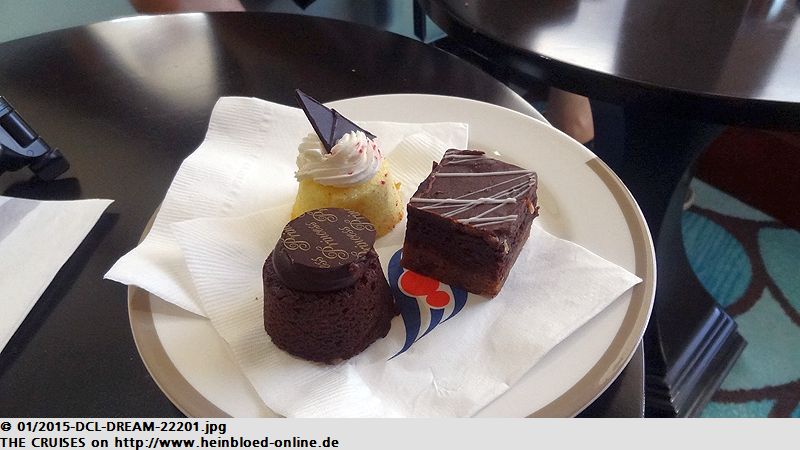 Uns zieht es direkt wieder zum Cove Café.
Muriel und Ivana haben schon die laktosefreie Milch für mich parat.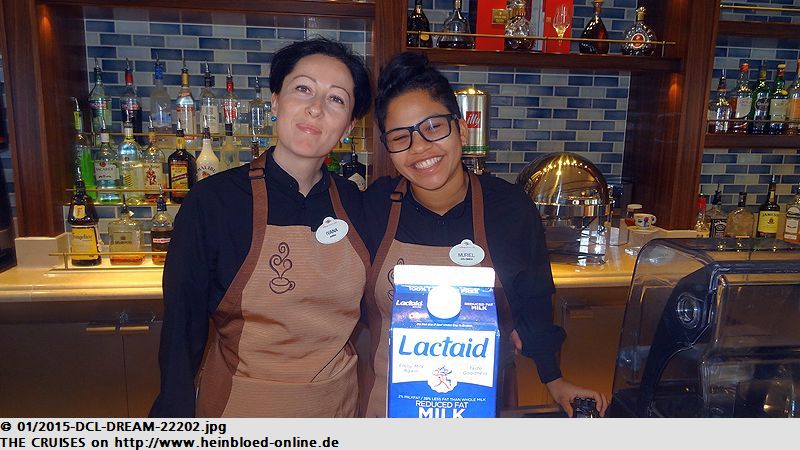 Muriel and Ivana had already the lactose-free milk for me available.

Without a bad conscious, I could pamper myself with a Frappé.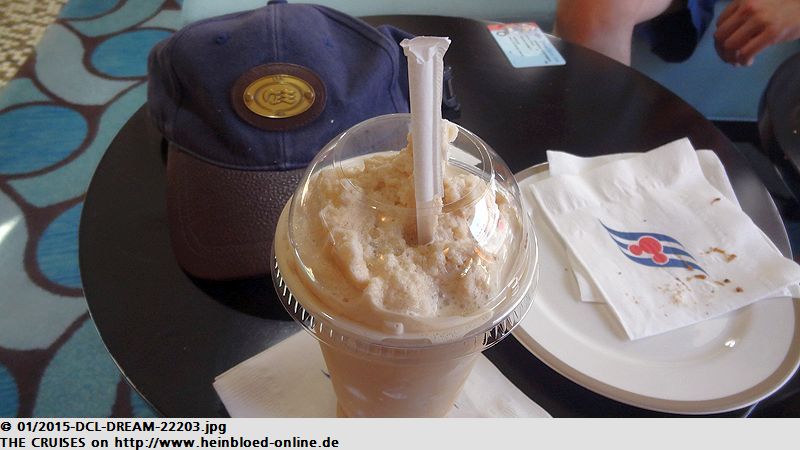 So kann ich mir ohne schlechtes Gewissen ein Frappé gönnen.
Bevor es zum Essen geht, geht es wieder in die Show. Wir gönnen uns Popcorn. Die Show wollte ich eigentlich vor zwei Monaten schon vergessen. Weil es darum geht, dass das Gute nicht ohne das Böse existieren kann und man daher den bösen Anti-Helden eine eigene Show gönnt. Das einzige, das ich an der Show mag: "Wind beneath the Wings" von Ryan Dan, wobei die meisten es von Bette Midler aus dem Film "Freundinnen" eher kennen.

Before we went for dinner, we saw the show first again. We treated us with some popcorn. I wanted to forget the show already two months ago. Because it was again of the good and the bad and that the good could not exist without the bad and so they wanted to dedicate an own show for the anti-heroes. The only I liked with the show was Ryan Dan's "Wind Beneath the Wings", although most would know it from Bette Midler's movie "Beaches".

Disney and Sigi made me going to the dogs.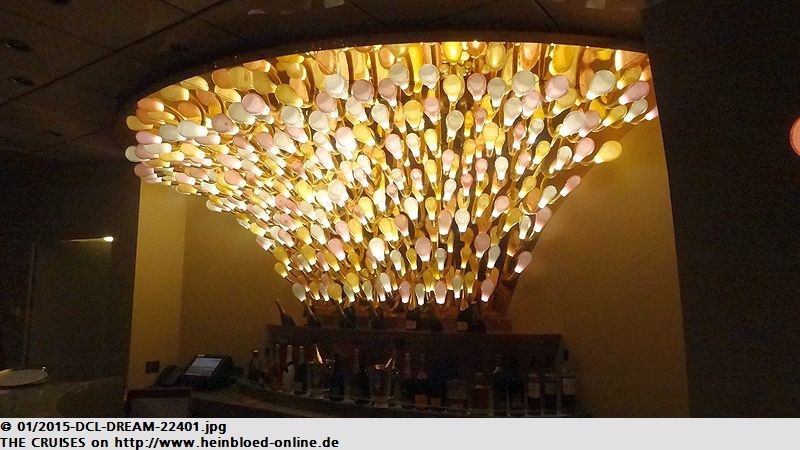 Disney und Sigi haben dafür gesorgt, dass ich verlottere.
Deswegen geht es zunächst in die Pink Bar.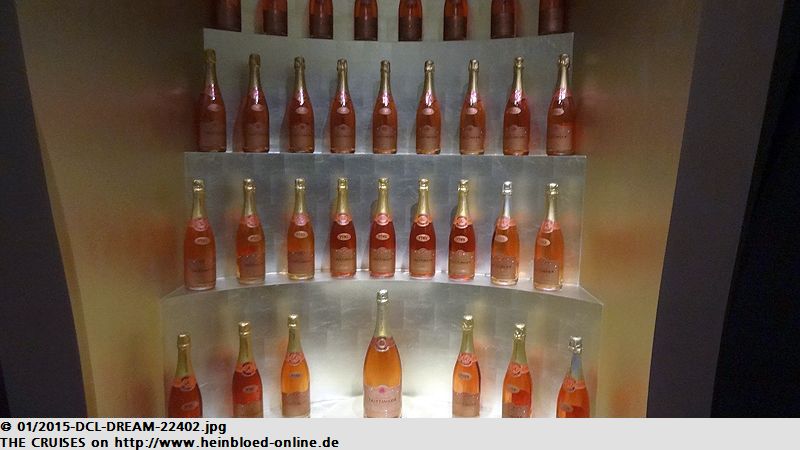 So we went first to the Pink Bar.

I could not believe that I was hanging around in bars, but the bars on DISNEY DREAM were too beautiful and kids-free zone.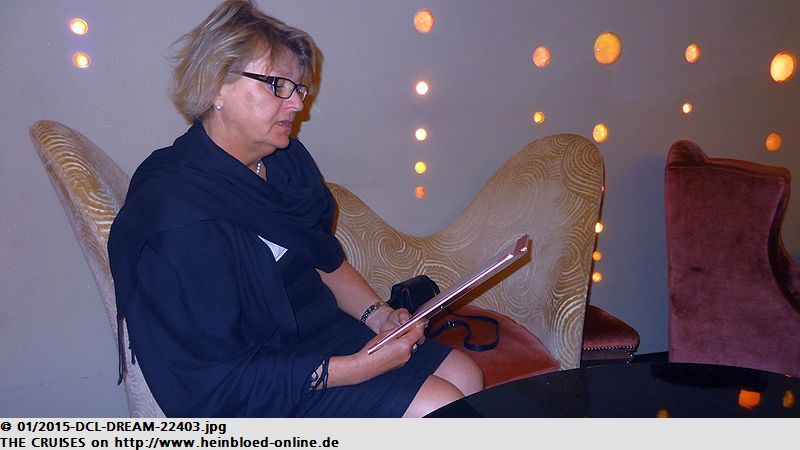 Ich kann nicht glauben, dass ich in Bars rumhänge, aber die Bars auf der DISNEY DREAM sind einfach zu schön und kinderfreie Zone.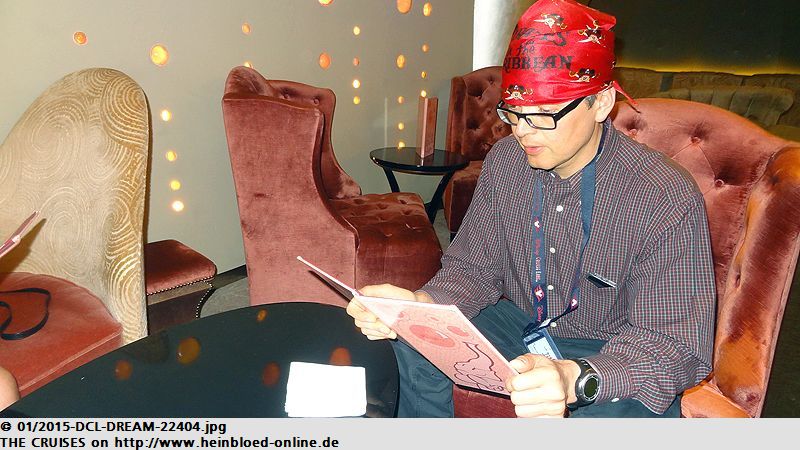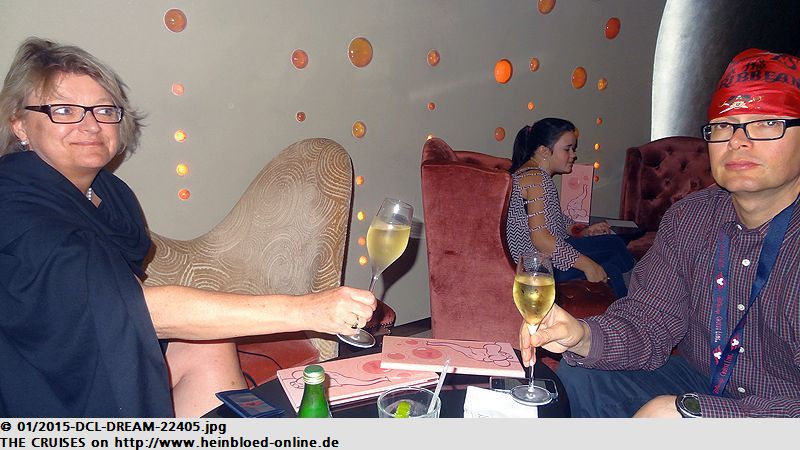 Wir ziehen in die District Lounge der Musik wegen.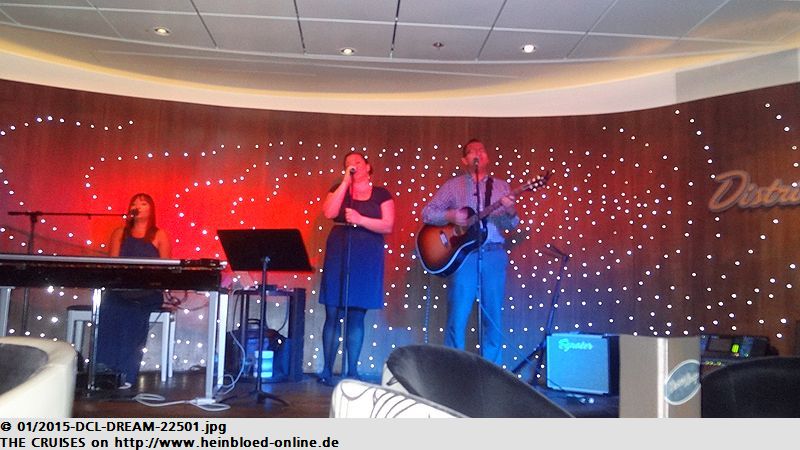 We went to the Distric Lounge because of the music.

Finally, Enharmoniq had their show: Aileen, Jena and Carlos. They played two months ago so fantastic that they made me addicted and here we experienced so to say a private gig.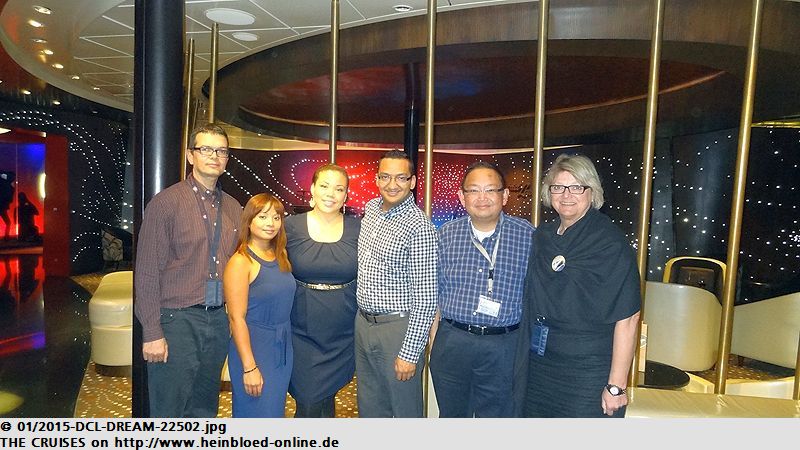 Endlich treten
Enharmoniq
auf: Aileen, Jena und Carlos. Sie haben vor zwei Monaten so gut gespielt, dass es mich süchtig gemacht hat und hier erleben wir quasi ein Privatkonzert.
Unsere Kellner aus der Pink Bar und der District Lounge zeigen uns, wer die besseren Deutsch-Kenntnisse hat. Beide hatten zuvor für AIDA bzw. Costa gearbeitet: Martin und Ardika.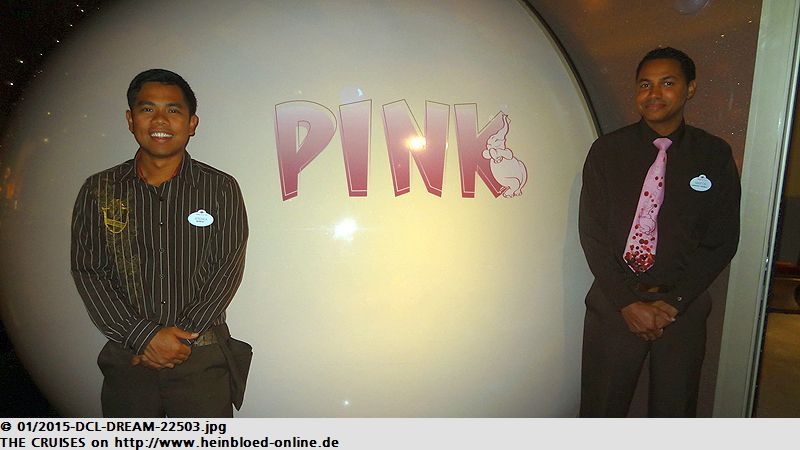 Our waiters from the Pink Bar and from the District Lounge showed us, who had the better German language skills. Both worked before for AIDA or Costa: Martin and Ardika.

We returned later the evening to continue with our private gig. Two months ago I experienced them in the atrium. They made everybody dancing: 2-years old, 22-years old and 222-years old... Unfortunately, Disney did not allow to buy the musicians a drink to show them our appreciation.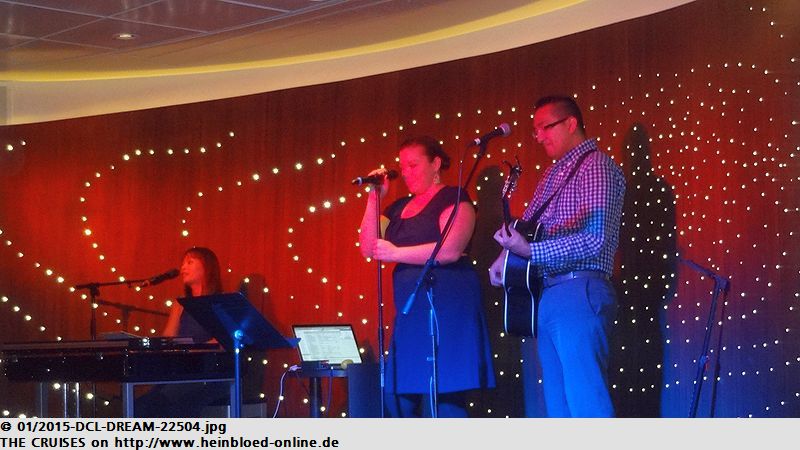 Wir komen später wieder zurück und unser Privatkonzert geht weiter. Vor zwei Monaten habe ich sie im Atrium erlebt: dort haben sie jeden zum Tanzen gebracht: 2-Jährige, 22-Jährige und 222-Jährige... Leider gestattet Disney nicht, dass man die Musiker als Dank zu einem Drink einladen darf.
Im Atrium entsteht ein gemeinsames Bild mit Kapitän Henry. Auch jetzt wieder: Sie sind präsent und für die Gäste da. Man darf sie ansprechen und anfassen. Etwas, was ich bei Holland America und Princess sehr vermisse.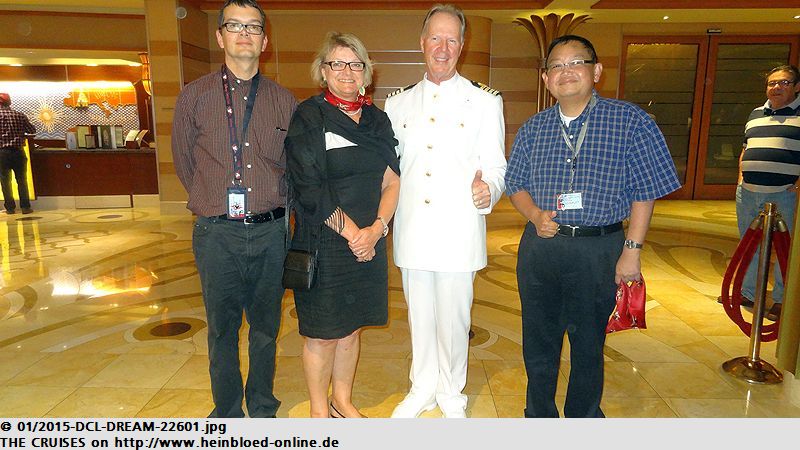 In atrium a common picture with Captain Henry was taken. Now again, they were present and available for their guests. Something I missed on the ships of Holland America or Princess.

After that, we headed for dinner in Animator's Palate. Our waiters Constantin and Kadel followed us in our rotation. But it was not "free of stress"... We were kept entertained with some crayons and some brain teasers, and we allowed them to do so with us... Or functions as part of the management, we gave up, when we embarked. We were again like little kids, and we were treated as such. Even you did not want it. Disney would not miss their mission... we did everything they wanted us to do... we even spoke with characters from "Finding Nemo", which started soon as part of their animation. It was apparent that someone in the background was observing and listening to us and began to communicate with single selected guests and included them in the performance. And they started to dance again. I was happy to meet again head waiter Kendel. As this was my 75th cruise, they were so kind and supplied a lovely anniversary cake.

Dann geht es zum Abendessen wieder ins Animator's Palate. Unsere Kellner Constantin und Kadek folgen uns in unserer Rotation. Es ist allerdings nicht "stressfrei"... Wir werden kurzerhand mit Wachsmalstifen und Denksportaufgaben beschäftigt und wir lassen uns das gefallen... Unsere Management-Funktionen haben wir beim Betreten des Schiffes abgegeben. Wir sind wieder irgendwie wie kleine Kinder und werden als solche behandelt. Auch wenn man eigentlich gar nicht will. Disney verfehlt nicht seine Wirkung... wir machen alles mit... reden sogar mit den Figuren von "Findet Nemo", die bald mit ihrer Animation beginnen. Offensichtlich ist jemand im Hintergrund, der uns beobachtet und hört und mit einzelnen kommuniziert und das in die Show mit einbindet. Und es wird wieder getanzt. Auch freue ich mich Head Waiter Kendel wiederzusehen. Anlässlich meiner 75. Kreuzfahrt bekomme ich eine Torte spendiert.
Wir gehen wieder auf das Oberdeck, bei dem die Animation bis zum Feuerwerk durch die "Pirates of the Carabbeans" schon läuft. Bilder davon gibt es auch hier im Blog von vor zwei Monaten. Nur beim Feuerwerk mache ich wieder neue Bilder. Das macht einfach Spaß. Für die Deckparty später fühlen wir uns zu alt und zu müde. Schade, dass Norwegian das auf der Breakaway-Klasse wieder abgeschafft hat.

We went again on the upper deck. They started already with the animation for the "Pirates of the Caribbean" which lasted until the fireworks. You found pictures in the blog from the previous cruise two months ago. Only I take some more pictures of the firework itself. It was big fun. For the deck party later, we felt to be too old and too tired. It was so sad that the Breakaway-Class Ships of Norwegian withdrew it again.

One more look into Cabanas to check how the variation at the buffet changed.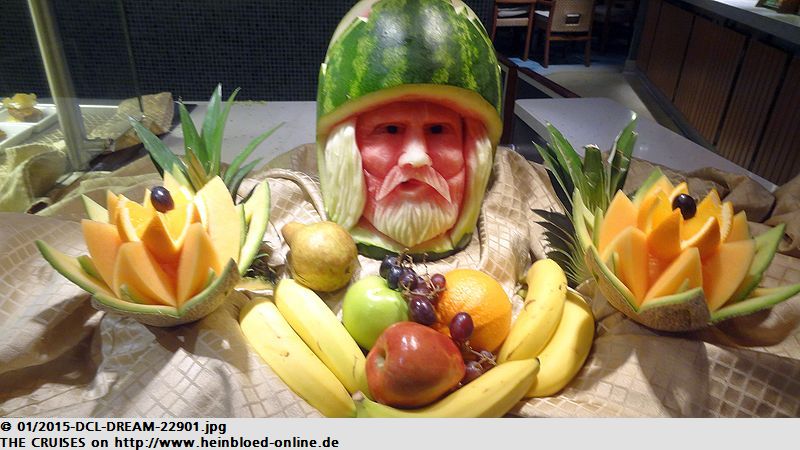 Noch ein Blick ins Cabanas, ob sich das Büffet vom Angebot verändert hat.
Da es aber auch hier keine neuen Erkenntnisse gibt verweise ich ebenfalls auf den Blog von vor zwei Monaten. Und ab ins Bett.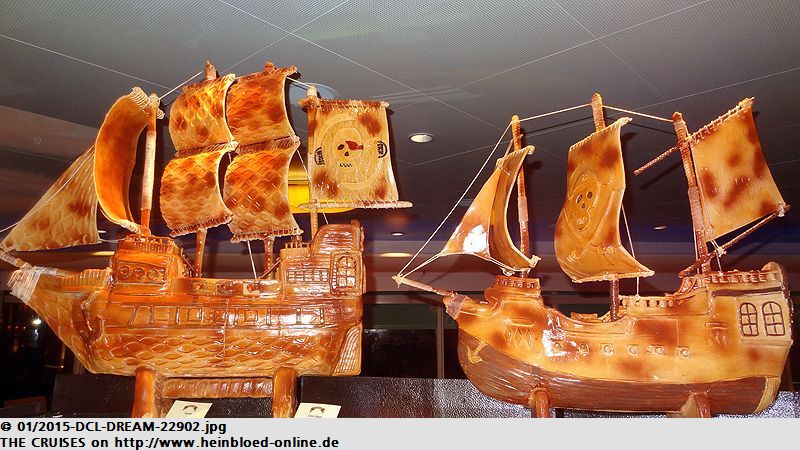 But here we had no more news to learn and to tell, so I could just refer to my blog two months ago. And so we were heading for our beds.
Die anderen Reisen in diesem Blog/
The other voyages in this blog: