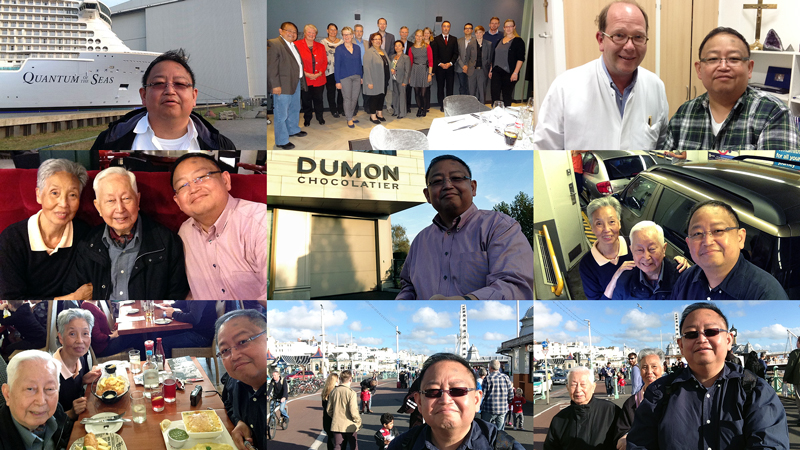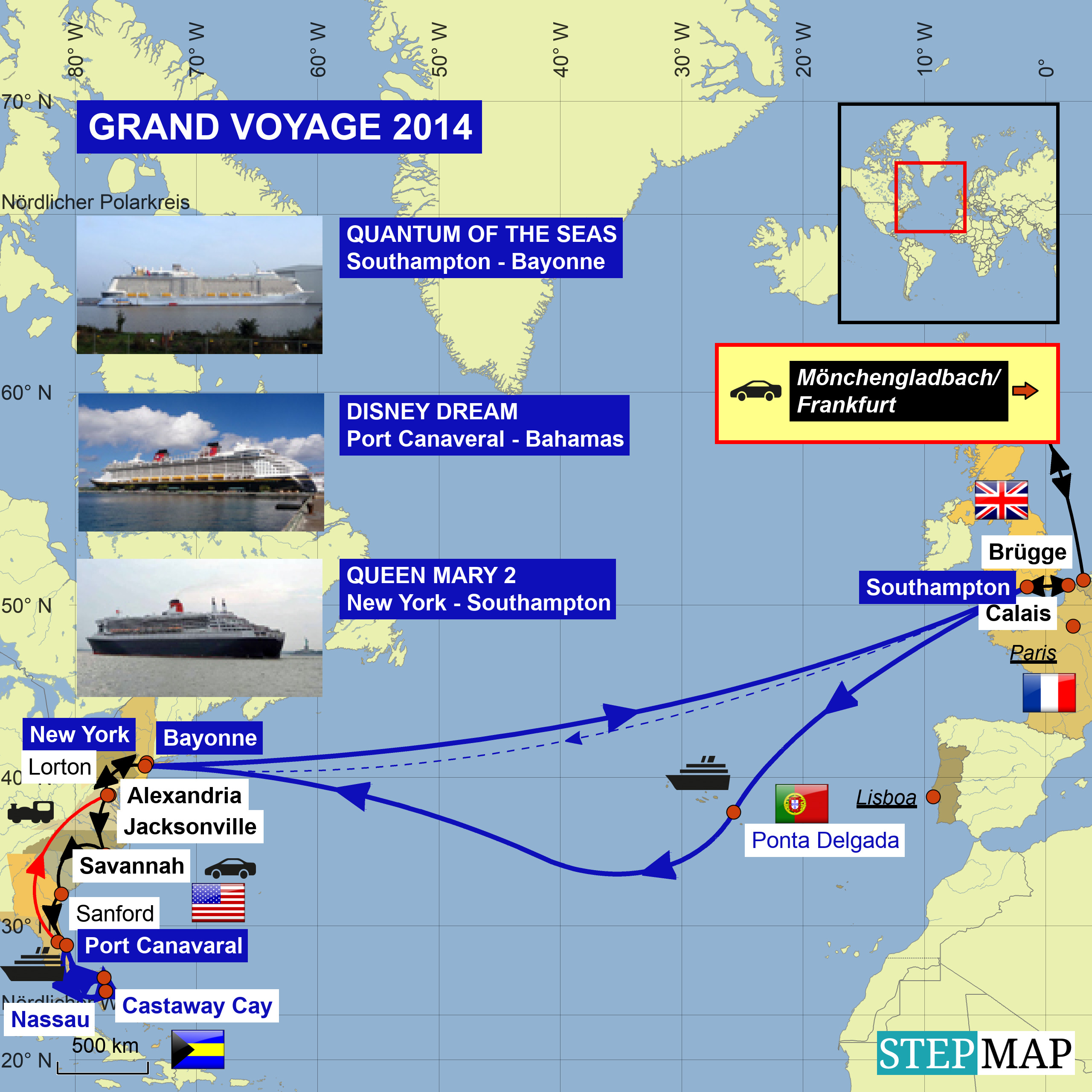 Ich hatte nach elf Jahren beschlossen, dass ich mein Leben verändern muss. Jede Woche 4 Stunden im ICE nach Hause. Seit elf Jahren habe ich keinen einzigen Tatort mehr gesehen. Jeden Sonntag nach der Lindenstraße geht es zurück nach Salzgitter. Mittlerweile kannte ich die Zugbegleiter und Mitfahrer schon besser als Bruno. Meinen letzten Arbeitstag hatte ich bereits vor der
NORWEGIAN JADE 2014 (2)
. Ich wollte mich aber nochmals bewusst von meinen Mitarbeitern verabschieden - nicht in der Hektik meiner letzten Tage in Goslar. Es sollte auch nicht in Goslar sein, sondern in Hildesheim im
Van der Valk Hotel
, weil mich der Service und das Essen an Kreuzfahrten erinnert und ich denen noch ein letztes Mal ein gemeinsames Erlebnis auf einer Kreuzfahrt bieten wollte, ohne dass wir auf einem Schiff sind: Ingrid (
NORWEGIAN JADE 2014 (2)
), Karin (
DELPHIN 2009
), Andrea (
DELPHIN 2009
,
DELPHIN VOYAGER 2010
,
NORWEGIAN EPIC 2012
,
MSC PREZIOSA 2013
), Detlef (
DELPHIN VOYAGER 2010
), Rosa (
DELPHIN 2009
,
DELPHIN VOYAGER 2010
,
NORWEGIAN EPIC 2012
,
MSC PREZIOSA 2013
), Stefan, Angela und Thomas (
DELPHIN VOYAGER 2010
,
NORWEGIAN JADE 2014 (2)
), Hanna (
DELPHIN 2009
,
DELPHIN VOYAGER 2010
,
MSC PREZIOSA 2013
), Gaby (leider keine gemeinsamen Fahrten), Dominik, Bruno (hat mich nicht als Chef akzeptiert...), Anja, Lennart, Juliane (
DELPHIN VOYAGER 2010
). Ich werde sicherlich meine Arbeit nicht vermissen, aber viele Menschen, mit denen ich zusammenarbeitet habe und die ich im Laufe der Zeit doch irgendwie ans Herz gewachsen sind. Im Bild fehlt leider Selma, die wegen familiärer Umstände nur später kurz aufgetaucht ist, um sich persönlich noch von mir zu verabschieden.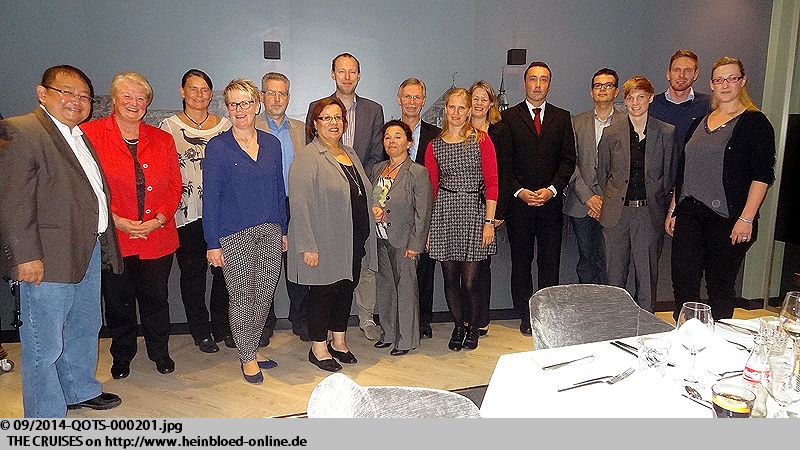 I decided that I needed to change my life after eleven years. Every week, 4 hours for returning home in an ICE High-Speed-Train. For eleven years I did not see any episode of the Sunday-Night-Crime on German TV. Every Sunday after watching a weekly soap on German TV, I had to return to Salzgitter. Meanwhile, I knew better the conductors and co-passengers but Bruno. I had my last day of work already before I went on NORWEGIAN JADE 2014 (2). I wanted to say goodbye consciously from my employees - not during the hectic of the last days in Goslar, Germany. It should not be in Goslar, but in Hildesheim, Germany with Van der Valk Hotel because the service and the food reminded me to cruises and I wanted to offer them a mutual cruise feeling one more time without going on a ship: Ingrid (NORWEGIAN JADE 2014 (2)), Karin (DELPHIN 2009), Andrea (DELPHIN 2009, DELPHIN VOYAGER 2010, NORWEGIAN EPIC 2012, MSC PREZIOSA 2013), Detlef (DELPHIN VOYAGER 2010), Rosa (DELPHIN 2009, DELPHIN VOYAGER 2010, NORWEGIAN EPIC 2012, MSC PREZIOSA 2013), Stefan, Angela und Thomas (DELPHIN VOYAGER 2010, NORWEGIAN JADE 2014 (2)), Hanna (DELPHIN 2009, DELPHIN VOYAGER 2010, MSC PREZIOSA 2013), Gaby (unfortunately, no mutual cruise), Dominik, Bruno (never accepted me as his boss...), Anja, Lennart, Juliane (DELPHIN VOYAGER 2010). I would not miss my work but the many people, I worked together with and whom I became friends during the time. On the picture, Selma was missing, since she could not join due to family commitments, but she came by to say personally farewell.

Starters like on a cruise ship.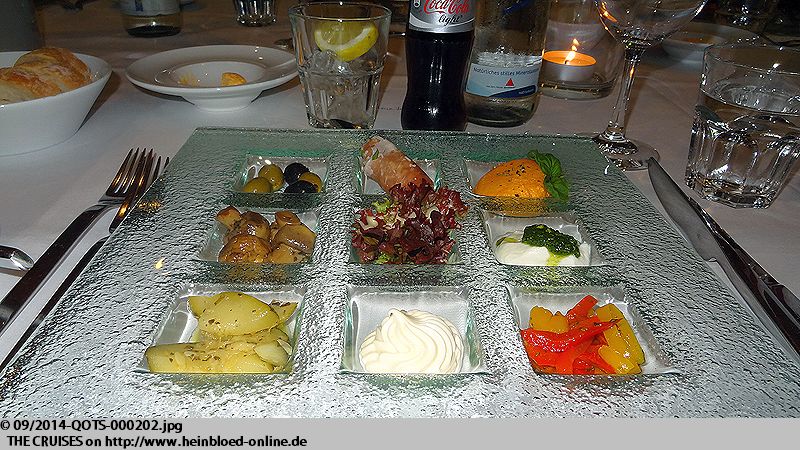 Vorspeisen wie auf einem Kreuzfahrtschiff.
Ente ist sicherlich auch ein typisches Essen für einen formellen Abend.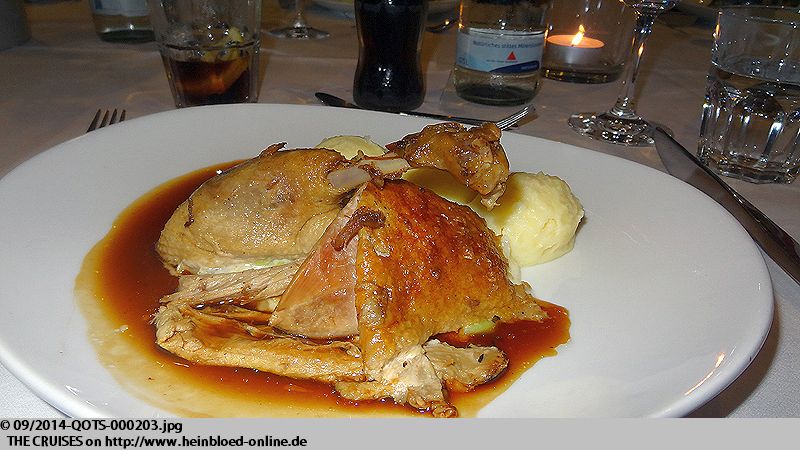 Duck would be a typical meal for a formal night.

Also, the dessert variation was part of a typical cruise.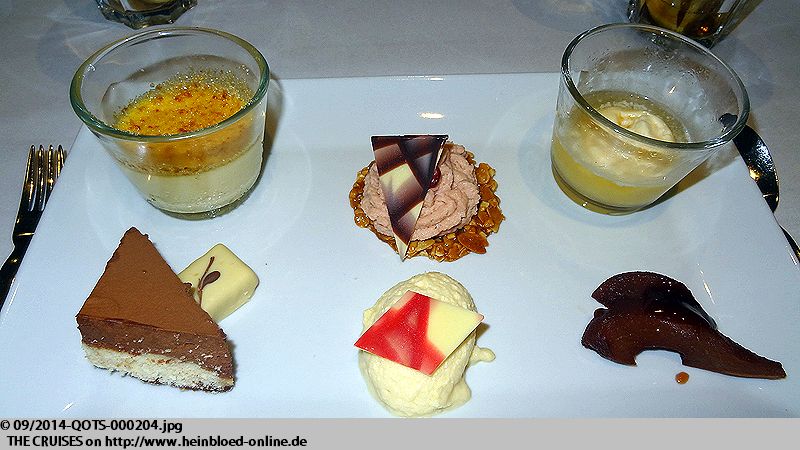 Und die Dessertvariation gehört auch zu einer typischen Kreuzfahrt.
Leider bedeutet die Veränderung in meinem Leben, dass ich mich für etwa sechs bis neun Monate von meinen geliebten Steaks ebenfalls trennen muss. So suche ich in Frankfurt das
Ojo de Agua
auf, weil dich dachte, dass es hier gutes Steak gibt.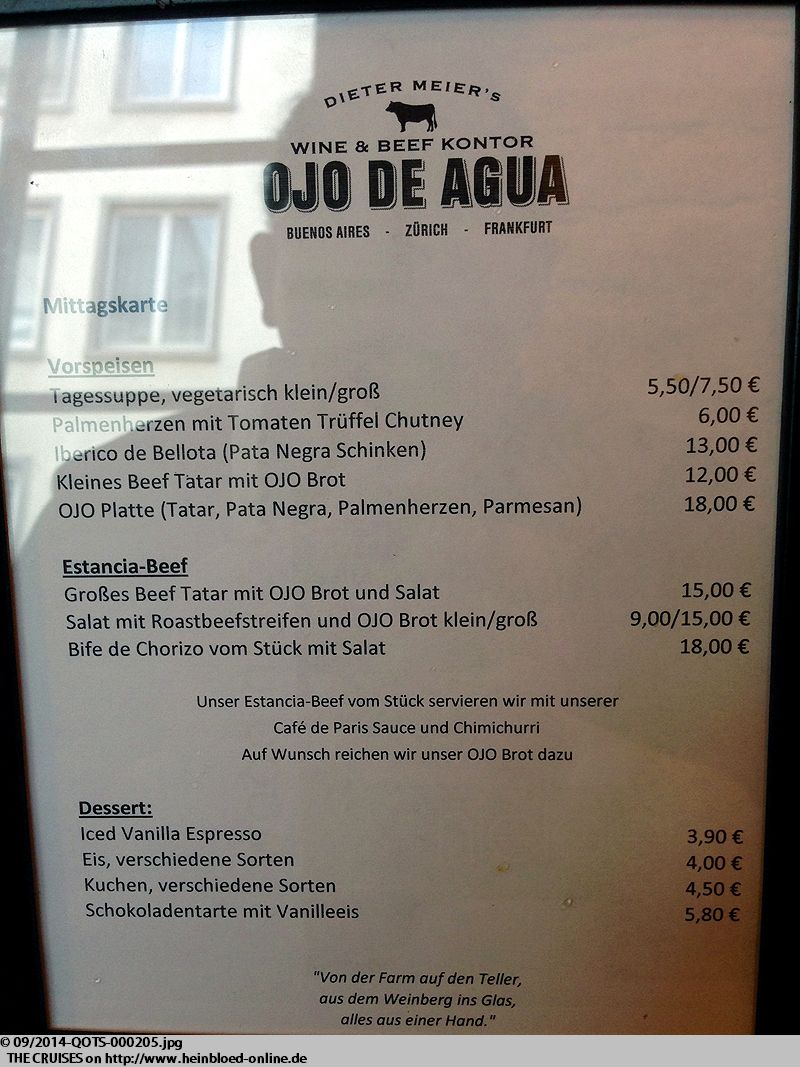 Unfortunately, the changes in my life would mean, that I needed to keep away from my beloved steaks for six to nine months. So I went to see Ojo de Agua because I thought that they would offer good steaks.

It started very well: Chimichurri.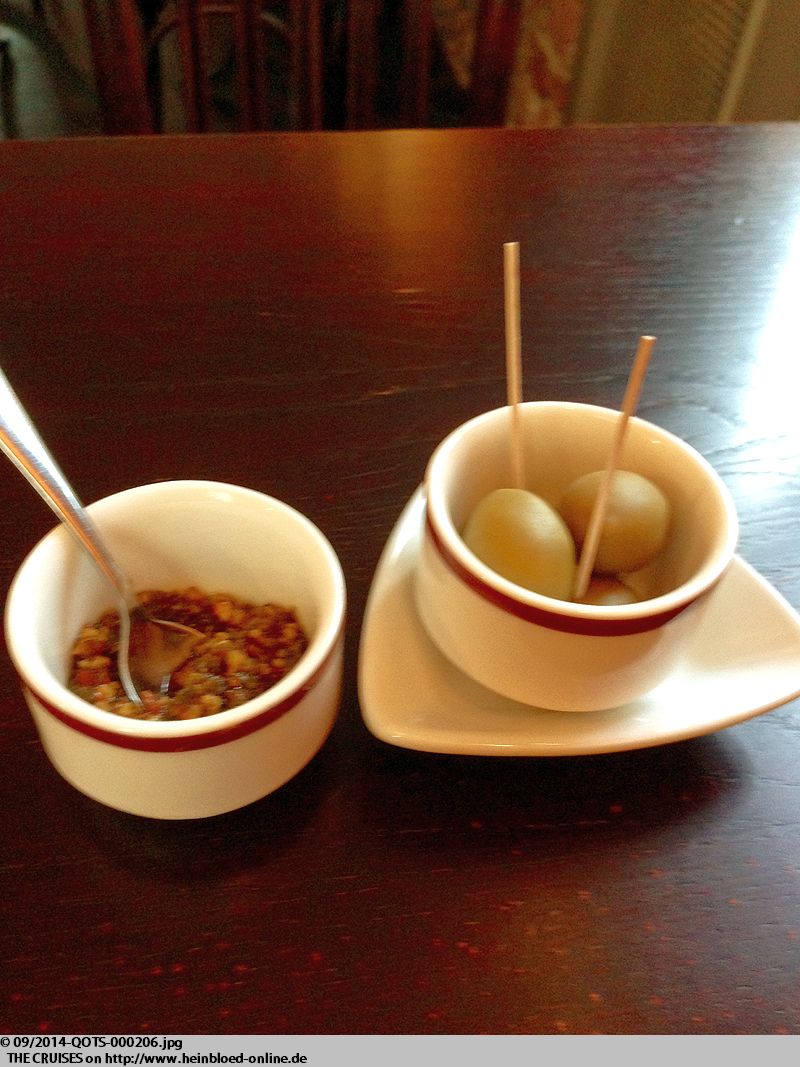 Fängt schon gut an: Chimichurri.
Aber das Steak kommt leider scheibchenweise im Ganzen gegart. War aber geschmacklich sehr gut.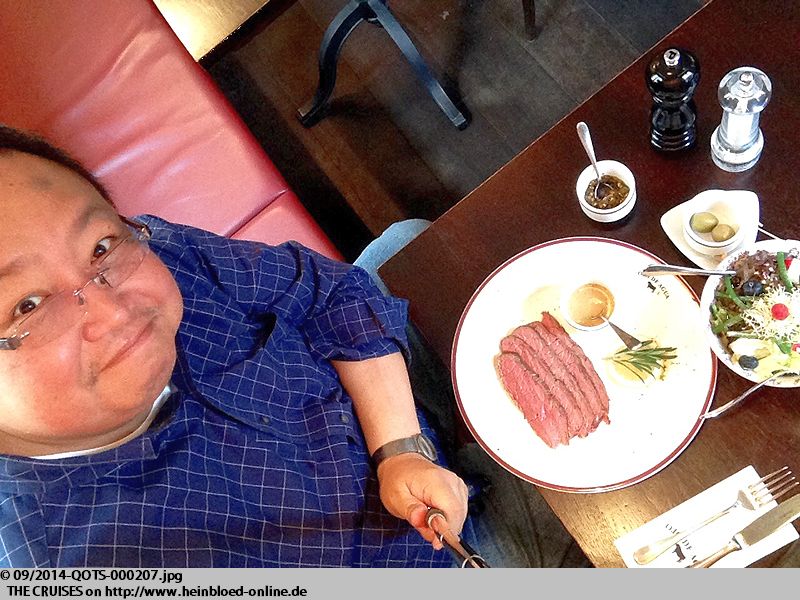 But the steak came unfortunately slice by slice and was prepared as a whole pat. It tasted very delicious.

A few days later, one more time solid food in "Zur Freiheit" around my home place.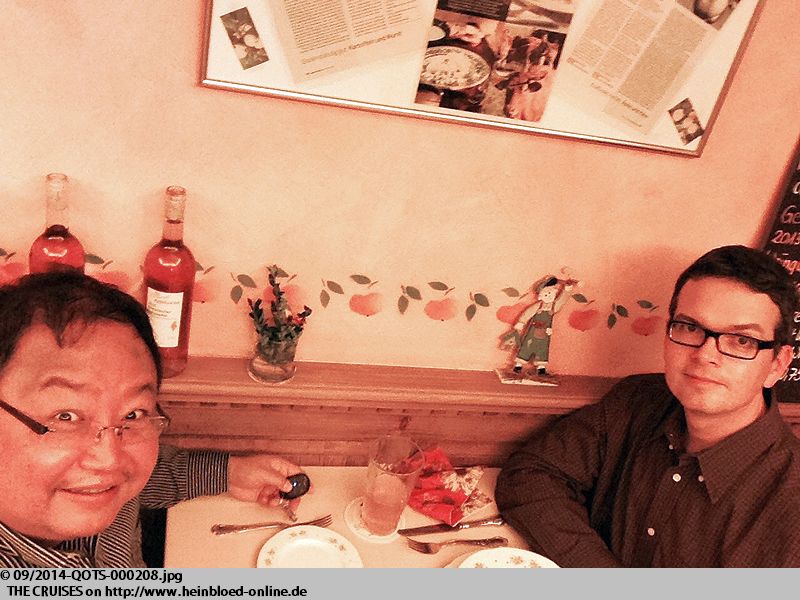 Wenige Tage später noch einmal feste Nahrung in "
Zur Freiheit
" in Reichelsheim-Laudenau.
Nochmals ein Süppchen.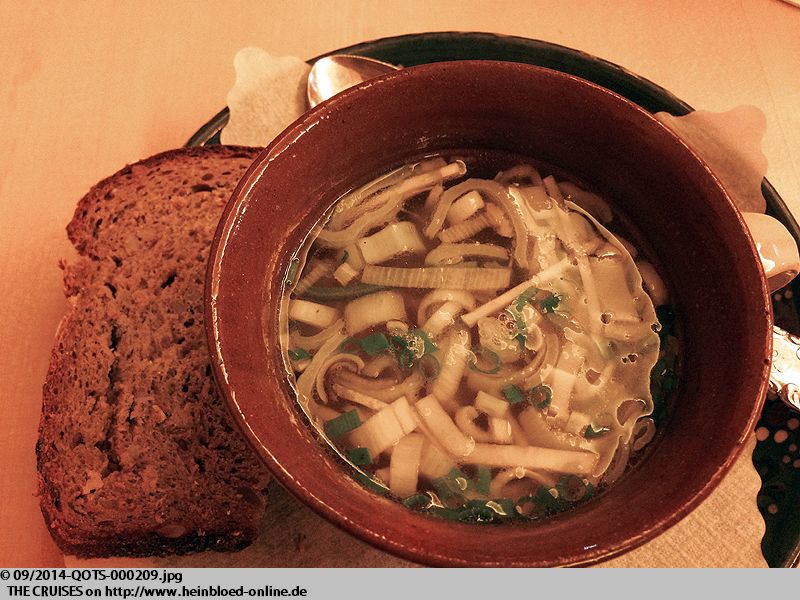 One more time a little soup.

And one more time a chicken salad with a lot of protein.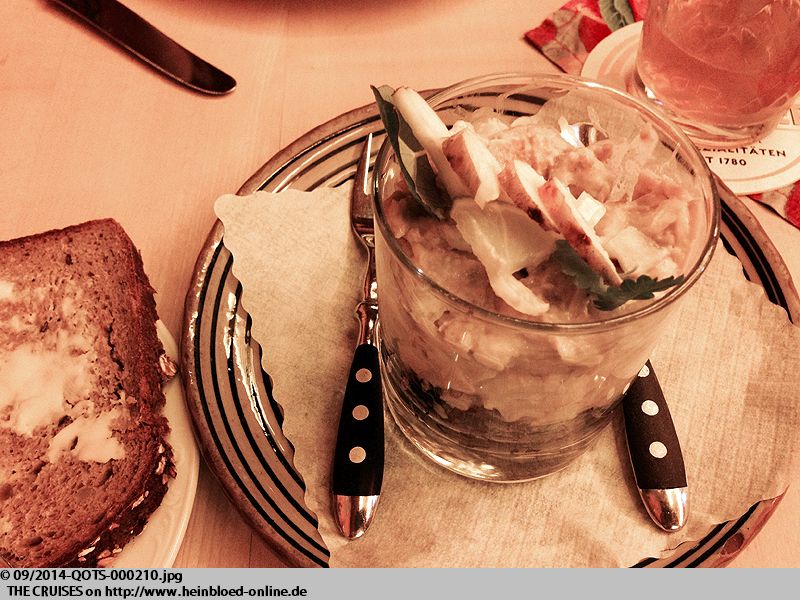 Und nochmals ein Geflügelsalat, also viel Eiweiß.
Am 21.10.2014 geht es ins
St. Josefskrankenhaus
nach Heidelberg. Ziele: kein Diabetes Mellitus Typ 2, kein Bluthochdruck, keine Schlafapnoe und ein besseres Erscheinungsbild, wenn ich eine neue Stelle suche.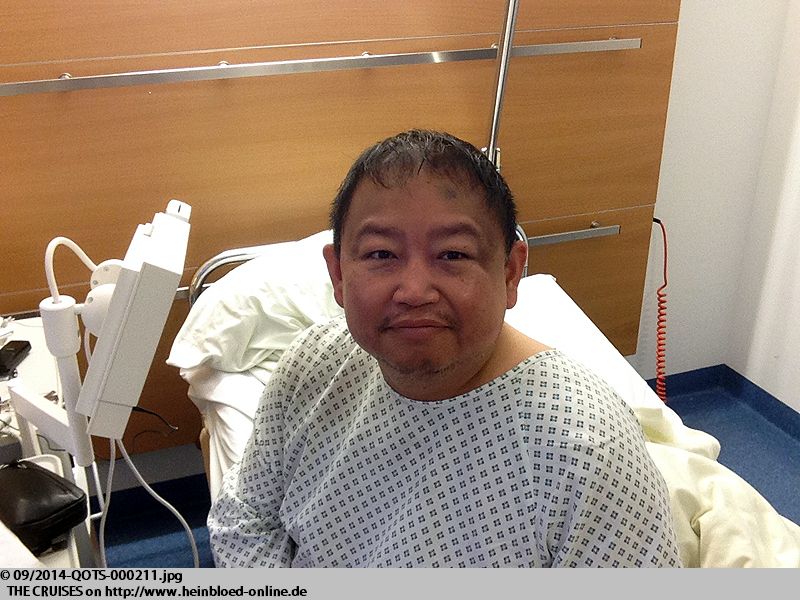 On October 21, 2014 I went to the St. Josef-Hospital in Heidelberg, Germany. Target: no Diabetes Mellitus Type 2, no high blood pressure, no sleep apnea and a better appearance when searching for a new job.

I always thought that that kind of smocks only existed in US-movies. And I always thought that you had to walk around like Jack Nicholson in the movie "Something's Gotta Give" (with Diane Keaton) with a naked butt, but in Germany, you always get some pants.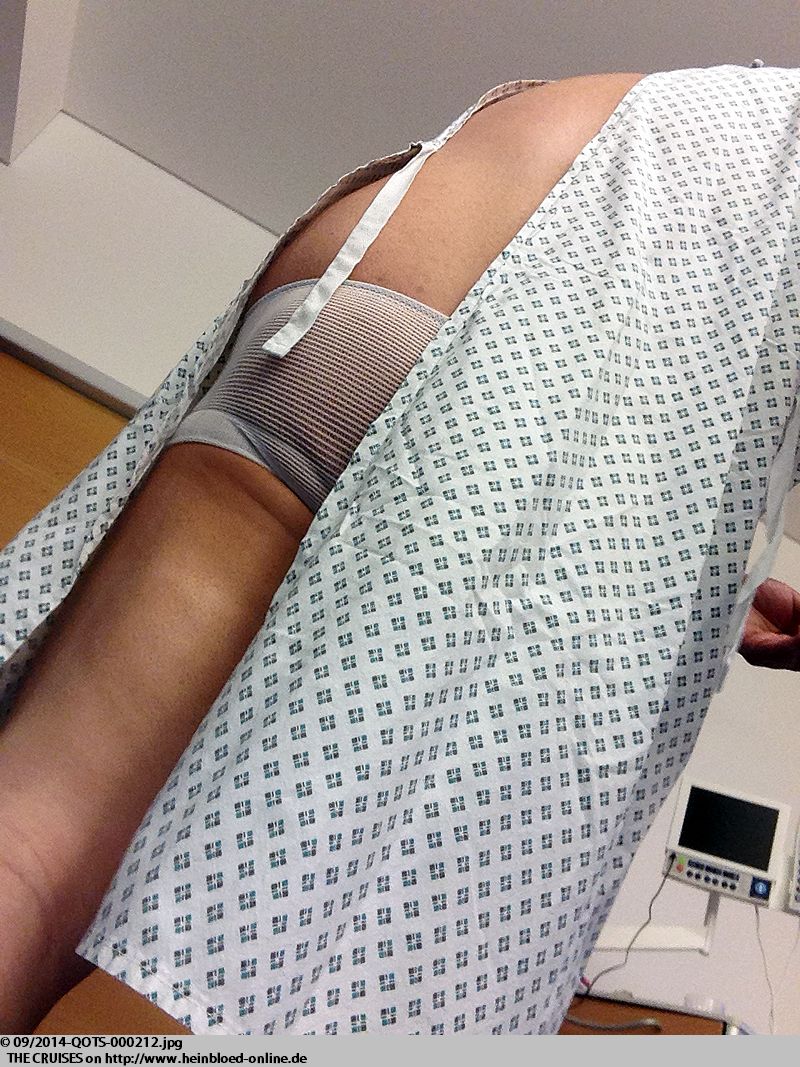 Ich dachte immer, dass es diese Kittel nur in amerikanischen Filmen gibt. Und ich dachte immer, dass man so wie Jack Nicholson im Film "
Was das Herz begehrt
" (mit Diane Keaton) mit nacktem Hintern rumlaufen muss, aber in Deutschland bekommt man Höschen...
Nach einer RnY-Magen-Bypass-Operation sieht man nicht gerade glücklich aus. Speziell, wenn man gerade wohl jede Menge blauen Farbstoff eingetrichtert bekommen hat, der nicht mehr aus der Nase raus will, um die Dichtigkeit zu testen und der sich unter den Fingernägeln festsetzt, wenn man versucht, es mechanisch aus der Nase zu entfernen. Tage später war ich froh, dass ich dann die Nasendusche endlich nutzen konnte, um das Zeug herauszubekommen.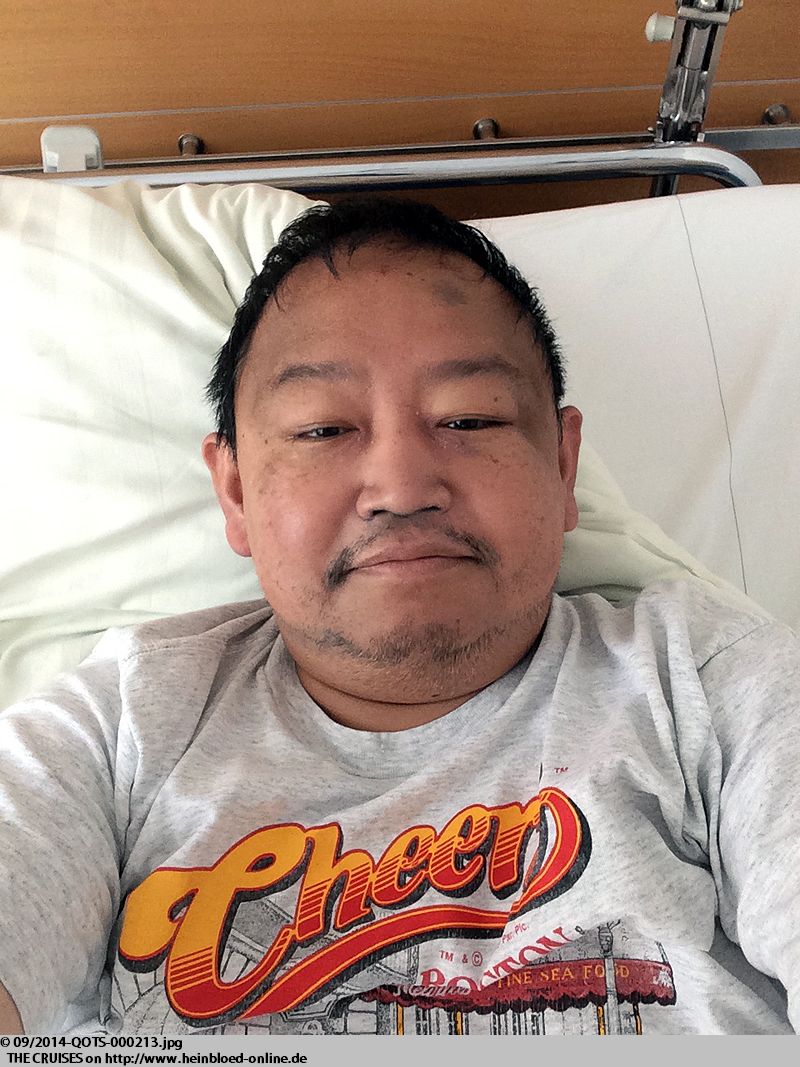 After a RnY-Gastro-Bypass-Surgery you did not look very happy. Especially, when they entered a lot of blue dye to test the density which did not want to leave the nose but fixed under the fingernails. It was a problem to remove it mechanically out of the nose. A few days later I was more than happy, that I could use the nasal douche to get out the staff.

After the anesthesia did not act anymore, I looked somehow "normal" again. I did not have any pain anymore after the 2nd day of the surgery, so there was no need anymore to add painkillers.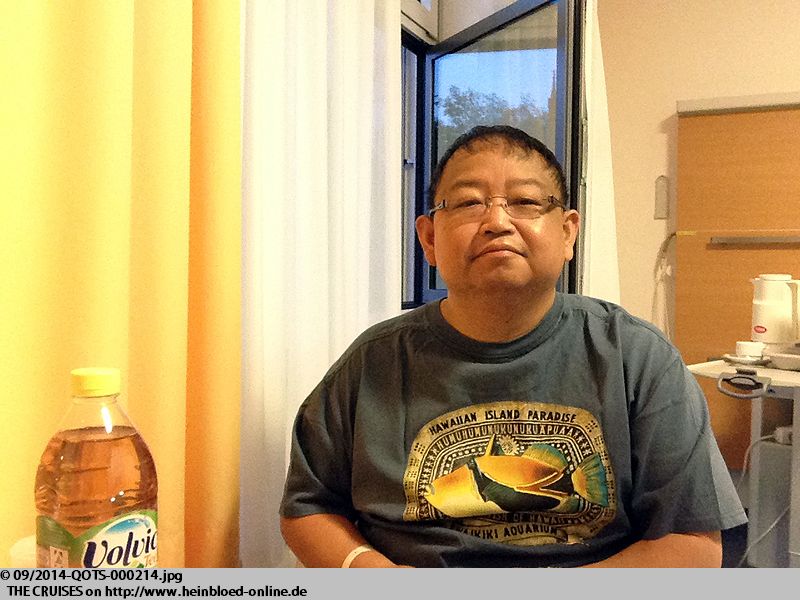 Aber nach dem die Narkose dann auch nicht mehr wirkte, sah ich schon wieder halbwegs "normal" aus. Schmerzen hatte ich keine, so dass ich bereits am 2. Tag nach der OP auf die Zugabe von Novalgin verzichten konnte.
Da ich aber wegen der OP-Wunden (5 kleine Einstiche) nicht duschen konnte, war ich froh, dass Bruno mir den Kopf gewaschen hat. Das tat echt gut.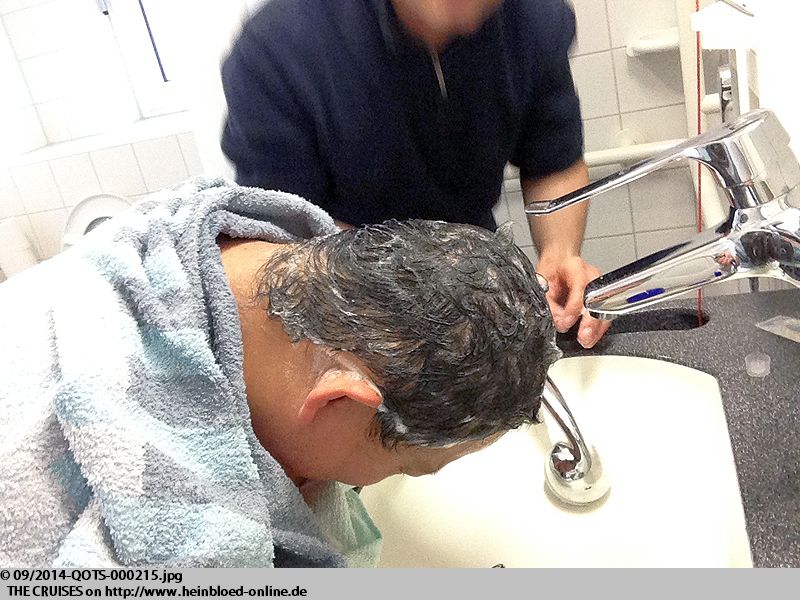 Due to the surgery wounds (5 small insertions), I could not take a shower, so I was happy, that Burno helped to wash my hairs. That was really good.

I had a problem: Initially, I should have the surgery at the University Hospital in Mannheim, Germany. Because all operations were canceled and they knew my strict plans, they did it in Heidelberg. Recently one doctor changed from the University Hospital in Mannheim to here so they could do it a day later than initially scheduled in Mannheim. But they did not have the infrastructure for the aftercare yet. Those had to be set up. So many things I needed to research on the internet (like dumping when eating after the surgery). So I could get a lactose soup, but with more solid ingredients, than the conventional medicine taught to have. But it worked for me since I needed to prepare myself for the voyage and the earlier I was confronted with the problem, the earlier I knew what I might expect. I would go there again since the result counted. And the good: they had internet for patients.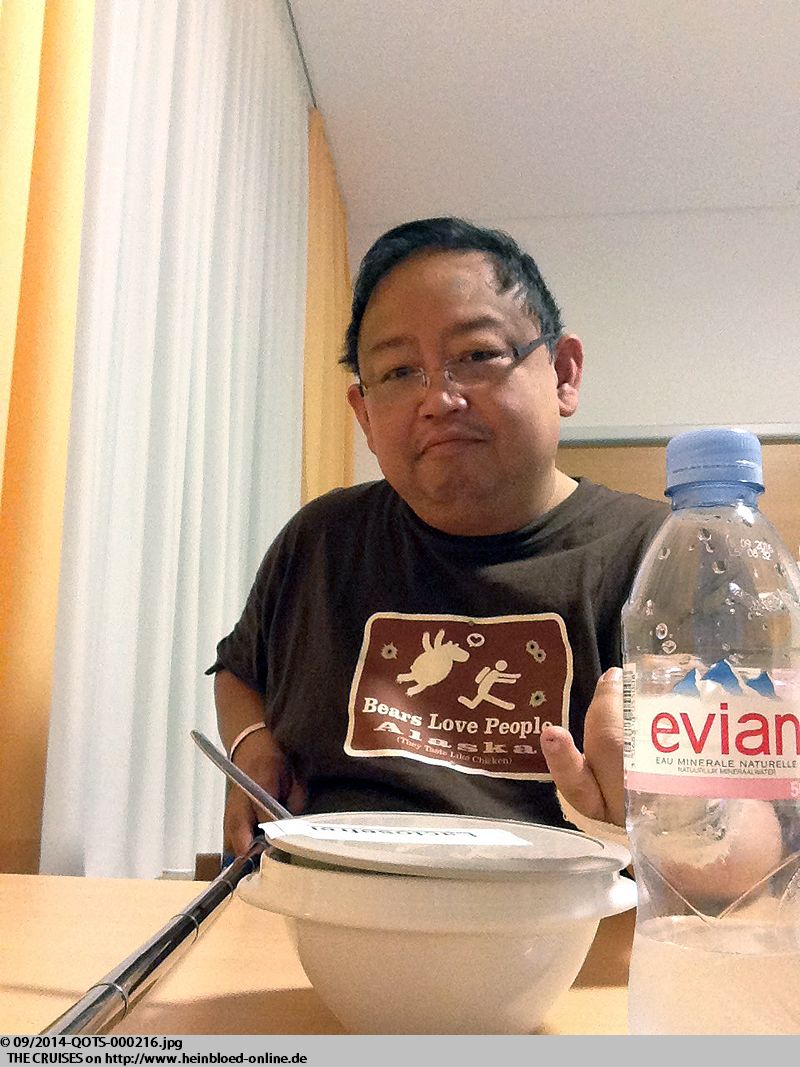 Bei mir gab es ein Problem: Ich sollte ursprünglich an der Uni-Klinik in Mannheim operiert werden. Weil alle Operationen abgesagt wurden und mein straffer Zeitplan denen allerdings bekannt war, wurde ich dann in Heidelberg operiert. Vor kurzem hat jedoch ein Arzt von der Uni-Klinik Mannheim eben hierher gewechselt und daher wurde ich dann ein Tag später als geplant operiert. Nur dort gab es noch nicht die notwendige Infrastruktur eigentlich für die Nachsorge. Die wird jetzt erst aufgebaut. Viele Sachen mussten wir im Internet recherchieren (z. B. wie man Schaumbildung beim Essen nach der OP vermeidet). Auch bekam ich eine laktosefreie Suppe, nur leider hatte sie mehr feste Bestandteile, als sie vielleicht lt. Schulmedizin hätte haben sollen. Mir kam es jedoch zugute, weil ich mich ja auf die Reise vorbereiten musste und daher schon sehr früh mich damit konfrontieren konnte, wie es mir möglicherweise unterwegs ergehen würde. Ich würde aber jederzeit wieder dort hingehen, weil das Ergebnis zählt. Und das gute: sie haben dort Internet für Patienten.
Ich bekomme endlich laktosefreien Joghurt, nur der ist voller Zucker und damit Kohlenhydrate. Beides soll ich vermeiden, um den sog. Dumping-Effekt zu vermeiden. Aber der hält sich zum Glück in Grenzen. Andererseits Joghurt ist wiederum gut, weil viel Eiweiß darin enthalten ist.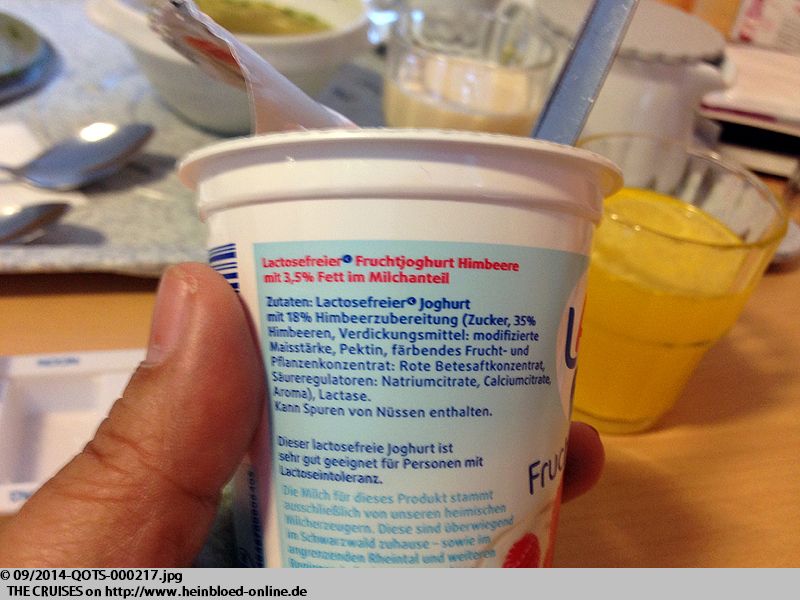 Finally, they got me some lactose free yogurt, but it was full of sugar and carbs. I should avoid both to avoid dumping. But that was not appearing too often. But yogurt was good since it had a lot of protein.

Sometimes, I made a cup of carrot cream soup in six hours!!! That could become a lot of fun on the cruise.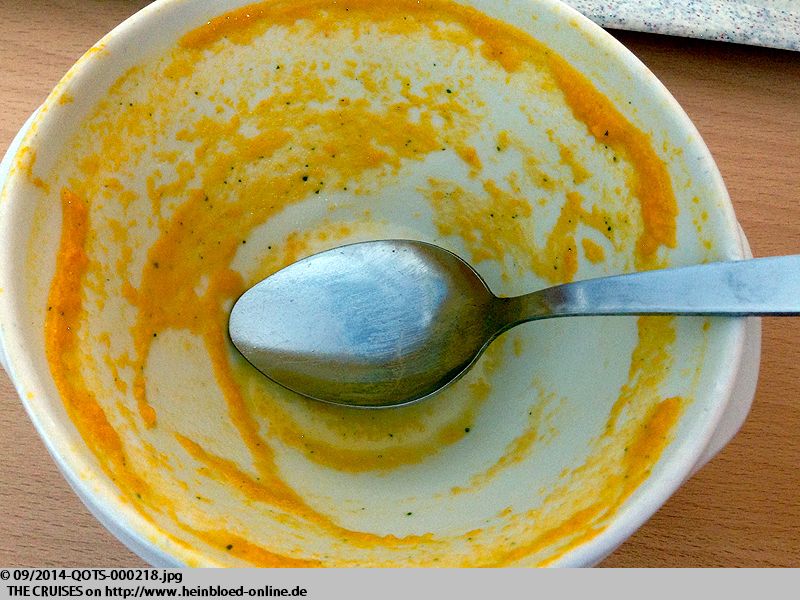 Irgendwann schaffe ich aber in sechs Stunden meine erste Tasse Möhrencremesuppe!!! Das kann ja noch lustig auf der Kreuzfahrt werden.
Und irgendwie auch ganz lustig: Das soll ich schon alles essen. Bloß nicht SAP etwas vorschlagen lassen...

Somehow, it was funny too: I should eat this all. Do not let SAP make any suggestions...

I reached the first aim very quickly after the surgery. With the blood sugar values, it went going so low, that I could withdraw the manual injection of insulin. I should only take the pills, and so I turned my clock ten years back.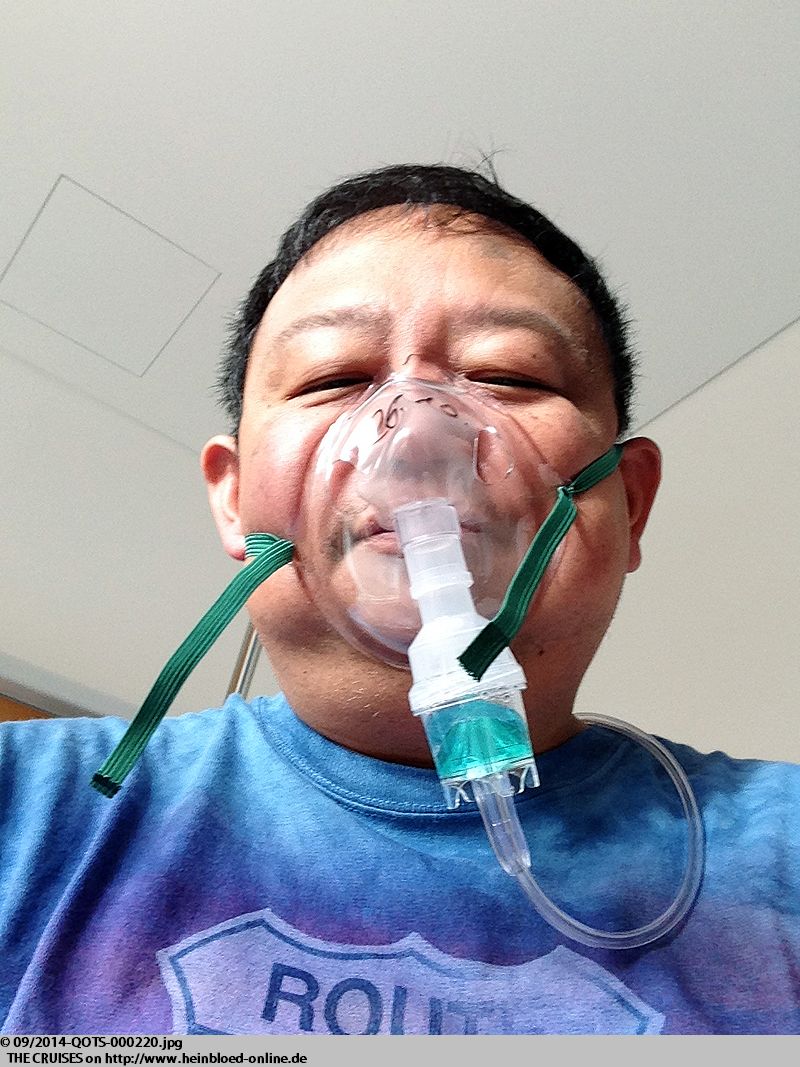 Das erste Ziel ist schon fast nach der OP erreicht. Bei den Blutzuckerwerten bin ich soweit unten, dass ich auf das manuelle Spritzen von Insulin verzichten kann. Ich nehme nur noch Tabletten und bin in der Zeitmaschine ungefähr zehn Jahre zurück.
Nach sechs Tagen werde ich entlassen und mein erster Weg führt mich zu Struwwwelpeter in Schwetzingen. Sofia ist in London so muss mir "Bärchen" (Ich habe doch glatt seinen bürgerlichen Namen vergessen, weil ihn jeder nur so nennt...) mal den Kopf waschen und mir die Haare schneiden, damit ich auf der Reise einen guten Eindruck hinterlasse.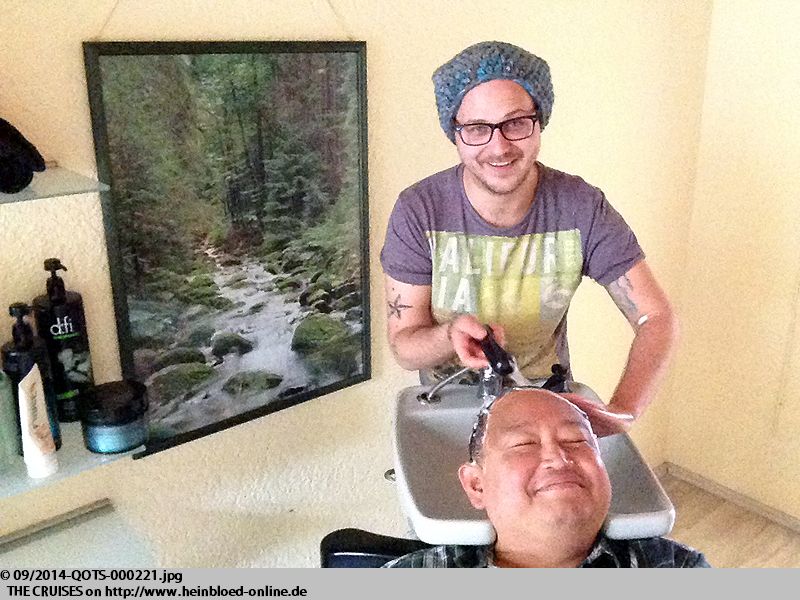 After six days, they could release me and my first way took me to Struwwwelpeter (my hairdresser) in Schwetzingen, Germany. Sofia was in London, England, and so "Bärchen" (Little Bear - I forgot his civil name since everybody called him this way...) had to wash and to cut my hairs so I could make a good impression on the voyage.

Dining out meant a half cup of soup or like here with the Greek restaurant Zähriger in Schwetzingen, a half plate of feta-cream. And extremely slow and in little bites. Otherwise you had immediate revenge: first, a hiccup and then the food did not like to stay. My remained stomach knew how to react that it would feel well. Only my brain was not familiar with the new stomach yet.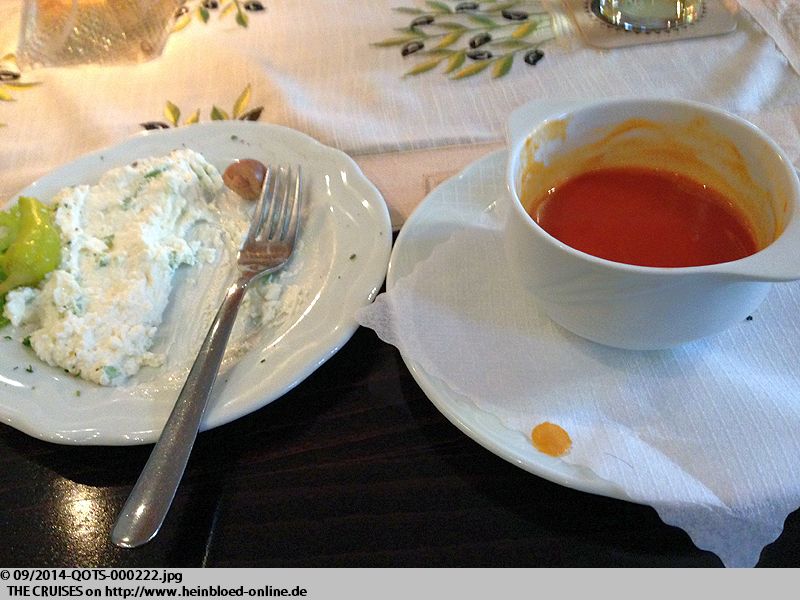 Unterwegs essen, bedeutet dann so ein halbe Tasse Suppe und wie hier beim Griechen
Zähriger
in Schwetzingen einen halben Teller Fetacreme. Und extrem langsam und in kleinen Bissen. Alles andere rächt sich sofort: erst Schluckauf und dann will es halt wieder raus. Mein Rest-Magen weiss schon, wie es reagieren muss, damit es ihm gut geht. Nur mein Kopf hat sich noch nicht an die Mengen gewöhnt.
Als ich zur ersten Kontrolle nach der OP fahre, will ich mich bei den Pflegekräften für ihre Geduld bedanken, die sie mit mir bewiesen haben. Es gibt mein Gewicht, das ich bereits seit der OP verloren habe, in Kaffee zurück.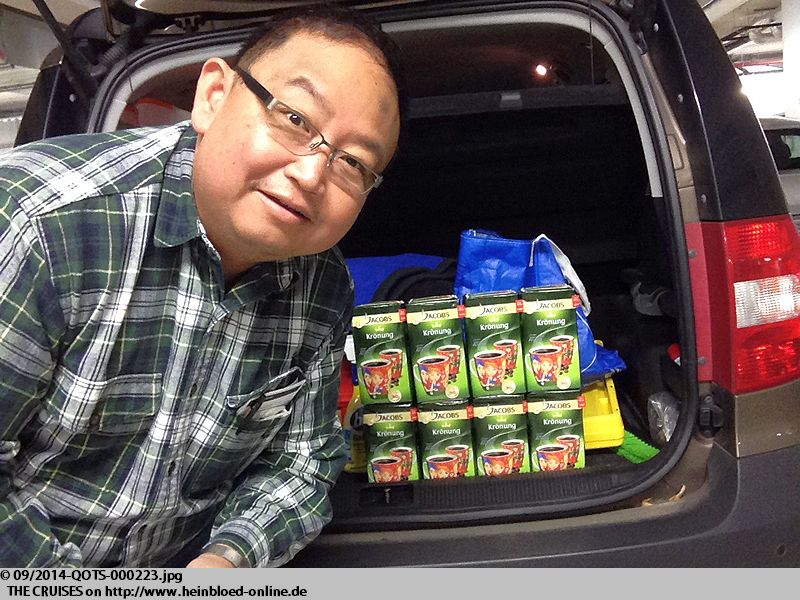 When I went for the first check-up after the surgery, I wanted to thank the nurses for their patience they granted to me. They got my weight, which I lost since the surgery, like coffee.

By the way, that was Dr. Roderich Bünninghoff, who did the surgery. He did a good job. I felt (at the time of writing) just superb. And I could not believe, that it was me on the right.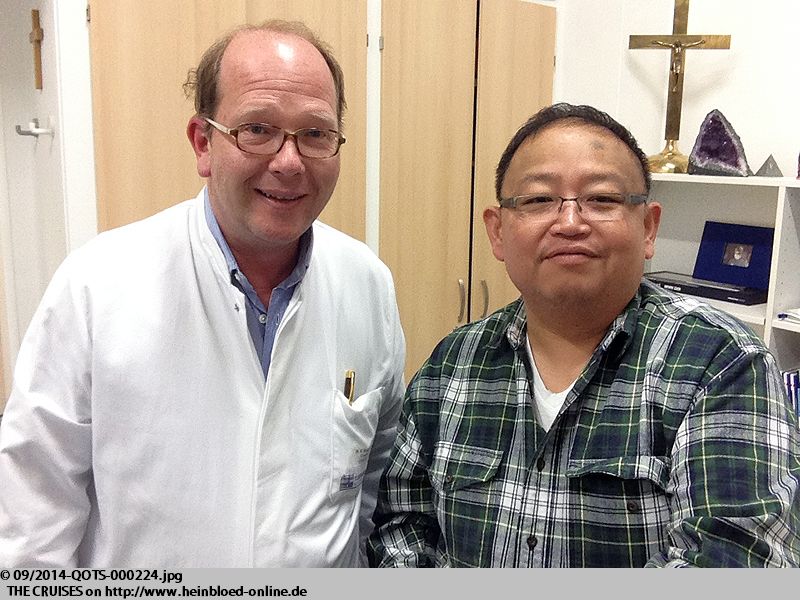 Das ist übrigens
Dr. Roderich Bünninghoff
, der mich operiert hat. Eine sehr gute Arbeit. Ich fühle mich jetzt (zum Zeitpunkt des Schreibens) einfach nur super. Und ich kann kaum glauben, dass ich das da rechts bin.
Mein Startgewicht bevor es in Richtung Southampton geht.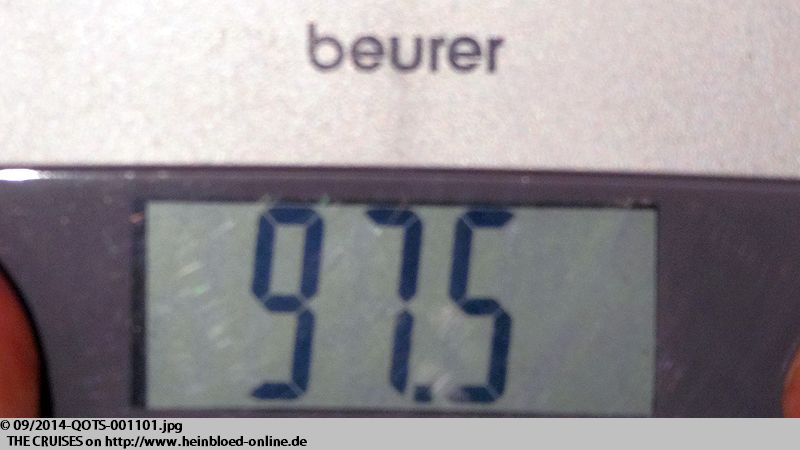 My start weight before I was heading for Southampton, England: 215 lbs.

I was on the way to my parents who did not know that I was in the hospital. Every minute, they would know too early, might occur an immediate end of the voyage, because they would sorrow too much on my health. To avoid me to have dinner and parents with my parents, I preferred to stay overnight in a hotel and to appear at home that they would not wait for me with breakfast and asking why I slept so long. So it was not a bad investment to spend on hotel expenses. I stayed at Holiday Inn Express, so I would only need one more hour to be back home.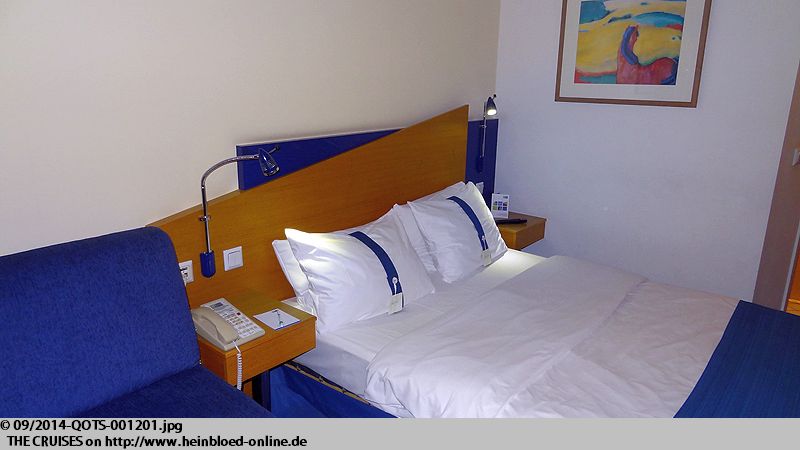 Ich bin auf dem Weg zu meinen Eltern, aber sie wissen nichts davon, dass ich im Krankenhaus war. Jede Minute, die sie es zu früh wissen, könnte zum abruptem Ende der Reise führen, weil sie sich Sorgen, um meine Gesundheit machen. Damit ich nicht bei meinen Eltern zu Abend essen und frühstücken muss, übernachte ich lieber in einem Hotel und erscheine dann lieber zu einem Zeitpunkt, zu dem man normalerweise nichts essen muss. Außerdem bin ich es mit 48 Jahren leid, Rechenschaft abzulegen, warum ich so spät nach Hause komme und warum ich wieder so lange morgens schlafe, während sie mit dem Frühstück auf mich warten. Da ist manchmal das Geld für ein Hotelzimmer gar nicht mal so schlecht angelegt. Ich übernachte im
Holiday Inn Express
in Troisdorf, so dass ich am nächsten Tag nur noch eine Stunde bis zu meinen Eltern habe.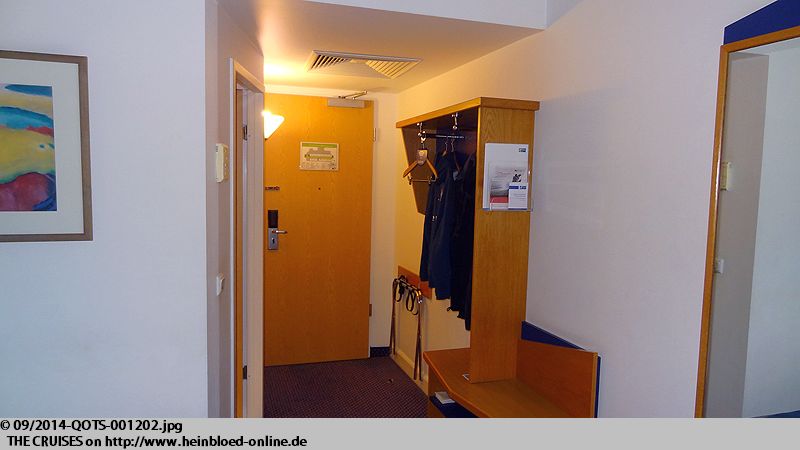 A typical Holiday Inn Express older style, but you slept here very well as they had a great mattress.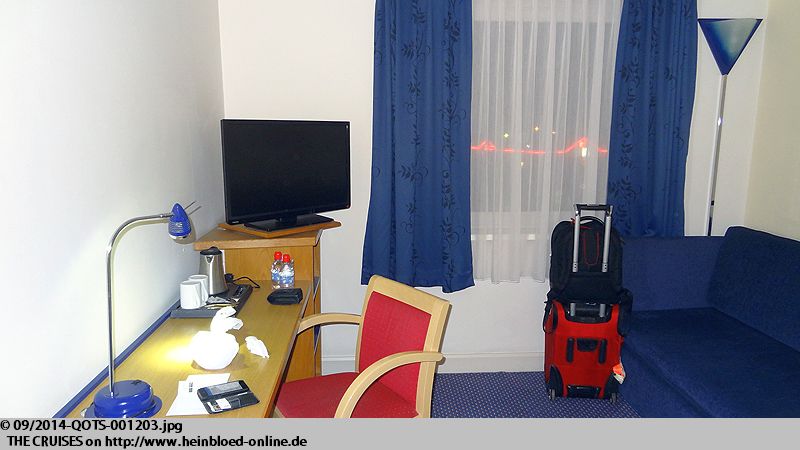 Ein typisches Holiday Inn Express älterer Bauart hat, aber man schläft super, da sie dort super Matratzen haben.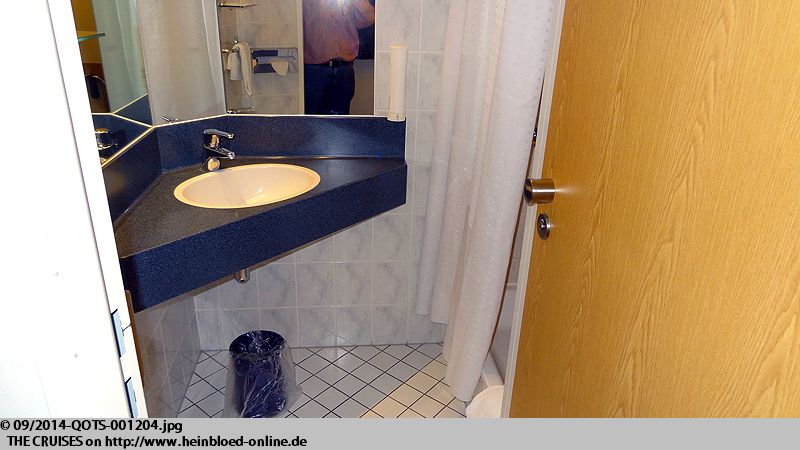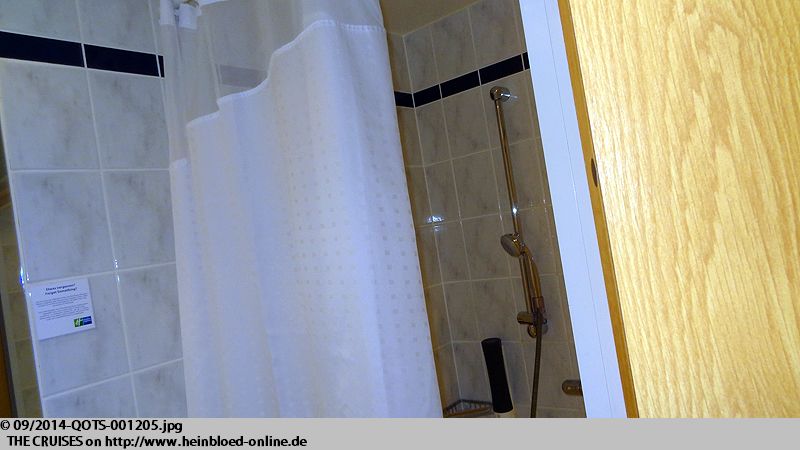 Die größte Herausforderung ist jedoch das Abendessen. Im Hotel ist ein China-Restaurant. Ich hätte glatt in dem Abendessen-Büffet baden können. Deswegen will ich nicht dort essen und bestelle mir eine Eierblumensuppe zum Mitnehmen, damit ich nicht den ganzen Abend den Düften ausgesetzt bin und dann aus dem Fenster springe (allerdings Erdgeseschoss). Aber die bissfesten Tomatenstücke in der Suppe sind doch eine ganz schöne Herausforderung.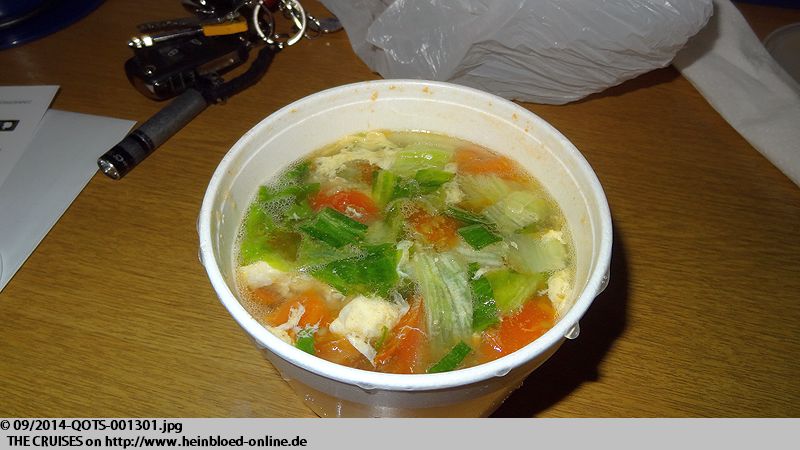 The biggest challenge was the dinner. In the hotel, they had a Chinese Restaurant. I could take a bath in the dinner buffet. So I did not want to eat there and ordered an egg flower soup to go, so I must not smell all the night the good small and jump out of a window (on the ground floor). But the solid pieces of tomatoes were a true challenge.
Die anderen Reisen in diesem Blog/
The other voyages in this blog: