Um auf die deutsche Version zu kommen, bitte unten auf dieser Seite

Older Post

anklicken.

It was April 2008

https://heinbloed-minis.blogspot.com/2008/04/fred-olsen-2009-und-london-heathrow-t5.html

(unfortunately only in German - with the help of https://babelfish.yahoo.com you can get a rough translation)

On the way from Cruise Terminal in Greenock to the airport of Glasgow we gave Louise of https://www.thecruisestore.co.uk the order to book us again for Fred Olsen.

Somehow Fred Olsen attracts a special magic attention to us.

There is no ice-show like on NAVIGATOR OF THE SEAS or a Queen's Room like on QUEEN VICTORIA or Freestyle Dining like on NCL.

My EURODAM's crew is able to substitute at any time the crew on my BLACK PRINCE and vice versa.

Maybe it's because they live their slogan with Fred Olsen:

It's all about the people

For those who have never seen their TV commercial:

https://www.tellyads.com/show_movie.php?filename=TA8393

That's it! Something touched us: it's about us.

The After-Sales-Service compensated us for the Diesel-smell in our stateroom and so there was no reason not looking forward to our next Fred Olsen cruise.

From time to time I am checking the prices.

So I found out that the prices dropped enormously.

Who knows me already knows that I do not accept this and we had our fight.

But finally we found an arrangement all of us can live with: we can still count Fred Olsen to one of our favorite cruise lines.

What it's very pity: the original departure port was Leith. Fred Olsen moved the operation from Leith as they get stucked at the lock. Leith is protected by a lock and due to wind conditions you cannot operate the lock. It's too risky that the ship will stuck again before arrival or departure. But very sorry for us: next to the Cruise Terminal there is the Royal Yacht BRITANNIA and next to her our hotel which we booked.

Our personal farewell from BLACK PRINCE we had earlier this year in Fuchal, Madeira and in Santa Cruz de Teneriffe: There we had common calls with our MSC FANTASIA we were on.

https://heinbloed-msc.blogspot.com/2009/01/tagday-51-auf-deron-msc-fantasia-in.html
https://heinbloed-msc.blogspot.com/2009/01/tagday-61-auf-deron-msc-fantasia-in.html




From there we learned that Captain Jan Thomeessen should be on BOUDICCA.

But we were meanwhile told from their Ipswich office: He left the ship when we will embark...

So I took the chance to say hello during the call in Lübeck-Travemünde, Germany.

It was not very difficult to identify crew members on the promenade. They confirmed that he is still on board but ready to leave for vacation and I learned that Oscar will return on board. I am asking myself: did they transfer him from BLACK PRINCE just for us???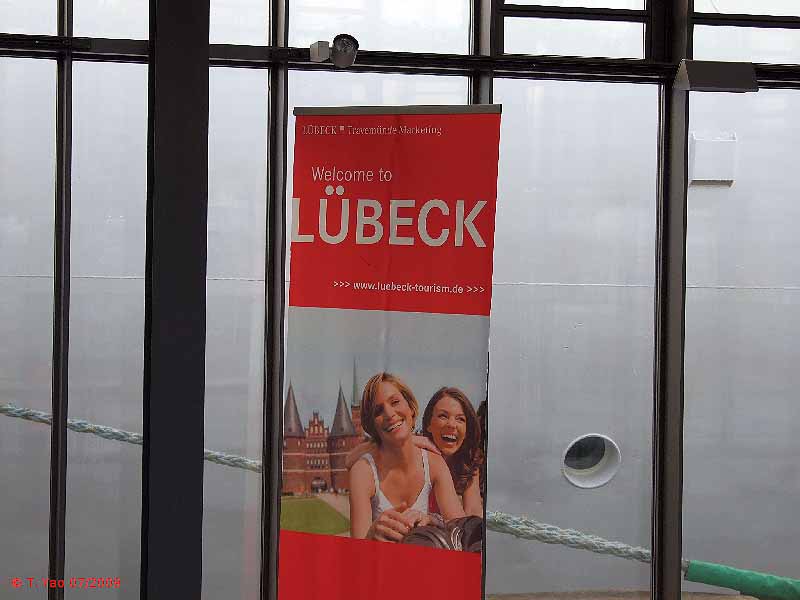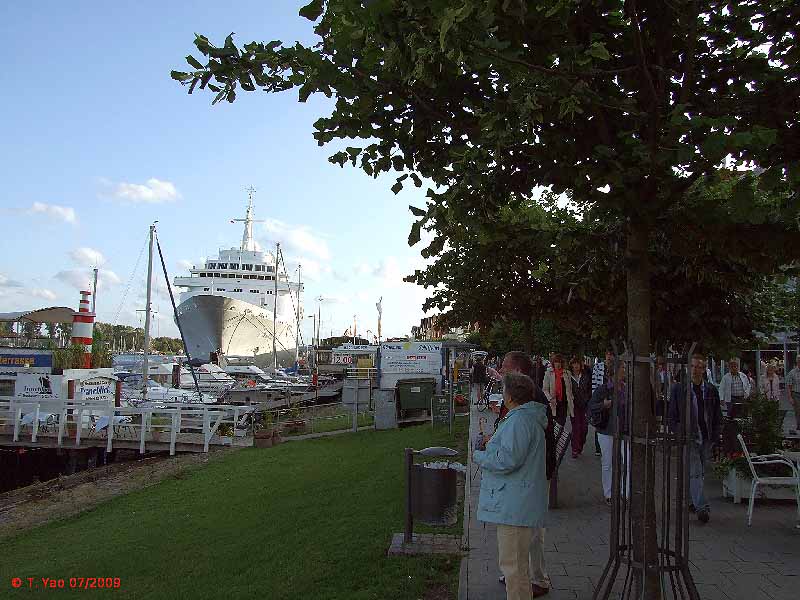 So close like in Travemünde you cannot experience anywhere else any cruise ships in Germany...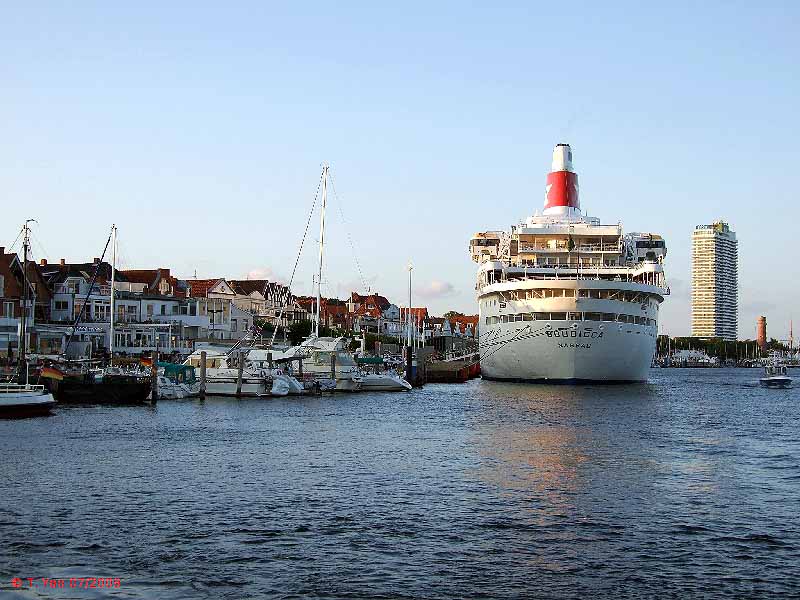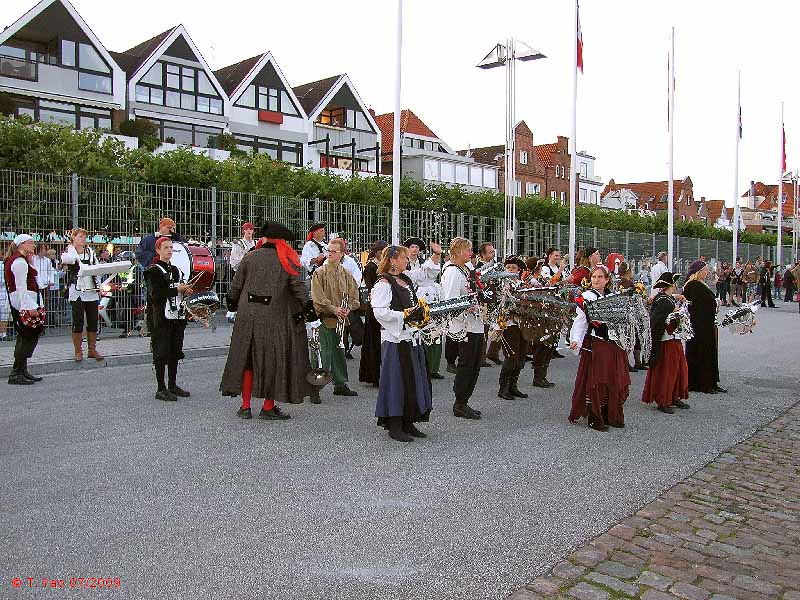 and the late evening the pirate musician played for farewell. Instead of classical German "Mussi denn zum Städele hinaus..." (maybe Elvis-Fans would know the song as "Wooden Heart") they played "Aloha-he". It was just great. When they played Michael Jackson's "Black and White" everybody was swinging and beating and clapping their hands ashore...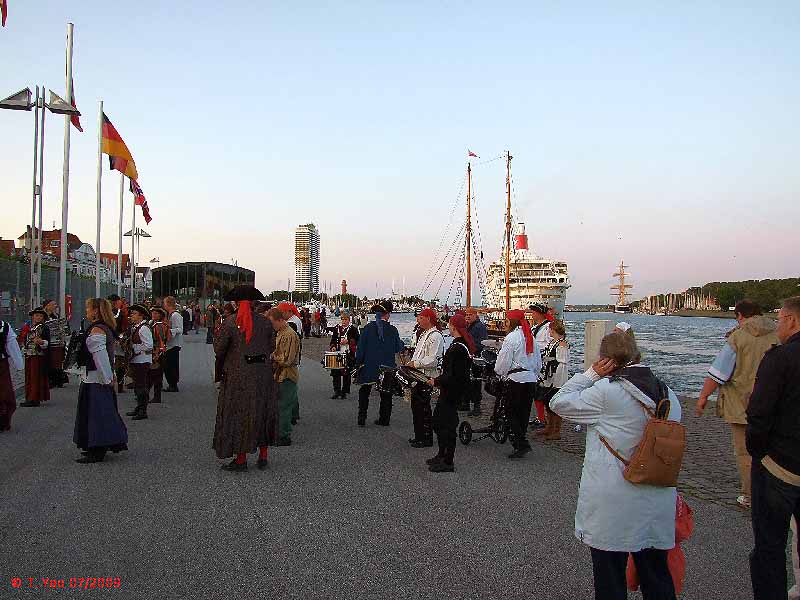 I asked at the Cruise Terminal if I can talk to the Security Officer. The guards do not have any contact to the ship. After I explained that I would like to talk to the Captain they thought I flew over a coocoo's net. But one felt sorry for me and took my name card to the ship.

During the waiting time I explained the guards that we know each other from previous cruises.

A seaman came to the exit and told that the Captain is on the way down.

The guards were surprised to hear that. For me it was a great feeling.

I greeted him and explained that I want to use the chance to say hello because he would leave before we embark.

He was very excited and asked me why I had not showed up for lunch and would like to show me his ship. He explained to the immegration officers that I am not member of the crew although I look like.

I got a short overview what I can looking for in few days and I am totally sursprised that everone looks like a cowboy onboard.

He invited me for a drink and told that I should better expect same activities...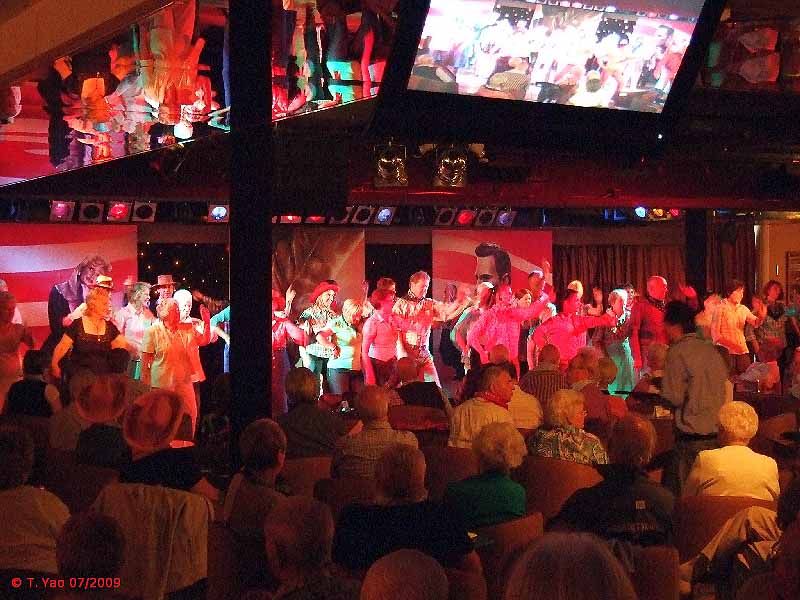 I just answered that this would be a reason to cancel the cruise. So he was laughing and took me around where we are accomodated - somewhere in one of these life boats... (food, water and blankets are packed in boxes in the life boats... if we like to have it more comfortable we should have our own pillows with us...)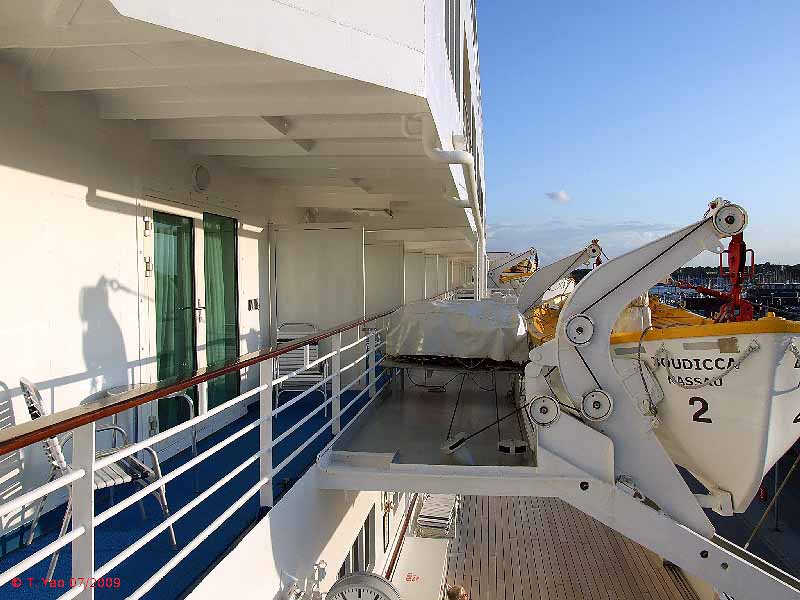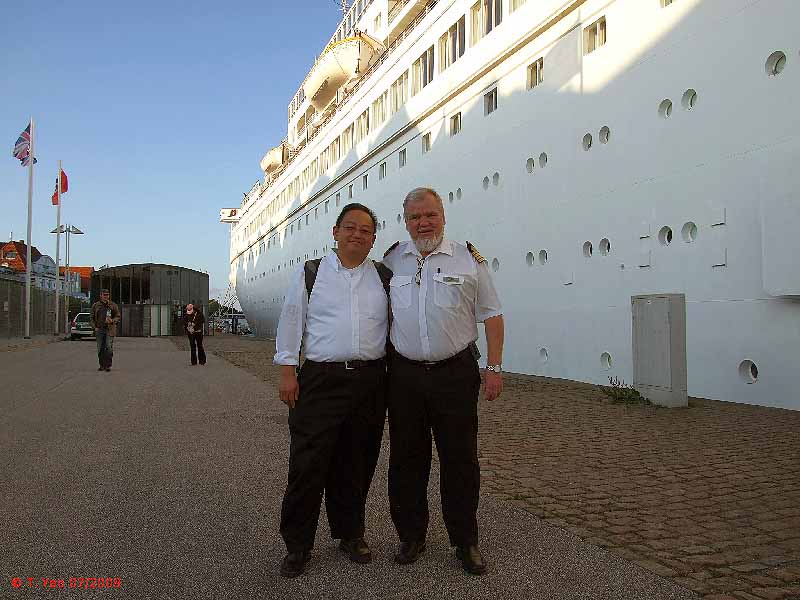 He instroduced already as "difficult" and "challenging" guest to the Restaurant-Manager... This can become a very funny cruise.

The departure was pre-poned to 21.30 hrs from originally 23.00 hrs. So he got me from his ship...

We are so sorry that we do not see him on our cruise. He is always a good reason to book Fred Olsen. Especially: in one of the lounges all music-instruments were ready for a jazz-session with him this night and I cannot be onboard... what is very frustrating.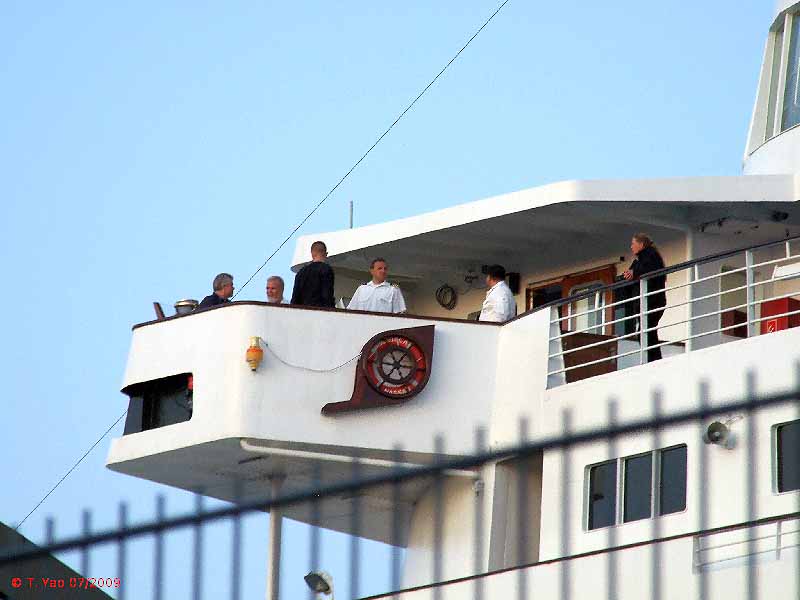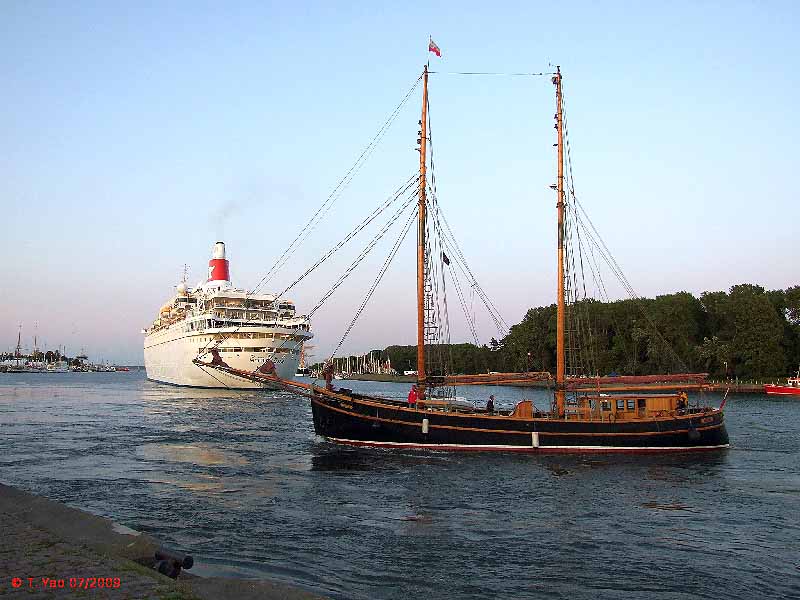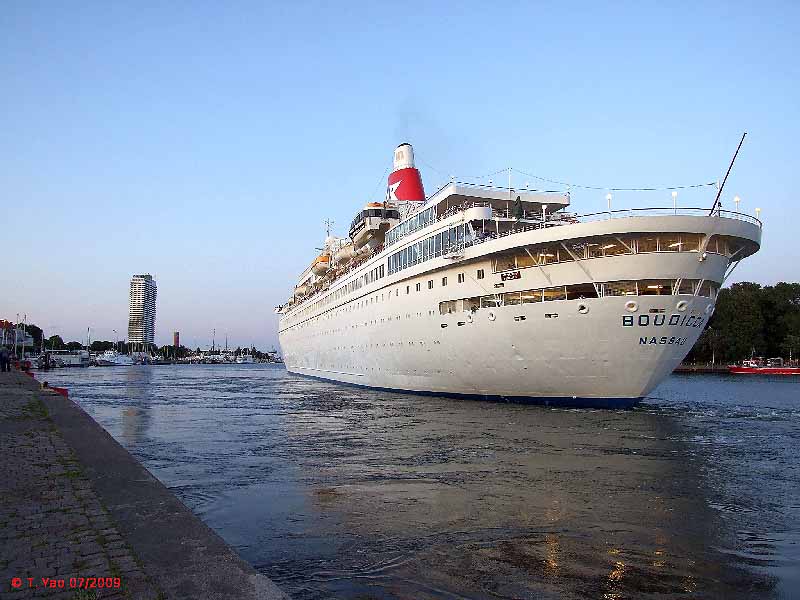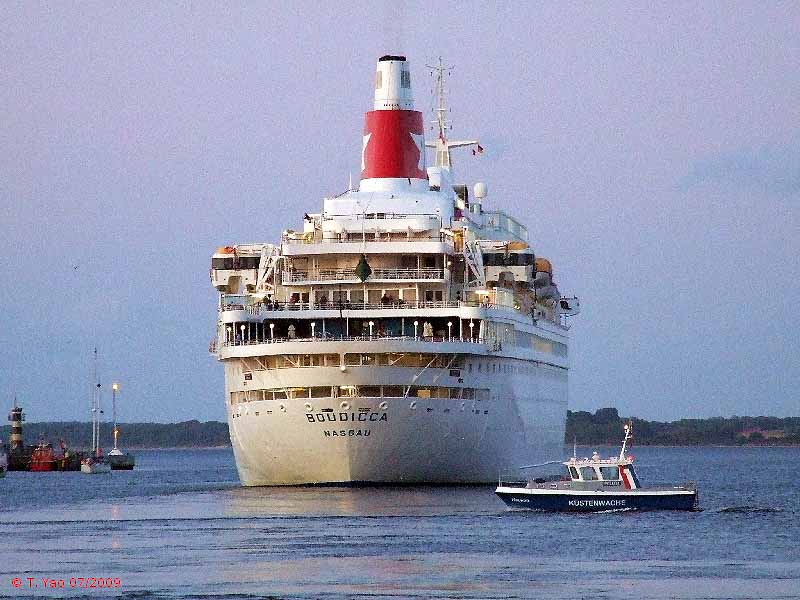 Right on time we got all tickets.

There were some problems with the print-shop for the personalized cruise-guides. They delivered so late that the shore excursion bookings were not available four weeks ahead of sailing. With Fred Olsen you pre-book your shore excursions and you pre-pay. But we did not want because we had a on-board-credit for our diesel-smell last cruise and we wanted to use this credit. On board I was told that there should no need for any pressure. But due to the amounts I could have booked the shore excursions on Shetland Island. But unfortunately you cannot have a credit card which is valid from 2009 to 2014 like my credit card because you can only select the years 2008 to 2013 when you enter the payment information.

We asked two independent tour operator on Shetland but one did not responded and another was so expensive that I should find on the first night more cruise-fellows to join our group.

Regarding the documents you do not have too many difference between Fred Olsen and Cunard. Only you get his "Lady's wallet" which fits also for our Fred Olsen tickets. But I would prefer the "Gentlemen's Folder" which we got with our QUEEN VICTORIA and QUEEN ELIZABETH 2-cruises.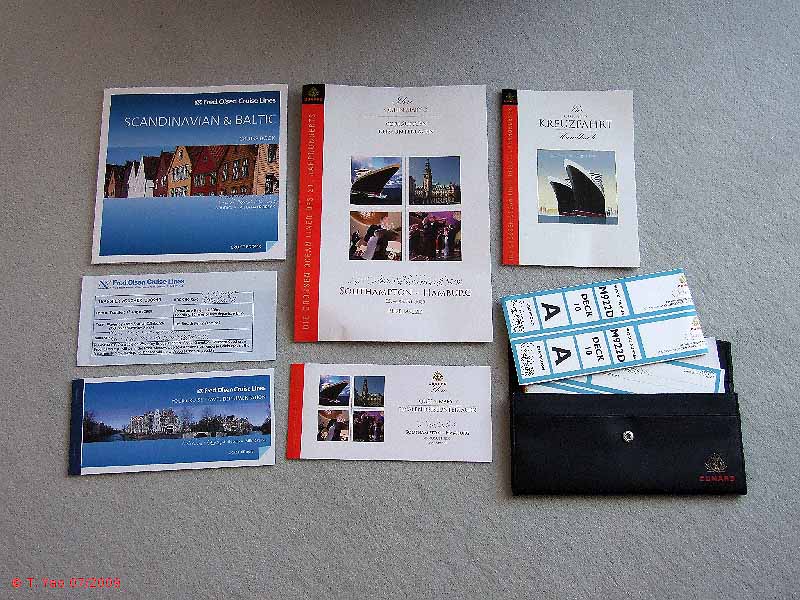 The transfer-tickets which we booked for 5 GBP pp from Edinburgh to Rosyth are not needed anymore due to our friends: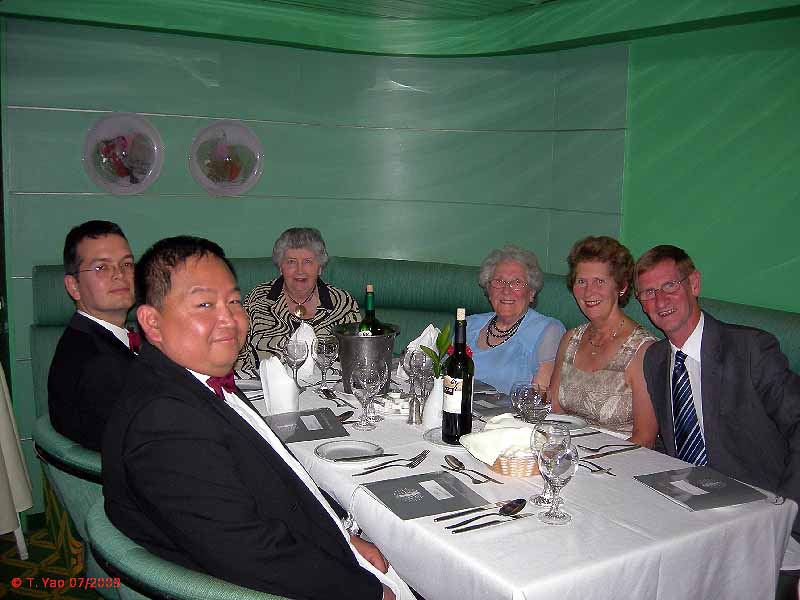 from the right: John and Agnes followed by Ella and Margaret whom we all know from our 1st BLACK PRINCE-voyage: https://heinbloed-cruiseblogs.blogspot.com/2008/08/9-black-prince.html

(sorry - again only in German...)

Agenes and John are retired but they do not look like...

They were guests on the last world voyage on VAN GOGH.

I took this picture in Singapore and I did not know that Agnes and John were on this ship: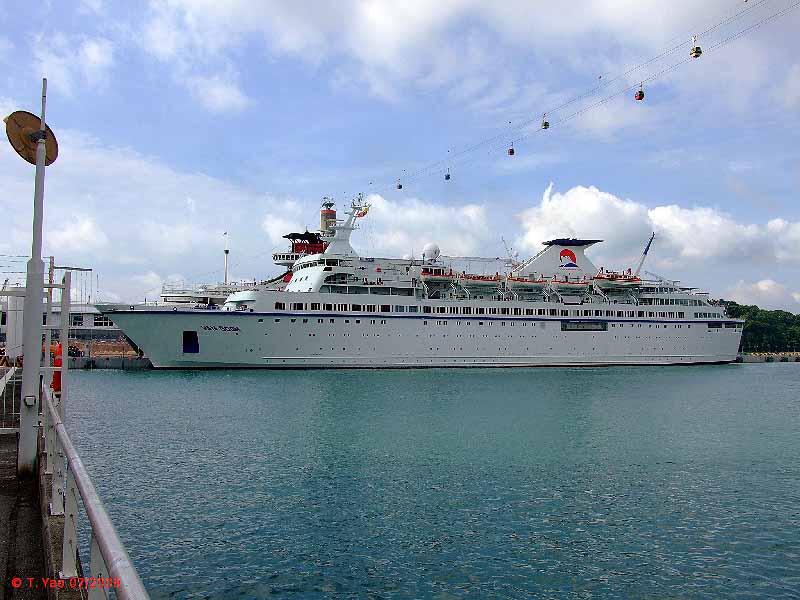 We met Agnes and John again on our 2nd BLACK PRINCE-voyage.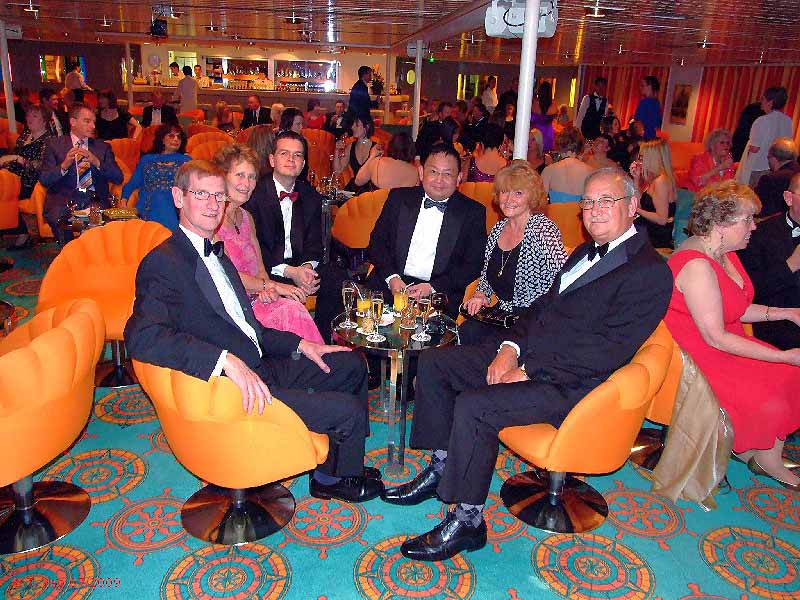 We told Agens and John to try NCL...

And then they booked NORWEGIAN SUN for Alaska... and she is not my favorite ship in the fleet...

Furthermore they were one month after us in Le Havre and St. Peter Port on NORWEGIAN JADE. So we misused them as chocolate- and photocouriers.

From them we know: there are cruise companies who are able to deliver cabin greetings right on time and to the right cabin...

It was just a little bit more complicated: I spoke of course with Miami. Because the cruise was booked in London you need to book the cabin greetings there as well and pay in the currency the cruise was paid.

Ella and Margaret we took on our Giant Causeway tour from Belfast.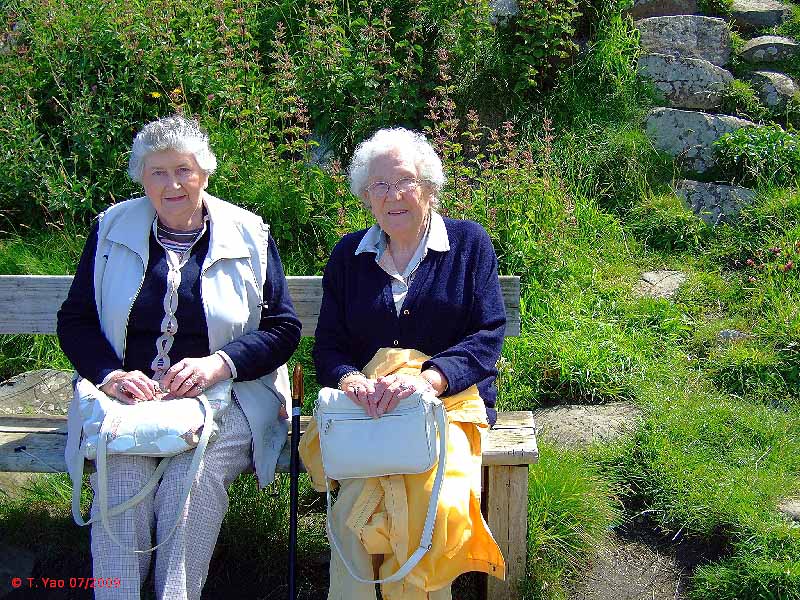 The ship's tour was cancelled due to missed minimum guest request and they were happy that we took them to our private tour.

We still write christmas greetings with all of them.

As I am working in Northern Germany during the week and only home during the weekend in Southern Germany: Bruno called that John called.

Agnes and John booked the same hotel in Edinburgh and would like to take us from the airport to our hotel. They want to show us around in Edinburgh and take us out for dinner.

We are really lucky. Originally we should land around 23.00 hrs in Edinburgh. But Lufthansa cancelled the late night flight and so they book us on the expensive late afternoon flight. So we are landing as early to experience Edinburgh by night.

Again a call from Bruno: Margarete wrote us and I should call her.

Since our last meeting her mobility is more reduced to walk long ways but she would like to take us to the Cruise Terminal after lunch.

We are very happy with our friend's offer although we have the transfer-tickets...

But I truly hope that Margaret forgot our subject of our last dinner conversation... and I truly hope that do not get any Haggies...

Maybe there is still some space left in our baggage for Japanese Instant Noodle cups... safety first...

I do not know if we would made such nice friends with other cruise companies. But also our preference for flexible dining make such friendships impossible. Maybe that's the reason why we are "switchers". We like traditional-intimate but also flexible and giant. But we count these items as plus for Fred Olsen and our little BLACK PRINCE and looking forward to this weekend.

The voyage ends in Newcastle-upon-Tyne. Originally we wanted to return by ferry to Ijmuiden, The Netherland or flying back to Düsseldorf, Germany. The return tickets were slightly more than the single tickets to Edinburgh. I wanted to keep full flexibilty to all options. But on the ferry from Porthmouth to Le Havre with LDLines after QUEEN ELIZABETH 2 was a shock! I think that I did not want do it again.

Somehow Cunard's offer to go on QUEEN MARY 2 on 05.08.2009 and to to arrive in Hamburg on 07.08.2009 was most welcome.

A nice idea. After our experience with budget airlines and British Airways has only an early flight to Heathrow we might make it as the ships arrives at 06.30 hrs. We need to be from the ship at 07.30 hrs to be at 08.00 hrs at the airport. The flight is around 09.00 hrs. The last time I remember they throwed us out from the ship so early that we need to beggle to stay onboard until our pre-booked taxi came. So I am quite optimistic.

We ordered a car with EUROPCAR. And we can make it until lunch time. For the worst case we can also drive ourselves from Newcastle to Southampton. I am very curious on the new Ocean Terminal which was inaugurated one day after we were in Southampton with NORWEGIAN JADE.

Due to our problems we had on the 1st Transatlatlantic (totally 3rd voyage) on QUEEN VICTORIA we got a small amount for a future cruise discount. Cunard where so kind to convert it to Euro according to the rate of exchange like we had during the QUEEN VICTORIA voyage.

I am looking forward to see Uschi Drechsler at Hamburg Cruise Center. She is a Cunard Regional Marketing Manager in Germany but I call her also a QUEEN... a QUEEN of knowledge. With her knowledge we are well prepared for our first QUEEN MARY 2-voyage.

Especially we are curious if some of the crew-members which we know from QUEEN VICTORIA are right: we should not hate Cunard forever unless we have tested QUEEN MARY 2 ourselves.

The only thing I am sorry: why did they send Bruno his own tickets? All pre-documents came for both of us together to my address. So I can always say it was the new Cunard-Magazine... From here we know that there are following German lectors on board:

Jo Brauner (formerly prime time news in Germany)
and
Marek Erhardt (who was playing in one episode of the German Love Boat version on DEUTSCHLAND)

https://www.cunard.de/angebote/index.php?GroupID=1

We truly hope that we might have a chance to see and hear them during our two days on board.


All we need now is good weather...


So see you in Edinburgh Friday Night!!!

HeinBloed