Morgens um 05.30 Uhr kann ich nicht mehr weiterschlafen. Also Zeit für meinen nächtlichen Rundgang. Stufen... also nicht unbedingt etwas für Rollstuhlfahrer... zumindest nicht in allen Bereichen...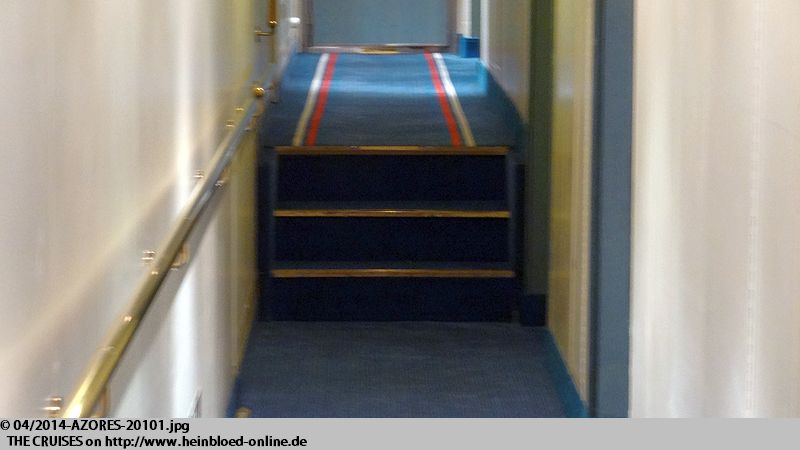 At 05.30 hrs in the morning I was unable to sleep anymore. So time to have my night-walk around the ship. Steps... no nothing really for guests with wheelchairs... at least not in all areas...

Well... the WiFi Lounge... Post de Radio might be from an era you need to have a spark to send a telegramme... I the public area WiFi should be available. As we had our mobile LTE-WiFi-router we had it in our cabin.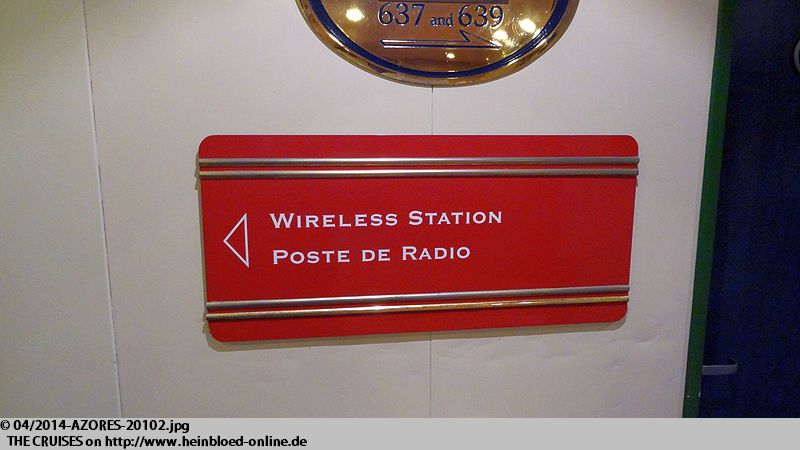 Ahh... die WLAN Lounge... Poste de Radio ist wohl noch aus der Zeit, als man beim Funker sein Bordtelegramm abgesetzt hat... Im öffentlichen Bereich unten soll wohl WLAN verfügbar sei. Da wir unseren mobilen LTE-WLAN-Router mithaben, nutzen wir das in unserer Kabine.
Presidential Suite... da hat man uns wohl eine falsche Kabine zugewiesen... Hatte Herr Schmidt am Stand von Ambiente Kreuzfahrten mir nicht eine bessere Kabine versprochen... Wieso bin ich jetzt in 211, wenn es doch eine bessere gab???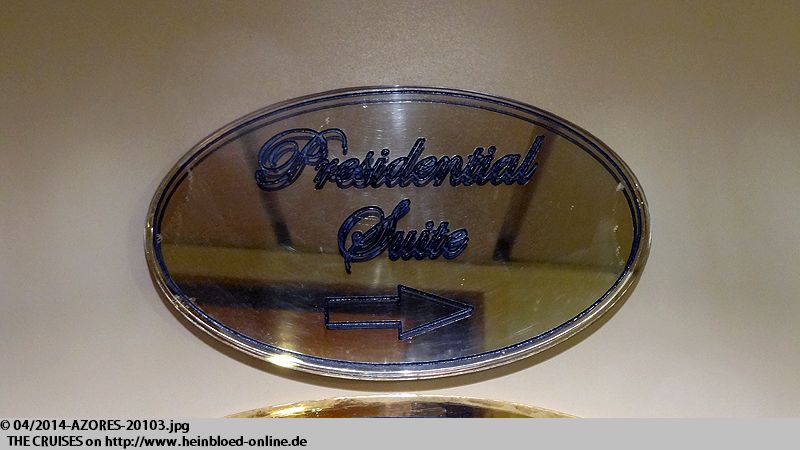 Presidential Suite... obviously they allocated us to a wrong cabin... Did not Mr Schmidt promised me a better cabin when I met him as their stall on the exhibition... Why were we in 211 when there were better cabins???

All shops were closed because we did not leave the port.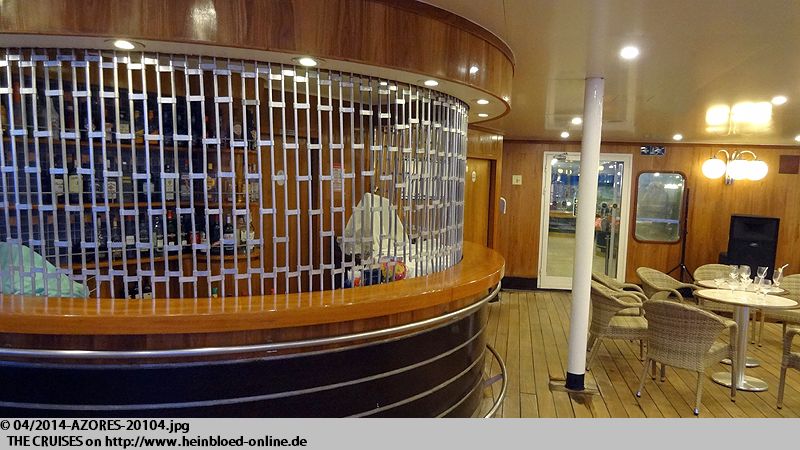 Alle Läden hatten geschlossen, weil wir nicht abgelegt haben.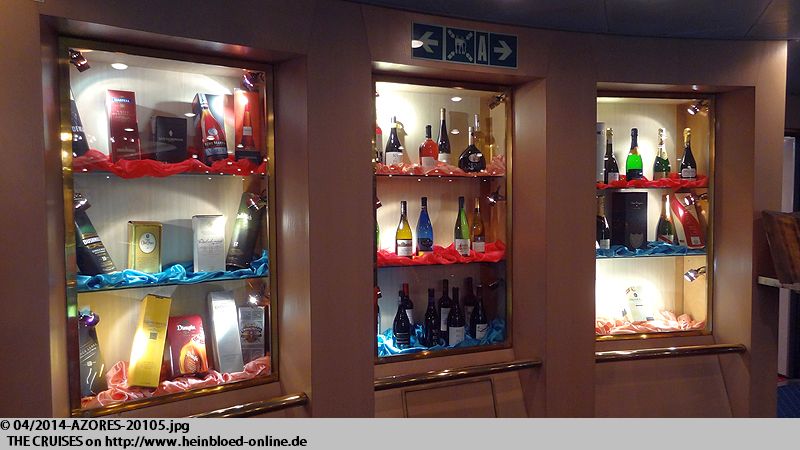 Obviously the customs authorities in Bremerhaven did not know about it. When we "exit" the port we were asked if we had alcohol or cigarettes with us when we explained that we came from AZORES.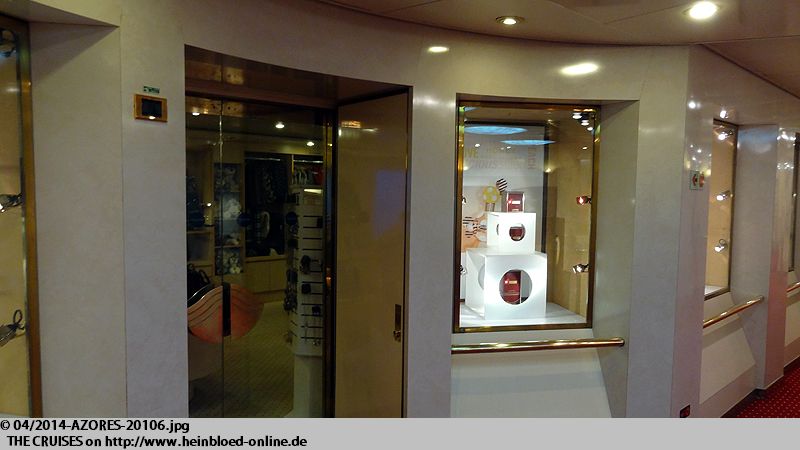 Diese Auflage war wohl dem Zoll in Bremerhaven nicht bekannt. Bei der "Ausreise" aus dem Hafen wurden wir gefragt, ob wir Alkohol oder Zigaretten mit hätten, als wir erklären, dass wir von der AZORES kommen.
Im Casino gibt es einen Wechselautomaten.

In the casino they had a machine to change money.

So you could join playing with the slot machines.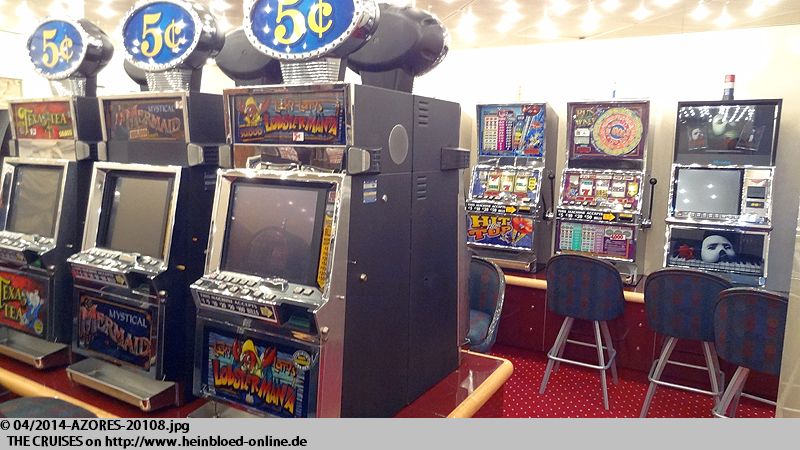 Damit man bei den einarmigen Banditen mitmachen kann.
Ein Mini-Casino, das leider auch nicht für einen Null-Einsatz in Betrieb genommen werden darf. Herr Schmidt hätte uns gerne gezeigt, dass man auch mit Mini-Einsätzen Spaß haben kann und neue Kunden damit gewinnen kann. Die Einsätze sind sehr limitiert und nicht so wie in den Casinos großer amerikanischer Schiffe.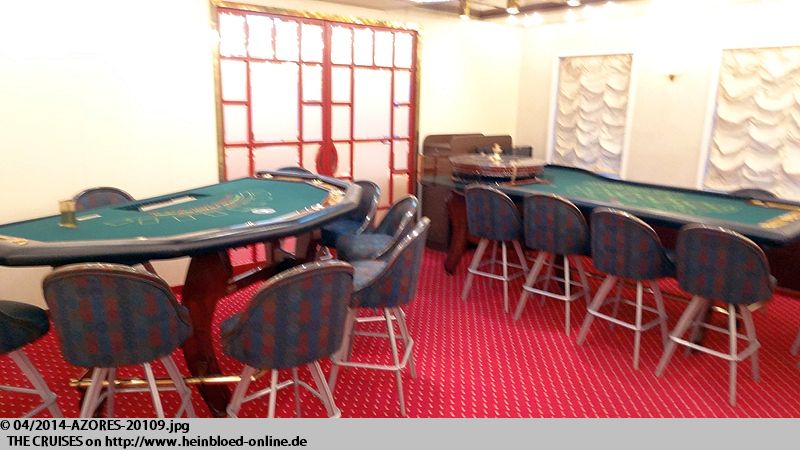 A mini-casino which was not even allow to operate with zero-odds. Mr Schmidt would really love to show us how you could have fun with a minimum of odds and how to get new clients. The odds were limited and not like the big casino ships from the US.

Here you find the board-team of Ambiente Cruises. The Cruise Director on German speaking ships like here on AZORES was more or less the highest representative of the tour operator. And so he was in charge for every request. With the other big cruise lines it is normally the head of entertainment and normally under the supervision of the Hotel Director.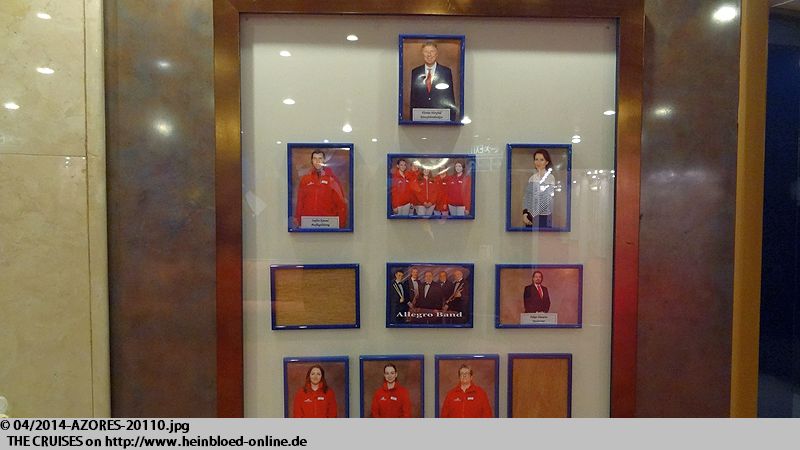 Hier ist das Bord-Team von Ambiente Kreuzfahrten. Der Kreuzfahrtdirektor auf diesen deutschsprachigen Schiffen wie hier auf der AZORES ist schon fast der oberste Reiseleiter, weil er der höchste Repräsentant des Veranstalters ist. Und somit Mädchen für alles. Während eben bei den großen Gesellschaften er der Leiter des Entertainments ist und im Normalfall dem Hoteldirektor unterstellt.
Da weder die AZORES noch die ATHENA im Douglas Ward 2014 stehen, habe ich das Buch zu Hause gelassen... Wir haben leider die Offiziere nicht kennengelernt, weil wir den Willkommenscocktail verpasst haben. Es war ja so stressig... Ohne meine Sekretärin kann ich kaum so einen Abend organisieren, die mich an meine Termine erinnert...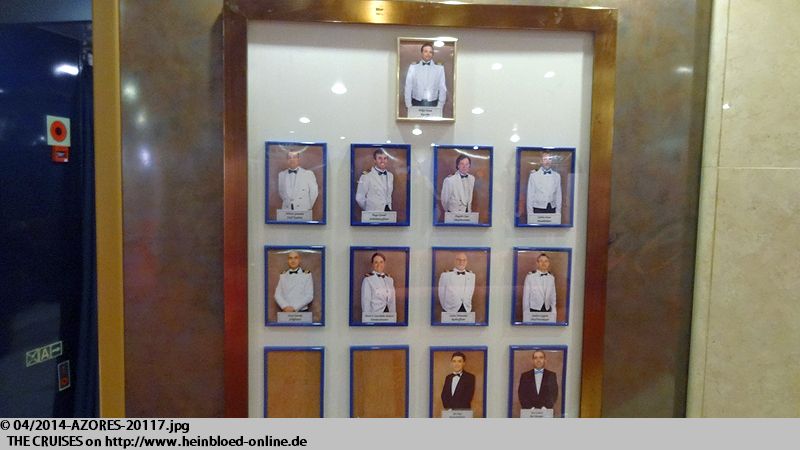 As neither AZORES nor ATHENA is listed in Douglas Ward 2014 I left the book at home... We had no chance to meet the offers as we missed the welcome cocktail. It was so much stress... Without my secretary I could not have an evening organised if none reminded for my events....

They had a small self-service library.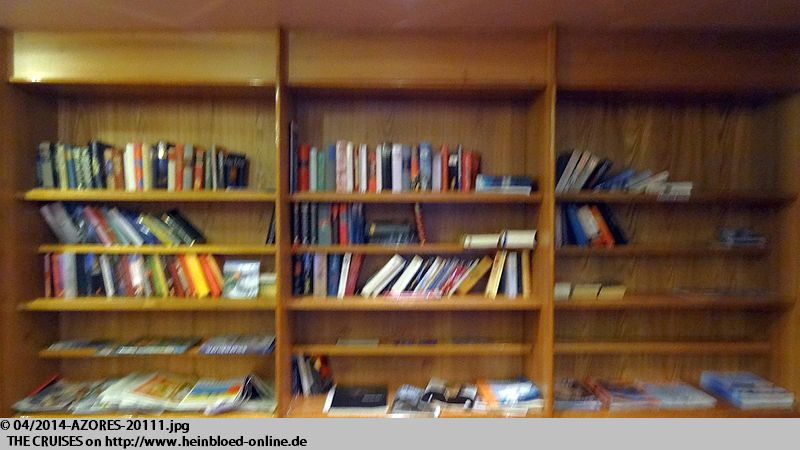 Es gibt eine kleine SB-Bibliothek.
Eine kleine Internet-Ecke. Wie gesagt: genutzt haben wir es nicht.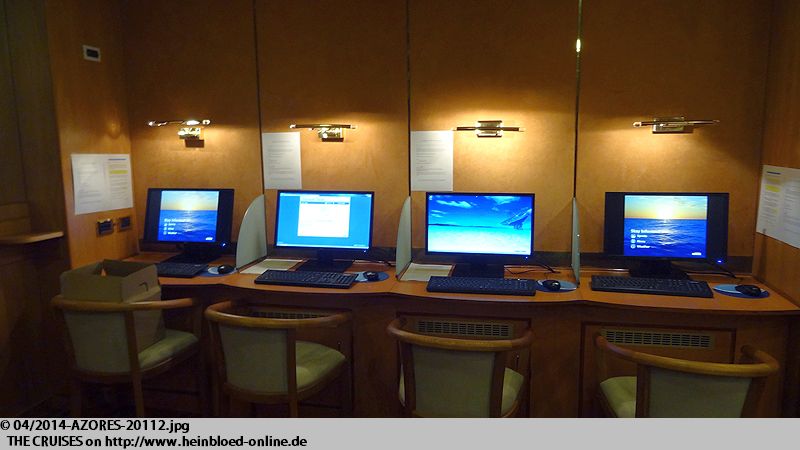 A small internet-corner. But as said before: we did not use it.

I checked all the plaques from the ports and agents.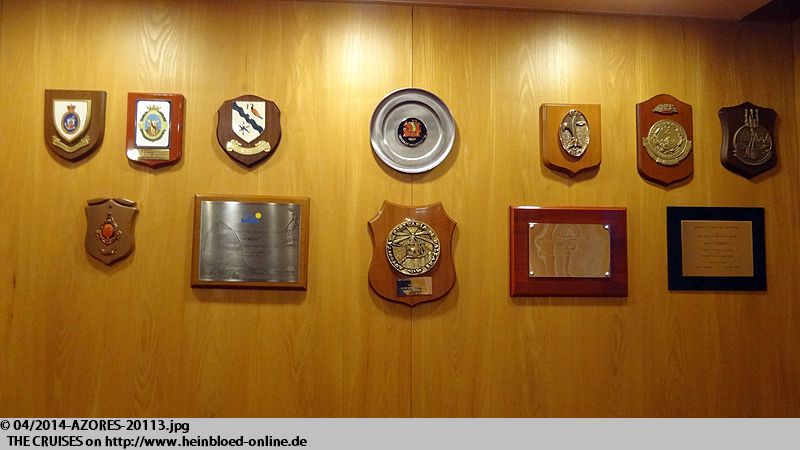 Ich habe mir die ganzen Hafen- und Agenten Plaketten angesehen.
Für ein Schiff mit Historie ab 1948 irgendwie weniger als ich erwartet hätte.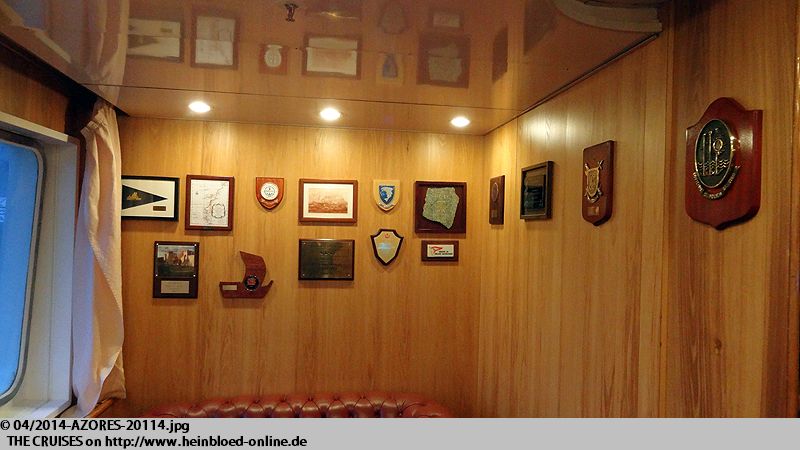 For a ship with a history since 1948 it was less than I would expected.

As I found out later: only from ATHENA and thereafter...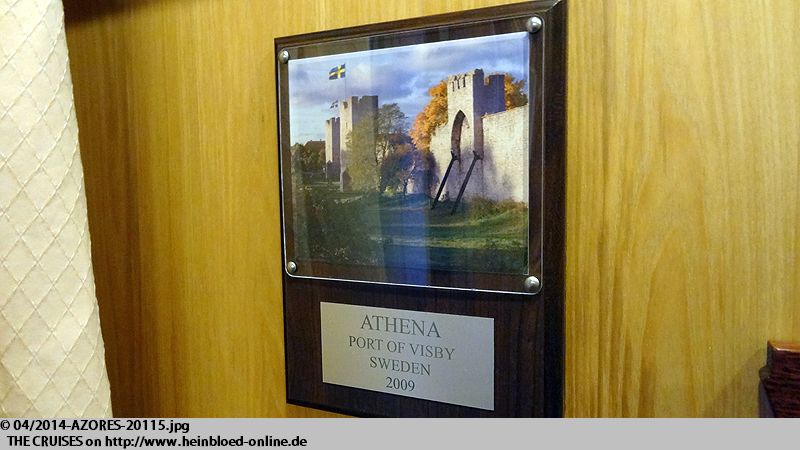 Wie ich dann feststelle: nur leider nur von der ATHENA und danach...
Besonderen Wert legt man auf das Angebot des Captain's Clubs.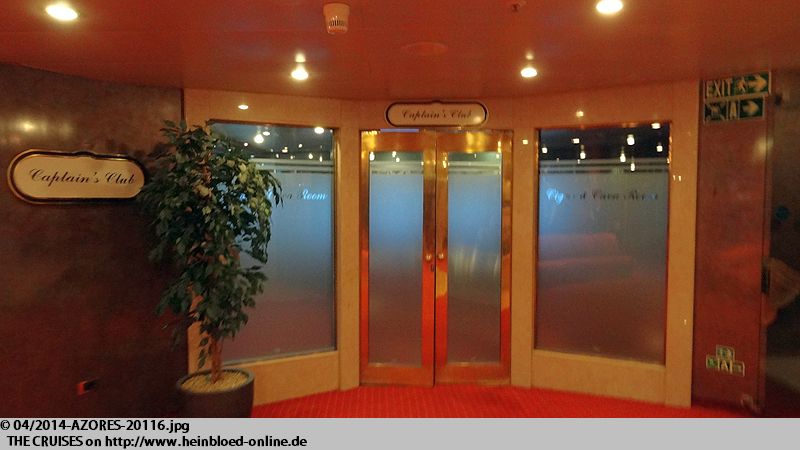 Especially they attracted our attention to their offer in the Captain's Club.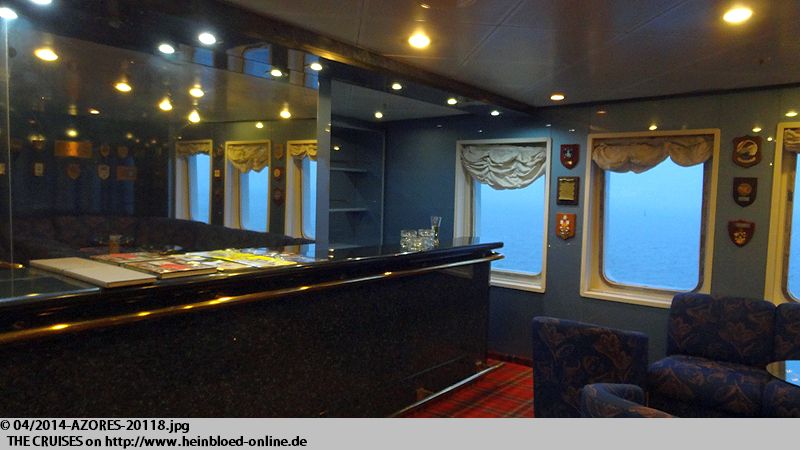 Ein echt-schöner Rückzugsort für Raucher mit Getränkeservice, Verkauf von Tabakwaren und Meeresblick. D. h. auch ein Raucher kann bei kaltem Regen gemütlich drinnen in einen Norwegischen Fjord reinfahren und gucken und rauchen. Bei den Amerikanern müssten sie draußen in der Kälte stehen oder stattdessen die einarmigen Banditen in den Casinos sich ansehen...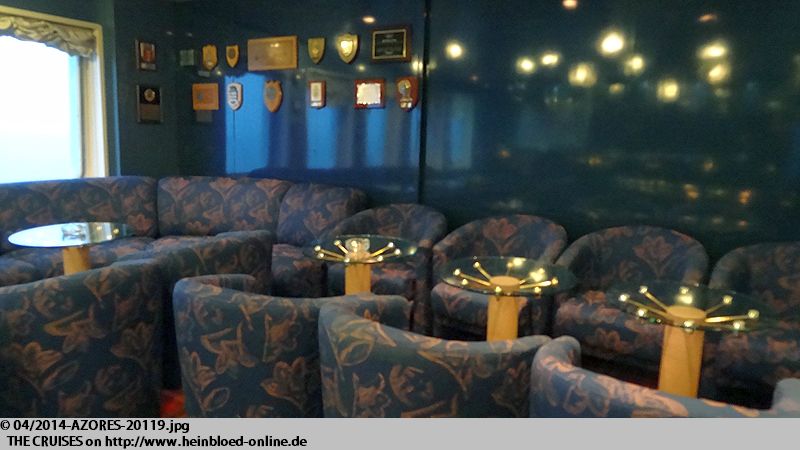 A real nice tusculum for smokers with bar service, sales of tobacco products and a seaview. I. e. smokers could sit inside and enjoy the view of the Norwegian Fjords when it was raining cold outside and smoke. With the American ships you need to stay outside in the cold or see the slot machines in the casinos.

In the show lounge they aired the events also into the corners without a direct view on the stage. That was pure perfectionism!!!

In der Showlounge wird die Veranstaltung auch die Ecken übertragen, die keinen direkten Blick auf die Bühne haben. Das ist ja schon Perfektionismus pur!!!
Unser "Fluchtweg".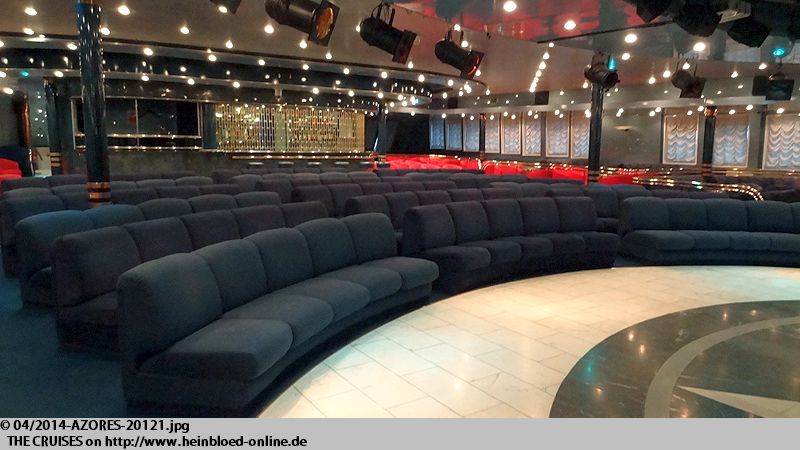 Our "escape lane".
It was very practical if the bar steward could walk between the seats and must not walk in the rows during the show. How much did I hate the Jewel-Class of NCL where they installed all rows to the wall that you cannot get out. Here someone was thinking very well for the practical use of the cruisers.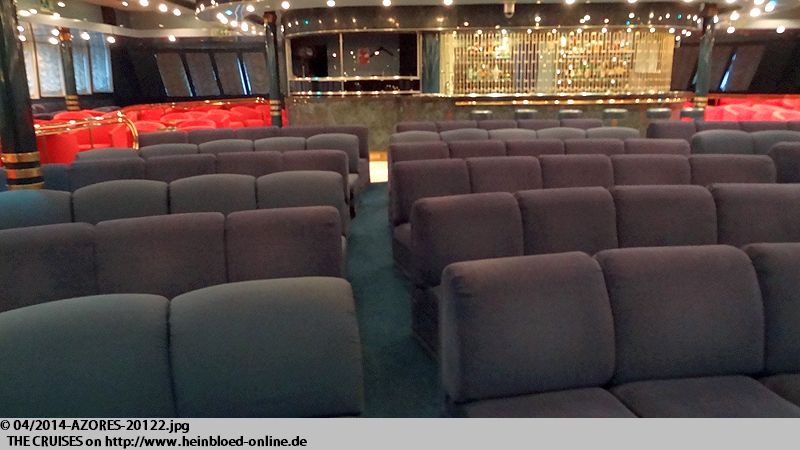 Es ist einfach praktisch, wenn auch der Getränkesteward hier zwischen laufen kann und nicht immer durch die Reihen während einer Show rennen muss. Wie sehr hasse ich bespielsweise die Jewel-Class von NCL, wo sie die Sitzreihen bis zur Wand durchgebaut haben und man dann nicht rauskommt. Hier hat einfach mal jemand im Sinne der Kreuzfahrer gut mitgedacht.
Eine Kapelle.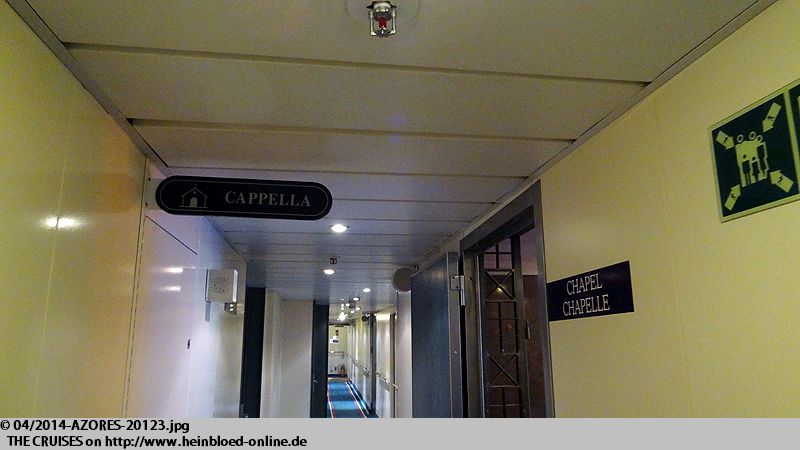 A chapel.

Small but fine.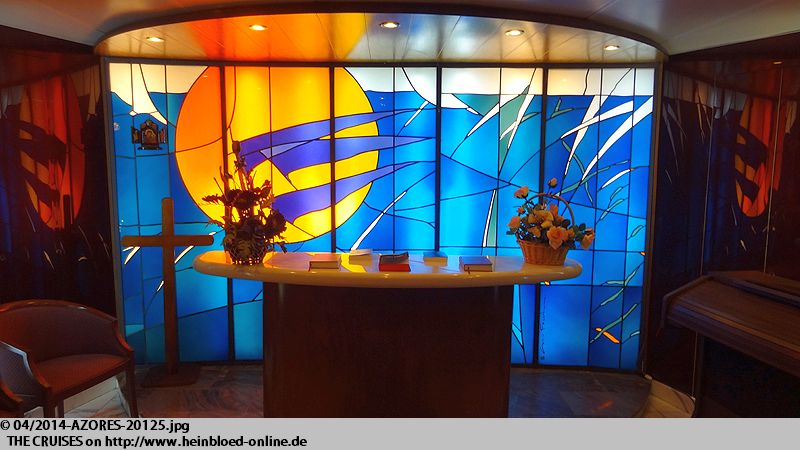 Klein aber fein.
Wir müssen irgendwann mal rausbekommen, ob portugiesische Kapitäne trauen dürfen...

We need to find out one day if Portuguese Captains are authorized to wed someone...

Unfortunately Dutch Captains are not allowed to do so on HAL.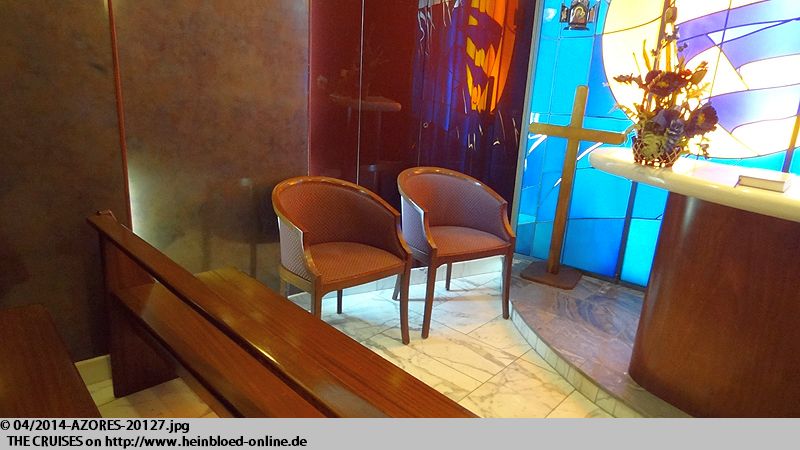 Leider dürfen die niederländischen Kapitäne bei HAL nicht trauen.
Mittlerweile wird es hell und ich nehme noch ein paar Eindrücke von draußen mit und muss sagen, dass das Schiff äußerst charmant ist.

Meanwhile it became bright and I took some impressions from outside and need to say that the ship was very charming.

I went quickly off the ship. Yet you were still walking on the lower bridge ashore.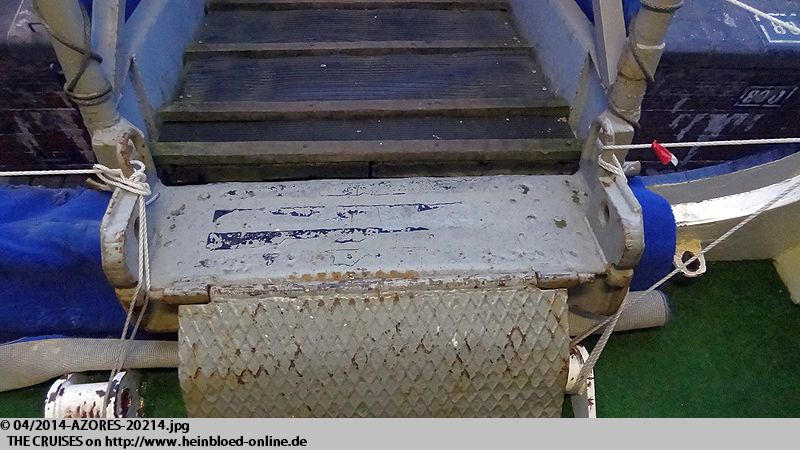 Ich gehe noch kurz von Bord. Noch läuft man direkt über die untere Brücke an Land.
So kann ich ein paar Bilder vom Schiff machen.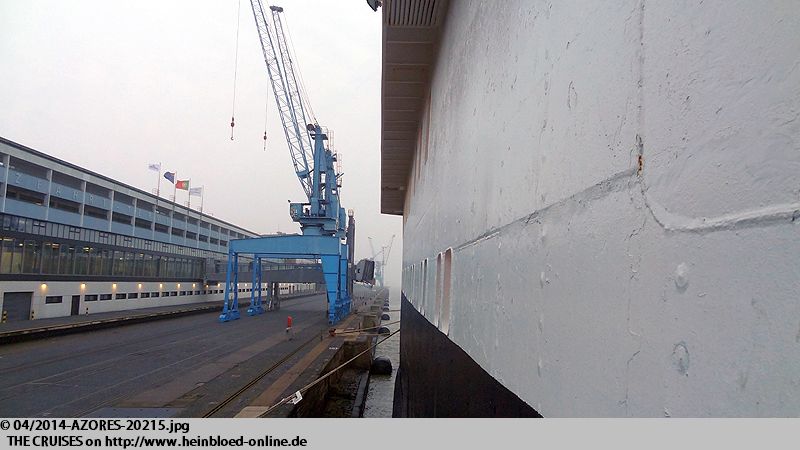 So I could take some pictures of the ship.

Soon they would connect the ship with the upper bridge so you have no more access to the pier. Due to security reasons they did not allow me to see the terrace so early. I was under special observation. They really could read my mind that I was trying to find a way to get under the bridge and so they asked me to return to the ship. Maybe I should ask Bruno to wake up two hours earlier so we could go to Nordenham to take pictures of the ship from there... but the cloudy condition was not good enough to allow good pictures taken from the adjustant banks of the river Weser.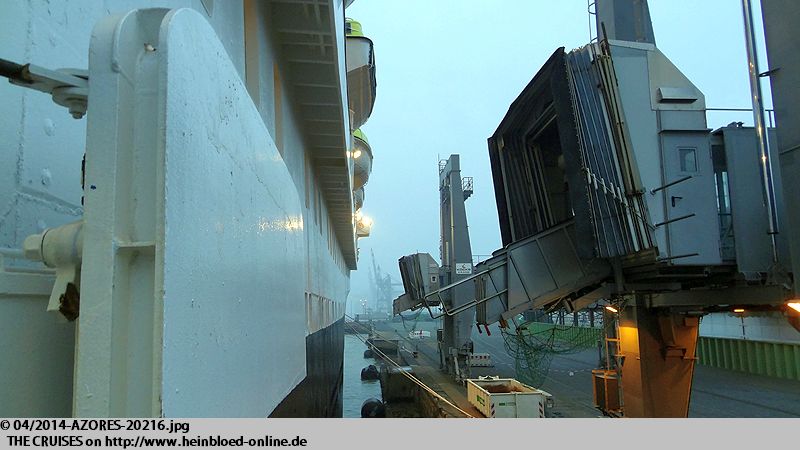 In Kürze soll die obere Brücke wieder ausgefahren werden und dann ist wieder kein Zugang zum Pier möglich. Auf die Terasse will mich der Sicherheitsdienst noch nicht lassen. Ich werde intensiv beobachtet. Meinen Gedanken unter der unteren Brücke nach vorne zu kriechen wird leider erraten und ich werde gebeten wieder an Bord zu gehen. Vielleicht sollte ich Bruno zwei Stunden früher aus dem Bett werfen, damit wir rüber nach Nordenham fahren können, um von dort aus zu fotografieren... aber leider lässt die Bewölkung kaum gut, dass gute Bilder von der anderen Weserseite aufgenommen werden können.
So gibt es noch ein paar Aufnahmen vom Pier und später nochmals von der Terrasse, die wir nochmals besuchen, nachdem wir das Schiff verlassen haben. Man achte auf die Deutschland-Flagge und die Balkone der Balkonsuiten. Später ist auch wieder eine Brücke angelegt, die direkt auf die 1. Etage des Cruise-Terminals führt.

So you have few more pictures from the pier and later from the terrace which we could see after we left the ship. Check the flag of Germany and the balconies of the balcony suites. Later they had the upper bridge again attached directly to the 1st floor of the cruise terminal.