Scroll down for English explanations - alternates with German explanations.

Alles neu... schade, dass die griechischen Deck-Bezeichnungen weg sind.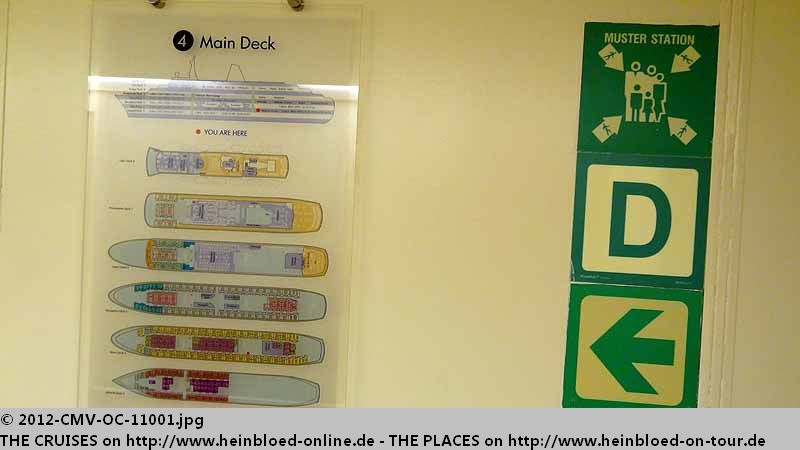 Everything new... so sory that the old Greek names of the decks disappeared.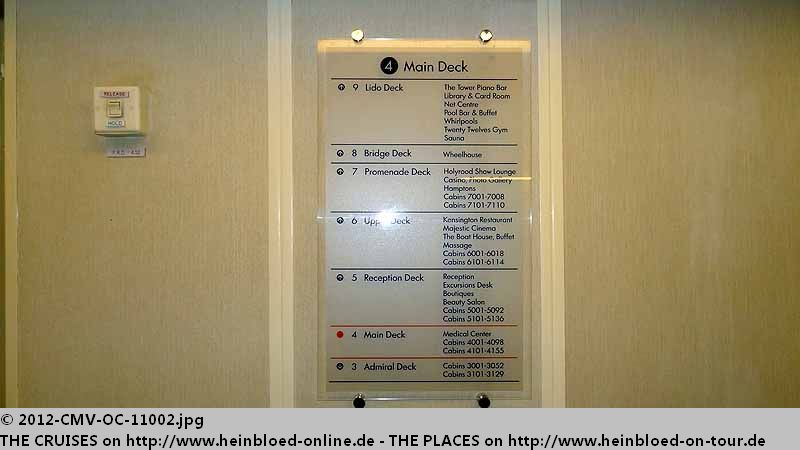 Das Kino gibt es immer noch...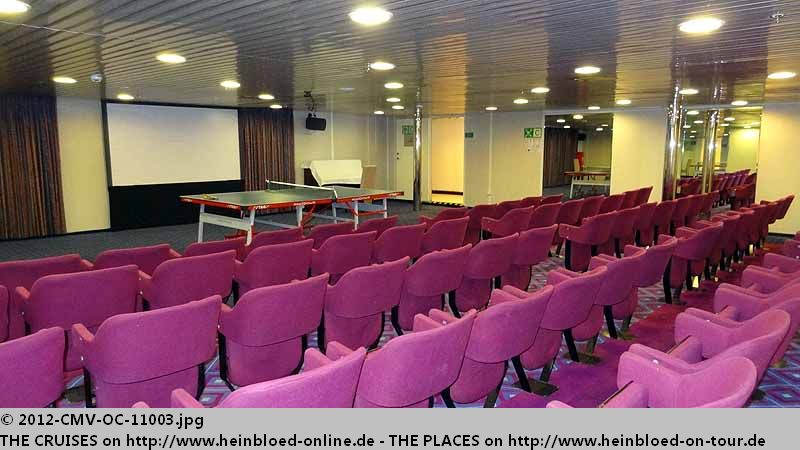 They still had the movie theater.

But it was table tennis room too...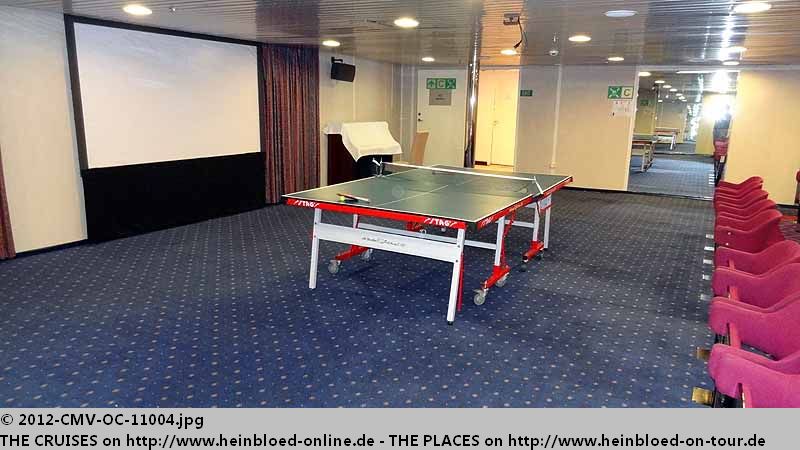 Und gleichzeitig Tischtennis-Raum...
Unser damaliges Hauptrestaurant Horizont. Sofort sehe ich, dass neue Stühle spendiert wurden.

Our former MDR Horizon. I saw immediately that they had new chairs.

Memories came back... Yeah... here was the breakfast buffet...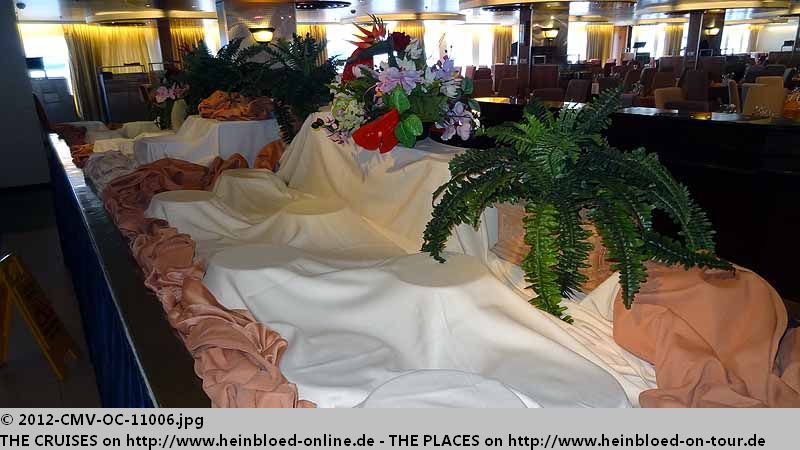 Da kommen Erinnerungen hoch... Stimmt... es gab ja immer Frühstücksbüffet...
Keine Spuren mehr von der LILI MARLEEN oder OCEAN COUNTESS, als sie noch griechisch war...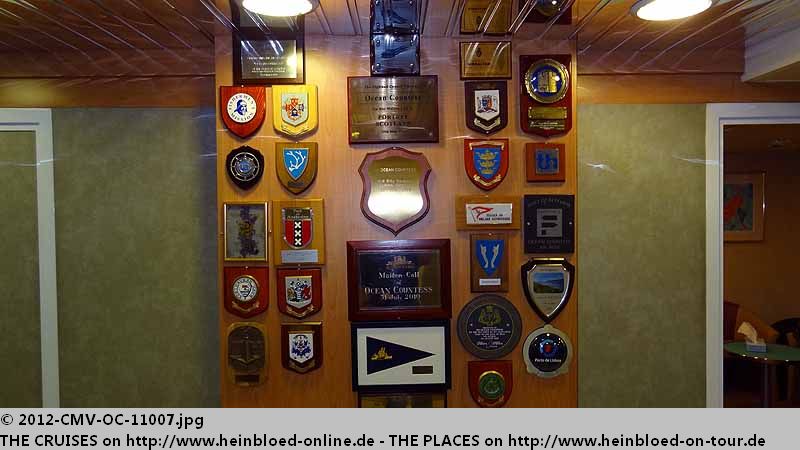 No more traces from her era as LILI MARLEEN or Greek OCEAN COUNTESS...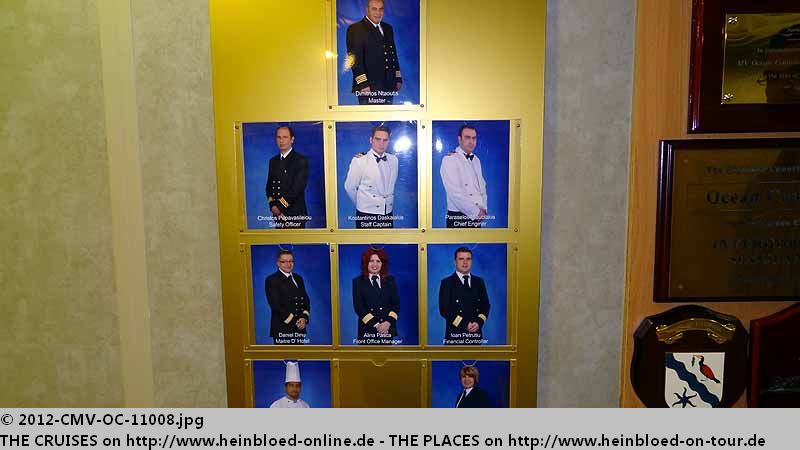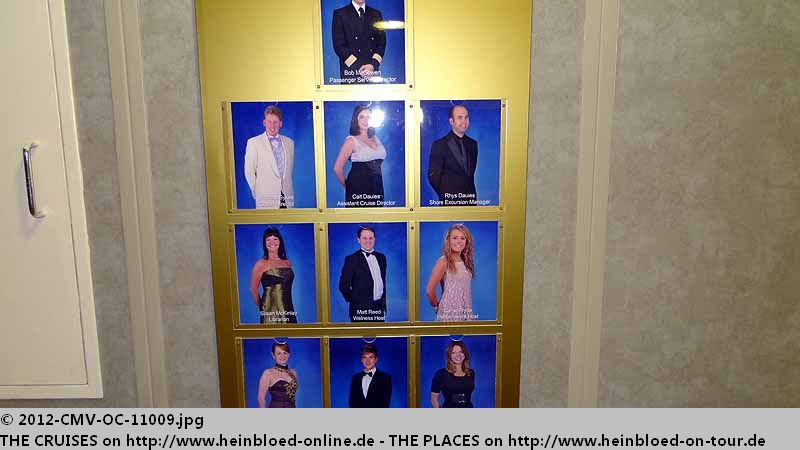 Our Captain on LILI MARLEEN was much more younger... but still Greek Ship's management.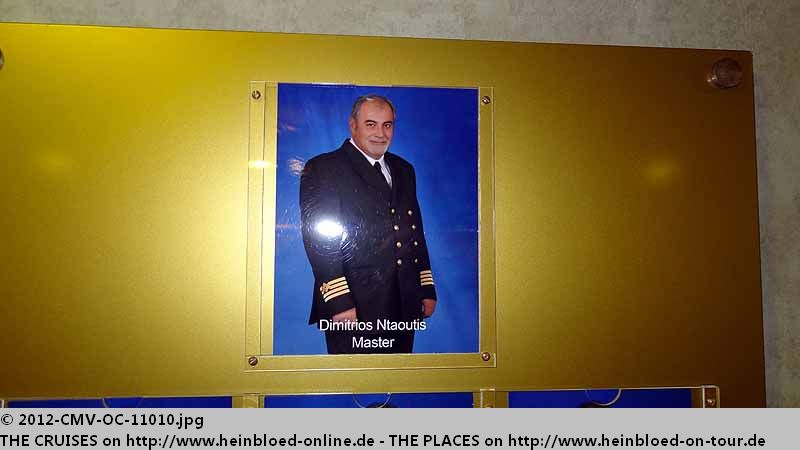 Unser Kapitän auf der LILI MARLEEN war damals jünger... aber immer noch griechische Schiffsführung.
Ein ganz kurzer Blick in den damaligen Sirenen Musiksalon: Immer noch die gleichen Sessel.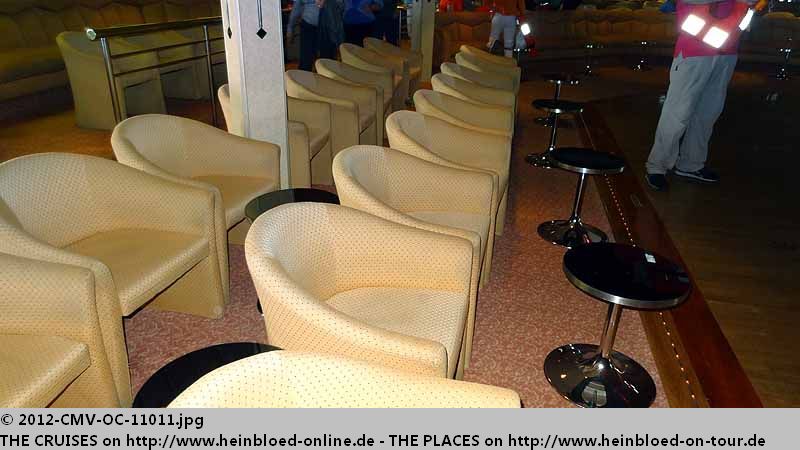 We had a sneak view to the former Sirenes Music Lounge: Still the same arm chairs.

And still the same Cunard paintings.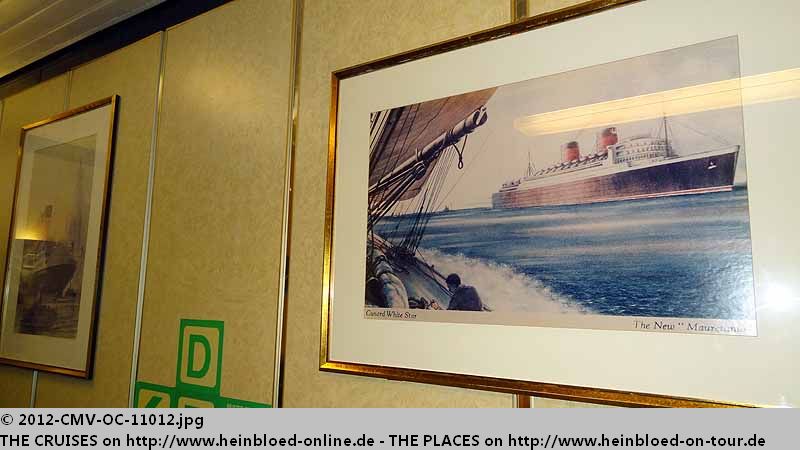 Und immer noch die Cunard Bilder...
Ich glaube kaum meinen Augen...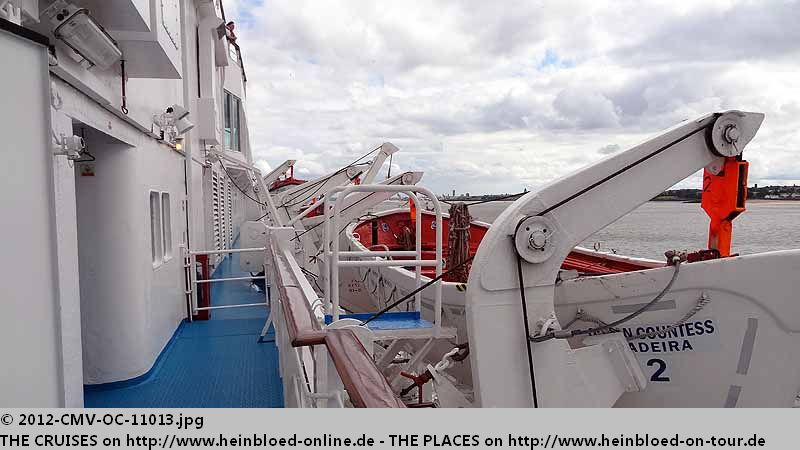 I could not belive what I saw...

I could not remember the life boats und today I definately do not want to be rescued in such a boat... Do we need to row ourselves?

An die Rettungsboote kann ich mich kaum erinnern und ich würde wohl heute auch nicht mehr mit solchen Rettungsbooten mehr gerettet werden wollen... Müssten wir da mitrudern?
Da hinten bei den Schrottplätzen müsste irgendwo Bootle sein, wo sich das andere Cruise Terminal befindet.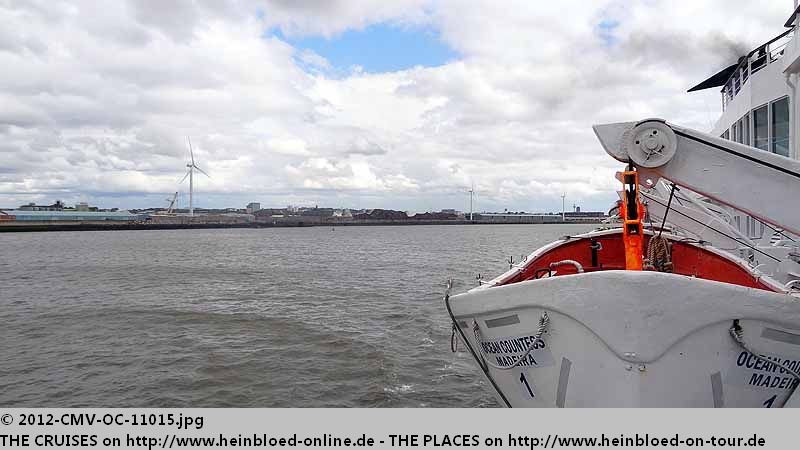 Somewhere there was the lock to Bootle. The old Cruise Terminal. But Fred Olsen suspended the operation of turnarounds in Liverpool because the had problems to get out the locks.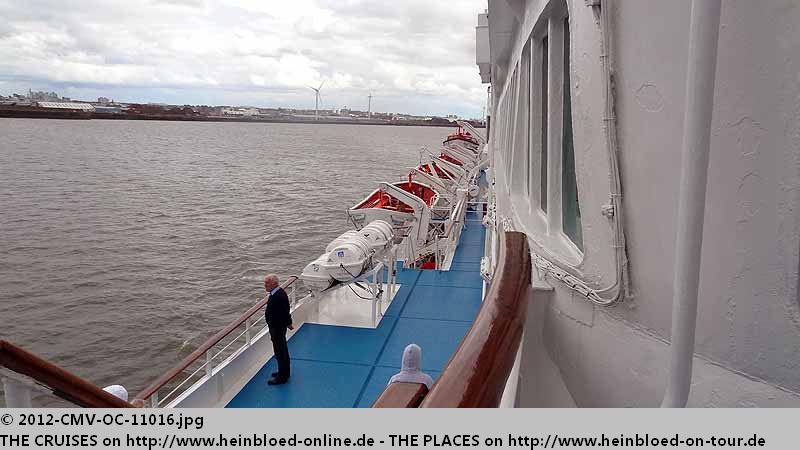 Da ist irgendwo die Schleuse nach Bootle. Zum alten Cruise Terminal. Aber Fred Olsen hatte ja zuvor den Fahrgastwechsel in Liverpool eingestellt, weil die ja auch schon mal geschafft, nicht wieder hinter der Schleuse rauszukommen...
Oh Mann...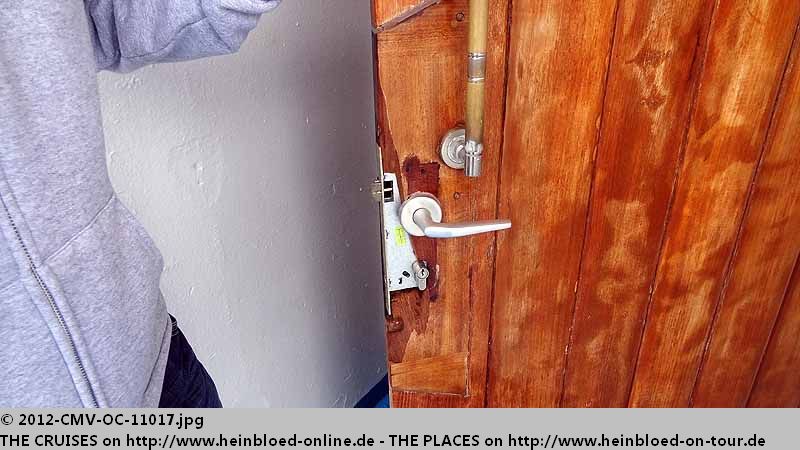 Oh my goodness...

I remember now that I wanted to steal the posters of the Olympic Games...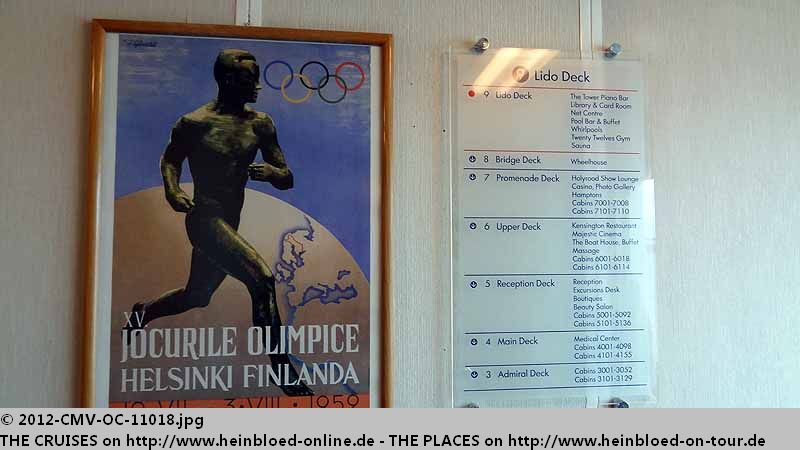 Stimmt die Plakate von den Olympischen Spielen wollte ich damals schon klauen...
Internet war damals kein Thema an Bord.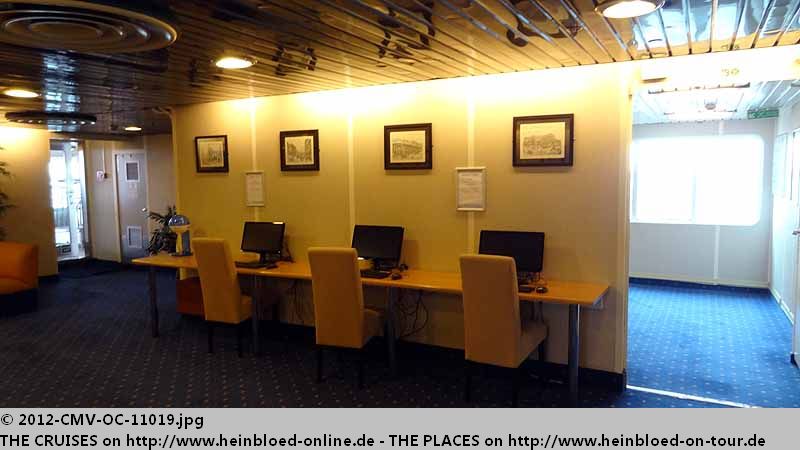 Internet was no subject on board.

As they were in duplicate I always wanted to steal one of the two posters of the Olympic Games in Athens...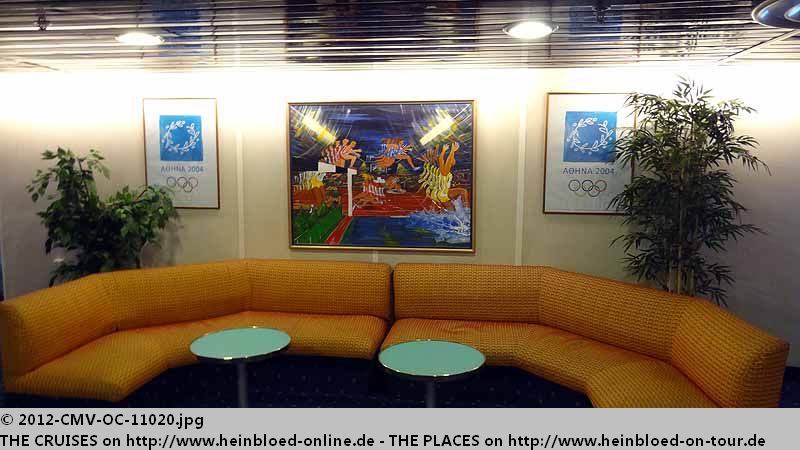 Die Plakate von den Olympischen Spielen in Athen wollte ich auf jeden Fall klauen, weil sie ja doppelt waren...
Wir gehen in die alte Piano Bar. Dort waren wir ja nie, weil hier die Fußballspiele der WM 2006 in Deutschland übertragen wurden. Hier herrscht Chaos: Ein Bartender und 4 Kellner. Mir tat der Bartender leid. Trotzdem hat er uns irgendwann zwischendurch bedient. Es war Chaos pur. Aber das Schiff ist nun mal nicht für Kaltwasser-Kreuzfahrten gebaut worden. Sondern für den Einsatz in der Karibik...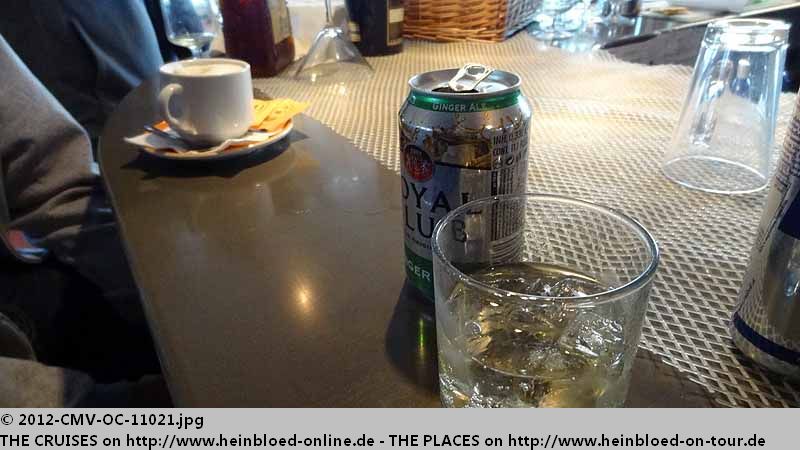 We went to the former Piano Bar. We have never been there as they broadcasted the soccer games during the 2006 World Cup in Germany. But now it was chaos: One bartender and four waiters. I felt sorry for the bartender. Even though he asked us for our orders. It was pure chaos. But the ship was never constructed for Coldwater-cruises but for the use in the Caribbeans...

To visit the outside fascilities it was raining too much.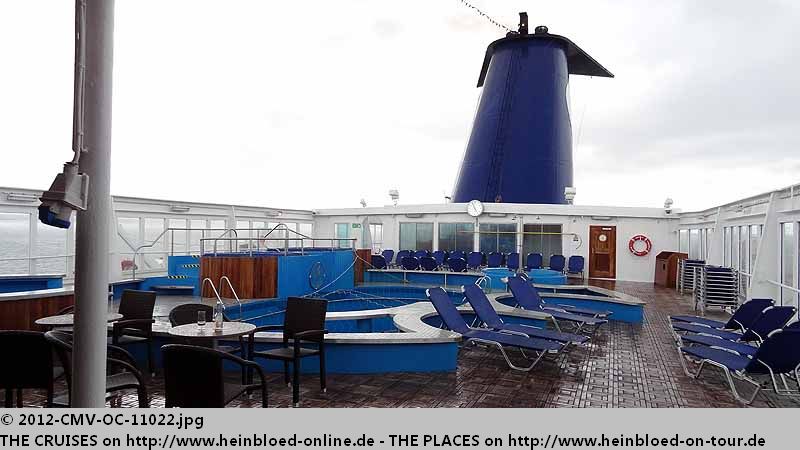 Für eine Besichtigung draußen regnete es zu stark.
Die Leute hier arbeiten nicht an den Terminals, sondern suchten nur einen Platz zum Sitzen im Innern.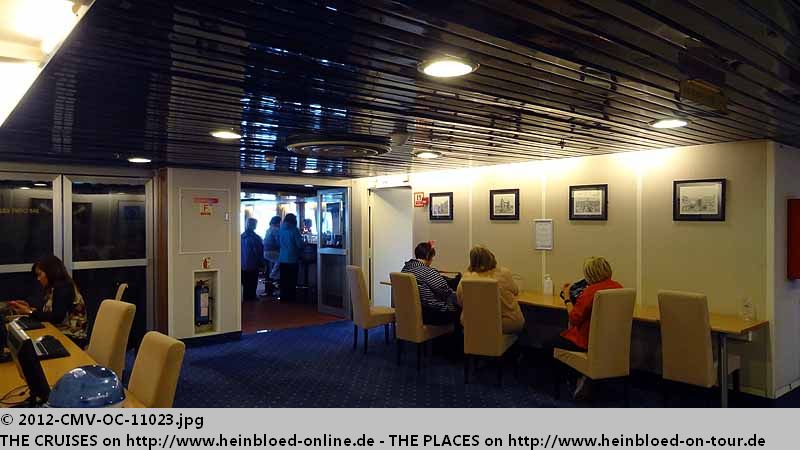 The guests here did not use the internet terminals - they only looked for a dry place to sit inside.

No automatic system to log-in - you need to buy a pass at the front desk first.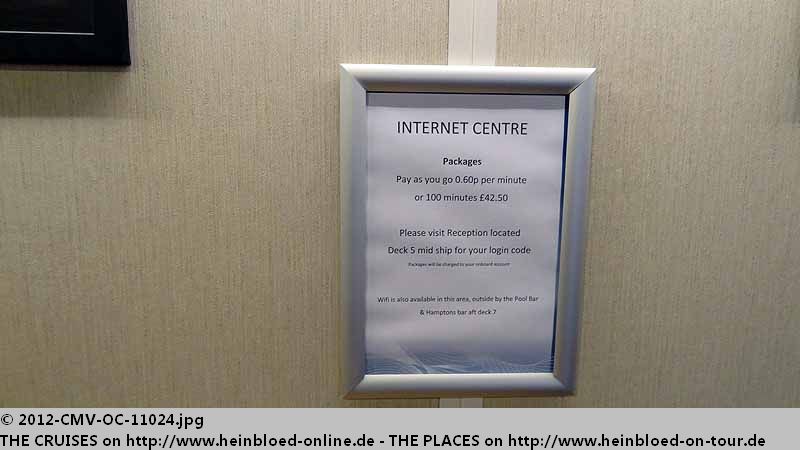 Kein automatisches System zum Einloggen, sondern man kauft vorher an der Rezeption einen Zugang.
Hier sitzt keiner... die hatten den Sirenen Musiksalon so stark runtergekühlt, dass nur ein Pinguin und ein Eskimo sich hier wohlgefühlt hätten...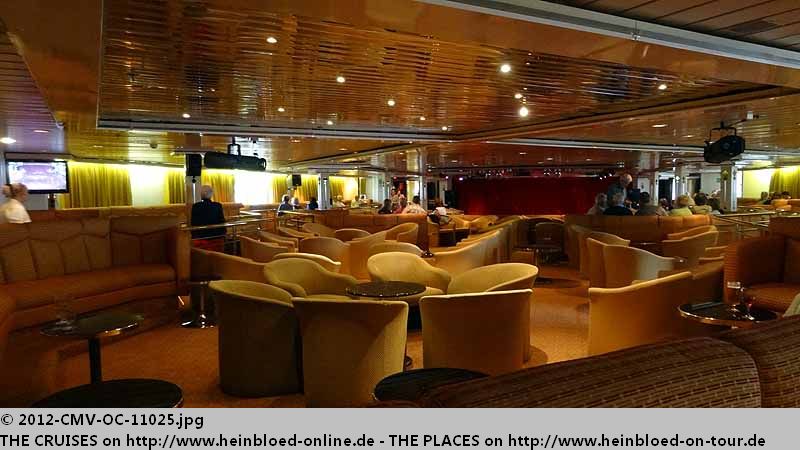 None was sitting here... they cooled down the Sirens Music Lounge so only a penguin or an escimo would feel comfortable to stay there...

Nothing has changed in the public toilets. Still looked very Greek.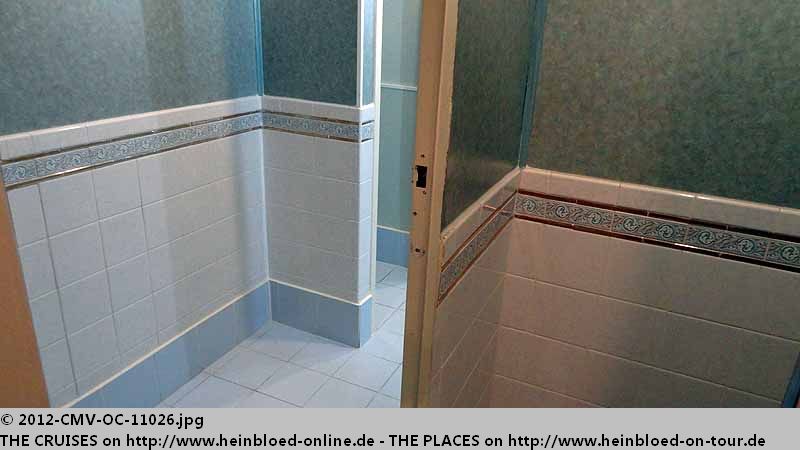 In den öffentlichen Toiletten hatte sich auch nichts geändert. Das sieht immer noch sehr griechisch aus.
Die Deckenlampe im Rezeptionsbereich wurde gleichzeitig als Glockenspiel genutzt. Die Vibrationen des Schiffes waren so stark, dass die Glaselemente der Lampe sich gegenseitig zum Klingen brachten...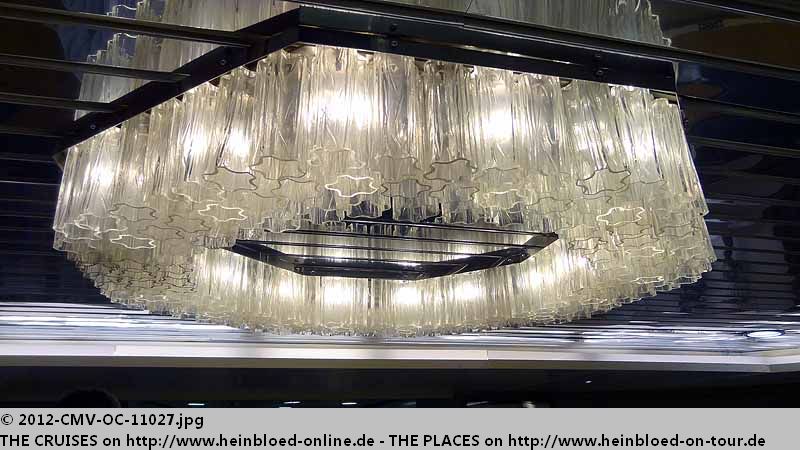 The lamps at the ceiling in the front desk area was also used as an attraction: a bell play. The vibration of the ship were so strong that the single glass elements of the lamp swing to each other and made the sound of the bells.

The housekeeping kept their records in the public... I never saw this on another ship before.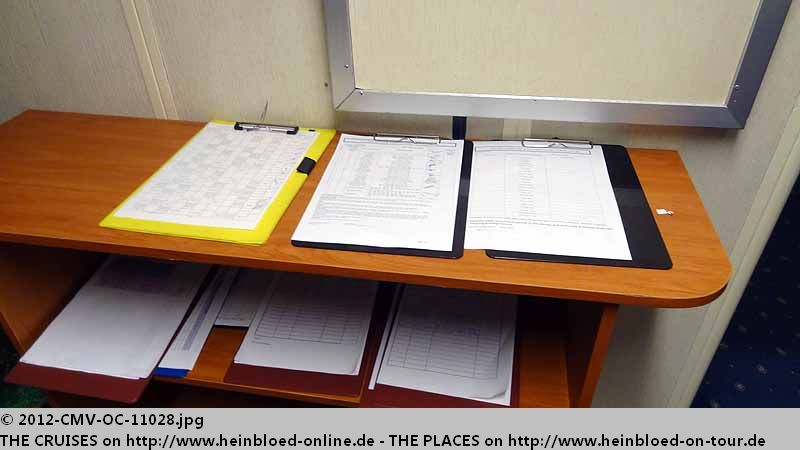 Das Hauskeeping führte seine Listen immer öffentlich... Habe ich bislang noch auf keinem anderen Schiff gesehen.
Carmen und ihr Begleiter aus Moldawien, spielte sehr schön. Leider sprach sie kaum Englisch. Meinen Wunsch "Kanon und Gigue" von Pachebel zu spielen, konnte sie leider nicht erfüllen, weil ihr Begleiter leider keine Noten dafür hatte. Schade. War ansonsten wirklich sehr anspruchsvoll.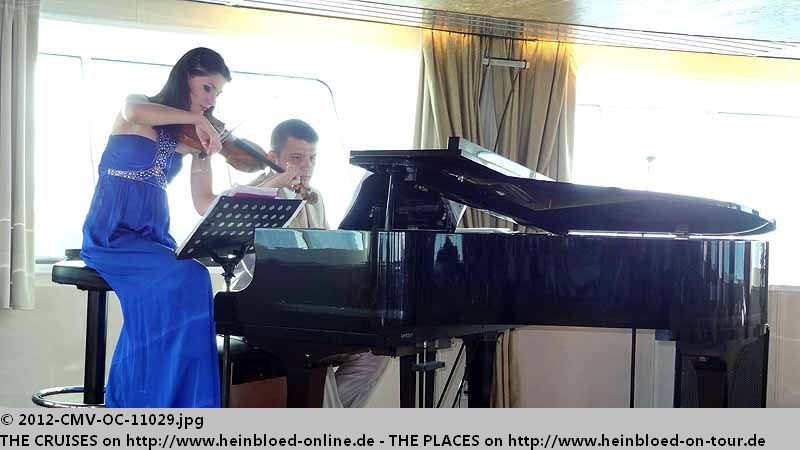 Carmen and her pianist from Moldavia played very nice. But she could not speak any English. So she could not answer to my request to play "Canon and Gigue" by Pachebel because her pianist had no sheet. So sorry. It was really high level entertainment.

I could not remember any knights onboard. The library seemed to be moved here. She was before down and seperated on the old deck plans.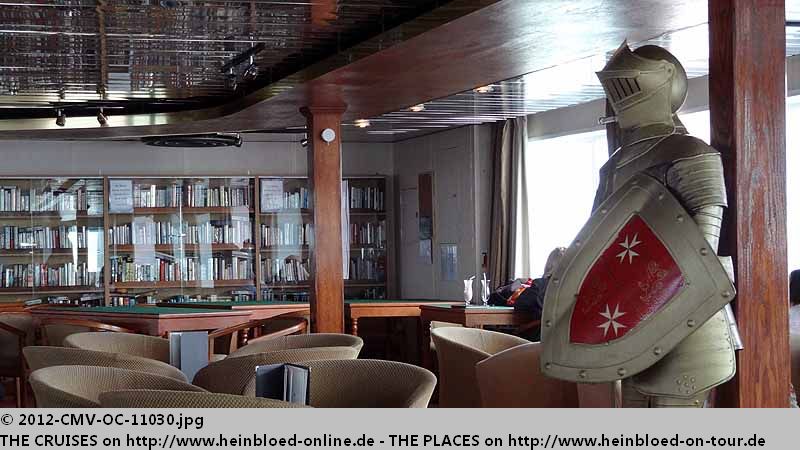 An die Ritter kann ich mich nicht erinnern. Die Bibliothek scheint hier mit eingezogen zu sein. Die wurde früher unten ausgewiesen auf dem alten Deckplan.
Bitburger...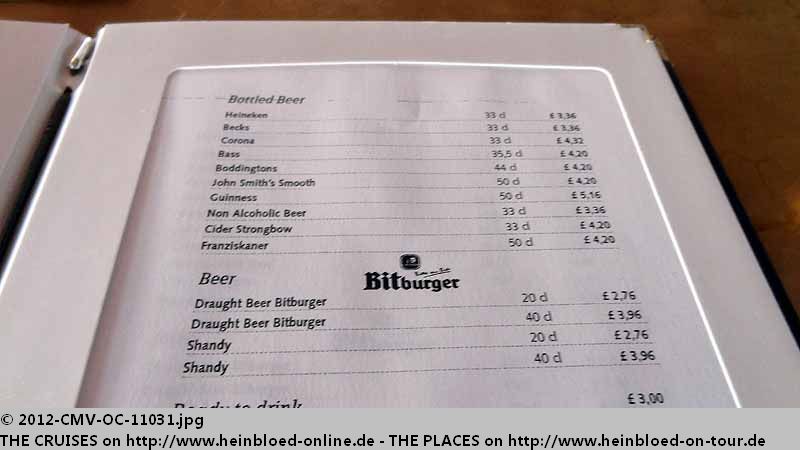 Bitburger...

The cocktails were quite cheap.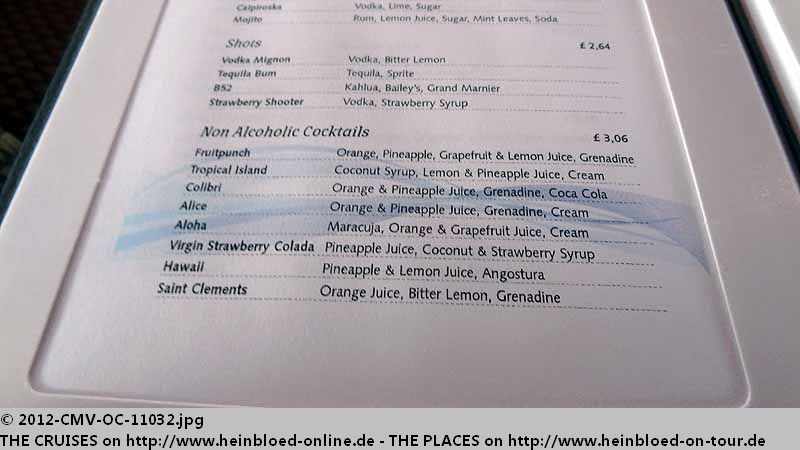 Die Cocktails fand ich günstig.
Bruno wollte wieder Bombay Sapphire Gin mit Tonic. Der zählte zu den Premium Cocktails und war damit teurer.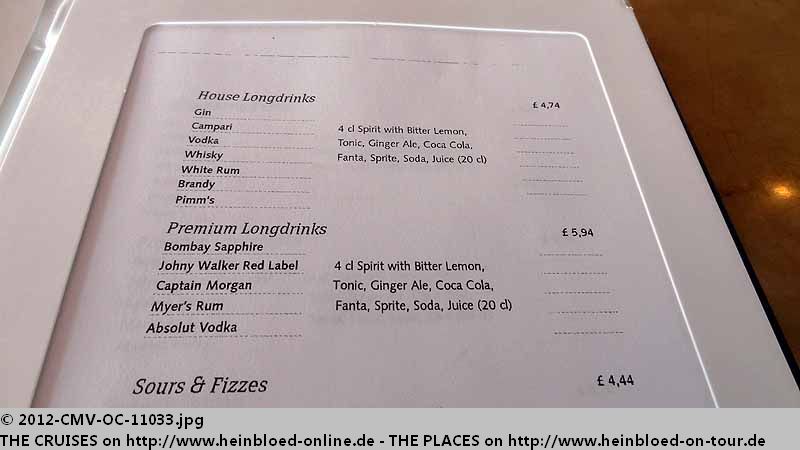 Bruno wanted to have again a Bombay Sapphire Gin Tonic. It was a Premium cocktail and a little more expensive.

But if you order your Gin it does not matter which brand: all same price.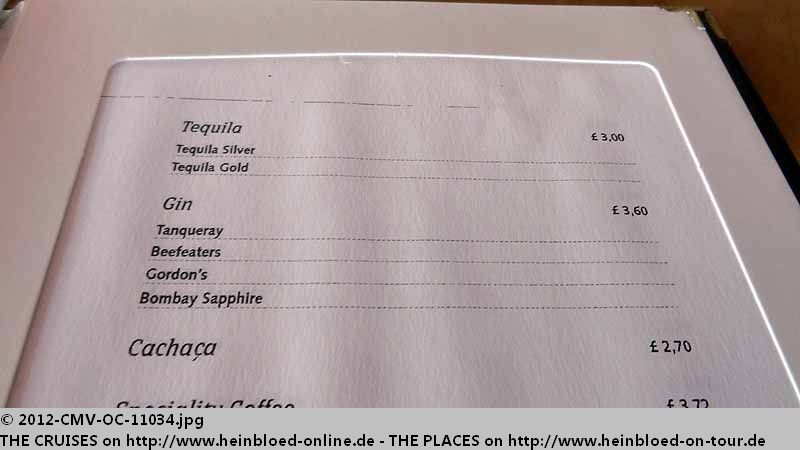 Nur wenn man den Gin ohne Tonic bestellt, spielte die Marke keine Rolle: immer der gleiche Preis.
Die alkoholfreien Getränke fand ich verhältnismäßig teuer. Da bin ich mit meinem Soda-Pass auf US-Schiffen besser aufgehoben.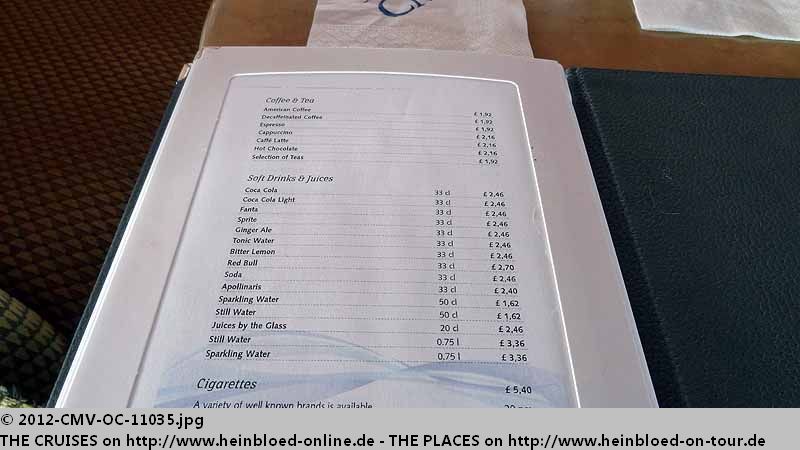 Compared to the US ships the sodas were quite expensive especially with a use of a soda pass.

So I ordered a non-alcohol cocktail...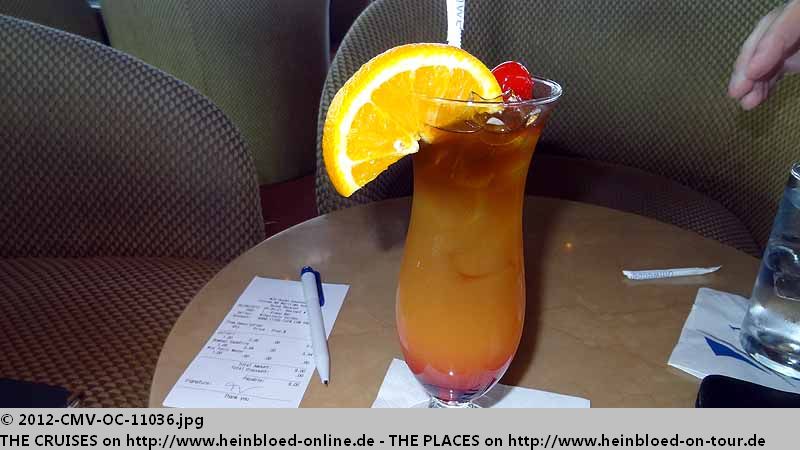 So gönne ich mir einen alkolholfreien Cocktail...
und bin überrascht, dass ich einen LILI MARLEEN-Kugelschreiber bekomme, der natürlich sofort einkassiert wird.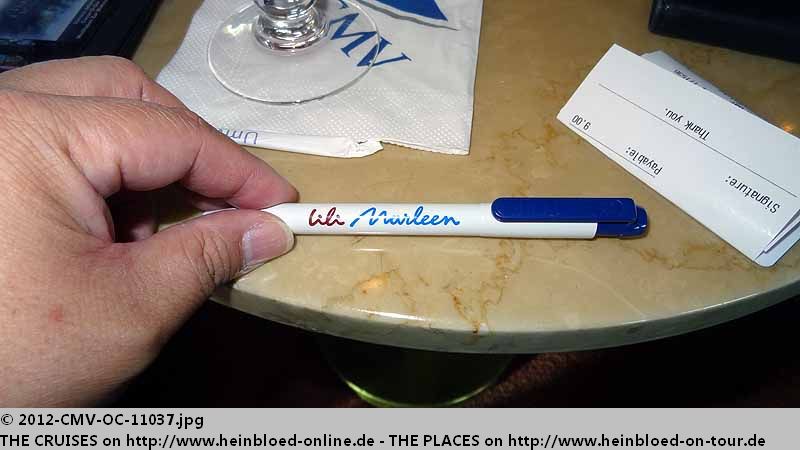 ... and I was so surprised to get a LILI MARLEEN ball pen that I need to keep immediately.

Oh - how much I missed Lale Andersen on the roof (When she was LILI MARLEEN the singer of the song was painted on the roof).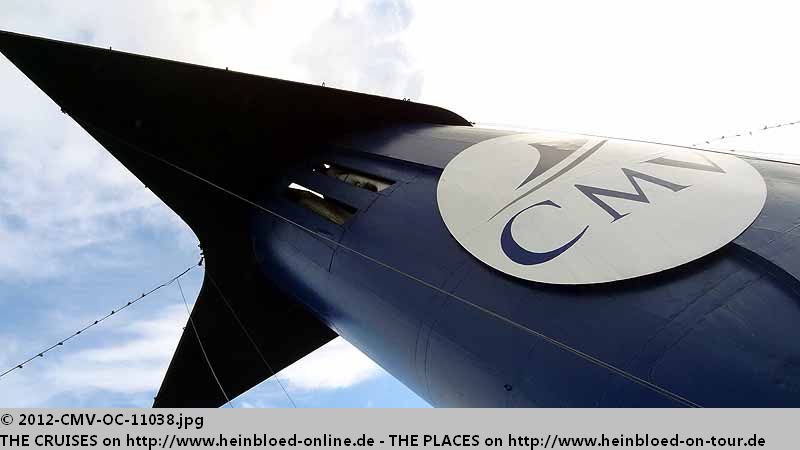 Oh wie vermisse ich Lale Andersen hier auf dem Schornstein.
Wie sagte damals Andrej so schön: so schöne Freiflächen... nur nützen sie eben bei schlechtem Wetter nichts...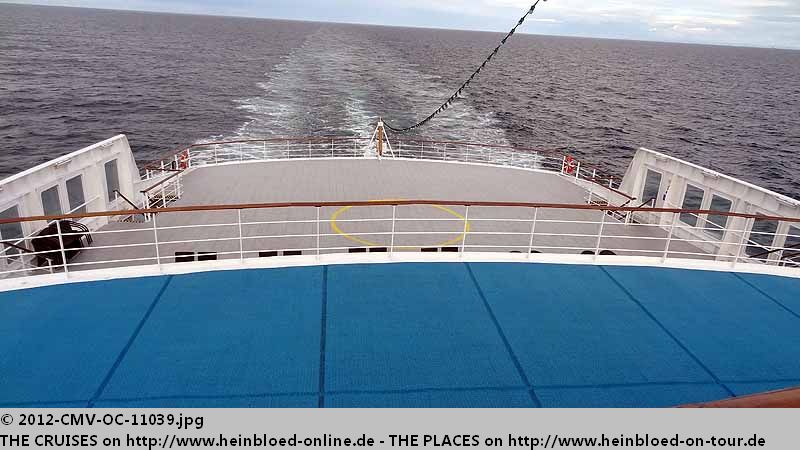 Our first cruise director Andrej said: we have so many open deck space... but when you have bad weather like now you have no use.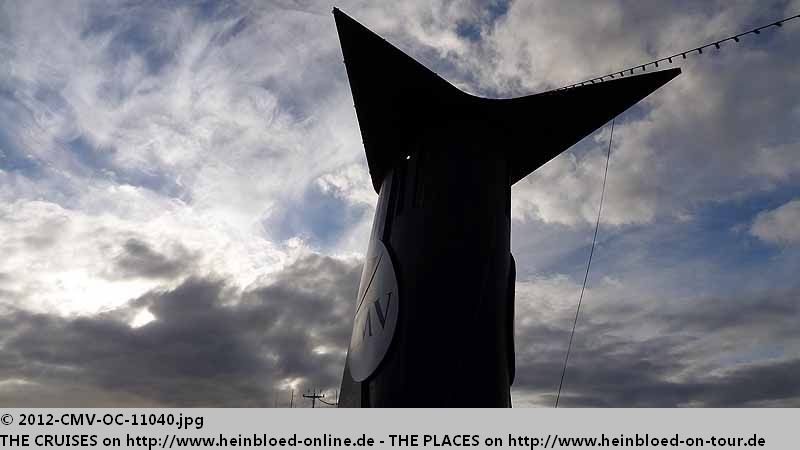 Die Sauna sah unverändert aus.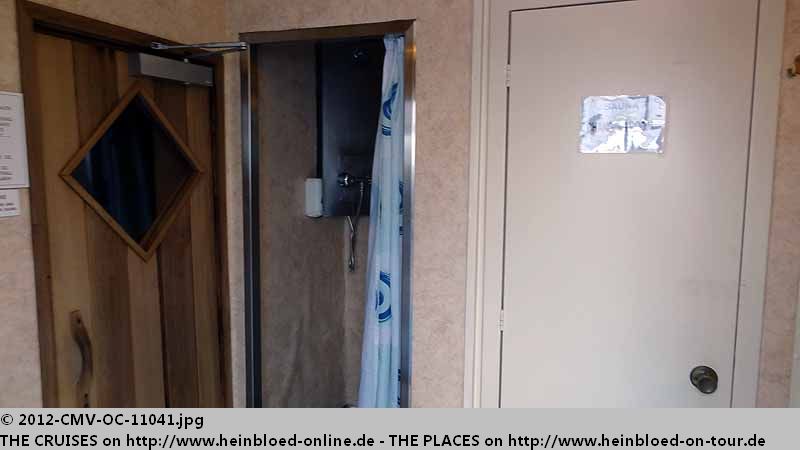 The sauna looked unchanged.

Bruno wanted to see the gym. Obviously many changes.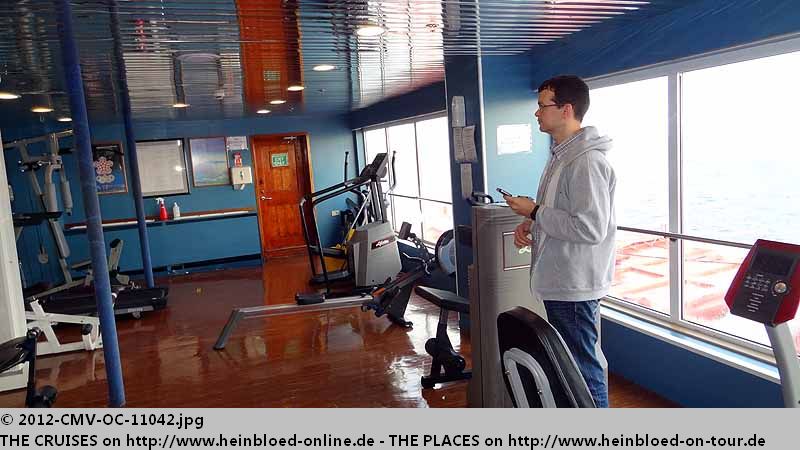 Bruno guckt sich im Fittness-Studio um: Da ist etwas getan worden.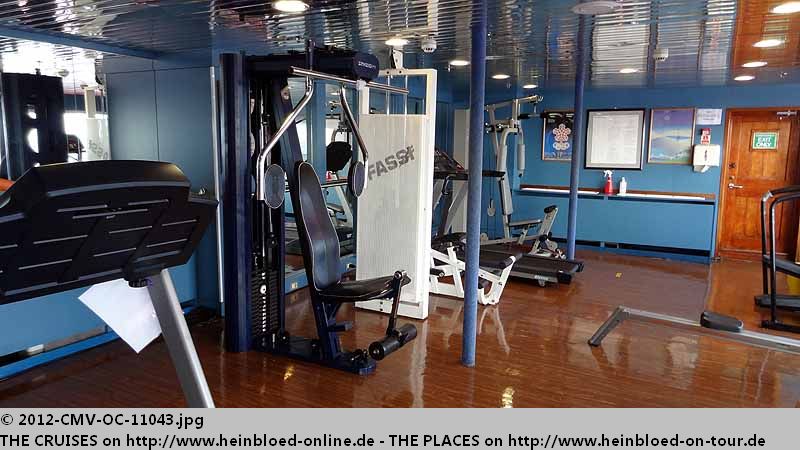 Here I found the posters I always looked for: Munich 1972.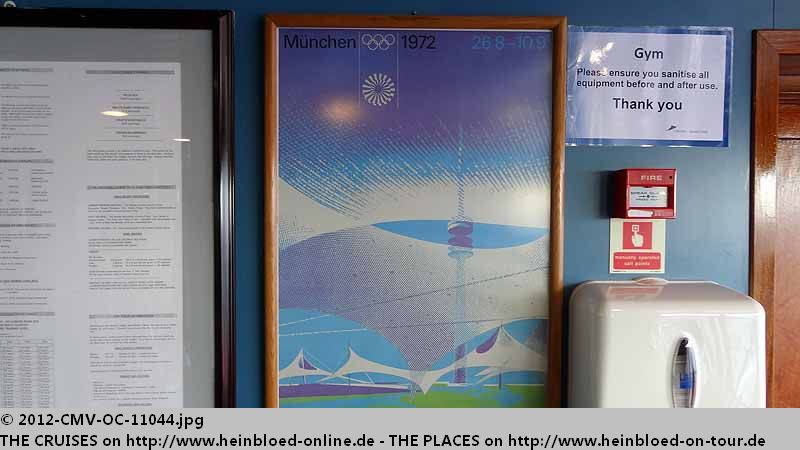 Und hier auch die Plakate, die ich immer gesucht hatte: München 1972.
Calgary... fand ich damals auch sehr gut... Nur Sarajevo finde ich leider nicht.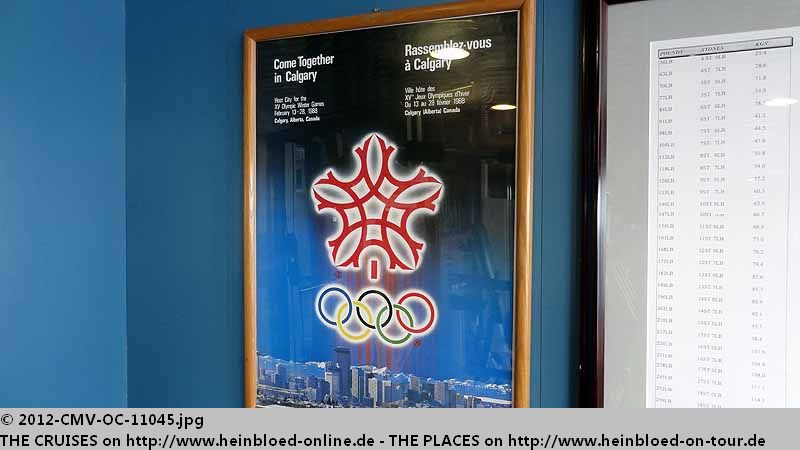 Calgary... I like them very much... Only I could not find Sarajevo.

And soon again in London after 1948.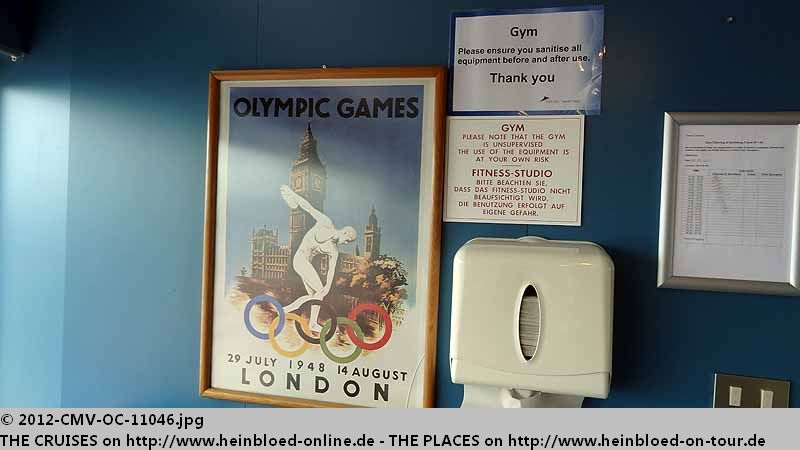 Und bald auch nach 1948 wieder in London.